Netflix has had some big wins with the likes of Stranger Things season four and Dahmer – Monster: The Jeffrey Dahmer Story. Despite that, the company has still had a tough financial year, laying off 300 staff a few months ago. It isn't really a surprise, then, that the streaming service is launching a cheaper, ad-supported plan.
With many wanting to save as much money as possible at the moment, it makes sense and should tempt plenty to switch (or sign up) and accept they'll have to watch ads in exchange for a lower monthly price. The move comes shortly after Disney+ introduced an ad-supported tier.
When will Netflix's Basic with Ads tier launch?
Netflix's Basic with Ads tier is now available in the UK and US.
The new tier is run in partnership with tech giant, Microsoft. You can also check out how to transfer profiles on Netflix.
What countries is the Netflix ad-supported tier available in?
The new tier is currently confirmed for twelve countries. They are:
US
UK
Australia
Brazil
Canada
France
Germany
Italy
Japan
Korea
Mexico
Spain
How much does the Netflix Basic with Ads tier cost?
The new plan costs $7.99/£4.99 per month. European pricing varies by country, with pricing starting from €4.99 per month in Germany.
Here is the full breakdown of pricing from Netflix's investor call: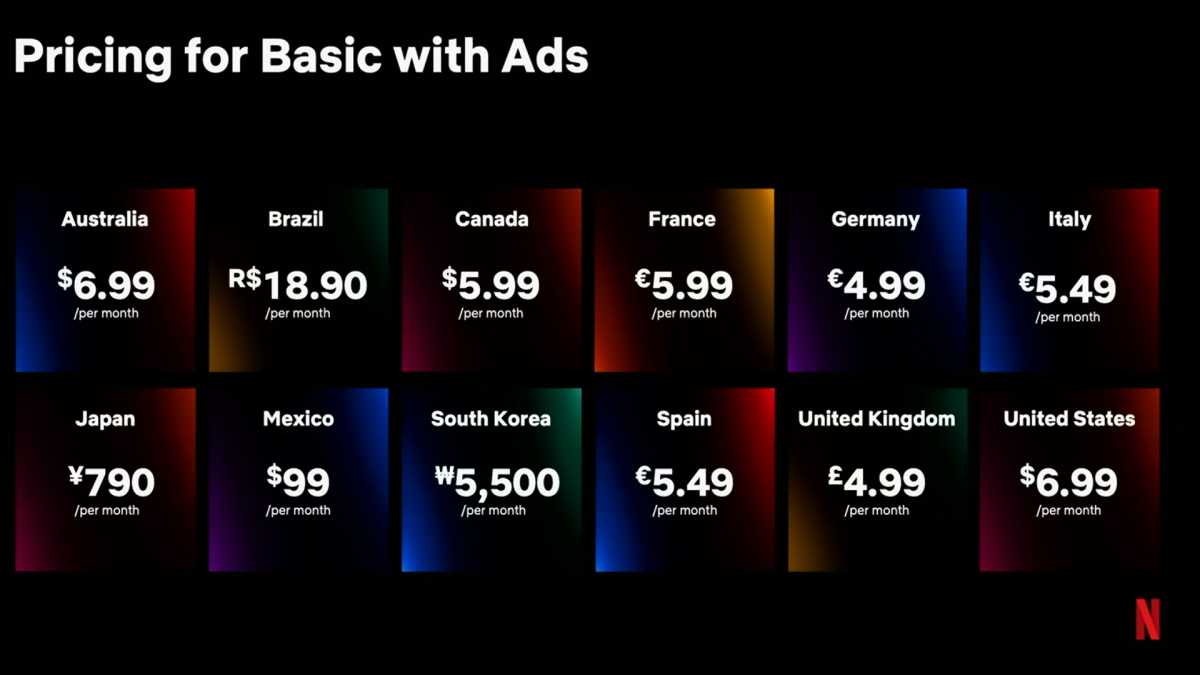 Netflix
The entire point of an ad-supported plan is to be able to offer a cheaper subscription price, and that ads will not be shown to subscribers on the Basic, Standard or Premium plans.
The current prices for Netflix are as follows:
Netflix Basic – $9.99/£6.99
Netflix Standard – $15.49/£10.99
Netflix Premium – $19.99/£15.99
Netflix plans received a price hike earlier this year, with nearly every plan jumping by a couple of dollars/pounds.
You can read up on why we think that the new Netflix Basic with Ads is not worth the price.
What do the ads on Netflix look like?
Netflix has stated that there will be four to five minutes of adverts per hour, each lasting between 15 and 30 seconds. Here is an example of one:
There are a mix of pre-roll and mid-roll ads – although allegedly new Netflix movie releases will only include pre-roll ads. Netflix has not confirmed the frequency of these ads, but in a screenshot we can see that at least two pre-roll ads are stacked.
Netflix has stated that ads will have "broad targeting capabilities by country and genre", and also be appropriate for the age-rating of the content playing. From what we've seen so far, we know that there will be ads for cosmetics, as well as hair products.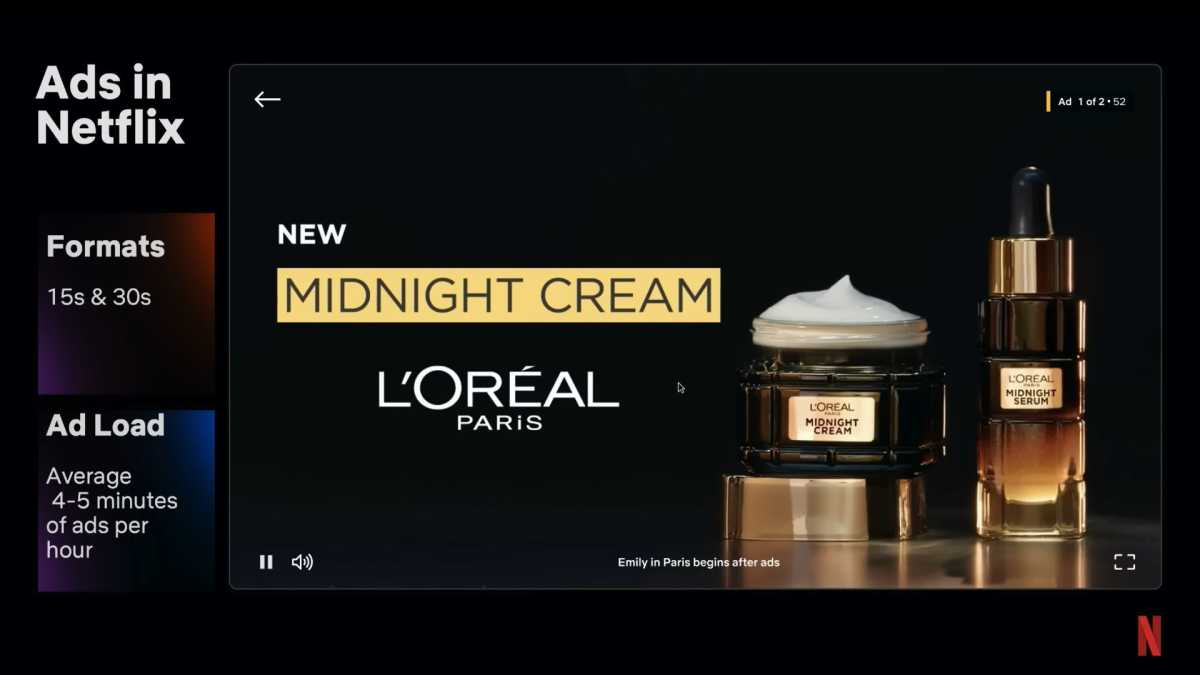 Netflix
What quality is the streaming on the Netflix Basic with Ads tier?
Following the launch of the Basic with Ads tier, Netflix has upgraded the quality of Basic streaming to 720p/HD – previously this was capped at 480p/SD. This is the same quality that Basic with Ads has. Users will also not have simultaneous streams available.
What shows and films will the Netflix ad-supported tier include?
Netflix co-CEO Ted Sarandos spoke in a second-quarter earnings report, confirming that the library on the ad-supported tier will be different to that of the other tiers. Namely, it will be missing some shows and films.
He said: "There are some things that [wouldn't be included] – that we are in conversation with the studios on – but if we launched the product today, the members in the ad tier would [still] have a great experience. And we will clear some additional content, but certainly not all of it."
Netflix has not clarified which content will be missing. The Wall Street Journal confirmed that Netflix Originals like Stranger Things will be included. We assume that it will be licensed content from other studios, such as Friends (in the UK), or Breaking Bad.
The specific details may well depend on what Netflix negotiates with every individual studio.
As more information becomes available, we'll update this article. In the meantime, find out which of the current Netflix plan is right for you.