AMD is on a roll. The US chipmaker continues to eat into Intel's CPU market share, hitting a record 25% by the end of 2021.
This progress has been driven by the strong performance of its Ryzen processors, which took a big leap forward with the Ryzen 5000 Series. 2022's Ryzen 6000 Series only includes laptop CPUs, but AMD has already confirmed that its successor – the Ryzen 7000 Series – will also feature desktop processors.
But in this article, we're looking even further ahead. The Ryzen 8000 Series might be well over a year away, but that hasn't stopped AMD revealing some key details. Here's everything we know so far.
AMD Ryzen 8000 Series release date
It's not clear exactly when the Ryzen 8000 Series will officially launch, but we can take some clues from other AMD launches. The company has already confirmed that the upcoming Ryzen 7000 Series will debut in the 'second half of 2022', but mobile CPUs aren't expected until CES in January 2023.
Indeed, the Ryzen 5000 Series was announced in October 2020 before laptop chips were added in January 2021.
A similar schedule is likely for the Ryzen 8000 Series. That would suggest an initial release of late 2023 – potentially October – then mobile processors at CES in January 2024. But as is often the case, AMD is likely to continue releasing new Ryzen 8000 Series chips in the the subsequent few months and even years.
Remember, AMD hasn't confirmed any of this yet. We know the company is working on the Ryzen 8000 Series behind the scenes, but no release window has been revealed.
AMD Ryzen 8000 Series pricing
This far ahead of launch, it's almost impossible to predict how much the Ryzen 8000 Series will cost. Pricing for the latest Ryzen 5000 Series desktop CPUs vary hugely, from $299 (approx. £245) to $799 (approx. £654). Enthusiast-level chips can be even more expensive.
However, this is just AMD's suggested retail price (MSRP). Many retailers and third-party sellers can bump up the price significantly, particularly during the ongoing global chip shortage.
Two generations later (or three if you count the Ryzen 6000 Series), the significant upgrades already revealed are likely to lead to further price rises.
In laptops, the price of the CPUs themselves aren't relevant. Manufacturers will integrate them into their devices, as they're not available to the public as standalone components. How much you pay depends on a variety of factors, including other key specs, which company makes it and the retailer you buy it from.
AMD Ryzen 8000 Series specs & features
It's a long time before the Ryzen 8000 Series is expected, but that hasn't stopped AMD from revealing some key details. The company only described it as 'Advanced Node' during its 2022 Financial Analyst Day, but we'd be shocked if it was given any other official name.
The big news here is a shift to the 3nm process and Zen 5 architecture, just a year after Zen 4 makes its debut. A YouTube video from RedGamingTech suggests this will come with a new hybrid design, mirroring what we've seen from Alder Lake CPUs. That yielded significant performance and power efficiency gains for Intel, so AMD will be hoping it can repeat the trick.
Two families of desktop chips have been confirmed. "Granite Ridge" will cater to high-end machines which require a dedicated graphics card, while "Strix Point" integrates the CPU with a RDNA3+ GPU.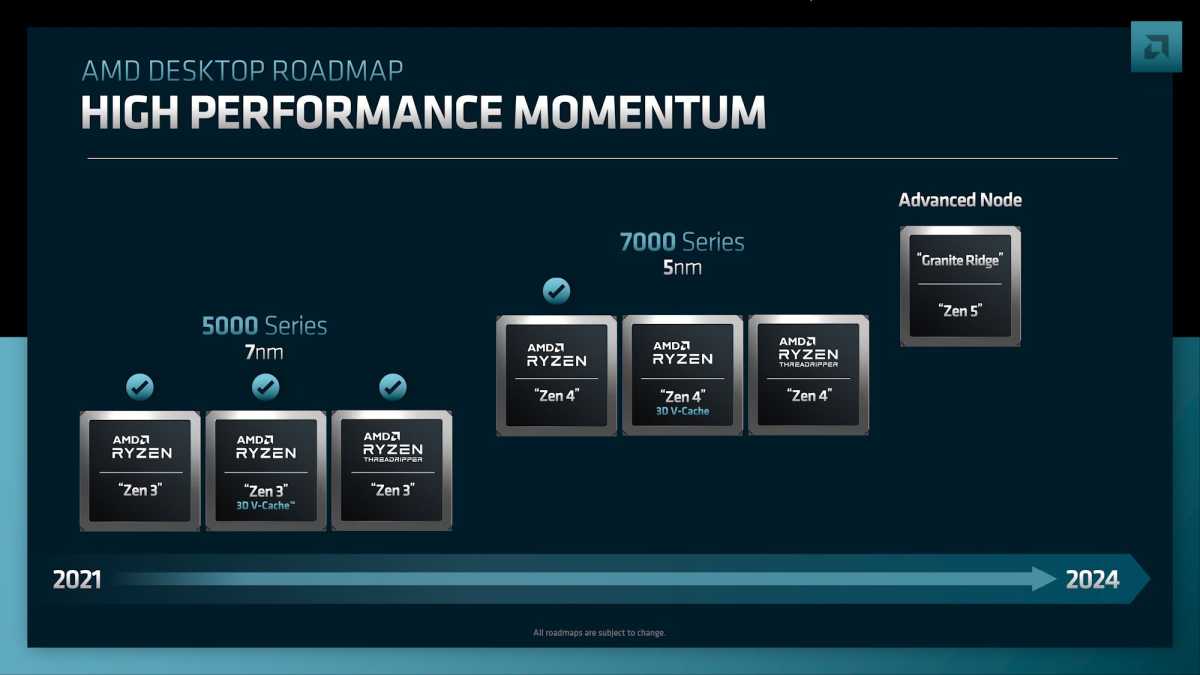 AMD
As Wccftech reports, the basic Strix Point chip design is expected to include 8 large performance-focused cores and four smaller power efficiency cores, with the latter known as 'Zen 4D'. The L4 cache is also expected to be updated, helping PCs to run even faster.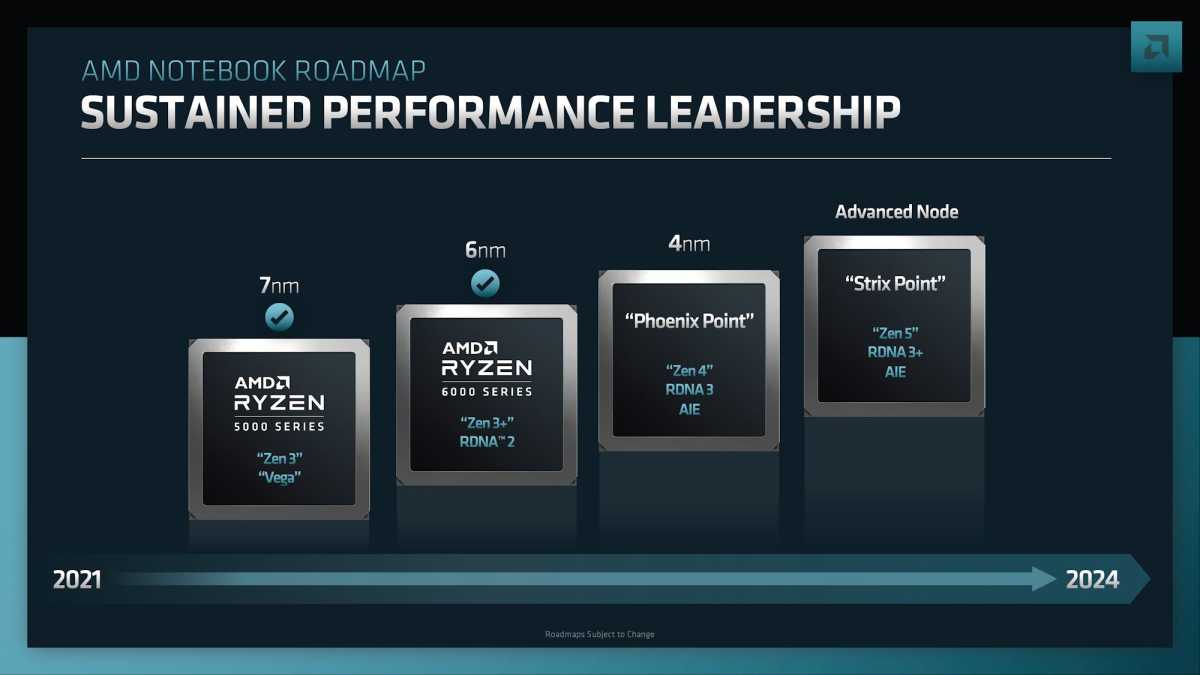 AMD
Strix Point may also be expanded to include laptop CPUs, but a separate family is likely for less powerful devices. However, no details have been revealed at this stage.
We'll update this article once we know more. For a look at AMD's more immediate plans, we have separate guides to the Ryzen 7000 Series and its Zen 4 architecture.