Bowers & Wilkins has announced its latest flagship pair of wireless over-ear headphones. The Px7 S2 come with a raft of upgrades making them the firm's 'best active noise cancelling headphones yet', but the Px8 have already been given a sneak preview.
Once again taking on the likes of the Sony WH-1000XM5, Bose QC45 and Apple AirPods Max, the Px7 S2 arrive with an improved design, new drivers and an upgraded active noise cancelling (ANC) system.
The new design comes in black, grey and blue colours and is both smaller and lighter than the original Px7 – albeit only by 3g. Importantly the acoustic seal is better thanks to improved fit and memory foam ear cups.
Buttons on the ear cup give you control, including a customisable button you can set to either ANC modes or your smartphone's digital assistant.
The main upgrades come in the audio department, with custom angled 40mm drivers similar to the P9 Signature. They have an ultra-fast response while keeping distortion low thanks to new magnets. The inclusion of aptX Adaptive and B&W's DSP (digital signal processing) means they also support 24-bit Hi-Res audio.
A total of six mics are onboard with four dedicated to ANC, which gives you a 30dB cut, and there's also a transparency mode so you can hear what's going on around you when needed.
As you would expect from flagship headphones, there are plenty of other features available. Highlights include Multipoint so you can connect to two devices, as well as wear sensors so music can be automatically paused when you remove the cans.
This is disabled by default, but you can switch it on in the B&W Music app where you also can adjust the sensitivity of the sensor as well as access EQ to adjust the sound to your taste – although only with basic bass and treble sliders.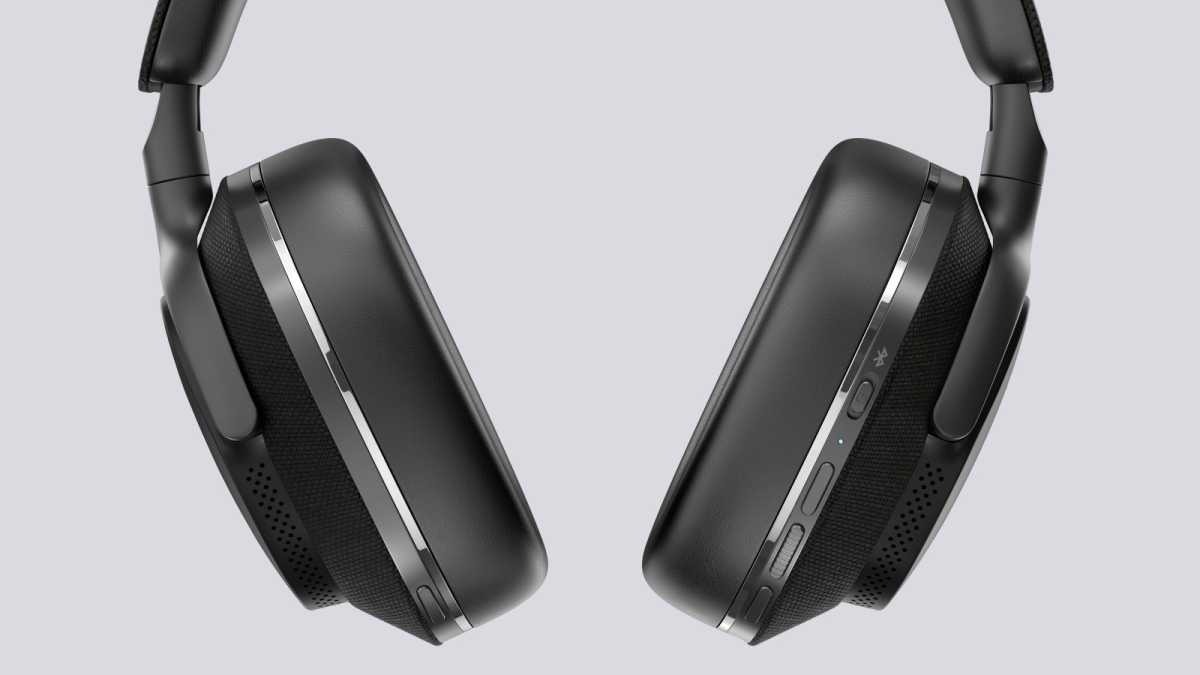 Bowers & Wilkins
The headphones still last for 30 hours, which the firm says should be plenty for most users, but charging is faster so you can now fully charge them in two hours (33% quicker than the previous model) and a 15-minute charge will now get you seven hours of playback instead of five.
Note that the headphones don't support wireless charging like B&W's Pi models. Charging is done via USB-C and a USB-C to 3.5mm jack is also included if you want to plug into something – perhaps that doesn't offer Bluetooth – but the headphones will still need battery power to work.
The B&W Px7 S2 go on sale today from the official store as well as select retailers priced at £379, US$399 or €429.
Px8 teased for later in 2022
There is, however, a reason to not buy these headphones, as Bowers & Wilkins has also teased the upcoming Px8 noise cancelling wireless headphones set to arrive later this year, although at a higher price of £499, US$549 or €599.
B&W is keeping its cards to its chest, not publicly revealing its design or many key specs, but the flagship headphones will come with "brand new drive unit tech".
"This no-holds-barred 'reference-level' wireless model will take Bowers & Wilkins headphones to all-new levels of premium design, luxurious materials and audio performance," said the firm.
Related reading: