The PlayStation 5 has been out for a couple of years now, having launched in November 2020, but new rumours suggest that a Pro version could be set to launch a lot sooner than we'd expected. So, what will this look like and when will you be able to get your hands on one?
Here's all we know about the PS5 Pro.
When will the PlayStation 5 Pro be released?
There's been no official word from Sony about any upcoming console releases, but at a recent launch event for its new range of TVs, TCL may have revealed when it will appear. Polish tech site PPE had a reporter at the TCL event who snapped the photo below that shows TCLs expectations for the PS5 Pro, and the new Xbox series S/X, to make their debuts in 2023/4.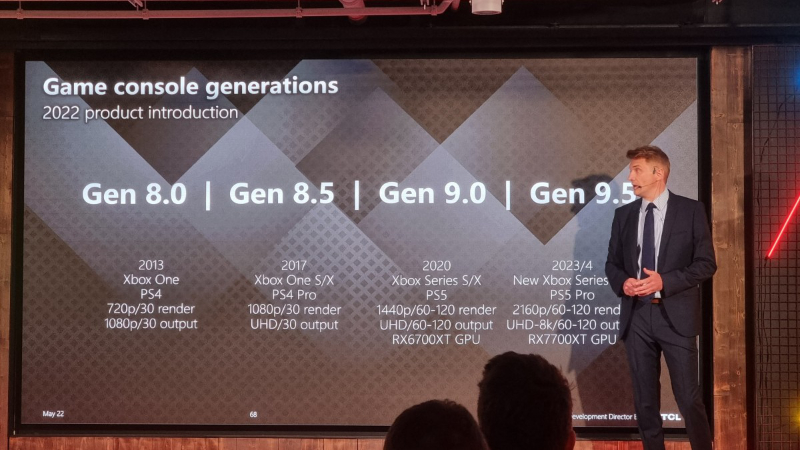 PPE / Maciej Zabłocki
This is by no means certain of course, and it's possible – perhaps likely – that TCL itself was only speculating about a launch date based on previous trends. Still, it does tie in with other rumours that have been reported by the likes of WCCF Tech as well as earlier posts by PPE.
In many ways this would fit the pattern Sony established with the PS4. The console was first introduced back in 2013, with the Pro model following on three years later in 2016. This would make the 2023/24 window in keeping with the PS5's 2020 launch. One of the main reasons people have expected a later upgrade though is that Sony has struggled to deliver stock of the PS5 to retailers due to the ongoing shortage of processors available. This has made it hard to not only fabricate the custom AMD Zen 2 chip, but also the GPUs for the graphics cards that are so crucial for the gaming experience.
Whether Sony has found a way around this or not is unclear, but it would be a bold move to release another silicon-hungry console when the original is still in short supply.
How much will the PS5 Pro cost?
As Sony has yet to even confirm the existence of the PS5 Pro, there's no information available about the pricing. As an indicator we can look to the previous generation.
At launch the PS4 cost $399/£349/€399 and was followed three years later by the PS4 Pro which cost $399/£349/€399. As you can see, these are the same price as the model it superseded, although the original PS4 did then get a new discounted price to differentiate between them.
The PS5 comes with a ticket price of $499/£449/€499 for the standard edition or $399/£359/€399 for the digital one (no physical disc drive). So, if Sony holds the same course for this generation, then you should see the PS5 Pro take over those price points, with the PS5 dropping down to a more affordable figure.
To see how the two current models compare, read our PlayStation 5 Standard vs PlayStation 5 Digital article.
What specs and features will we see in the PS5 Pro?
Again, there's no official word from Sony on specs, but the TCL leak we covered above did have some actual technical detailing as well. In the slide it presented, the company stated that it expected the next generation console to come with or rival an RX7700XT GPU. This is part of the Radeon RX 7000 series that is now expected to launch at the end of 2022.
Reports we've seen so far from the likes of TechPowerUp outline the RX 7700XT as including the Navi 33 GPU, 8GB of GDDR6 memory, 4096 shading units, 128-bit memory bus, and clock speeds of 1800MHz that can boost up to 2200MHz.
It's expected to support DirectX 12 Ultimate, with hardware-raytracing and variable rate shading capabilities. TCL's slide also claimed that the new hardware would be capable of rendering 2160p/120fps, with support for outputting at 8K/120fps.
This would mark a step forward in terms of graphical capabilities for the PS5 Pro, which is exactly what you'd expect from the new model. Aside from these vague details though, we're still in the dark about how Sony will approach the PS5 Pro, although it does seem more likely now that it will arrive in the next year or so. Whether TCL has the inside track on the PS5 Pro development plans or is just making an educated guess when it comes to the specs that a modern console will need in 2024, hopefully we won't have too long to wait to find out.
Until then, be sure to read our guides to the best PlayStation 5 games, where to buy a PlayStation 5, as well as our roundup of the best games consoles to ensure that you'll always have something to play.