Google has skipped Wi-Fi 6 entirely and updated its mesh Wi-Fi for 2022 by releasing the Nest Wifi Pro with Wi-Fi 6E. Of course, it does support Wi-Fi 6, as well older Wi-Fi 5 (and previous) devices.
Quite a few details about the new routers were leaked ahead of its launch, which came with no fanfare whatsoever: Google simply added the Nest Wifi Pro to its web store.
Available in four colours: Snow, Linen, Fog and Lemongrass, you'll be able to match your mesh Wi-Fi system to other Google devices such as the Pixel Buds Pro, Nest Doorbell (battery) and Pixel 7.
Unfortunately, that applies only in the US: in the UK the only option is Snow, and in Canada, it's Snow and Fog.
How much does the Nest Wifi Pro cost?
1-pack: $199
2-pack: $299
3-pack: $399
You can buy a single Nest Wifi Pro for $199.99 / £189.99 / CA$269.99, but it makes more sense to opt for a 2-pack and 3-pack. These cost $299.99 and $399.99 respectively.
In the UK, there's no two-pack, only a £379.99 three-pack. It's the same in Canada where a three-pack is $529.99.
When is the Nest Wifi Pro release date?
You can pre-order the devices immediately, and the begin shipping from the end of October. The exact release date varies by country, with US buyers receiving their Nest Wifi Pro from 24 October. Those in the UK can expect a delivery a couple of days after that, while in Canada the estimated delivery dates, according to Google's website are the very end of October to the start of November.
We had wondered if Google would announced the Wifi Pro at the same time as it unveiled the Pixel 7 at its 'MadeByGoogle' event on 6 October, but it chose to launch it a day earlier.
What are the Nest Wifi Pro specs and features?
Design-wise the Wifi Pro units are oval and have a glossy plastic finish. Google says they're made from 60% recycled materials going by weight.
And each unit weighs 450g and is 130mm tall, 117mm wide and 85mm deep.
You can expect up to 200m² coverage from each (2200 square feet), with the three-pack increasing that to – unsurprisingly – 600m² / 6600 square feet. You can add more routers if you need more coverage.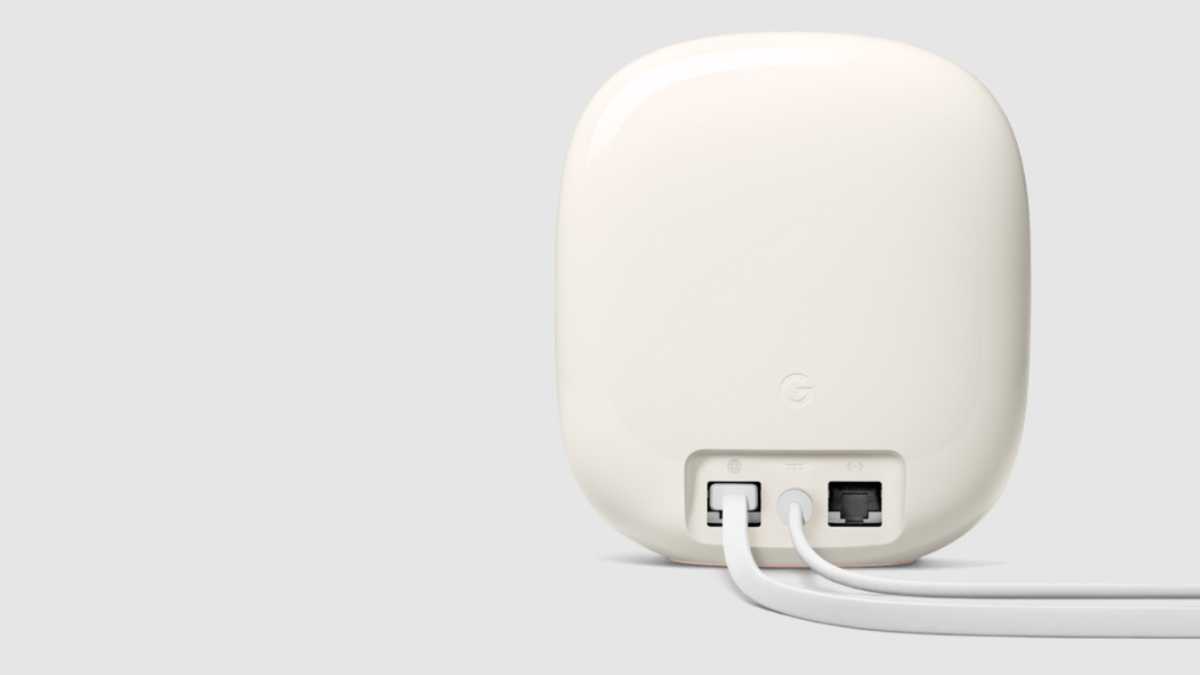 Google
Here are the other key specs:
Wi-Fi 6E (802.11ax)
2×2 (6GHz)
2×2 (5GHz)
2×2 (2.4GHz)
Up to 300 devices per network
Dual-core 64-bit ARM processor
1GB RAM, 4GB flash memory
WPA3 encryption
2x 1Gbps Ethernet ports per router
22.5W power consumption
1x 2m Ethernet cable supplied in the box
Matter support
Thread border router
The key upgrade compared to the existing Google Wifi is Wi-Fi 6E which uses the newly available 6GHz frequencies. These don't have a huge effect on speed compared to 5GHz, but with so few devices using this spectrum, there's much less interference which – until it gets congested – means better real-world performance.
Google says the Wifi Pro is up to 2x as fast as Wi-Fi 6 routers, but what it's referring to there is that Wi-Fi 6E can use 160MHz wide channels, which many Wi-Fi 6 routers cannot: they are mostly limited to 80MHz, which means the top theoretical connection speed to any one device is half as fast.
In the real-world, though, any extra speed will be due to the lack of congestion on the 6GHz frequency that Wi-Fi 6E supports, but to use it you'll need a phone, laptop or another device that also has Wi-Fi 6E.
The other big benefit is that the Nest Wifi Pro will support Matter – the newly released smart home standard – and will be a Thread border router. That means it will act as a hub for setting up and controlling Matter devices.
The Google Assistant isn't integrated into the new routers, but there are some smart features.
Like previous Google mesh Wi-Fi systems, there's automatic Wi-Fi speed optimisation, built in parental control (which doesn't require a subscription), a guest network, and self-diagnosing of issues for automatic fixing of common Wi-Fi problems.
If you want to upgrade your old router right now, here are the best mesh Wi-Fi systems to buy.