When Microsoft introduced Windows 11 last year, its new hardware requirements caused quite a stir. The need for TPM 2.0, Secure Boot support and at least 4GB of RAM means many older devices aren't compatible with the new OS.
A workaround allows unsupported Windows 10 PCs to upgrade, but Microsoft has unintentionally made that process significantly easier. The company released an early version of the 22H2 update to members of the Windows Insider Program last week, but accidentally made it available to all Windows 10 devices too. Provided you're already a member, the update will appear within the Windows Update section of Settings.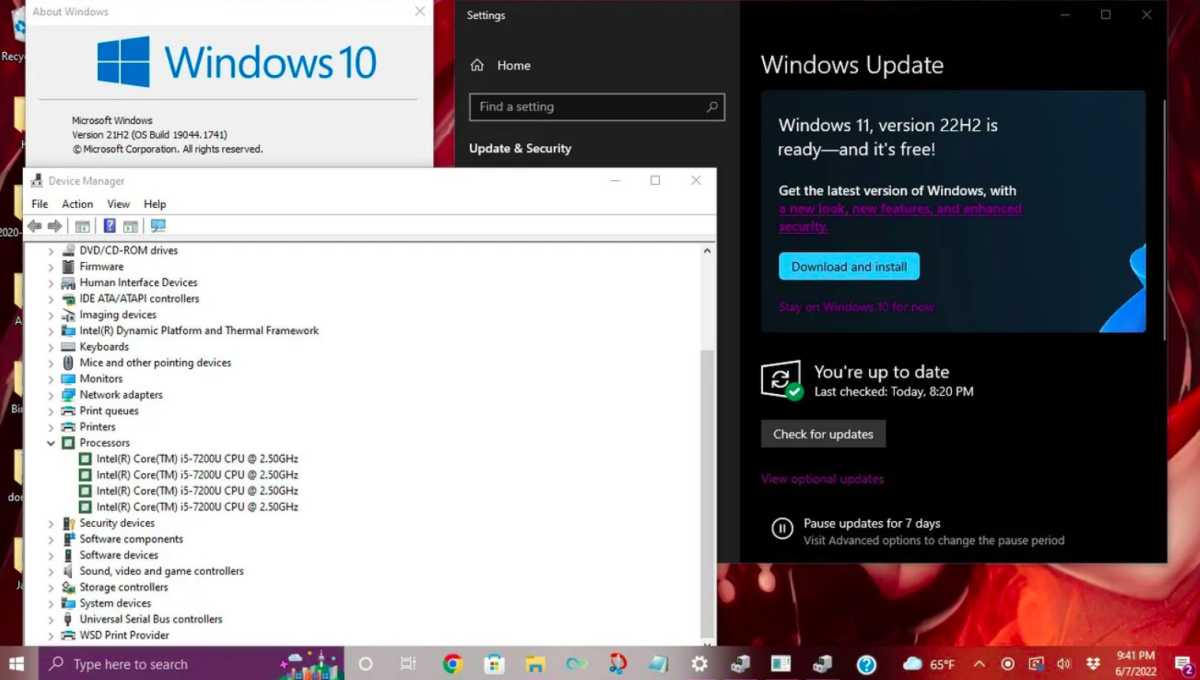 Image: AceRimmer412 via Reddit
However, that doesn't mean the update process is straightforward. Even after installing the update, you'll need to make changes to the Registry for it to work properly. With all that in mind, it's no surprise that Microsoft is urging people to avoid the 22H2 update on any unsupported hardware. If you've already installed it, there are two ways to go back to Windows 10.
Unless you're using a secondary device, that's what we'd highly recommend. It's simply not worth it on your main PC, given the risk of sub-par performance or apps not running properly. When bugs or other issues arise, Microsoft will prioritise the hardware that's actually compatible.
For most people still running Windows 10, there's no reason to go out of your way to upgrade right now. Microsoft's older OS will continue to be supported until October 2025, and may even get a 22H2 update of its own. No new features of note are expected, but security updates and bug fixes shouldn't be overlooked.
Unless you particularly value any of Windows 11's new features, sticking with Windows 10 makes a lot of sense – especially if you're using incompatible hardware. You'll need to buy a new laptop or PC eventually, but not just yet.
Windows 11 hardware requirements could get even tougher
If you thought the current Windows 11 requirements were bad, things could be getting even worse. According to data storage market research company Trendfocus (via Tom's Hardware), Microsoft is planning to make SSDs the only compatible storage type from 2023. Currently, it simply specifies a minimum of 64GB.
SSDs can be found in most laptops and PCs these days, but some older hardware uses less efficient HDDs instead. On some budget devices, you'll find the slower eMMC storage instead.
It's a relatively small change, but one that has the potential to affect lots of people. However, devices that are already running Windows 11 can expect to continue receiving updates into 2024 and beyond.
Internet Explorer to be removed from Windows 10
Unsurprisingly, Internet Explorer didn't make the move to Windows 11. Microsoft's legacy browser has been phased out ever since the company introduced Edge in 2015.
Internet Explorer still came pre-installed with Windows 10, but it won't be around for much longer. Microsoft has confirmed that Internet Explorer 11 (the latest version) will be removed from Windows 10 via a security update this month.
Few people will mourn its loss, but there are a handful of situations where Internet Explorer is still necessary to run specific software. In those scenarios, Microsoft Edge's dedicated IE (Internet Explorer) mode will do the trick.
Related articles you may like