The Xiaomi 13 is the next flagship series of phones from, you guessed it, Xiaomi – and they're launching soon.
The company had planned an early December launch date for its next two flagship phones, which are likely to bring new Qualcomm chipsets and major camera improvements, but for now it's been delayed.
Here's all we know so far about the new devices from the Chinese giant.
When will the Xiaomi 13 be released?
Xiaomi had planned to unveil the Xiaomi 13 series – alongside its updated MIUI 14 software – at an event in China on 1 December, but that wasn't to be.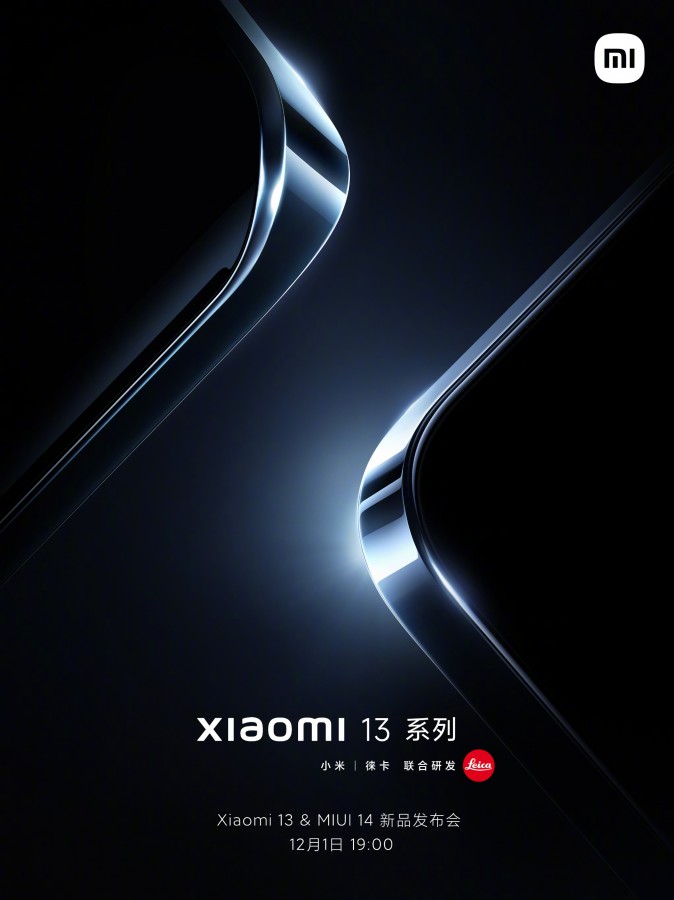 Xiaomi
GSM Arena spotted that Xiaomi announced on Weibo that the launch has been "postponed," which is believed to be in response to the death of Jiang Zemin, the former general secretary of the Chinese Communist Party.
It's not clear when the launch will be re-scheduled for, though Xiaomi promised to announce a new date "soon." We'd still expect to see the phone arrive before the end of December, but for now there are no guarantees.
Xiaomi tends to release its main range of phones around December in China, with a month or two wait before they make their way to the rest of the world – so you should probably look for a global and European launch around February, perhaps at the Mobile World Congress trade show in Barcelona.
How much will the Xiaomi 13 cost?
As Xiaomi is yet to announce the 13 series, we don't have any official prices. But, of course, the previous generation will give us a good idea. Here's how they lined up:
We think it's very likely that the 13-series will stick closely to these prices, with a possible minor increase thanks to ongoing global inflation.
What specs and features will we see in the Xiaomi 13?
Leaks were slow for the Xiaomi 13 series for a while, but now we know a little more. Perhaps most interestingly, Xiaomi's Lei Jun has shared an official image of the front of the Xiaomi 13: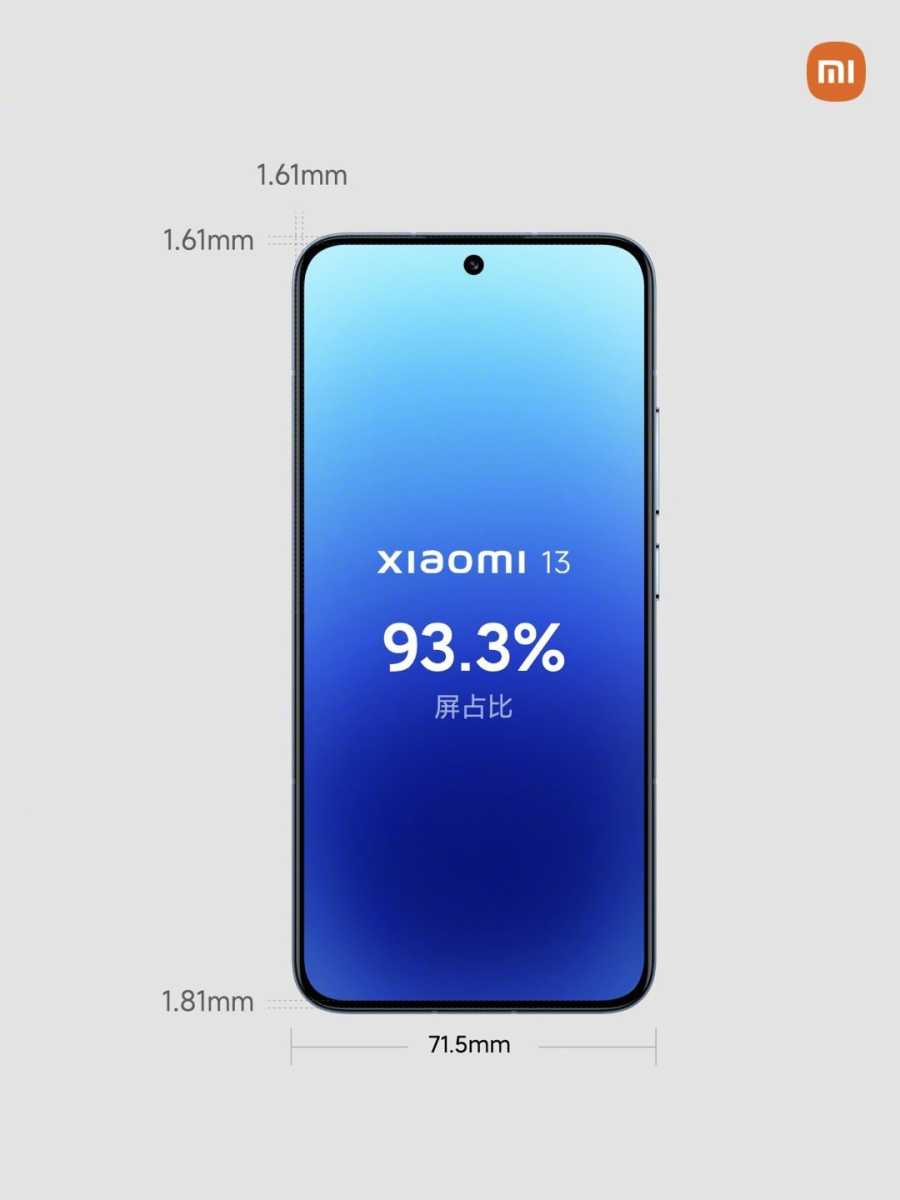 Xiaomi
This doesn't reveal too much, but does confirm a few details we'd suspected based on leaks: that the Xiaomi 13 will have slim bezels, will be very slightly larger than the Xiaomi 12 (that phone measured 69.9mm across) and that the regular model will have a flat display.
You can see that last element in the invite graphic, above, which shows two phones: a flat-screened and flat-edged model we believe to be the regular Xiaomi 13, and a curved handset that's expected to be the Pro.
Jun has also confirmed a couple other details: that both the regular and Pro models will have an IP68 rating for dust and water-resistance; and that at least one model will use a faux leather finish.
For a better look at the two phones, we have to turn to leakers. First up, thanks to TechGoing we have our first look at what's allegedly the rear of the 13 Pro: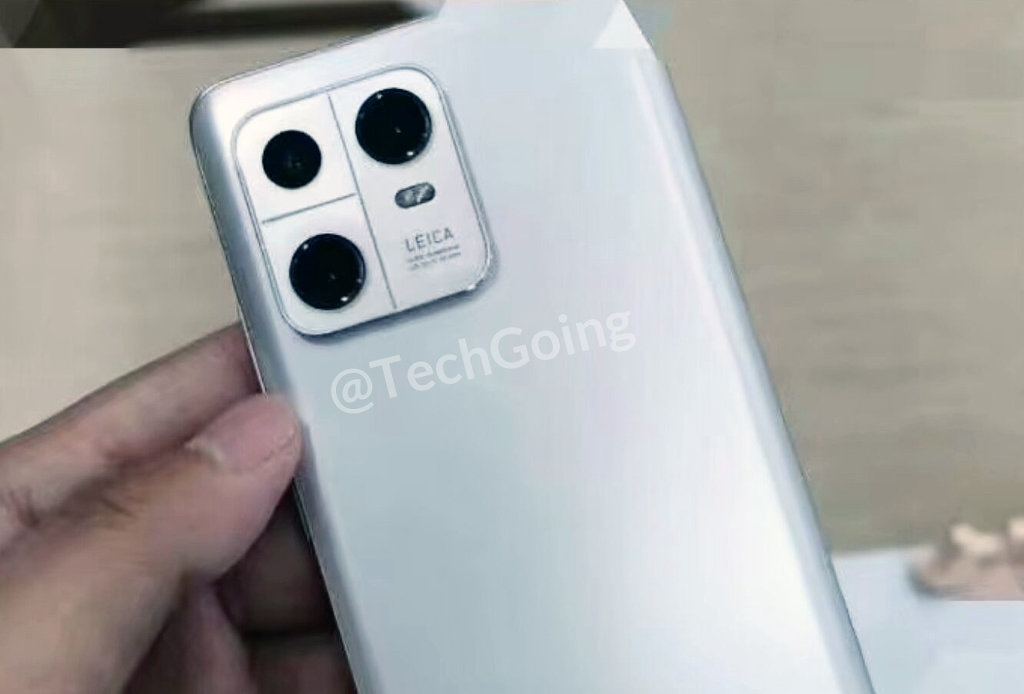 TechGoing
It's a design that doesn't look too dissimilar to the previous 12 Pro, albeit with a boxier, more square-shaped camera module.
It's slightly different to the design seen in renders shared by leaker OnLeaks, who's created his designs based on leaked details about the phone, though broadly similar. Here's how OnLeaks thinks the 13 Pro will look, as published by Zoutons:
In contrast to the photo above, you can see a larger, boxier camera module with three equally sized lenses. There's also a larger flash, positioned a little lower. Otherwise, we can see a finish that's similar to the Xiaomi 12 series, including a 6.65in curved display and body. As a whole it will supposedly measure 163.0 x 74.6 x 8.8mm.
OnLeaks has also shared renders of the regular Xiaomi 13 with CompareDial, and this is a little more different.
As mentioned above, it no longer has a curved display and body, and instead uses a squared-off body design that's strikingly reminiscent of recent iPhones. You can see the camera module is similar though, albeit with one lens that's a little smaller than the others. It'll apparently measure 152.8 x 71.5 x 8.3mm, with a similar 6.2in display to the Xiaomi 12.
But what about the specs inside the phone?
Xiaomi, like most flagship manufacturers, tries to use the latest processors to give its products the best performance. With that in mind, it's no surprise that leakers including the reliable tipster Digital Chat Station report that they will come with the brand new Snapdragon 8 Gen 2, which Qualcomm launched this November.
This would fit with the approach of Xiaomi, which was one of the first manufacturers to debut the Snapdragon 8 Gen 1 in its Xiaomi 12 series. Vivo got there first this year, including the 8 Gen 2 in its new X90 Pro+, but Xiaomi could still be among the early adopters.
The Pro model is tipped to feature a 6.7in curved AMOLED display with a 2K resolution and 120Hz refresh rate, interrupted by a central punch-hole selfie camera. As mentioned above, the regular 13 will use a flat 6.2in display, but it will likely also be a 120Hz AMOLED, albeit perhaps with a lower resolution than the Pro.
As for cameras, we expect to see the Leica branding carry over to this new series now that Xiaomi has partnered with the esteemed camera company. The 13 Pro will apparently feature the same 1in, 50Mp Sony IMX989 camera sensor that featured in the Xiaomi 12S Ultra, which Yogesh Brar says will be paired with 50Mp telephoto and ultrawide lenses, plus a 32Mp selfie shooter.
Finally, a 4800mAh battery will reportedly feature in the Pro, while a 3C certification listing suggests 67W wired charging speeds for the 13, with faster 120W charging for the 13 Pro.
This post from Brar gives a pretty good summary of current predictions about the Pro:
Other than these tidbits, there's been nothing else leaked about the upcoming models, so we'll keep digging and updating this article as more information becomes available. In the meantime, check our roundup of the best Xiaomi deals to see if you can bag a bargain on one of the current models.