Samsung has unveiled a 5G upgrade to this year's Galaxy A23 budget phone, but despite revealing its specs in full, the company is so far quiet on where the phone will go on sale.
Here's all we know so far about the Samsung Galaxy A23 5G.
When will the Samsung Galaxy A23 5G be released?
There's no official release date for the A23 5G at the moment, despite the fact that Samsung has released the phone's specs. We also don't know which markets it will go on sale in.
A 4G version of the phone is already available in India and some other markets, after launching in March alongside the Galaxy A03, Galaxy A13 (both 4G and 5G), Galaxy A33 5G, Galaxy A53 5G, and Samsung Galaxy A73 5G.
How much does the Samsung Galaxy A23 5G cost?
Again, we don't have a confirmed price from Samsung yet, so we need to look at the other models in the range to get some clues.
Samsung Galaxy A33 5G – £329/€379.99 (not available in US)
Samsung Galaxy A23 – ₹18,499 (approx. £189/$239/€222)
Samsung Galaxy A22 5G – £209/€229 (approx. $265)
As Samsung usually keeps a pretty stable pricing structure, we'd estimate that the Galaxy A23 5G will come in around the £229/$299/€249 mark.
The only pricing leak we have suggests it might cost a little more, but we'd take it with a pinch of salt. Gizpie has shared what it claims are prices from a European retailer, and pin the phone around €300 (well, €301.76, to be precise). The site doesn't share which retailer the info comes from though, and that oddly precise (and clearly off) pricing has us doubting things a little.
What are the Samsung A23 5G specs and features?
Samsung may not have announced when or where the A23 5G will go on sale, or how much it will cost, but it has revealed the phone's key specs and design.
It bears a striking resemblance to the other A-series devices from 2022, which is unsurprising really. Its specs are also similar to its 4G sibling.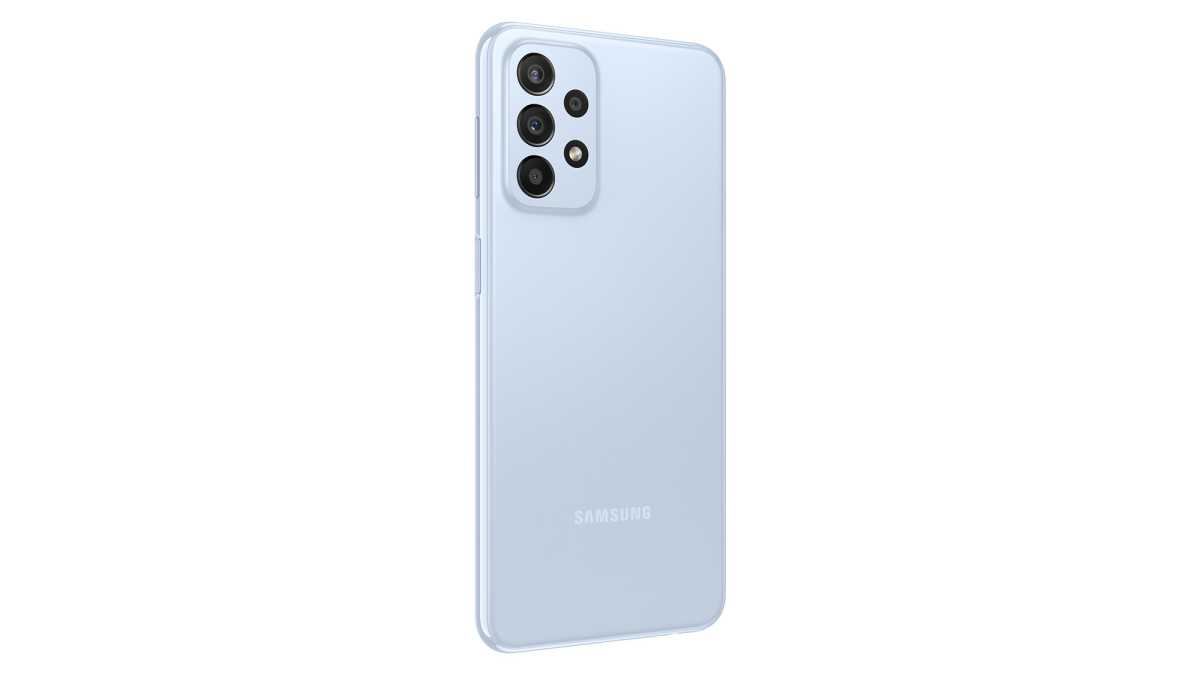 Samsung
The phone comes with a 6.6in flat display with a Full HD+ resolution and the Infinity-V front camera that employs a shallow teardrop notch to accommodate the lens. Samsung hasn't confirmed the display's refresh rate, which suggests it's only 60Hz – a downgrade from the 90Hz panel on the 4G model, which also boasted Gorilla Glass 5 protection that is unmentioned here.
Samsung hasn't confirmed the chip that powers the phone, though leaked Geekbench results suggest that it uses the Snapdragon 695 5G, a natural replacement for the Snapdragon 680 4G in the Galaxy A23.
RAM is however confirmed to be available in 4, 6, or 8GB, while storage options are 64 or 128GB – including an expandable microSD card slot.
The cameras have also been confirmed, with a 50Mp OIS main + 8Mp ultrawide + 2Mp macro + 2Mp depth sensor, and an 8Mp front-camera.
Samsung
The battery is 5000mAh, and while Samsung hasn't confirmed charging speeds, it's likely the same 25W capacity as the 4G model.
As you'd expect, the phone will ship with Android 12 and running Samsung's One UI 4.1.
Also, read our guides to the best budget phones and best mid-range phones to see what the Galaxy A23 5G will be up against.