Oppo is taking the fight to Samsung with the Find N2 Flip, a clamshell foldable phone that's clearly designed as a direct competitor to the oh-so-popular Galaxy Z Flip 4.
And for the first time with one of Oppo's foldables, that fight isn't limited to China, as Oppo has launched the Find N2 Flip in Europe – for less than Samsung's offering. Bring it on.
Here's all we know so far about the Oppo Find N2 Flip – or read our Find N2 Flip review to find out if we think it's worth buying.
When will the Oppo Find N2 Flip be released worldwide?
Oppo revealed the Find N2 Flip on the second day of its 2022 Inno Day event (the same event where it previously launched the first Find N) on 15 December, giving it a launch in China at the same time.
The company then gave the phone an international launch on 15 February, and it hit store shelves on 2 March – though it's unlikely to ever reach the US.
Dominik Tomaszewski / Foundry
The Find N2 Flip was launched in China alongside the book-style Find N2, but curiously that phone isn't currently set to be launched internationally. We're also expecting the traditional Oppo Find X6 flagship phones to launch soon too, but it looks like that will be a little later.
How much does the Find N2 Flip cost?
Oppo has pulled off a little bit of a coup here in the UK, where the Find N2 Flip costs just £849 (around $1,000). That's £150 less than the starting price of its biggest rival, the Samsung Galaxy Z Flip 4, and £100 less than the Motorola Razr 2022.
In the UK you can buy the Find N2 Flip direct from Oppo, from Amazon, or from major networks, Carphone Warehouse, or stores like Currys.
That price could give the Find N2 Flip a serious market advantage – especially since despite being cheaper, it's not really any lower spec than those other options. It even ships with 256GB of RAM – to get that storage in the Samsung would cost £1,059.
It's more expensive in Europe, where it'll set you back €1,199 – that's actually more than the €1,099 Z Flip 4, though similar once you factor in the added storage, and it's a direct match for the Razr 2022.
Anyone who buys the phone will also get a free six-month trial of Google One cloud storage, with 100GB of space.
What are the Find N2 Flip specs and design?
From the outside, there are a few things about the Find N2 Flip that immediately stand out – especially when compared to rivals like the Z Flip 4 and Razr.
The big one is the cover display, which is not only the biggest around at 3.26in, but is also arranged in a vertical, portrait orientation. Don't worry, this isn't like the cover displays on big foldables – you're not expected to use it to navigate the normal Android interface – but the larger size gives you more space for Oppo's included widgets, and the portrait orientation is better suited to selfies.
Otherwise, the Find N2 Flip is a pretty similar size and shape to the Samsung flip phone, with a similarly blocky design. It's even basically the same weight, at 191g to the Z Flip 4's 187g.
It launched in black, gold, and purple finishes in China, though the gold design won't leave the Chinese market. The two official international finishes then are Astral Black – which has slightly frosted, textured glass – and Moonlit Purple, which is a glossier finish.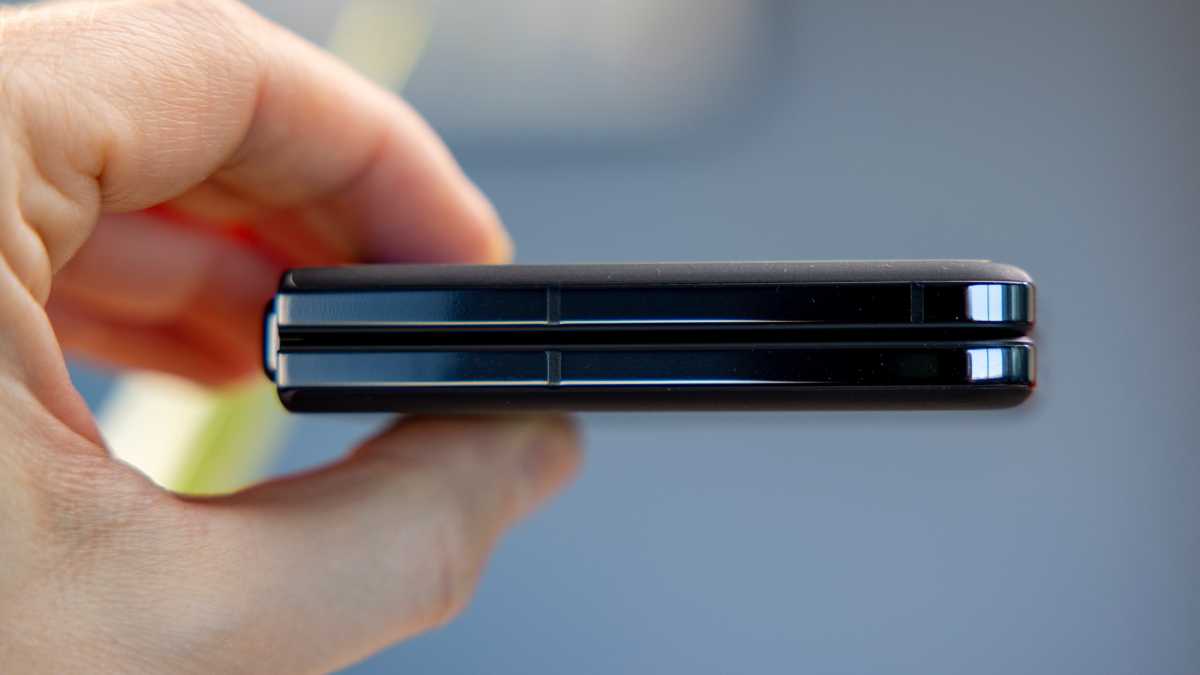 Dominik Tomaszewski / Foundry
The Flip uses the same 2nd-gen Flexion hinge as the regular Find N2, which Oppo says should last 400,000 folds – enough for 200 a day for five years. It folds totally flat, meaning there's almost no gap between the two halves when the phone is shut.
One downside is that there's no IP rating, in contrast to Samsung's IPX8 water-resistance – Oppo still says it should survive splashes, but it's not officially rated.
The internal display is a 6.8in screen (again… similar to Samsung), with a 1-120Hz LTPO AMOLED panel, so should deliver excellent quality. As for the outer display, that's a 3.26in screen limited to a 60Hz refresh rate.
Dominik Tomaszewski / Foundry
As for chipset, there's a bit of a surprise here. The Find N2 Flip is powered by the MediaTek Dimensity 9000+ – not the Snapdragon 8+ Gen 1 found in the regular Find N2, or the more recent Dimensity 9200 that launched in November 2022. Oppo says it worked with MediaTek on a custom version of the chip with improved power efficiency, which should help allay any battery concerns caused by the form factor.
In China RAM goes from 8GB to 16GB, while storage is either 256GB or 512GB – but the international version is fixed at 8GB of RAM and 256GB storage.
Speaking of which, the phone has a 4300mAh battery (bigger than Samsung's 3700mAh), so either way this seems likely to be an all-day phone. 44W wired charging should keep it topped up quickly too, though it's a shame there's no wireless charging option.
Dominik Tomaszewski / Foundry
As for cameras, Oppo has prioritised the main camera, with a 50Mp shooter using the IMX890 sensor – the same main camera it uses in the Find N2. That's joined by an 8Mp ultrawide, plus a 32Mp punch-hole selfie camera on the internal screen.
Finally, software: the phone will launch running Android 13 with Oppo's ColorOS 13 on top. Impressively, Oppo is guaranteeing four years of Android version updates – through to Android 17 – and a fifth year of security support. That's a match for Samsung's promise, and better even than Google's.
Here are the full specs:
6.8in, 120Hz AMOLED internal display
3.26in, 60Hz cover display
MediaTek Dimensity 9000+
8GB RAM
256GB storage
4300mAh battery
44W wired charging
Cameras:

50Mp, f/1.8 main camera
8Mp, f/2.2 ultrawide camera
32Mp, f/2.4 selfie camera

166.2 x 75.2 x 7.5mm (unfolded) or 85.5 x 75.2 x 16mm (folded)
191g
Android 13 with ColorOS 13
Until we get the chance to try it for ourselves, be sure to read up on all the other best phones coming in 2023.