Google's I/O developer conference back in May 2022 brought with it various new devices we were expecting, and one that no one was – the Google Pixel Tablet. Here's what we know so far, including new details from the Pixel 7 launch event.
It's true, an own-brand Google tablet is finally on the way, almost a decade after the firm launched the Nexus 7 with some help from Asus. The Nexus is one of the best tablets of all time but can the search giant replicate that success under the Pixel branding?
When is the Pixel Tablet release date?
Although Google confirmed its return to the tablet market, there's a wait in store for fans as the device won't arrive until later this year – and we don't know how much later.
At I/O 2022, the firm simply said that it will share more details in 2023. On stage, Rick Osterloh said "We're aiming to make it available next year," which doesn't rule out it running late and arriving in 2024 but we hope it doesn't come to that.
Assuming Google doesn't run into problems, we'd expect it to get a proper release at Google I/O 2023 (likely May again) or the usual October event where Android 14 – and probably the Pixel 8 – should arrive.
Will there be a Pixel Tablet Pro?
Even though the Pixel Tablet is still a way away, there are already rumours of a Pro version. 9to5Google has delved into the Android 13 code now the latest version of the OS has dropped and discovered something named 'tangorpro'.
The regular Pixel Tablet is codenamed 'tangor' so it stands to reason that the code is referring to the Pixel Tablet Pro. More evidence was found as Google shortened 'tanfor' to 't6' and the Android 13 code also mentions 't6pro'.
The site says this may also arrive next year and that it will have a better rear camera than its vanilla stablemate. You'd expect the Pro model to come with some other differences, perhaps a larger and more technically capable display, for example, but it's anyone's guess at the moment.
How much will the Pixel Tablet cost?
With the Pixel Tablet still a way away, it's no surprise that Google hasn't said how much it will cost.
During the I/O keynote, the device was referred to as "premium" which could refer to the cost or possibly the hardware.
From what we know so far, it certainly doesn't seem like a rival to the iPad Pro range or Galaxy Tab S8 Ultra so it would be wise for Google to target an affordable price. The Pixel Slate range was too expensive and the Pixel 6 phones have been successful largely due to competitive pricing.
For the Pixel Tablet to succeed, it should be priced close to or undercut the iPad 2021 which is £319/$329.
What are the Pixel Tablet specs?
Tensor G2 chip
Quad speakers
POGO pin connector for speaker dock
USB-C
Dual 8Mp cameras
We know a few things about the Pixel Tablet already. The first is that the Pixel Tablet is powered by the same Tensor G2 processor as the Pixel 7 and Pixel 7 Pro smartphones.
This is a powerful chip, but Google doesn't really set out to win on benchmark scores and instead aims to offer clever and useful features by way of AI and machine learning.
What exactly the Pixel Tablet will offer in this area remains to be seen but it should be similar to that of the Pixel 7 phones. Google simply said it would mean you get the same video calling, hands-free Assistant and photo editing.
Google
The other key information about the Pixel Tablet is that it will have a 'magnetic speaker dock' (possibly an optional extra) which will not only keep the device charged but turns it into a smart display very much like the Nest Hub Max so you can do all kinds of things like easily control smart home devices around the home and use the display as a digital photo frame when it's not in active use.
This explains the POGO pin connection on the back of the tablet, and although we've seen efforts to do something similar in the Lenovo Smart Tab P10 and Amazon Fire HD 8 Plus, Google's looks like the slickest implementation yet.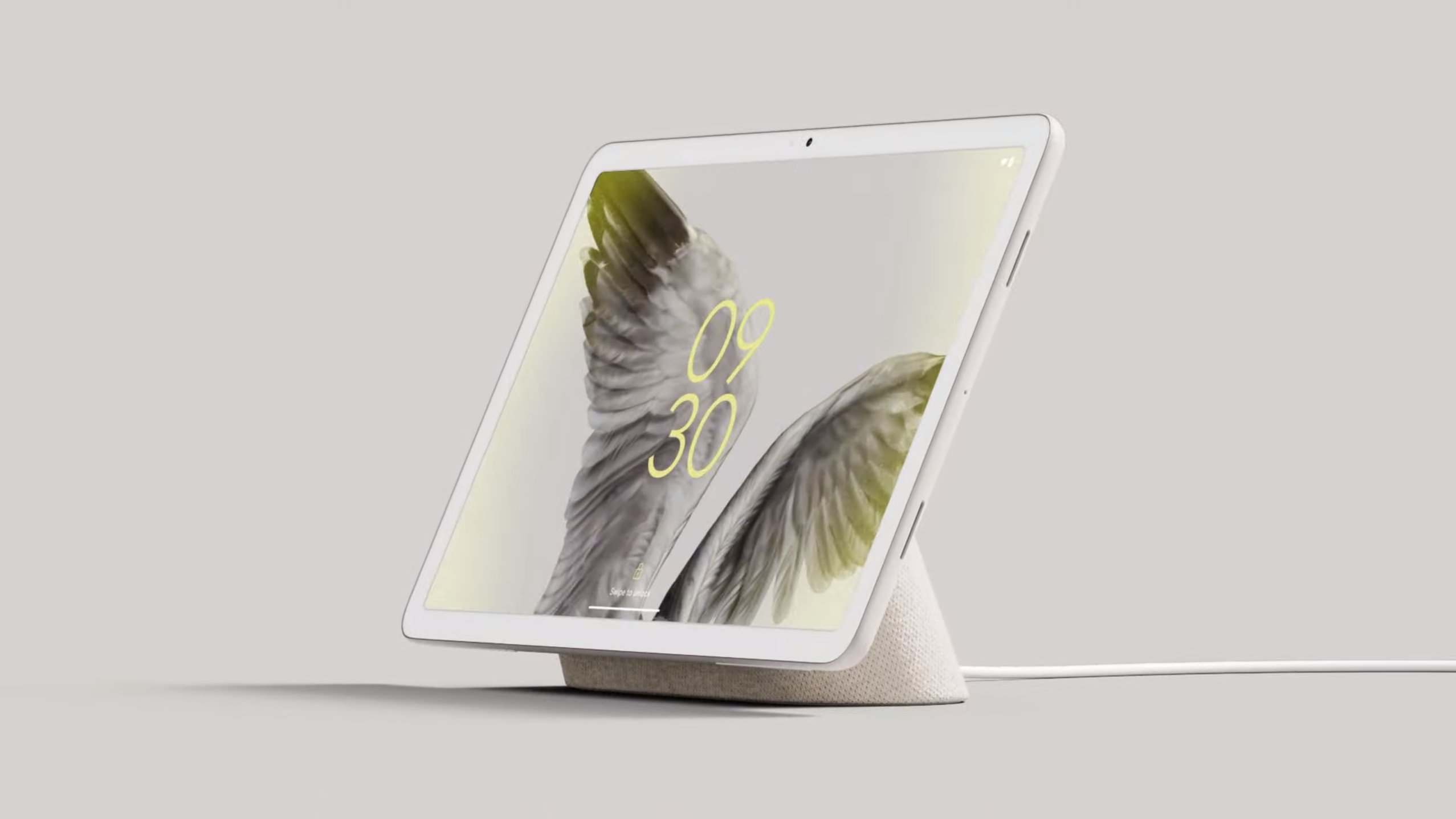 As for design, there are two colours: a green model and a pale beige/peach sort of tone. Google says it is using premium materials and finishes with smooth rounded corners.
A 'nano-ceramic' coating is inspired by fine porcelain and sees ceramic particles infused into the coating which is applied onto the aluminium body, which like the Pixel 7 phones, is 100% recycled.
The display has a bezel around the edge and there appears to be a quad-speaker sound system with two drivers on each end of the slate. There's also a USB-C port, of course.
For another look at the hardware, a device that is allegedly a Pixel Tablet popped up briefly on Facebook Marketplace, and images of the listing were since shared to Twitter. It does appear to show a device that matches what we've seen so far, including the speaker dock, but of course we can't guarantee that it isn't a fake.
We haven't yet had any detailed hardware specs, but from the brief preview that Google gave us earlier in the year, we can gather that the tablet has front and rear cameras for starters.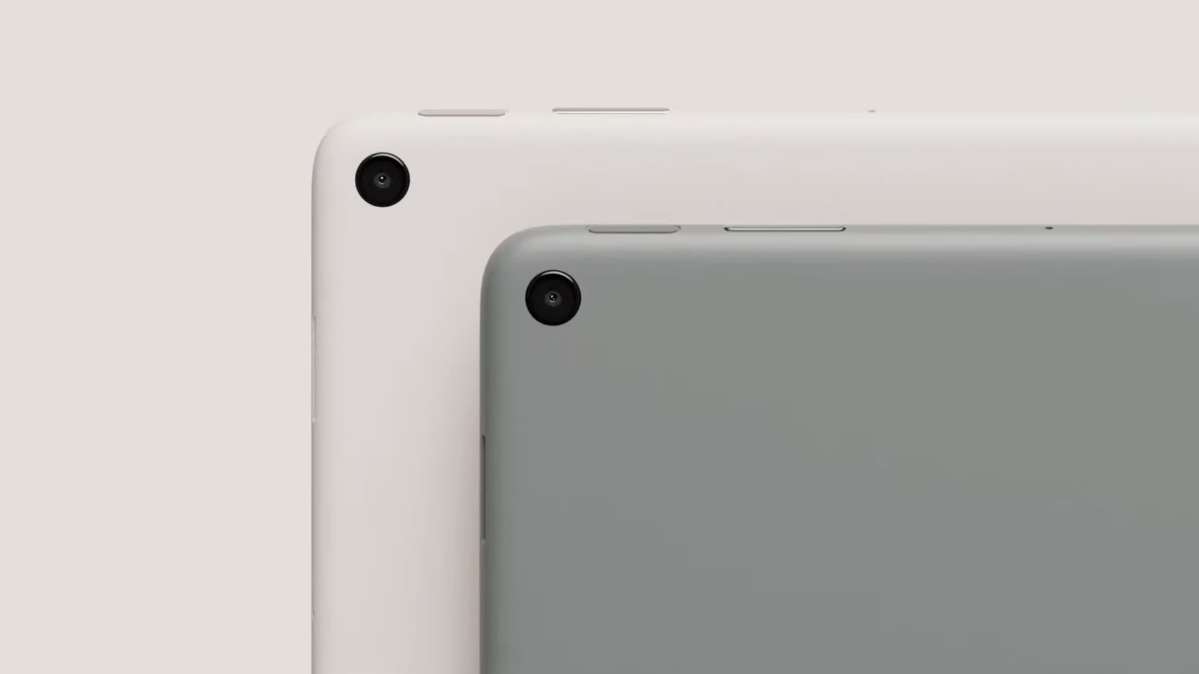 Google
New information from version 8.5 of the Google Camera app for Pixel smartphones, as spotted by 9to5Google, gives us a little more information about those cameras.
The app code mainly indicates what the Pixel Tablet won't have, starting with 4K video recording at 60fps and quite possibly no 4K at all. It looks like the device also won't offer Audio Zoom, Slow Motion videos, or Action Pan photos.
We also potentially know, via Kuba Wojciechowski on Twitter, that the Pixel Tablet's cameras will both be Sony IMX355 sensors. That's the same 8Mp sensor found on the Pixel 6's selfie camera.
Wojciechowski also reported via 91Mobiles that the tablet will have a 10.95in display. That size means it could be very close to the same dimensions as Apple's iPad Air, and the design Google showed off backs this up with round corners to the screen.
The leaker has added the tablet will have WiFi 6 support and come with either 128GB or 256GB storage. They also spotted the existence of a Google-made stylus.
That seems likelier now that a Google tablet codenamed 'Tangor' has been certified by USI (Universal Stylus Initiative), as spotted by NuGiz. The USI certification means the device will work with any USI-certified stylus. Google has been part of USI since 2018 and it's supported in Chrome OS but not Android as yet.
Whether Tangor is a different device is impossible to say but it seems unlikely. It's also unclear whether this means Google will ship the Pixel Tablet with a stylus or whether it will be an optional extra.
Related reading: