Finding the right pair of headphones is a daunting affair and with true wireless earbuds all the rage, the market is saturated with choices. Don't fret though, because JBL's latest Tune earbuds offer everything you need at reasonable prices.
It's understandable if your wish list includes a pair of wireless earbuds that cost hundreds of pounds but not everyone can afford that much. However, JBL's latest Tune TWS models get you premium features like active noise cancelling and long battery life normally reserved for expensive flagship models.
Tune it out
Starting with the Tune 130NC TWS the earbuds cost just £79.99 giving you change from £100.
Available in black or white and compatible with iOS or Android, the Tune 130NC TWS earbuds have far more than you might expect for this budget-friendly price.
The headline feature here is active noise cancelling using two external microphones so you can block out what's going on around you whether that's a long-haul flight or the hustle and bustle of an office. Combined with the secure and comfortable Dot design, you'll be in your own bubble no matter where you are.
Furthermore, the Tune 130NC TWS come with Ambient Aware modes, so you literally tune into your surroundings when you need to be safe or, for example, listen for an announcement. TalkThru is yet another feature normally found on much more expensive rivals and allows you to have a conversation with someone without having to remove the earbuds.
PROMOTION
JBL TUNE 230NC TWS Earbuds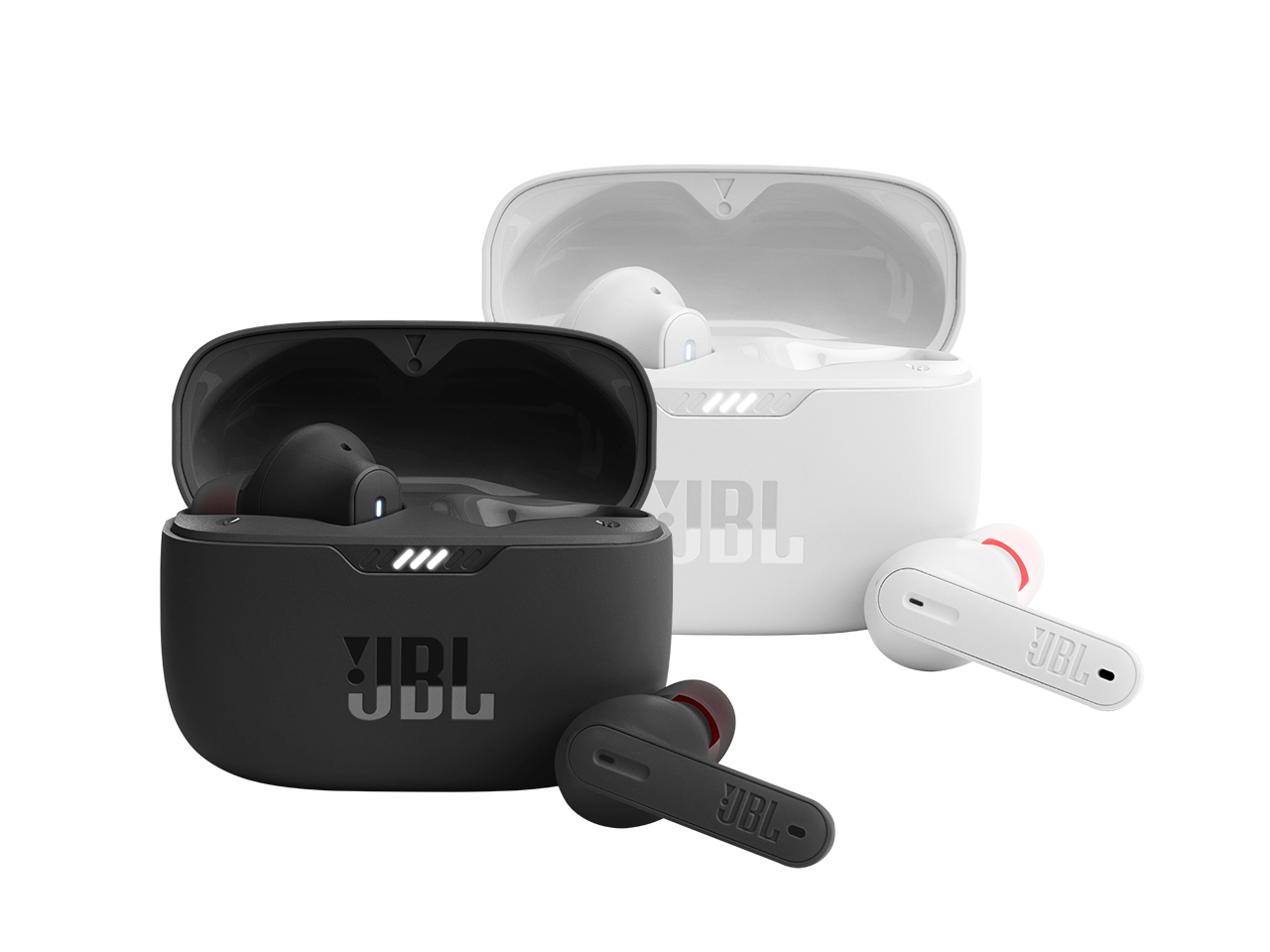 For pure bass sound, get the JBL Tune 230NC TWS Wireless Bluetooth Earbuds. Packed with features like Active Noise-cancelling, Ambient Aware technology and they are sweat and water-resistant. All of this for £79.99.
There are a total of four microphones ensuring clarity during phone calls and the clever VoiceAware feature means you can decide how much of your own voice is routed back through the earbuds, ensuring you don't shout unnecessarily.
All of this would be great, but JBL hasn't stopped there and the Tune 130NC TWS also come with an IPX4 rating, protecting you from water and sweat whether you're out running in the rain or doing a serious gym session.
Perhaps even better is the fact the earbuds will outlast you running a marathon, even if it takes you nine hours to complete. They can last an impressive 10 hours on a single charge and when you include the portable charging case, you get a total of 40 hours – a whopping figure outpacing many earbuds four times the price.
Last but by no means least is the all-important sound quality and you can rely on JBL to provide bang for your buck. The Dot design is not only comfortable but is crafted to allow large 10mm drivers, so you'll get JBL's signature Pure Bass Sound.
Tune in
Alternatively, you might like the new Tune 230NC TWS, the replacement for the T225 earbuds. These cost £79.99 from Currys and get you all the same headline features of the Tune 130NC TWS including active noise cancelling with Ambient Aware and TalkThru, 40-hour total battery life, IPX4 rating and JBL Pure Bass Sound.
A key difference is the more traditional stem style design which you may prefer. The Tune 230NC TWS earbuds are slightly lighter, and you may find the stem design easier to handle in day-to-day use.
No matter whether you go with the Tune 130NC TWS or Tune 230NC TWS, you can take full advantage of the JBL Headphones app to improve your audio experience. The free app allows you to get product tips and help but that's just the start.
You can also change the EQ settings to a preferred profile or even customise the sound to your own taste as well as find lost earbuds and set up voice assistants with a choice of Amazon Alexa or Google Assistant.