Intel has long-teased its Arc graphics card collection, and after months of teasers, we're finally seeing the budget-friendly graphics cards begin to appear.
Intel's Arc desktop collection, codenamed Alchemist internally by Intel, looks to focus more on general consumers than enthusiast-level gamers with reasonably priced GPUs that target the bottom end of Nvidia's RTX 30 series – but that's not to say performance isn't impressive for the price.
Here, we explain all there is to know about the Intel Arc desktop GPU range, from release date and pricing news to the latest design and spec leaks.
When will the Intel Arc desktop GPUs be released?
Intel initially confirmed that the desktop versions of its Arc graphics card collection would be released "this summer" but the rollout was undoubtedly slower than some had anticipated. In fact, only the entry-level Intel Arc A380 made an appearance in the Summer, with the rest of the collection said to follow on soon after.
Not much else was said until the end of September 2022, when the company announced that both the mid-range Intel Arc A750 and top-end Intel Arc A770 will go on sale on 12 October.
How much will the Intel Arc desktop graphics cards cost?
It's safe to say that Intel Arc graphics cards are more affordable than the competition, with Intel's top-end Arc A770 coming in at an affordable $329, compared to the $499 of Nvidia's equivalent RTX 3070. That trend continues with the $289 Arc A750 and the entry-level Arc A380, which comes in even cheaper at an impressive $139.
That's fairly competitive, but remember that's just an MSRP and third-party manufacturers will likely add extra cost depending on the tweaks to the reference design provided by Intel. Let's also not forget about scalpers, which have the potential to drive the price beyond the MSRP.
Still, it's nice to see Intel's budget-focused intentions at least!
Latest Intel Arc desktop GPU news
We got our first look at the Intel Arc desktop graphics card collection, dubbed Alchemist internally by Intel, during the Intel Arc mobile launch in March 2022.
Before we go any further, it's probably worth explaining the 'Limited Edition' moniker in the preview video above.
It's safe to suggest that Intel hasn't gone through all the trouble to develop a new graphics card collection to only sell a handful. Instead, it's Intel's version of Nvidia's Founders Edition, effectively selling a small number of reference Intel Arc GPUs at launch alongside popular third-party alternatives.
So, what can we pick up from the Arc desktop teaser?
Generally, it's a nice-looking GPU with a more simplistic approach than many – an important factor among gamers in 2022 with the rise of transparent cases – though it's worth noting that third-party manufacturers will likely have a bit of fun with the design. If you don't like Intel's reference design, one of the many third-party alternatives will.
We also know that it'll come with many of the optimisations and features announced for Intel's mobile GPUs, as both cards share Intel's Xe-HPG architecture. That includes support for XeSS, Intel's upscaling algorithm, DX12 Ultimate, ray-tracing and more, with dedicated Xe-cores offering AI acceleration and a new media engine to boot.
Now, let's get into the specifics.
Intel Arc A380 specs
The Arc A380 was rumoured to be the least powerful of the range prior to its release, and now we've got confirmed specs to back that up.
On paper, it looks like it could match the performance of Nvidia's last-gen GTX 1650, sporting 6GB of GDDR6 VRAM and a 2,000MHz boost clock. Despite the entry-level nature, there is ray-tracing support with 8 RT Cores, along with 1024 Shading Units and a 75W TDP.
Intel Arc A750 specs
The Arc A750 has its sights set on the Nvidia RTX 3060, as seen in a now-deleted YouTube video.
That deleted video showcased a Cyberpunk 2077 benchmark test, achieving a steady 59fps at 2560 x 1440 on High graphics settings, while Intel also showcased graphs that seem to show the A750 beating the RTX 3060 in several games including F1 2021, Control and Fortnite. In fact, Intel claims up to a 17% increase – but only in those specific games mentioned.
Intel then released another video days later showcasing performance in Death Stranding with better performance, achieving between 85 and 100fps on the default graphics setting when paired with a Core i9-12900K and an Asus ROG Maximus Z690 Hero motherboard.
It wasn't until late September that Intel announced the full spec, and it seems the A750 and A770 aren't that far apart. The A750 sports 28 Xe-cores, just four fewer than the top-end model, though it runs slightly slower with a 2,050MHz boost clock. That's paired with 8GB of GDDR6 VRAM at 16Gbps, and a TBP of just 225W.
Intel Arc A770 specs
At the other end of the scale, we have the Intel Arc A770, the top-end graphics card in Intel's current collection. Though it's the top-end Intel card, don't expect it to compete with the RTX 4080; instead, it's rumoured to perform at a similar level to the Nvidia RTX 3070 while being priced at the same level as the RTX 3060.
Key specs include up to 16GB of GDDR6 memory at 17.5Gbps with a 2100MHz boost clock and 32 Xe cores, and the company shared benchmarks which show promise at the 1080p level, even with ray-tracing enabled. Intel claims that it will have 65% better ray-tracing performance than "the competition" but didn't go into specifics.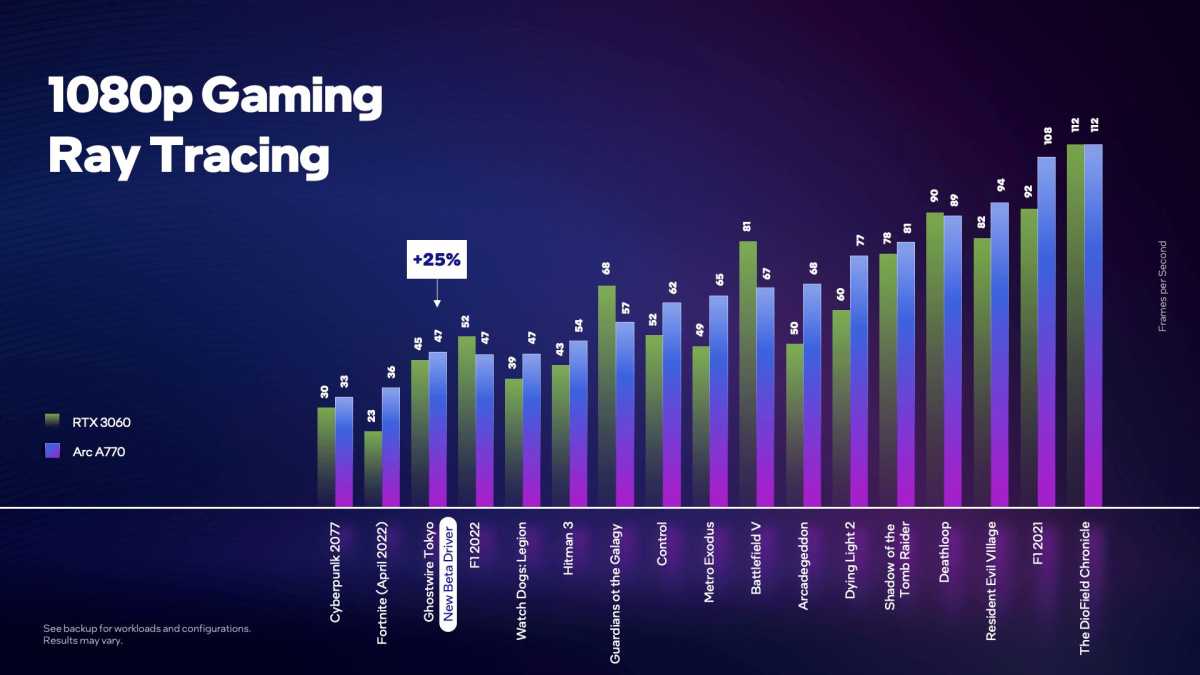 Intel