The ECOVACS Deebot X1 OMNI is on sale until 8 May. Buy it now and you'll get a £230 discount.
If you've been mulling over buying a robot vacuum cleaner, the X1 OMNI could be what you've been waiting for. Here's why you might want to go for it.
It has best-in-class suction power
The X1 OMNI has some of the strongest suction around at 5000PA. For comparison, the Roborock S6 Max V has 2500PA of suction and the Eufy RoboVac 30C has 1500PA.
But it won't waste any of this power. Thanks to automatic carpet detection, the X1 OMNI will only increase suction when it needs to and will conserve its battery life by dropping to lower power on hard flooring.
It mops your floors
The X1 OMNI isn't just a powerful vacuum cleaner – it'll also mop your floors. Many robot vacuums offer a gentle mopping function but you'll still have to take over and do it by hand when you need a deeper clean. The X1 OMNI is different. Thanks to the completely redesigned dual mop heads which spin at 180RPM, it'll give your kitchen floor a thorough clean.
When it's finished, it'll return to its dock, which contains 4-litre tanks for clean and dirty water, and it'll empty, clean and dry itself.
You won't even need to empty its dustbin
One of the issues with robot vacuum cleaners is their small onboard bins. Even if you schedule a week of cleaning, you'll still need to remember to empty the dustbin every couple of days.
But the X1 OMNI's dock is equipped with suction technology. When the robot vacuum returns to recharge, its bin is automatically emptied into a bag that can hold a month's worth of dust and debris. And when you need to empty it, you simply remove the bag, throw it away and replace it. There's no need to come into contact with dust at all, which is good news for people with asthma or allergies.
You can see what's happening at home using its onboard camera
If you're back in the office and missing your pets, the X1 OMNI can help. Just open the app from wherever you are and you can remotely operate your X1 OMNI, driving it around your home and checking to see that all's well via the onboard camera.
It also means you won't need to run home if you're worried you left the oven on or a window open.
You can create a schedule and leave it to clean
Lots of vacuum cleaners allow you to schedule cleaning, but thanks to its self-emptying technology, you can genuinely just set and forget a cleaning programme for the X1 OMNI and come home to shiny floors every day.
PROMOTION
ECOVACS DEEBOT X1 OMNI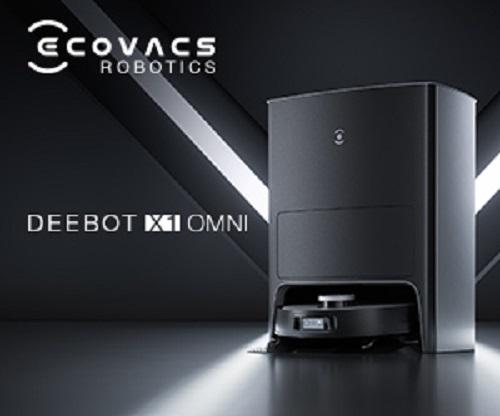 WAS: £1,499
NOW: £1,139
SAVE: £360
ECOVACS just announced Flash Sale on DEEBOT X1 OMNI – their new flagship robot vacuum cleaner!
Get it for £1,139 instead of £1,499 now! That's £360 Savings!
You can use voice commands – with no extra set-up
If you want to start the cleaning with a simple voice command, you don't need to spend time linking the X1 OMNI to your home assistant. Just say the word and its integral voice assistant YIKO will respond to your commands directly.
It won't get tangled up in your trainers
It's frustrating if you're out and get a notification that your robot vacuum is stuck and can't clean again until you rescue it. But thanks to its advanced, AI-driven navigation, the X1 OMNI can identify obstacles such as shoes and wires and give them a wide berth.
That means fewer rescues and fewer interruptions to the cleaning programme.
You don't need to tidy up before it cleans
Imagine you want the X1 OMNI to clean the sitting room but there's a big pile of the kids' Lego in the corner. You don't have to spend time packing it up. Instead, just go into the ECOVACS app and mark the area as out-of-bounds on your map and the robot vacuum will avoid it.
There's no need to hide the dock away
Robot vacuum cleaner docks can be functional looking, at best. But just as much thought has gone into the exterior of the dock as its tech-packed interior. It was created in partnership with the Danish studio Jacob Jensen Design and its sleek, modern look means you won't have to tuck it away in a dark corner.
It's on sale now
The Deebot X1 OMNI is on sale from 2 May to 8 May. Its usual price is £1,499 but buy it now and it's only £1,269 – saving you £230.
Don't miss it, check it out here!