Sky has released the Sky Stream, a media streaming box allows more people to access Sky content without a satellite dish.
The Sky Stream is similar to the Sky Stream Puck, which was announced last year as a way of getting a multi-room experience with the Sky Glass television. However, the Sky Stream is a standalone device that can plug into any TV.
In many ways, it's a Sky Q mini box but is even smaller and doesn't require a main Sky Q box to work making it like an Apple TV 4K or other media streamers from the likes of Roku.
When is the Sky Steam release date?
The Sky Stream is available to buy now from the Sky website.
How much does the Sky Stream cost?
Sky Stream has two plans available for customers – one that is more flexible, but slightly more expensive, as well as a cheaper option that ties in customers for longer.
Here are the costs of the Sky Stream plans:
31-day rolling plan – From £29 per month (Setup fee of £39.95)
18-month contract – From £26 per month (Setup fee of £20)
Those setup fees are rather annoying, considering that no engineer is required for installing the Sky Stream. It simply plugs right into your TV via HDMI.
There are some additional fees that customers can pay on top of this. For example, if you want 4K streaming and Dolby Atmos, you will have to pay an extra £5 per month.
The Sky Stream only covers one room. If you want it to be available in more, then you will need to pay for the Whole Home pack for an extra £12 per month.
The ability to fast forward some adverts is available in your first year of streaming, but after this period, this will cost an extra £5 per month.
Only a certain number of channels are included in the base costs of the packages – more on this below.
As stated above, the costs of the Sky Stream Puck are different to the Sky Stream. Sky Glass customers instead pay a £50 one-off payment for each Stream Puck they want around the house and an additional £10 per month for multi-room.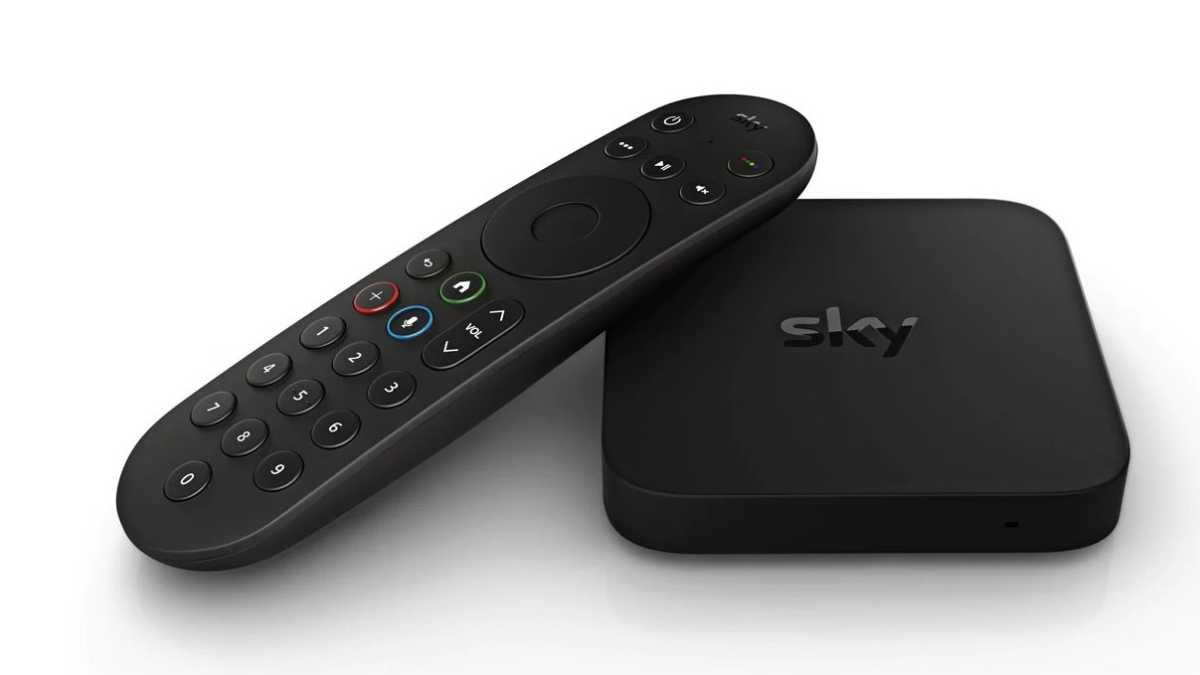 Sky
What channels are included with Sky Stream?
For the base cost of Sky Stream, you get Sky Ultimate and Netflix Basic. The former includes over 120 channels, including classic Sky Entertainment channels such as Sky Atlantic, Sky Max and Sky Witness, as well as all the major Freeview channels.
Meanwhile, the Basic Netflix plan includes the full Netflix library, but you can only stream it in SD. However, this will be upgraded to 720p next month.
There are two more packs that you can add onto a Stream package. They are:
Sky Cinema with Paramount+ – £13 per month on a rolling contract or £11 per month on an 18-month contract
Sky Sports – £27 per month on a rolling contract, or £25 per month on an 18-month contract
Any other streaming services such as Amazon Prime Video or Disney+ will also cost extra.
What are the Sky Stream specs?
As mentioned earlier, the Sky Stream works without a satellite dish and so gets content over Wi-Fi or Ethernet instead.
You'll need an internet speed of at least 10Mbps to stream. As well as Sky channels, app support should include Amazon Prime Video, Netflix, Disney+, AppleTV+, BBC iPlayer, ITV Hub, YouTube and Discovery+ – matching Sky Glass.
Here are some more specs for the Sky Stream:
4K HDR support
Dolby Atmos ready
HDMI 2.1
Ethernet
Wi-Fi
Voice remote
10.8 x 10.8 x 1.8cm
One-year warranty
Anthracite Black