If you were excited about the Osom OV1, a privacy-focused phone from the company that grew out of Essential, then you might be disappointed to hear that it's no longer in production.
In an unexpected twist, Osom has abandoned the OV1 project to instead collaborate on a blockchain-first smartphone from Solana Mobile called the Saga.
Solana Mobile is a subsidiary of Solana Labs, which built Solana, a blockchain designed to help people host and use crypto and mint NFTs.
The Saga was launched in New York City on Thursday as an Android phone that can run Solana web3 stack.
"Almost 7 billion people use smartphones around the world and more than 100 million people hold digital assets – and both of those numbers will continue to grow," said Solana chief executive Anatoly Yakovenko.
"Saga sets a new standard for the web3 experience on mobile."
The phone will allow people to mint NFTs and other digital assets on an Android platform rather than relying on desktop or laptop browsers. It promises to allow people to make transactions in web3, a decentralised internet with cryptocurrency built in.
Confused? Same. The world of web3, crytpo, and NFTs is quite inaccessible. For that reason, Solana is trying to bring a phone to market to make it easier.
Osom tweeted out that it was partnering with Solana on the Saga, but it only confirmed the OV1 was no more in a reply to a tweet asking about it directly.
OSOM is thrilled to partner with @Solana to produce the Saga, a flagship Android mobile phone with unique functionality and features tightly integrated with the Solana blockchain.https://t.co/SeW3jZssDE

— OSOMPrivacy (@OsomPrivacy) June 23, 2022
The OV1 will now be the Solana Saga.

— OSOMPrivacy (@OsomPrivacy) June 23, 2022
It's a very quick turnaround from Osom, who tweeted on 20 April that it was hiring, along with a photo of the Osom OV1.
The company hasn't explained its about-turn, despite OSOM co-founder Jaosn Keats being quoted in a Solana press release.
"Saga starts from first principles to create a mobile experience for individuals, developers, and ecosystem participants that opens a new era of mobility," said Keats.
"The world needs novel hardware to embrace the future that is web3, and building out an ecosystem that looks to the future without being burdened by past legacy ecosystems is hugely exciting for us."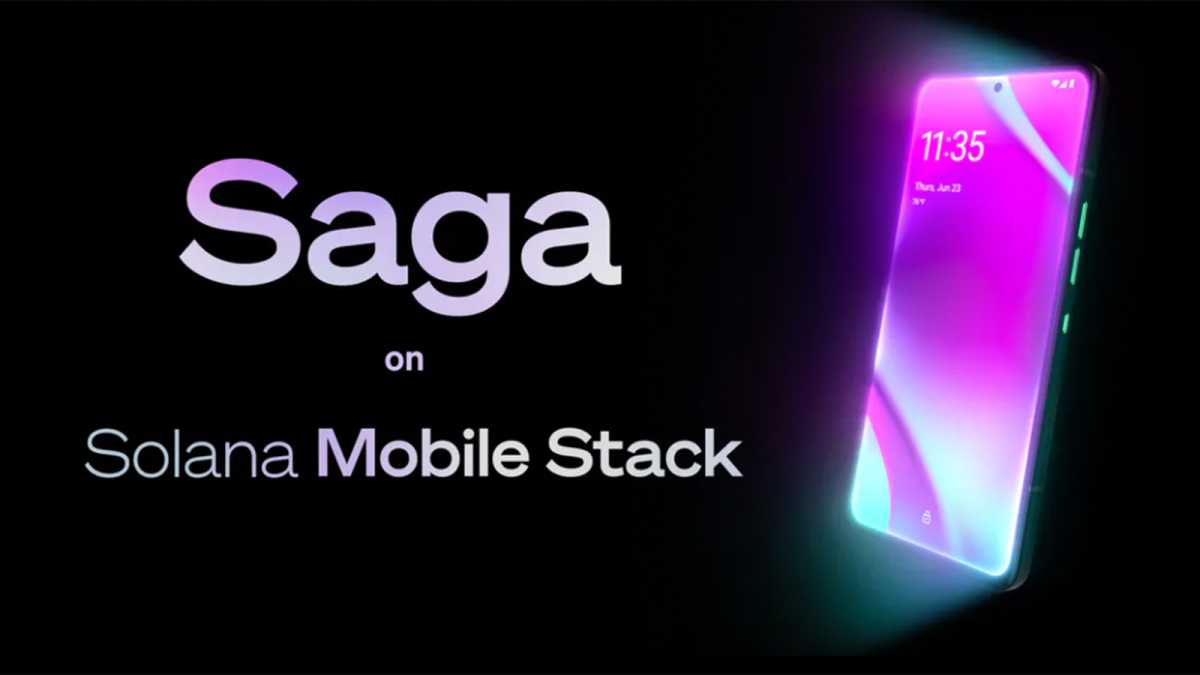 Solana
When will the Solana Saga be released?
There's no official launch date yet but the phone is expected to ship in Q1 2023.
You can pre-order now by connecting your crypto wallet with Solana and making a $100 refundable deposit.
The phone is only available in the US, Canada, Europe, and the UK.
How much will the Solana Saga cost?
Keats previously told Android Police the OV1 would cost "well sub-$1000", meaning below US$1,000.
Solana said the Saga requires a $100 refundable deposit and will have an "anticipated final cost of $1000".
Priority will be given to developers to test out the phone. People who pre-order "may" get a Saga Pass NFT.
What specs and features does the Solana Saga have?
The phone was teased on stage at the launch event but hasn't been officially revealed in renders yet.
The Osom OV1 was never fully confirmed so we didn't know the specs. The good news is the Solana Saga is quite high end for an Android device, with a shiny new Qualcomm Snapdragon 8+ Gen 1, 6.67in OLED, 12GB RAM, 512GB storage.
Solana has built into the phone what it calls a 'secure element' and security features that "will enable the Solana Mobile Stack's Seed Vault", according to a press release. This is designed to keep private and financial information secure but still able to talk to apps or the browser.
What specs and features was the Osom OV1 going to have?
The OV1 was set to have a Qualcomm Snapdragon 8 series chipset, which could have been the Snapdragon 8 Gen 1 we've seen in the Oppo Find X5 Pro.
The OV1 had a privacy-minded version of Android in keeping with Osom's company values. Images of the phone include app icons for Signal and ProtonMail, but it's not clear if Osom had partnered with these security-loving brands or simply admires them (it's probably the latter).
There was going to be an Osom Privacy Cable with a physical switch to turn off data transfer functionality in the box. The company said on Twitter that charging your device can result in sharing of personal data, so this is a way to add an element of security to using public USB ports.
Osom also confirmed the OV1 would have a stainless steel chassis, something we don't often see in Android phones. The most premium iPhones, such as the iPhone 13 Pro, have steel rims, but this could be a good Android differentiator if the Saga keeps this design.
The phone would also have had titanium components and strong Gorilla Glass Victus from Corning. There will also be at least a choice between black or white colour options, with a secret third option not yet announced, according to Android Police.
The camera array on the OV1 was in a triangular module. The design reminded us of the Fairphone 4, with dual cameras and a flash.
Osom has said the rear dual cameras were a 48Mp and 12Mp combo, with a 16Mp sensor on the front – though no images of the front of the device have been released yet.
Unlike the Fairphone, the rear of the device had a circular physical fingerprint sensor, an increasingly rare sight on modern smartphones.
We can but speculate about the size of the device because Osom won't confirm its size or type. We'd hope it was an OLED panel with a 120Hz refresh rate, though the rear fingerprint scanner could suggest LCD, as that tech doesn't support under-display scanners. Given the company is boasting the phone has "beyond all-day" battery life, it will probably have to be an energy conscious LTPO panel that can scale the refresh rate right down when needed.
The phone will also pack in sub-6 band 5G (no mmWave unfortunately), NFC for mobile payments, and a dual physical SIM slot. Fingers crossed Solana keeps this all in.
On paper the Osom OV1 didn't deviate too far from the existing smartphone pack to stand out, but its privacy features could have made it one to keep an eye on. We'll have to wait and see how much of the OV1 makes it over to the Saga, but the audience of the phone will have shifted now.