With the rise of video streaming, getting the right entertainment system at home is more important than even and LG has the perfect combination of sound and vision with its range of soundbars and TVs.
You might think that you need excessive amounts of money to buy countless products with wires trailing all over the living room to get a great home cinema experience, but with its latest gadgets LG makes it easier than ever.
Immerse yourself in sound
Whether you need a soundbar to upgrade the sound of your current TV or not, LG offers an expansive range of soundbars. Prices range from just £99 so there's something for everyone, no matter what you budget is.
A lot of soundbars look similar and typically sit in front of your TV but LG also offers innovative designs that come in different shapes and sizes. For example, the Éclair range is specifically designed to be compact so you can fit the soundbar into small spaces, while the slim GX Soundbar and G1 Soundbar are constructed to be wall-mounted with minimal impact.
There are options for wired or wireless, the latter being particularly handy if you have your TV wall-mounted but want the soundbar nearby without trailing a wire to the set. You can also make use of Bluetooth to play music or podcasts from your phone, so the soundbar doesn't just have to play what's on the TV.
Some models, like the G1 Soundbar, come with HDMI, optical, Bluetooth and USB connections giving you a wide range of options.
Many LG soundbars, such as the Éclair models, come complete with a subwoofer to provide a dedicated bass channel so you'll get the full rumble of tanks in an action film or the thumping bass when you're dancing round the living room to the latest dance track – so look for this if you want added boom.
PROMOTION
LG Soundbar SP8YA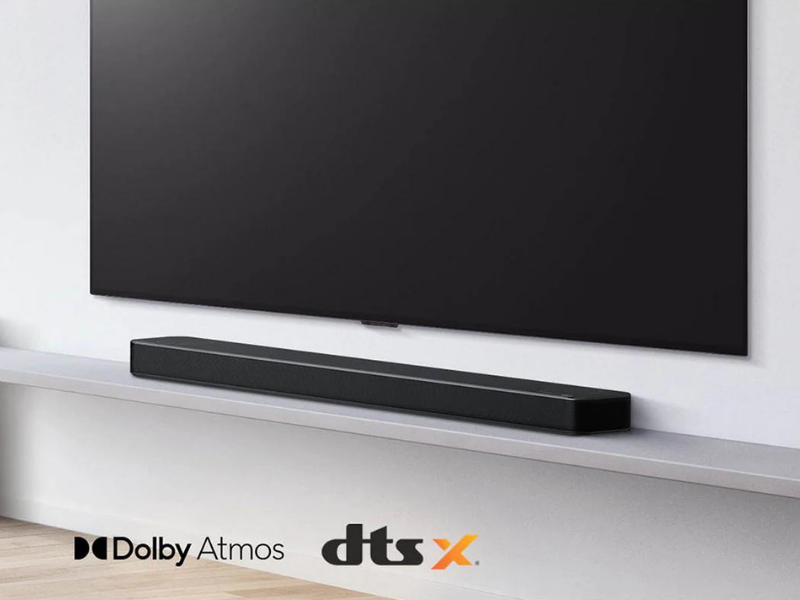 Was: £699.98
Now: £685.98 (LG Members only)
Save: £14 off WBW LG TV
The LG SP8YA soundbar gives you high resolution audio with Dolby Atmos & DTS:X.
Surround sound is a feature high up many buyers' list for a soundbar and LG makes this incredibly easy to attain without needing physical rear satellite speakers. Much of the range includes support for Dolby Atmos and DTS:X. These, combined with dedicated up-firing drivers, create an immersive three dimensional sound experience.
However, if you want the real-deal, models like the SP11RA come complete with rear speaker kit giving you an enthralling 7.1.4 surround sound system.
Many LG soundbars are High-Res Audio certified meaning they are capable of delivering up 96kHz sample rates and 24bit depth for incredibly detailed sound and an experience as the artist intended.
Another feature to look out for is AI Sound Pro, which on compatible models means the soundbar can automatically adjust the sound depending on what you're watching. The dialogue of a documentary will be prioritised, for example, or the bass may be boosted if you're listening to certain genres of music, all without a hint of a settings menu.
Perfect partners
While you can add an LG soundbar to any TV, they are better paired with LG TVs for the ultimate experience. Not only do you get similar design language, soundbars like the G1 Soundbar are designed to match the exact width of an LG TV. In this case, the 55in G1, so your system looks great together.
You also get further enhancements on compatible models such as Soundbar Mode Control where you can conveniently use your LG TV remote to control the soundbar. Sound Mode Share also allows the soundbar to make use of the powerful processor to enable features like AI Sound Pro.
Let's not forget that combining an LG soundbar with an accompanying TV ensures you'll get the best picture quality. Models such as the award-winning G1 and C1 offer incredibly vivid and bold visuals thanks to LG's industry leading OLED panels.
You can find the firm's range of soundbars and TVs on the official LG.com site and shopping there gets you various benefits. LG Members gain things like free delivery and exclusive pricing, but you can take advantage of unique deals.
Currently, you can save £14 on selected soundbars when you buy with select TV models as an LG member.