In a move that'll no doubt surprise many, Dyson has been working on a pair of over-ear headphones for the past six years.
Yes, you read that right, headphones.
Of course, they're not just any old headphones, with Dyson using its high-end air purifying tech to bring outdoor air purification to users for the first time ever. So, it's Dyson's first foray into the worlds of audio and wearables, and it's with a product that's the first of its kind. Classic Dyson, am I right?
While it'd be easy to dismiss it as an 'out there' idea or even a gimmick, I've been very impressed with the hardware on offer after using them at a closed-door hands-on session at Dyson HQ.
Dyson tech, but miniature
Dubbed Dyson Zone, the one-of-a-kind air-purifying headphones look to combat rising noise and pollution levels, particularly in big cities where up to 97% of the population live with unhealthy levels of air pollution, with an intuitive design packed full of Dyson firsts.
The idea is simple; there are compressors and filters built into each ear cup that pull in and actively filter the air, and that air is then funnelled out of the cans to your face via a visor that snaps into place on the headphones using magnets.
Of course, the execution was anything but simple, with Dyson remarking that a lot of R&D has gone into the tech built into the cans, especially when it comes to the air purification and compressors. In fact, the cans have been in active development for over 6 years, with a few notable changes between an early prototype I used in March and the near-complete version I used in early December.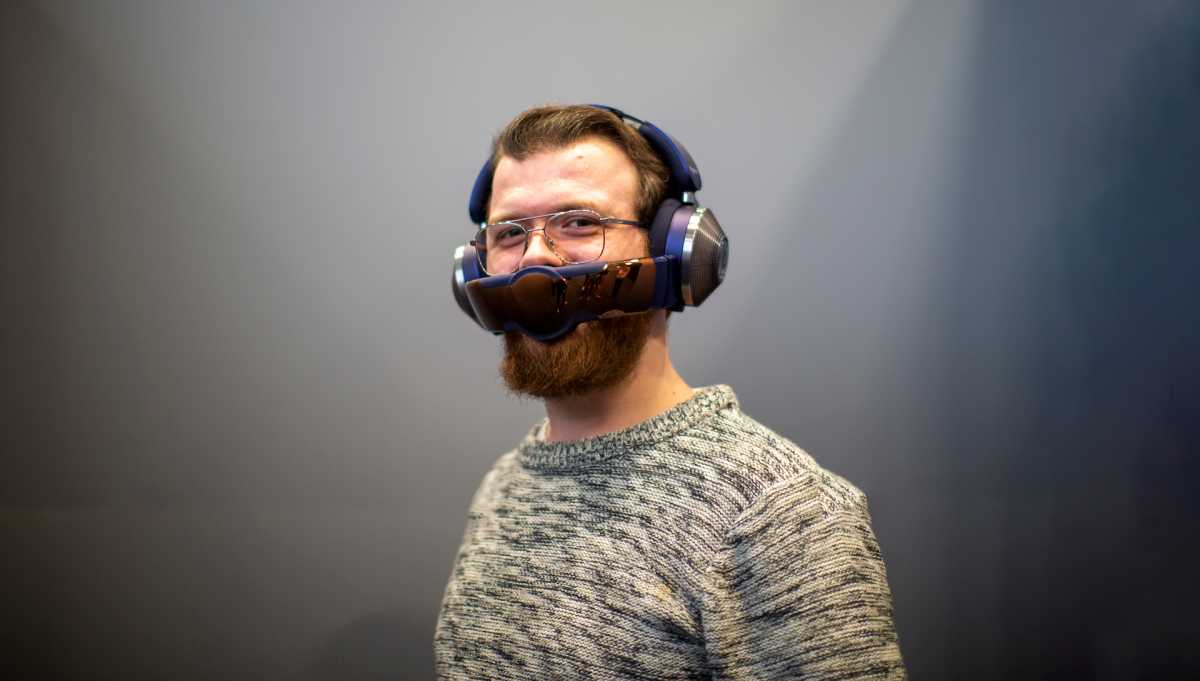 Lewis Painter / Foundry
The filters used in the cans use a new manufacturing process that utilises electrostatic filter media to negatively charge the dual-layer filters, actively attracting particles and other pollutants in the air to the filters. Dyson claims this can filter 99% of the particulates in the air down to 0.1 microns, and that includes harmful gases including nitrogen dioxide, sulphur dioxide and ground-level ozone, not filtered with traditional particulate filters.
It should also protect the wearer from catching COVID-19 if particles are present in the air. Dyson hasn't tested it specifically with the virus itself, but it has tested it with the near-identical H1N1 virus with great results.
The job of the compressor is to suck in air, and it's described as the company's smallest, most finely balanced motor ever. Despite the small dimensions, the compressors – one in each earcup – can pull in an impressive 2.5L of air per second at its maximum 9,750rpm.
But not only are they small and mighty – they've also got to be near-silent in operation, being so close to the ears.
Dyson achieved this with a balanced impeller (the opposite of a propeller) that reduces motion, and the system is suspended within the earcups – rather than being attached directly – to keep vibrations to a minimum.
While I could still hear the slight hum of the spinning motors when wearing the cans without audio, it was instantly drowned out when music was played.
Tom William Chapman / Dyson
Breathing more comfortably
All that lovely, purified air is delivered to your face via Dyson's contact-free Clean Air Delivery Visor – catchy, right? The visor does look a little odd when worn, and it'll likely be the biggest factor that prospective buyers will have to overcome, but Dyson is confident that attitudes are changing with the requirement of masks over the past few years.
Still, it does look a tiny bit Bane-like.
Visuals aside, the visor works really well, funnelling the air from the cans to your face with a mesh cover so as to not directly blow air into your nose and mouth. That'd be uncomfortable, says Dyson. Instead, the mesh cover creates a 'plume' of clean air around the mouth and nose without the need to directly make contact with the skin.
The amount of air needed will likely vary depending on what you're doing, and Dyson has included sensors that'll detect what's happening and will adjust flow between low, medium and high depending on your air intake. It's worth noting, however, that it's not designed for exercise, and that'll likely be a disappointment for runners and cyclists.
If you're sat on the tube, airflow will be slower than if you were wandering down Oxford Street – partly in a bid to optimise battery life, which ranges from 1.5 hours to 4.5 hours with air purification turned on.
The visor may look rigid, but it's surprisingly flexible and, using magnets to snap into place, it's easy to put on and take off at a moment's notice. It even has a conversation mode, activated by pulling the visor down from your mouth. That'll not only turn off the fans to conserve battery while you chat, but it'll also enable a Transparency mode to make it easier to hear your surroundings.
High-end audio
As well as being an outdoor air purification system, the Dyson Zone are a pair of headphones – and very high-end headphones at that, with all the bells and whistles of flagship wireless headphones.
The Zone headphones sport 40mm, 16ohm, neodymium speaker drivers – developed in-house by Dyson, of course – with an impressive range of 6Hz – 21kHz, resulting in an immersive audio experience that the company describes as audio production-level. Though my hands-on time was limited, I was impressed by crisp vocals that remained unaffected by the deep, powerful bass on offer.
That bass can be pushed further by enabling the Bass Boost EQ, available via the Dyson Zone app, allowing for exceptional thumping bass that doesn't muddy the rest of the frequency range.
What's more impressive is the active noise cancellation. The Zone earbuds contain no less than 11 mics measuring environmental, motor and in-ear noise, with feeds connected to an ANC system that cancels out low-pitched noises like the rumble of the tube. Two of them double up as beamforming mics, allowing you to take calls using the headphones too, with one additional mic within the visor for better pick-up.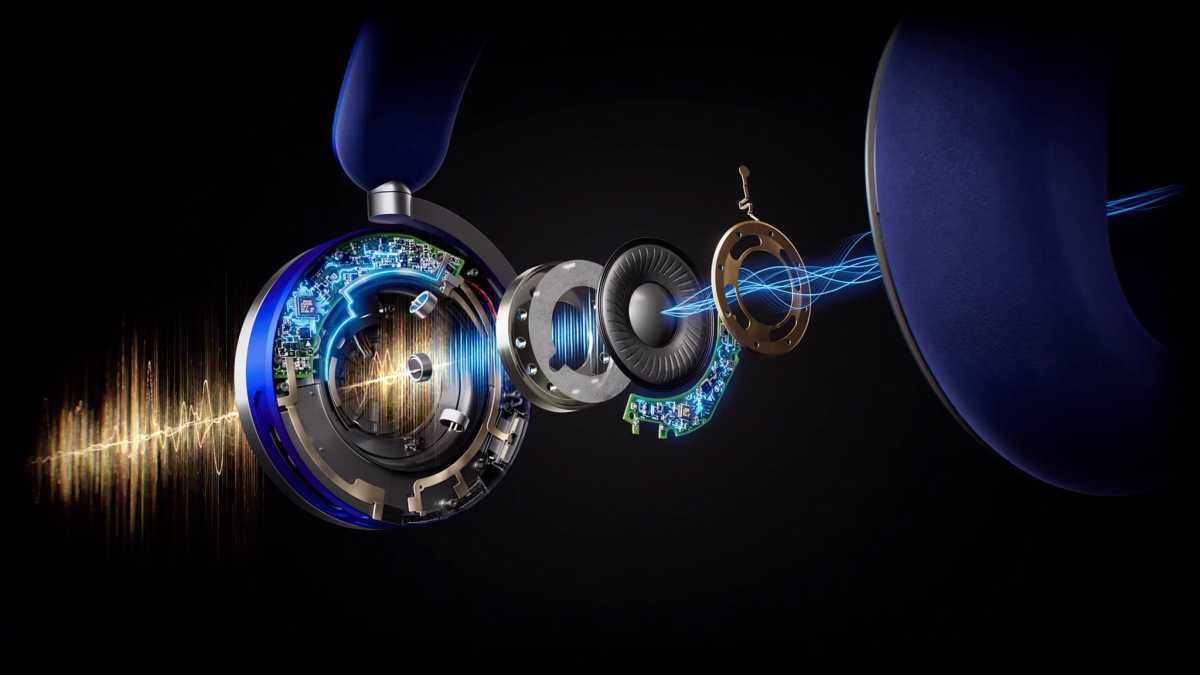 Dyson
While that's impressive enough, the Zone also offer impressive passive attenuation, which cancels out high-pitched noises like the click-clack of a keyboard – an area where most ANC headphones tend to fall over.
It's an incredible quietening of the environment of over 30db on average, which really does have a noticeable effect on what you can pick up on – though I'd be interested to see how it fares on the particularly loud London Underground, rather than quiet meeting rooms.
There are some caveats; the noise cancellation isn't adjustable like Sony's popular WH-1000XM4, and though there is an EQ available via the Dyson Link app, you're limited to three preset modes. But, given the overall experience on offer, these seem negligible.
If you just want to use the Zone as plain headphones, battery life extends to 50 hours, though once the headphones do need a top-up, it'll take close to three hours to go from flat to full.
Throw in other high-end features including real-time monitoring of air quality, a breakdown of previous trips, and a fancy hard case for storage, and you've got an intriguing prospect for those conscious of the growing issue of air and noise pollution.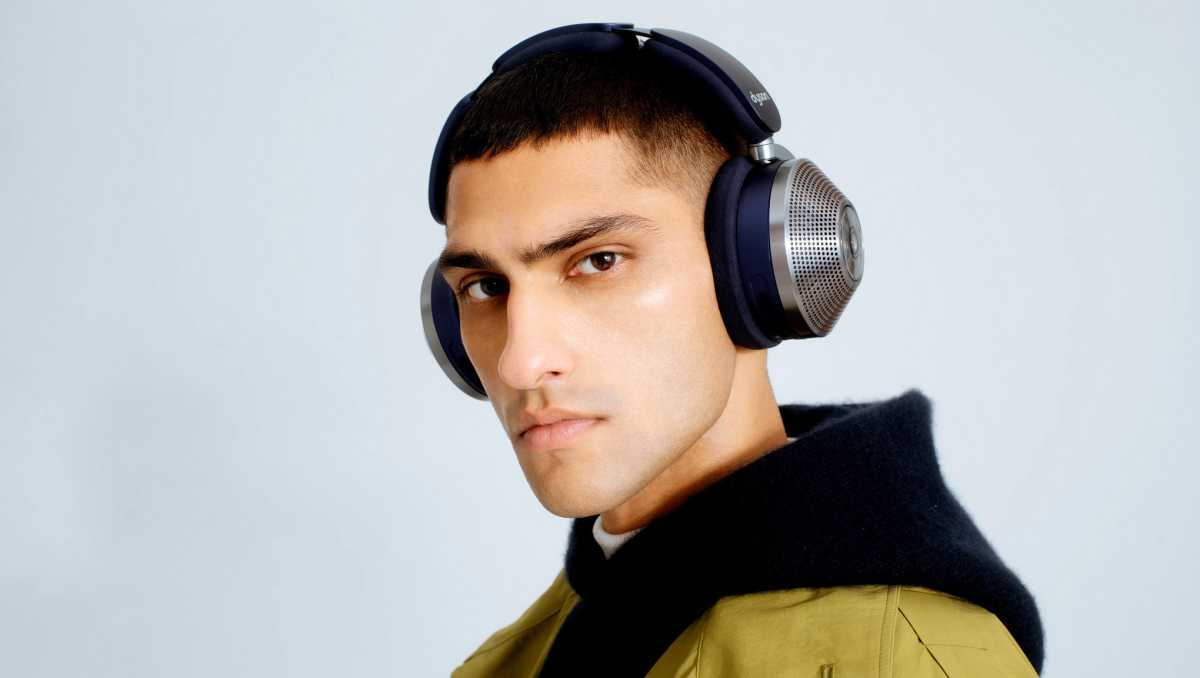 Tom William Chapman / Dyson
Dyson confirmed in December that the headphones will retail starting at $949/£749. The company also confirmed that the headphones would go on sale in 2023, first in China in January, followed by the US, UK and other regions in March 2023. The headphones are exceptionally expensive, given the hugely popular Sony WH-1000XM5 headphones come in at half the price and even Apple's AirPods Max come in at $400/£200 less, but it'll no doubt be a tempting option for some.
Still, if you're serious about reducing your exposure to polluted air and noise on your daily commute, the Dyson Zone is your only real choice – for the time being, anyway.
We discussed the concept of Dyson Zone and Lewis' hands-on thoughts during a recent episode of our weekly podcast Fast Charge, which you can watch below: