When Microsoft introduced Xbox Game Pass – its monthly all-you-can-play subscription service – the company completely changed how console gamers pay for their games.
But not everyone realises that PC gamers can enjoy the same perks in PC Game Pass, with a few twists that make the most of the PC platform.
PC Game Pass is a simple proposition: you pay £7.99 per month (or grab a few months at a time with bundles like this 3-month pass from Argos) and in return you get full access to over 100 games to play as you please.
There are no time limits or restrictions on what you play or when, and there's no need to stream the games so you don't need to worry about your internet speeds – you get to install every title locally and play it just like any other PC game in your collection.
Those 100+ games aren't slouches either. The library includes all the biggest titles published by Microsoft itself – from Halo Infinite to Forza Horizon 5, Minecraft to Flight Simulator – plus all of Bethesda's best, with Doom, Fallout, Elder Scrolls and plenty more to be played.
It's not just Microsoft games though. Big-budget third-party hits like Marvel's Guardians of the Galaxy or Mortal Kombat 11 rub shoulders with indie darlings like Kentucky Route Zero or Hollow Knight, meaning there's something for every taste. Naturally there are some PC classics, including all four Age of Empires titles.
PROMOTION
PC Game Pass 3 Month Digital Download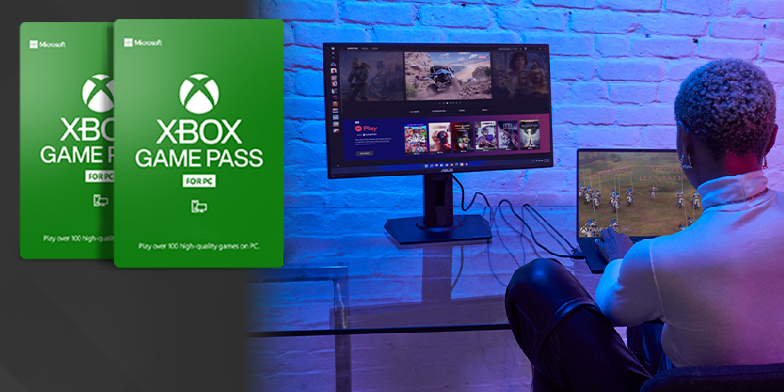 Buy from Argos
Play over 100 high-quality PC games with friends on Windows PCs for one low monthly price. With a huge variety of games from every genre and new titles added all the time, there's something for everyone.
The game library is constantly changing, and perhaps the best part of PC Game Pass is that loads of huge games are available to play on day one – no need to wait months after the release to get your hands on them.
Brand new games from Xbox Game Studios and Bethesda hit Game Pass from release day – including the likes of Halo and Forza – and in recent months games ranging from fan-favourite Football Manager 2022 to indie explorer Tunic have arrived on the service the same day they hit stores.
If you're an EA fan, you don't even need to wait that long. EA Play is now bundled in with PC Game Pass, giving you access to games from FIFA to Star Wars. More excitingly, select titles are made exclusively available to EA Play subscribers to preview ahead of launch, letting you get into the game a few days early.
A single new PC release could cost you £50, but three months of PC Game Pass costs less than half that – and nets you more than 100 games, with new releases added all the time and early previews to some EA games.
It's clear that PC Game Pass is better value than buying your games – and in fact it's better value than anything else around, with no similar game subscription services that come close to matching how much is on offer here. So what are you waiting for? Grab your first three months of PC Game Pass now, and get used to gaming for less.