Privacy is hard to find online these days. You can use a VPN, but your phone's GPS can often reveal your true location.
Fortunately, it's possible to change the GPS location to wherever you want, enabling you to appear to be somewhere else, just as you can with a VPN.
There are a few reasons why you might want to do this. The first and most obvious has nothing to do with privacy at all: mobile games.
Lots of popular games, such as Pokémon GO, Ingress Prime and Zombies, Run! require you to move around in the real world in order to move your character on screen and actually play the game.
If you want to play from home, or to play in a location you cannot physically go to, then you can 'spoof' your GPS location to fool the game into thinking you're somewhere else.
This is ideal for disabled players or those whose health otherwise prevents them from playing. But it's also for those that live in very remote areas or in countries where the game isn't playable. In games such as Pokémon GO, changing your GPS location allows you to catch Pokémon that are exclusive to different regions. Since most players are unable to travel around the globe, this can be the only way to complete their collection.
Another reason to change your GPS location is to use location-based apps such as Tinder. Let's say you're going on holiday and want to arrange a date in advance. That isn't possible in Tinder and other apps which use your current location, as they will match you only with those in your immediate area.
The only way to get around this is to change your GPS location to where you'll be staying.
Third, you might want to fake your location if you're posting to social media and want to check in to a famous location, or if you're planning a surprise party, visit or just don't want anyone to know where you really are.
It's worth noting that spoofing GPS locations can be against the terms and conditions of apps and games and you could end up being banned if you're caught 'cheating' in this way.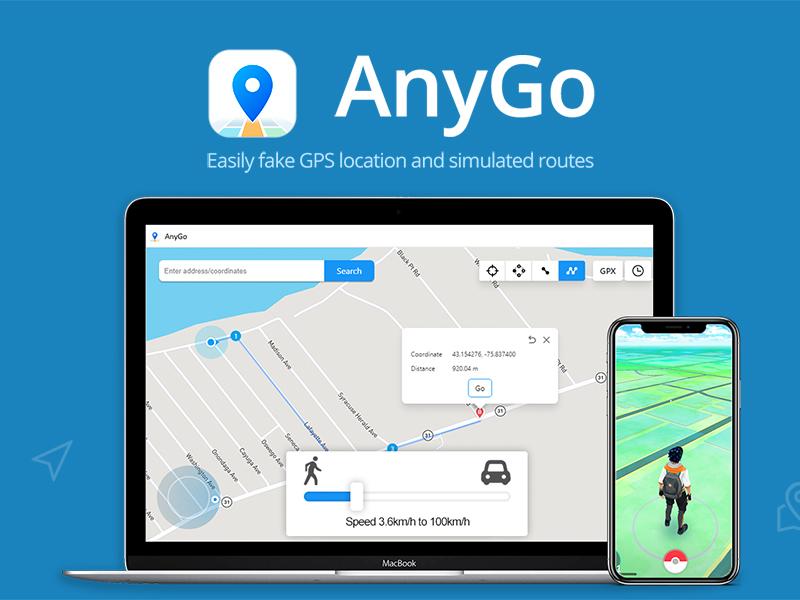 RRP: $7.96/month
iToolab AnyGo lets you play location-based games such as Pokemon Go without leaving your home – play directly from your desktop or mobile device. Right now, you can save 20% on the monthly subscription!
Change GPS location with AnyGo
AnyGo isn't an app you run on your iPhone or iPad – you install it on your PC, laptop or Mac and connect your phone or tablet via a USB cable.
It's very easy to use and includes features that help you avoid bans in apps and games.
Not only will it change your device's GPS location to a different place, it can also simulate movement, such as walking, from one point to another. It can do this at a variable pace, to replicate real walking, and you can even choose multiple points, loop a route so walking is continuous.
If you already have a GPX route – a common format for waypoints – you can import a GPX file into AnyGo to save time.
AnyGo can also control the GPS location of multiple iPhones and iPads connected to the same PC or Mac.
Here's an example of how to use AnyGo.
Launch AnyGo on your PC or laptop
Connect your iPhone to the PC, laptop or Mac using the USB cable that came with it
Choose a new location on the map by searching or scrolling.
Click on a precise location, such as a road, and click Go.
Launch Maps and you will see the blue dot – representing your location – is now in the place you just chose
Any other apps which rely on GPS location will think you are in that location. If you want to simulate movement, there are various options. Here's how to move between two points on the map:
Click on a location to start from and click Go
Click the Two-spot route icon
Click on a location to finish at. A route, sticking to roads and paths, will be generated
Select Realistic mode if you want the speed to vary
By default, the route is from Point A to Point B, one time. To return to the start point, change the number in the Loop box to 2.
Click Go
That's it. Your GPS location will now move along the route at the speed you've chosen, from Point A to Point B and then back to Point A.
If you want to pick more than two points, click the Multi-spot route icon, then click on the various points on your route before clicking Go. Alternatively, if you already have those waypoints saved in a GPX file, you can import that by clicking on the GPX button and navigating to the file.
After teleporting to a new location, a 'Cooldown' timer will appear on the map in AnyGo. This is to assist Pokémon Go players, telling them how long to wait before performing any actions in the game in order to avoid a temporary or permanent ban.
Also, a couple of tips: be sure your location has changed by opening Maps and verifying before launching the game you want to play, and avoid jumping between locations far apart.
Save on AnyGo
Usually, lifetime access to AnyGo costs $59.95 (and that's discounted from $149.95). But Tech Advisor readers can get an extra 20% by using the code IDG20 in the box marked ENTER COUPON CODE. That means it costs just $47.96, which is around £35.50.
This is for use on 1 PC or Mac (depending upon which version you buy) and supports up to five iPhones and iPads.
Alternatively, you can also get 20% off the various subscriptions that AnyGo offers. For example, one month's access costs $7.96 (usually $9.95) and three months is only $15.96 instead of $19.95.
You can buy AnyGo from the iToolab website.