While Samsung's shiny new Galaxy S22 range may have just landed – leading the charge in the flagship Android space for 2022 – rather than paying top dollar for a brand-new Samsung, why not save yourself a heap of cash by considering existing new and refurbished Galaxy phones, available with a range of fresh discounts, courtesy of giffgaff.
Samsung's Galaxy range has cemented itself as one of the most capable and reliable names in the smartphone market; pairing high-quality hardware with intuitive Android-based software (called One UI), not to mention (on more recent devices) long-term software support that surpasses even Google, making the company's devices even better value than most.
Which Samsung Galaxy phones does giffgaff offer?
While Samsung's Galaxy S range is the brand's most well-known family of phones, it also boasts the competitively-priced A series and the productivity-focused Note line – complete with its S Pen stylus (even if the new Galaxy S22 Ultra has placed a full stop on that particular lineage, going forward).
giffgaff offers deals across this gamut of devices, ranging from entries as fresh as last year's upgraded Galaxy A52s 5G, to refurbished powerhouses like the Galaxy S20 Ultra.
Best giffgaff deals on Samsung Galaxy phones
While there are plenty of giffgaff deals on Galaxy handsets to choose from, here are some of our top picks. What's more, if you buy between 24 February and 9 March, you'll find even better discounts than normal, thanks to giffgaff.
Best new Samsung phone deals
Samsung Galaxy A52s 5G – Usually £409, now only £329 (£80 off)
If you're after a box-fresh blower, the aforementioned Galaxy A52s 5G is one of the best new Samsung phones that giffgaff currently offers. Powered by a Snapdragon 778G chip and, as the name suggests, the latest 5G connectivity, the A52s flies in the face of demanding multitasking and streaming the latest Netflix series on-the-go.
The stylish design can be had in multiple colours, including Violet and the back features a powerful quad-camera setup, led by a large 64Mp main sensor that can capture both 4K and 240fps super slow-motion video.
PROMOTION
Samsung Galaxy A52s 5G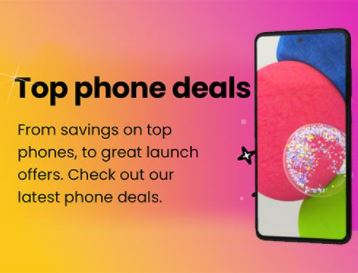 RRP: £409 (now £329)
Buy from giffgaff
Discount: £80 off
Introducing Galaxy A52s 5G – packed full of awesome features, the best camera yet in a Galaxy A Series, an awesome design and the power of 5G1. Sharing, gaming and streaming just got a lot more awesome! Featuring an immersive Infinity-O display with an outstanding 120Hz refresh rate for super-smooth scrolling, a camera that will make your mates green with envy, and a battery that will last, Galaxy A52s 5G brings an all new awesome to A Series.
Samsung Galaxy A03s
– Usually £139, now only £119 (£20 off)
At the other end of the A series are entries like the Galaxy A03s. Small but mighty, this 6.5in phone leads with exceptional battery life, thanks to a huge 5000mAh cell, while microSD card expandability up to 1TB means there's heaps of potential space to store apps, games, movies, music and more.
Best refurbished Samsung phone deals
Samsung Galaxy S9 – Usually £189, now only £149 (£40 off)
If you're not precious about buying brand new or you're after something with a little more oomph that won't break the bank, a former flagship like the Samsung Galaxy S9 might fit the bill.
Only a little more than the budget A03s, this pre-loved Sammy features a super-sharp 5.8in curved-edge AMOLED display, wireless charging, water resistance and, most impressive of all, a dual-aperture 12Mp camera that borrows traditional photography technology to get better shots in a wider range of environments and lighting conditions.
Samsung Galaxy S20 – Usually £359, now £299 (£60 off)
Looking for something a little more current? 2020's flagship Galaxy S20 still gets the latest software updates from Samsung and impresses with its triple rear camera setup; comprised of a 12Mp main sensor, 12Mp ultrawide and 64Mp telephoto.
A sharp 6.2in display, great performance and 5G connectivity aren't to be sniffed at either.
Why not pair your purchase with a giffgaff Goodybag?
As you'll spot when you come to buy a new or refurbished phone from giffgaff, you'll also have the option to pair it with one of the network's Goodybags.
Starting at £10 a month, Goodybags offer unlimited calls and texts, plus varying allowances of great value data, depending on how much you spend. Best of all, there are no long-term contracts, so you have the chance to change plan (or cancel) each month, no hidden costs and no strings attached.
Why buy a refurbished phone with giffgaff?
While both new and refurbished handsets bought through giffgaff come with a 21-day 'no quibble' return policy, are unlocked to any network and can be bought by spreading the cost over multiple payments (thanks to Klarna), the company goes above and beyond to ensure that you'll get a great-quality pre-loved phone that's been subjected to stringent quality checks before being made available to buy.
All refurbished phones sold by giffgaff are graded from 'good' to 'like new', having undergone a 30-point quality check. When you buy a refurbished giffgaff phone, it's not only a sustainable way to upgrade but your device also comes with a 12-month warranty, covering faulty software, previously malfunctioning components, battery issues and any accessories that come with your device.
So, if you think these latest Galaxy phone deals include something that appeals to you, head over to giffgaff now to bag yourself a bargain on a new or refurbished Samsung smartphone.