In 2021, Microsoft released the biggest update to the Surface Pro in many years.
The Surface Pro 8 was undoubtedly a success, helping Microsoft to re-establish itself as the 2-in-1 maker to beat.
A year later, you could be forgiven for expecting a very minor update: there's no need to change a winning formula so soon after it was introduced. But while that may look like the case, the new Surface Pro 9 includes several interesting updates that make it worth considering – for the right kind of person.
That includes the option for an ARM-based Qualcomm chip, which brings 5G to the Surface Pro for the first time and replaces the Surface Pro X. But there are also new Intel CPUs if you'd prefer – here's everything you need to know.
When will the Surface Pro 9 be released?
Microsoft officially announced the Surface Pro 9 at its hardware event on 12 October 2022. It was unveiled alongside the Surface Laptop 5, Surface Studio 2+ and several other accessories.
The device is now available in the US and UK:
If you don't want to go direct, there are plenty more options in our separate article on where to buy the Surface Pro 9.
For context, here's when the last few generations of Surface Pro were released:
Surface Pro 8 – October 2021
Surface Pro 7+ (for business and education) – January 2021
Surface Pro 7 – October 2019
Surface Pro 6 – October 2018
Surface Pro 5 – June 2017
How much does the Surface Pro 9 cost?
The Surface Pro 9 has the same starting price as the Pro 8 in the US, but it's more expensive in the UK. Here's the full details:
Core i5, 8GB RAM, 128GB SSD – $999.99/£1,099
Core i5, 8GB RAM, 256GB SSD – $1,099.99 (not available in the UK)
Core i5, 16GB RAM, 256GB SSD – $1,399.99/£1,399
Core i7, 16GB RAM, 256GB SSD – $1,599.99/£1,599
Core i7, 16GB RAM, 512GB SSD – $1,899.99/£1,899
Core i7, 16GB RAM, 1TB SSD – $2,199.99/£2,199
Core i7, 32GB RAM, 1TB SSD – $2,599.99/£2,599
SQ3, 8GB RAM, 128GB SSD – $1,299.99/£1,299
SQ3, 8GB RAM, 256GB SSD – $1,399.99 (not available in the UK)
SQ3, 16GB RAM, 256GB SSD – $1,899.99/£1,599
Remember, any price you pay doesn't include the Type Cover once again. This will set you back at least $139.99/£129.99, but you can pay as much as $279.99/£259.99 for a Signature model with the Slim Pen 2 stylus.
What specs and new features does the Surface Pro 9 have?
On the face of it, the Surface Pro 9 looks like an iterative update. There are none of the big design changes we saw last year, with most of the focus on improving internals.
However, to think of it like that would do a disservice to the updates Microsoft has introduced here, some of which are significant.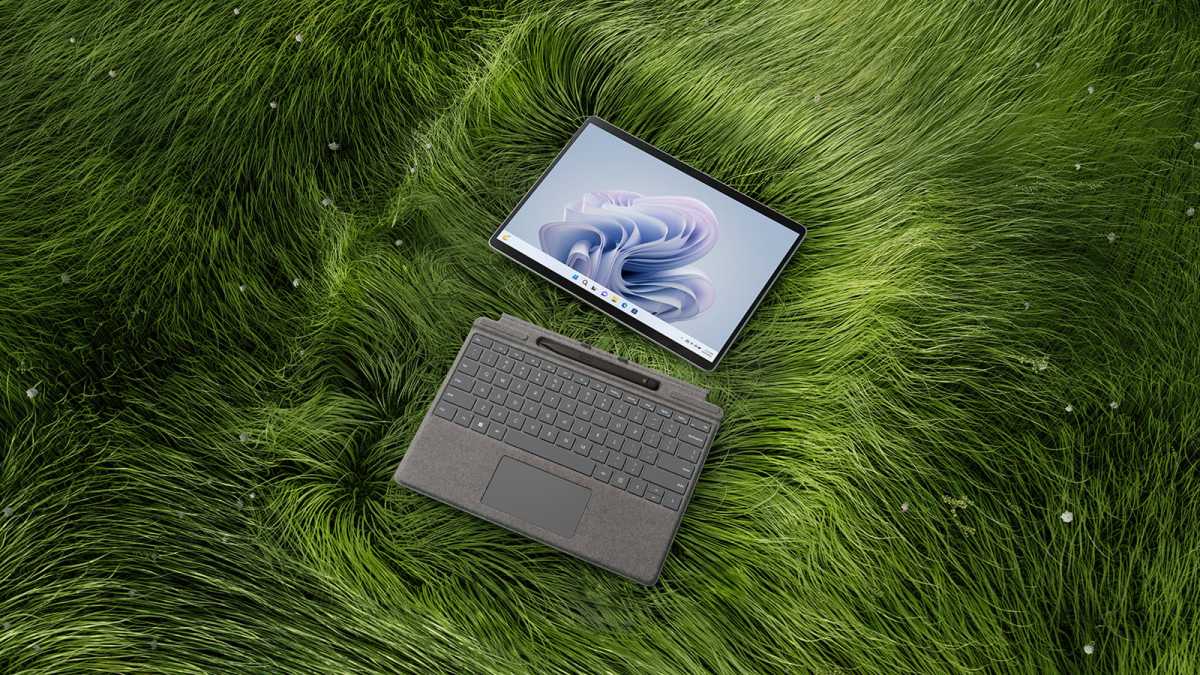 Microsoft
Undoubtedly the key differences are under the hood, where you now have a choice of chipset type. The traditional Intel CPU upgrade is here, with a choice of two 12th-gen processors: Core i5-1245U or Core i7-1265U. This should deliver a nice boost to performance, especially when combined with 16- or 32GB of DDR5 RAM rather than the entry-level 8GB.
However, for the first time on the main Surface Pro line, you have the option for an ARM-based processor. This is a Microsoft-branded 'SQ3' chip, but it's based on Qualcomm's Snapdragon 8cx Gen 3. ARM's only previous appearance on Microsoft hardware was the Surface Pro X, so it looks like this will now be merged with the Pro 9. The two devices now look extremely similar, anyway.
Microsoft describes the SQ3 chip as 'blazing fast', but it remains to be seen how performance will compare to the Intel models – you still get options for 8- or 16GB of RAM here, albeit of the slightly slower DDR4x standard. Most of the early software compatibility issues with ARM devices have been ironed out, and they devices generally deliver impressive battery life.
According to Microsoft, you can expect up to 19 hours of "typical device usage" if you opt for an ARM model. That's up from 16 hours on the Surface Pro 8, although 15.5 hours is the claim for the Intel models. As usual, a specific battery capacity hasn't been revealed, but it looks like charging has been downgraded from 65W to 60W for some reason.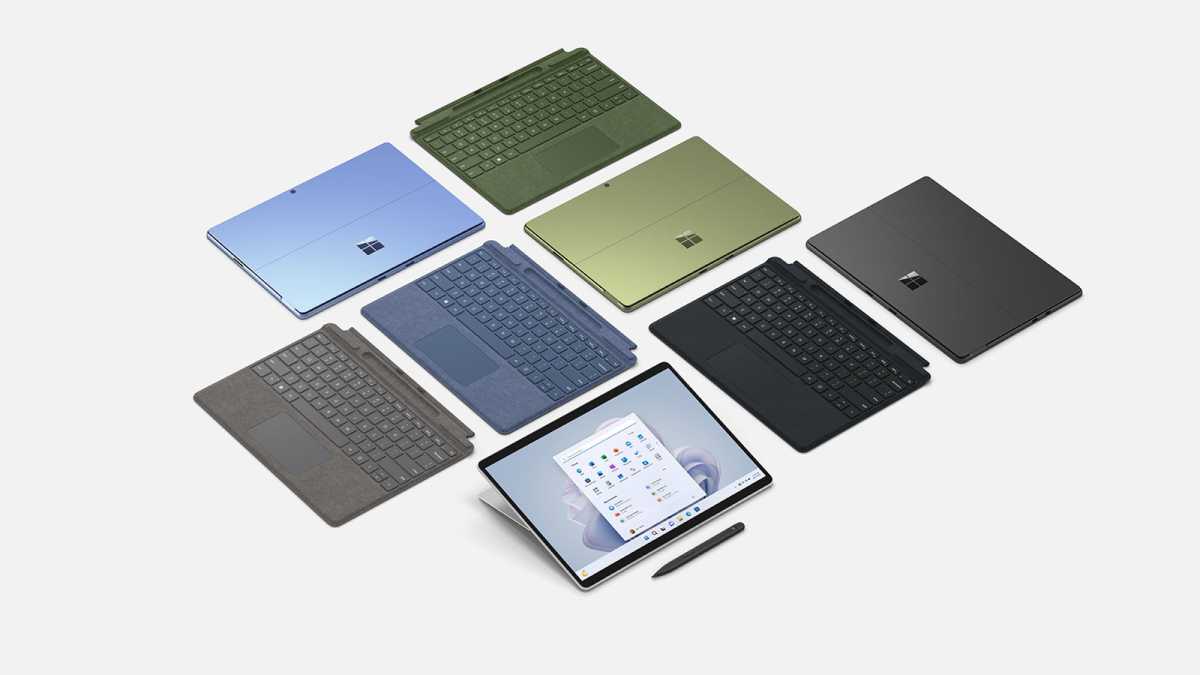 Microsoft
It's also worth noting that the ARM models are described as the 'Surface Pro with 5G'. Qualcomm's chips have the technology built in, so this is the first time we've seen 5G come to the Surface Pro.
Both versions of the Pro 9 have the option for 128GB, 256GB or 1TB SSDs, although there's also an Intel model with 512GB of storage. As before, these are easily removable.
The only other upgrade of note arrives on the built-in webcam. It could already support 1080p video, but moving from a 5Mp to a 10Mp sensor should improve image quality. The 10Mp rear camera is unchanged, as is the rest of the device.
However, the rest of the device is unchanged. That means you still get a 13in "PixelSense Flow" display – that's LCD rather than OLED. A 2880×1920 resolution gives it Microsoft's customary 3:2 aspect ratio. The 120Hz refresh rate is also retained, and this can now automatically adjust to improve power efficiency. That's thanks to the Dynamic Refresh Rate (DRR) feature now being available within Windows 11.
You also get the same 10Mp rear camera and 5Mp webcam, although these were already among the best you'll find on any tablet.
Ports remain frustratingly limited, with just 2x USB-C (both Thunderbolt 4) alongside the Surface Connect for charging. As you might expect, there is a nano SIM slot on the ARM models. But the 3.5mm headphone jack has been ditched for the first time.
As you can see from the image above, the Surface Pro Signature Keyboard is also now available in two new colours: Sapphire and Forest.
Despite the high price tag, the Surface Pro 9 could replace the Pro 8 as the best 2-in-1 you can buy. But there's a distinct lack of upgrades on the Surface Laptop 5 that launched alongside it.
Related articles for further reading