Microsoft is back making smartphones regularly again, but it's taking a different approach to most other companies. Its Android-powered Surface Duo phones include two separate displays that can fold in on each other, a design completely unlike any other phones and foldables on the market right now.
However, Microsoft still has a long way to go to convince people that the Surface Duo is the future of foldables. A big delay between the announcement and release of the original model left it feeling outdated and overpriced. 2021's second attempt didn't get any more affordable, although subsequent software updates have helped significantly improve the user experience.
From a hardware perspective, it's also clear that Microsoft is moving in the right direction. However, from the latest rumours, it looks like we'll still be waiting a while for the Duo 3. Here's everything you need to know.
When will the Surface Duo 3 be released?
Judging purely from the first two generations, it would appear that Microsoft has adopted an annual release cycle:
Surface Duo – September 2020 (US), February 2021 (UK, Canada, France, Germany), April 2021 (nine other countries)
Surface Duo 2 – October 2021 (UK, US, France, Germany, Australia, Canada)
That might have led us to expect the Duo 3 to launch in September or October 2022, but it was a no-show at Microsoft's Surface hardware event on 12 October, when it instead revealed the Surface Pro 9, Laptop 5 and Studio 2+.
That wasn't a total surprise though, as even before the event we'd heard that there'll be no Surface Duo 3 in 2022. That's what Zac Bowden said in a February 2022 Windows Central YouTube video, where he indicated Microsoft had green-lit at least three generations of hardware, and repeated in September. Ewan Spence at Forbes agrees, believing the company will will adopt a two-year update cycle for the Duo.
It's difficult to predict a more specific release date for the Duo 3 at this stage, but Microsoft tends to reserve its big hardware releases for later in the year. A minor refresh could see a spring announcement, but September/October 2023 feels like the most likely launch window.
How much will the Surface Duo 3 cost?
Pricing is usually one of the last product details to be revealed, so it's no surprise that the cost of the Duo 3 remains a mystery. However, we can still use the pricing of the first two generations as a rough guide:
Surface Duo (128GB) – From $1,399/£1,349
Surface Duo 2 (128GB) – From $1,499/£1,349
The Duo 3 landing around the same price is most likely, with an increase only if there are some serious upgrades on the new model. However, Microsoft may decide to drop the price slightly, especially if the upgrades are minor. It'd be great to see the Duo 3 start at the same price as the Duo 2 currently sells for – $999/£849.
As Windows Central reported, a mid-range version of the Duo 2 was considered and even briefly listed on eBay. It'd be great to see a more affordable version of the Duo 3 launch alongside the premium model, but this remains unlikely to happen.
What will be new in the Surface Duo 3 design and specs?
As you might expect at this early stage, concrete Surface Duo 3 rumours are thin on the ground.
In a Windows Central YouTube video from February 2022, Zac Bowden hints that slimmer bezels and wireless charging are likely. In the same video, colleague Daniel Rubino suggested Microsoft waiting longer between generations could allow it to reduce the size of the camera bump. This, in turn, would make it easier for Qi wireless charging to be added.
There are few other decent leaks available. We'd hope to see the Duo 3 launch with at least Android 13 on the software side, and for it to be powered by the Snapdragon 8+ Gen 1 or its successor the 8 Gen 2. For now, that's just wishful thinking and speculation though.
There's also a slim chance we'll see a more affordable version of the Duo 3, which potentially launches alongside the flagship model. In July 2022, Windows Central reported on an eBay listing for what was described as a Surface Duo 2 "dev unit". Barely any details were provided, but the images show a device with a smaller camera bump, matte finish and more rounded corners: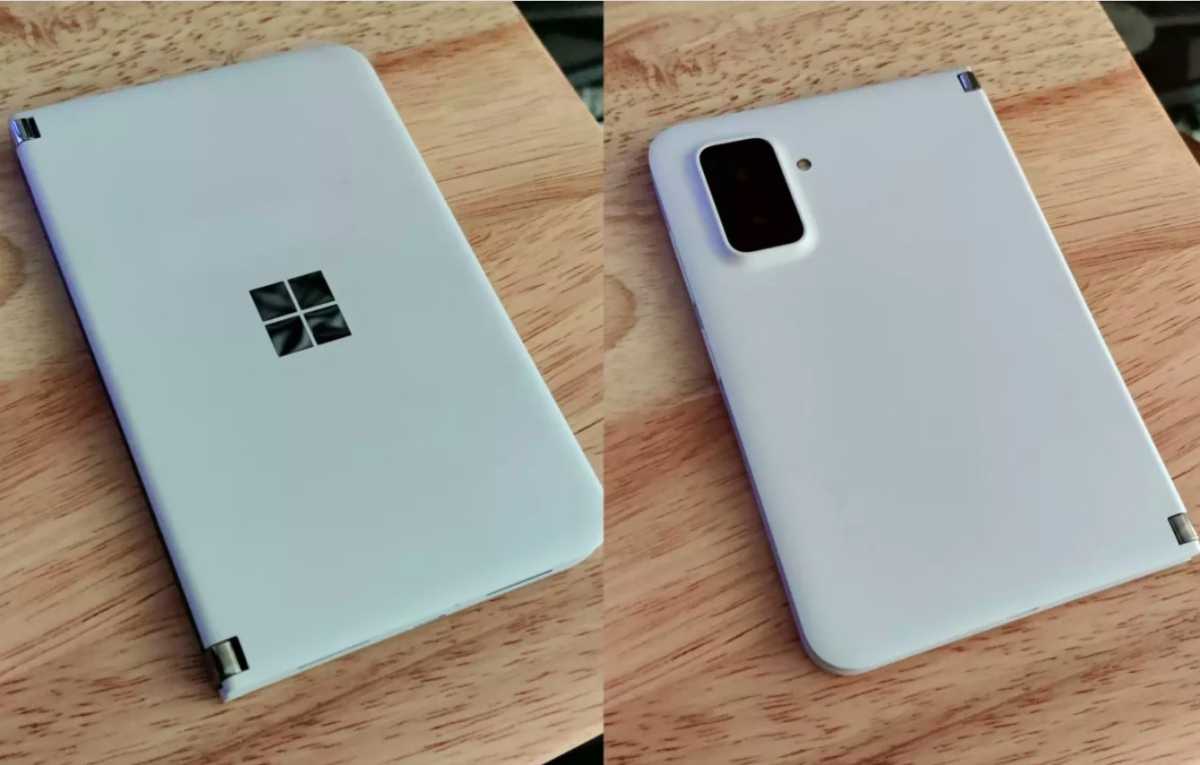 eBay via Windows Central
This project appears to have been cancelled, but Microsoft may return to the idea of a mid-range Surface Duo at some point.
But could Microsoft opt for a completely different design for the Duo 3? As Twitter leaker WalkingCat first spotted, the company has applied to patent a new foldable which folds outwards instead of inwards:
MS Patent: FOLDABLE DISPLAY DEVICE https://t.co/De0GAT8aiF pic.twitter.com/BoBmXrGQy3— WalkingCat (@_h0x0d_) May 19, 2022
This would reduce or potentially eliminate the gap between the two displays. News emerged in the same week LG teases new display tech that looks very similar, so the two companies could be working together on an upcoming device.
But if the dual-screen design isn't retained, Microsoft probably won't call it a Duo. Perhaps the Surface Neo could be reborn?
We'll update this article once more information about the Surface Duo 3 comes to light.
Related articles for further reading