2021 was a big year for Google's Pixel smartphones as it saw the chipsets switch from Qualcomm Snapdragon to Google's own Tensor chips, along with a radical re-design.
So, what will 2022 bring to the world of Pixel? There won't be any changes quite so drastic – even Google has confirmed that the design is staying about the same – but we're still hoping for a few key upgrades across the two phones. And what's this we hear about a possible third model?
We gather together all the news and rumours surrounding the new devices, as well as a few things we'd like to see when the Pixel 7 arrives.
When is the Google Pixel 7 likely to launch?
Google formally confirmed the incoming Pixel 7 and Pixel 7 Pro during the opening keynote of its 2022 I/O developer conference on 11 May, promising that both are "coming this fall" and showing off a few official images.
On 6 September, Google confirmed this next hardware event for the Pixel 7 phones will be on 6 October at 10am ET. A promotional video shows the phones along with the Pixel Buds Pro and Pixel Watch, which will surely finally be launched properly.
Leaker Jon Prosser believes he knows more: he predicts an official on-sale date a week later on 13 October.
These dates are roughly as expected. Over the past few generations, Google has settled on an October release for the main Pixel devices, with the cheaper versions appearing the following summer – as we saw with last year's Pixel 6 series and this summer's Pixel 6a.
How much will the Google Pixel 7 cost?
To get an idea of the cash you'll need to stump up for the latest Google devices when they arrive, here's how the recent generations have been priced.
Google Pixel 6: £599/$599
Google Pixel 6 Pro: £849/$899
Google Pixel 5: £599/$699
Google Pixel 4: £669/$799
Google Pixel 4 XL: £829/$899
As you can see, the price for the standard Pixel seems to have settled around the £599/$599 mark, while the Pro tier introduced in 2021 pushes things a bit higher. We would expect to see Google stick with these prices going forward, although the worldwide chip shortages and increased cost of manufacturing caused by Covid could see them creep up when the Pixel 7 and Pixel 7 Pro are released.
The latest leaks suggest Google will keep the pricing of the Pixel 7 and Pixel 7 Pro identical to the Pixel 6 and Pixel 6 Pro. Slashleaks posted a screenshot of the Pixel 7 up for pre-order on Amazon US – mistakenly – for $599, the same the Pixel 6 sells for. GSMArena also reported it up for pre-order on Amazon in Europe for the Pixel 6 price of €649.
It follows that the Pixel 7 will cost $599/£599/€649 and the Pixel 7 Pro will cost $899/£849/€899. We will find out this week.
What are the Pixel 7 specs and features?
We're now in the week Pixel 7 and 7 Pro will be officially launched, but thanks to info leaked out from Google itself and some other rather more unofficial leaks, we have a pretty good idea what the phones will be like.
As reported by 9to5Google, someone posted in a Google news Telegram channel an alleged spec sheet for the phones. When translated into English, they reveal both phones will finally get a face unlock feature, and a video mode called Movie Motion Blur. Both seems to have identical camera hardware to their predecessors, bar the 7 Pro having a 5x optical zoom lens up from 4x on the 6 Pro.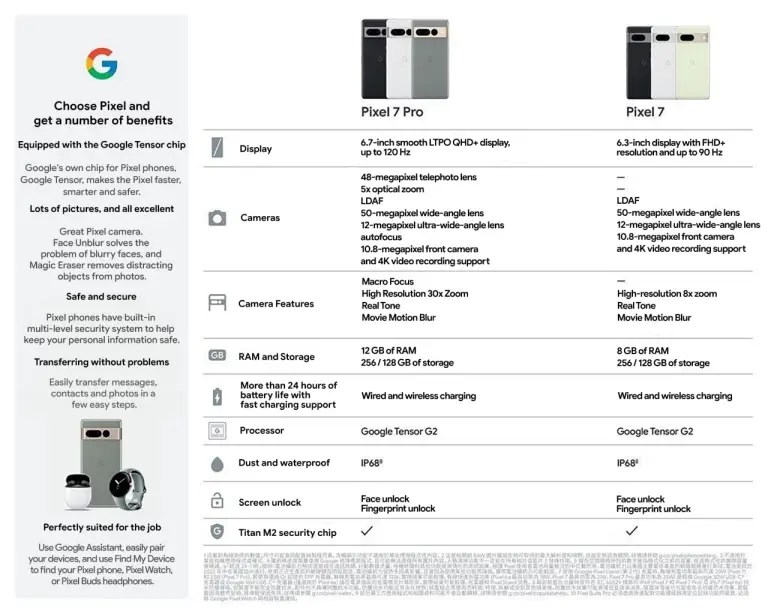 9to5Google / Censored4thismoment
Here'a a break down of all the other information there on the Google Pixel 7 and Pixel 7 Pro.
Design
With the Pixel 6 and 6 Pro, Google introduced an entirely new design for its smartphones. Gone were the plastic chassis and more generic aesthetics of the Pixel 5, replaced with premium construction and a bold look that featured a raised strip on the back that acted as a housing for the cameras.
The company made a surprise drop of a few Pixel 7 images at I/O 2022, and based on those it isn't trying to reinventing the wheel with the Pixel 7 range. Most manufacturers like to keep a consistent aesthetic across a few generations, Apple's iPhones being the most obvious example.
Unsurprisingly, both phones feature a similar design, albeit with a slightly tweaked camera module that now wraps directly into the phone's frame and highlights the individual sensors in a more prominent fashion.
A report from CarHP adds that the standard Pixel 7 will measure 155.6 x 73.1 x 8.7mm, making it slightly smaller in every dimension – a welcome change from the chunky Pixel 6.
According to OnLeaks with some help from SmartPrix, rough dimensions for the 7 Pro of 163 x 76.6 x 8.7mm make it pretty close in size to the 6 Pro, though ever so slightly thinner.
We've had more looks at the two phones thanks to a string of production prototypes that have popped up on eBay and Facebook Marketplace.
A few Reddit users have recounted discovering or even buying the prototype phones, which have since mostly stopped working – presumably as Google identifies the phones and remotely shuts them down.
Even YouTuber Unbox Therapy got his hands on a pair of prototypes, showing them off in a video on his channel that now appears to have been taken down.
The video doesn't reveal a lot that we didn't already know about the phones, but does give you a look at the handsets from different angles and in a less polished form than the pristine marketing materials. The YouTube also goes into exacting detail on the minute design changes from the 6 series to the new models, though bear in mind that since there are only prototypes anyway, the finer design details may not be final.
Displays
The current Pixel 6 and 6 Pro feature, respectively, 6.4in AMOLED and 6.71 LTPO AMOLED displays. Both support HDR10+, but the Pro version comes with a 120Hz refresh rate and a higher resolution than its more budget-friendly brethren.
OnLeaks' report predicts that the 7 could drop screen size down as far as down to 6.2in, while the 7 Pro will either stay the same or jump slightly to 6.8in. We don't expect to see too many other display changes.
Display industry expert Ross Young reports something similar: a drop to a 6.3in display for the 7, with the Pro staying at the same 6.7in size. He adds that the Pro at least will again use 120Hz LTPO AMOLED tech, though doesn't specify whether or not we'll see that trickle down to the regular 7.
It looks unlikely to, though. 9to5Google dug into some Android Open Source Project code and found display drivers intended for the new Pixel models.
They reveal that the Pixel 7 will feature a 1080 x 2400 display at up to 90Hz, while the Pixel 7 Pro will have a 1440 x 3120 display at a 120Hz refresh rate. Those are the exact same specs as the 6 series models, and the code even suggests that Google will be using the exact same Samsung panels. So don't expect any year-on-year change to the displays, except for the 7's screen getting a little smaller.
Subsequent leaks suggest that the 7 Pro may get a little more of an upgrade than that, but not much. Examination of code reveals the option to raise max brightness a little higher than the 6 Pro could handle – though only an extra 200 nits in high brightness mode. It's not a game changer, but it is a slight upgrade that'll make a difference in outside use.
Second-generation Google Tensor chips
One of the main talking points with the Pixel 6 and Pixel 6 Pro was Google's use of its proprietary Tensor chips. Much like Apple and Samsung, which use their A-series and Exynos chips in their flagships (although in some territories Samsung still uses Qualcomm Snapdragon chips), Google has taken the big step into controlling the design and production of the processors fitted to its devices.
Samsung manufactured the original Tensor, and is already reported to be ready to mass produce the Tensor 2 using a 4nm process.
We might not be getting a serious performance jump though – or at least not from the CPU. Based on bootlogs from a bricked Pixel 7 Pro prototype, the Google News Telegram group managed to extract one key piece of information: the chip uses Cortex-A55 cores.
That matters in a few ways. Firstly, those are the same efficiency cores used by the first Tensor chip, so apparently haven't been upgraded. More importantly, the A55 is based on Armv8 architecture, not the more recent Armv9 that's used in the likes of the Snapdragon 8 Gen 1 and MediaTek Dimensity 9000 chips. The two architectures can't co-exist on the same chip, so if the A55 cores are in use, that means the whole CPU is limited to the older architecture. And since Google had mostly used the last Armv8 cores, that means it can't upgrade from the Cortex-X1 prime cores either. Outside of tweaking clock speeds, the only CPU upgrade available to Google is the small jump from its two Cortex-A76 performance cores to the slightly improved Cortex-A78.
That means that the Tensor 2 will likely only have marginal CPU improvements over the first-gen, if any. It still leaves Google room to upgrade GPU performance though, not to mention machine learning – the company's clear focus with the first Tensor. So we still expect to see a few upgrades, they just won't be to raw compute performance.
A leak from Kuba Wojciechowski on Twitter backs this up. They say the Tensor G2 will use the same CPU cores as the first Tensor, but will use a different GPU in the Mali G710.
9to5Google has spotted the codename 'Cloudripper' that is linked to a model number GS201 that could represent the new silicon. The same site has since found further details, with more codenames – Cheetah, Panther, and Ravenclaw – linked to a Samsung modem, likely the Exynos Modem 5300, which will presumably be used alongside the new Tensor chip.
9to5Google reports that Cheetah and Panther refer to the Pixel 7 and 7 Pro, with new big cat codenames – after birds and fish were used for previous generations. The third codename – Ravenclaw – is believed to be more than a simple Harry Potter reference. This is potentially a mash-up of the Pixel 6 Pro's 'Raven' codename with the feline claw theme of the new hardware, perhaps referencing a testing device that uses the new Tensor 2 chip inside Pixel 6 Pro hardware.
On the other hand, the 9to5Google report into display drivers mentioned above also turned up a third device, and some are beginning to speculate that this – named 'G10' in the drivers – may actually be a third Pixel 7 model, perhaps a Pixel 7 Ultra, or more likely next year's Pixel 7a. Few other specs have leaked about such a phone, and Google didn't tease one when it revealed the 7 series.
There's no benchmarking that's been spotted as of yet for any of these devices, so we don't know how the 2nd gen will compare to their predecessors, but we would expect Google to work on performance enhancements as well as energy efficiency, like any iteration of processors.
One small final note on connectivity: four Pixel 7 models have appeared in FCC certification. Two of them support only sub-6GHz 5G connectivity, while the other two also include mmWave – which almost certainly means there will be US models with mmWave, and sub-6-only models elsewhere.
Two of the four models – one sub-6, one mmWave – also include ultra wideband (UWB). This was exclusive to the 6 Pro last year, and so would appear to be exclusive to the 7 Pro again this time around.
Cameras
Thanks to the official images, we know that Google is keeping the broad camera setup the same for the 7 series, with a dual rear camera on the Pixel 7 and a triple on the Pixel 7 Pro.
A video posted on Twitter by SnoopyTech looks to be an official promo video for the for Pixel 7 Pro's camera features. It shows mostly features seen on the 6 Pro such as Super Res Zoom, but the 7 Pro looks like it's getting a macro mode too.
Developer and leaker Kuba Wojciechowski decided to dig a little deeper, diving into Google's code to match up component sensor IDs and figure out some camera specs.
He discovered that the 7 and 7 Pro will both use the same main camera sensor (Samsung GN1) and ultrawide sensor (Sony IMX381) as before, so you shouldn't expect any major hardware updates there.
The 7 Pro will get a tweaked telephoto though, with a switch to Samsung's GM1 sensor (from the previous IMX586), and both phones will now use the same selfie sensor: another Samsung, the 11Mp 3J1.
That selfie shift corroborates previous evidence for a selfie upgrade for the phones. Code found by 9to5Google seems to reveal that both Pixel 7 phones will be able to record selfie video at 4K resolution, which the 3J1 is capable of. That's something the 6 Pro could already do, but not the 6 – so this could mean the 7 will match its bigger brother on front-facing filming.
Of course, with Google the camera hardware is arguably less important than the software (and the Tensor chip that runs it) so don't take all this to mean that the phones' rear cameras won't be improving – but it does look like Google will be relying on software tricks to get more from the same sensors.
There's one more curiosity: Wojciechowski turned up specs on a third phone, codenamed Lynx, which has slightly different specs. It uses the same GN1 main sensor, but paired with the IMX787, and with the un-announced IMX712 on the front. The leaker predicts this is simply an internal testing device for new camera sensors, but it could be seen as another piece of evidence for a potential Pixel 7 Ultra.
We also know that Google is working on designs for an under-display selfie camera. The company has filed at least two patents so far, the most recent of which we've included here. Discovered by Lets Go Digital, it shows broadly the same sort of tech we've seen used for similar cameras in the likes of the ZTE Axon 30 5G and Samsung Galaxy Z Fold 3.
We don't expect Google to use this tech in the Pixel 7 series, and it's more likely to be seen in the rumoured Pixel Fold or future phones like the Pixel 8 and beyond.
Will there be a Pixel 7 Ultra?
One curiosity that's popped up a few times above is the possibility of a third Pixel 7 phone. It's there in the 'G10' referenced in code found by 9to5Google, and again as the Lynx discovered by Wojciechowski in his camera deep dive.
Leaker Digital Chat Station has also referenced this phone on Weibo, referring to it as a Pixel flagship. He predicts a few spec details: a 2K display, the same Tensor 2 chip as the other Pixel 7 devices, and most interestingly a ceramic body – a premium build material we've not seen Google use on a Pixel before.
He also references the cameras, and interestingly his predictions here line up with Wojciechowski's Lynx device. DCS says we'll see a 50Mp main camera together with the IMX787 sensor in a secondary camera – exactly what the Lynx seems to pack.
It's still uncertain, but it's looking more and more likely that Google may be planning a more powerful Pixel, but it remains to be seen if it's real, and if it will launch alongside the 7 and 7 Pro or arrive a little later.
The Pixel 6 and 6 Pro marked an excellent re-interpretation of a pure Google smartphone, so we're excited to see what will happen when the new versions land in 2022. We'll keep updating this article as more news becomes available, so be sure to check back regularly. Until then, you can read our roundup of the best new phones coming in 2022.