Both the Xiaomi Poco X3 NFC and X3 Pro impressed us with their decent specs, performance and attractive price points, so expectations were high when word of a successor began to emerge.
The Poco X4 Pro made its debut during Mobile World Congress 2022 and hopes to capture the same magic as its predecessors while bringing in a new design and a shift in focus.
Add to that the newly announced Poco X4 GT, and Poco's mid-range lineup is looking rather good in 2022.
Here's all you need to know and the X4 Pro and the X4 GT.
When does the Xiaomi Poco X4 Pro go on sale?
On 21 February, Pocophone announced that it would be launching the Poco X4 Pro 5G (alongside bringing the Poco M4 Pro 5G to new markets), during Mobile World Congress on 28 February.
At the phone's unveiling, Pocophone confirmed that the X4 Pro 5G would be made available starting 2 March. While the company's Indian arm committed to a regional release on 28 March at 12pm local time, with Flipkart marked as a retail partner.
You can rewatch Poco's February event stream below:
Previously, GSMArena had reported that it had received tips suggesting the Poco X4 NFC would debut in the first quarter of 2022, leaving the door open for it and the X4 GT to join the Pro at the MWC launch; stating that the standard X4 would launch in India without NFC and that the X4 GT wouldn't be coming to the sub-continent at all.
How much does the Xiaomi Poco X4 Pro cost?
The 6GB RAM/128GB Poco X4 Pro 5G costs €299.99 (around £250/US$335, converted), while the higher 8GB RAM/256GB SKU goes for €349.99 (around £290/US$390, converted); rendering this latest Pro a touch pricier than its predecessor, out the gate. This is most likely a result of incorporating 5G from the get-go.
In Europe, you can pick the Xiaomi Poco X4 Pro 5G up from Pocophone's own site. UK pricing and availability for the X4 Pro 5G is yet to be confirmed, however, the phone is already featured on the company's UK site.
For reference, here's how much the previous entries in the series cost:
What features does the Xiaomi Poco X4 Pro offer?
As the only member of the X4 series that's currently official, we only have confirmed specifications for the Pro 5G, with the Indian variant potentially bringing slightly different hardware to the table.
The phone incorporates a new straight-sided design, available in three colours: Poco Yellow, Laser Blue and Laser Black. There's also a distinct, expansive camera module that runs the width of its back, while on the inside it comes powered by Qualcomm's Snapdragon 695 chipset.
Here's the Poco X4 Pro 5G's full spec sheet:
6.67in AMOLED display (120Hz, FHD+)
Gorilla Glass 5 (front)
Plastic body
Qualcomm Snapdragon 695
6GB or 8GB RAM
128GB or 256GB storage (expandable via microSD up to 1TB)
Rear cameras:

108Mp 1/1.52in f/1.9 main rear camera
8Mp 118-degree f/2.2 ultra-wide camera
2Mp f/2.4 macro lens

16Mp f2.4 selfie camera
Fingerprint sensor in power button
3.5mm headphone jack
5G
Bluetooth 5.1
WiFi 5
5000mAh battery
67W fast charging
164.2mm x 76.1mm x 8.1mm
205 grams
Colours: Laser Black, Laser Blue, Poco Yellow
When does the Xiaomi Poco X4 GT go on sale?
Announced on 23 June, Poco said the X4 GT will be available in Europe between 27 June and 7 July, with availability varying between regions.
How much does the Xiaomi Poco X4 Pro cost?
The phone is available in black, silver, and blue and will come in 8GB/128GB and 8GB/256GB versions priced at €379 euros and €429 respectively.
If you're keen, you can get these models at early bird prices of €299 and €349.
Head to Poco's official website for further details for your region.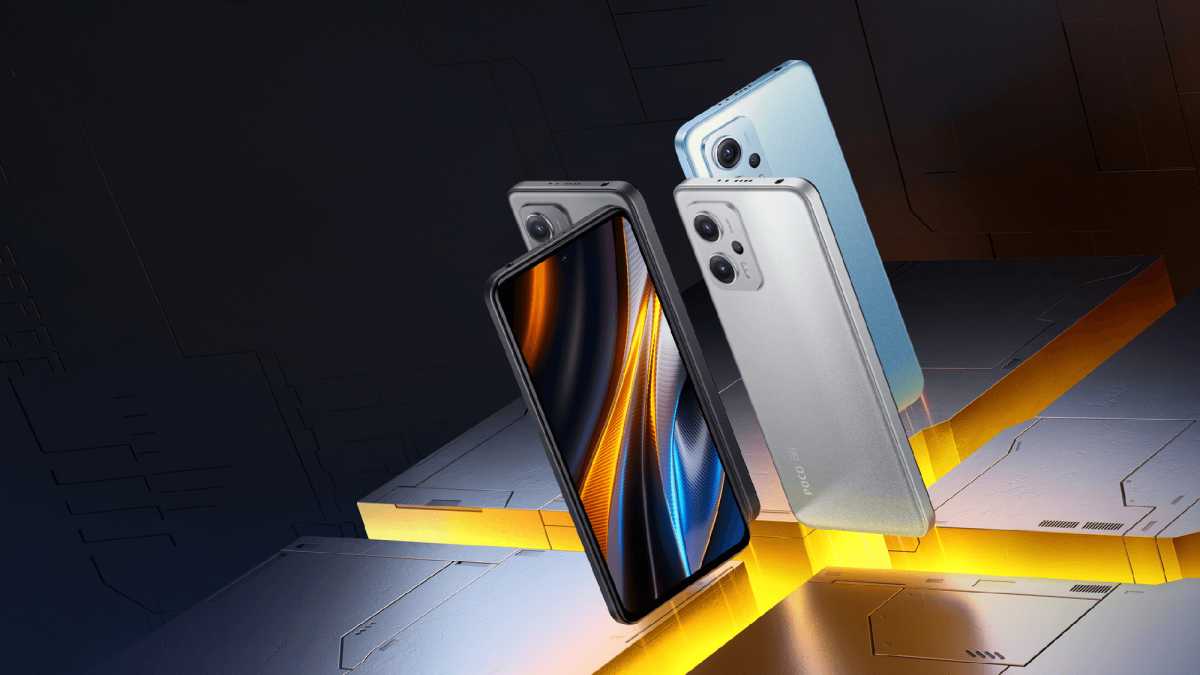 Poco
What features does the Xiaomi Poco X4 GT offer?
Poco has finally unveiled the X4 GT, a phone that looks like a bit of a mid-range monster. It mixes the company's X range with the GT gaming range to bring a phone that costs €379 (8GB/128GB) or €429 (8GB/256GB) but doesn't hit the spec heights of the Poco F4 GT.
It has a MediaTek 8100, a processor with a 5-nanometer process. Poco thinks this pushes the phone towards flagship performance. In fact, Poco head of marketing Angus Ng called it a "quasi-flagship speedster" in the launch presentation.
The chip promises better energy efficiency compared to older generations as well as better frame rate reproduction. It's paired with a Mali-G610 GPU.
The phone has a 6.6in 1080p LCD capable of 144Hz refresh rate, Poco's "fastest display ever", according to Ng. It's Poco's first phone with this rate.
High frame rate LCDs with fast response time are becoming increasingly popular on gaming phones that try and keep the price down by not using OLED tech. Poco spins this by saying LCDs are easier on the eyes, and claims 30% less blue light on the X4 GT.
A 64Mp main camera that can capture 4K video is joined by a 8Mp ultrawide and 2Mp macro, with a 20Mp selfie camera. There's a 5080mAh battery, 67W fast charging (with charger included) and uses Poco's cooling technology to keep the phone cool when charging and gaming. There's even a headphone jack that supports hi-res music playback.
Here's the Poco X4 GT's full spec sheet:
6.6in LCD display (144Hz, FHD+)
MediaTek Dimensity 8100
8GB RAM
128GB or 256GB storage
Rear cameras:

64Mp f/1.9 main rear camera
8Mp f/2.2 ultra-wide camera
2Mp f/2.4 macro lens

20Mp f/2.5 selfie camera
Fingerprint sensor in power button
3.5mm headphone jack
4G
Bluetooth 5.3
WiFi 6
5080mAh battery
67W fast charging
163.6 x 74.3 x 8.9 mm
200g
Colours: Black, Silver, Blue
What about the regular Poco X4?
There have also been reports from Xiaomi specialists Xiaomiui that the base Poco X4 will essentially be the same as the recently announced Redmi Note 11 Pro.
Well, Redmi Note 11 Pro+ only launching in Global / EEA, Redmi Note 11 Pro turns into POCO X4 ( https://t.co/BgDWgINXsg) https://t.co/vERZHRuKzw pic.twitter.com/8hRE3v49cM— xiaomiui | Xiaomi & MIUI News (@xiaomiui) November 24, 2021
If this is true, then you can expect the following specs:
6.67in Super AMOLED 120Hz 1080p display
MediaTek Dimensity 920 5G processor
Mali G68 MC 4GPU
6GB/8GB RAM
128GB/256GB UFS 2.2 Storage
108Mp f/1.9 wide camera
8Mp 120-degree ultra-wide camera
2Mp f/2.4 telephoto/macro camera
16Mp selfie camera
Wi-Fi 6
Bluetooth 5.2
GPS
NFC
Side Mounted Fingerprint sensor
5160mAh Li-Po battery
67w fast-charging
3.5mm headphone jack
Read our full review of the Poco X4 Pro 5G for more insight into how well the phone carries on the Poco X series' lineage. Take a look at our guides to the best Xiaomi phones and best budget Chinese phones to see the kind of devices the line has to keep pace with too.