After months of speculation, Asus has finally revealed the next generation of its premium gaming phones. The ROG Phone 6 and 6 Pro have launched at an event in the company's native Taiwan, but both are being released globally.
Asus hasn't deviated from its aim to provide the ultimate mobile gaming experience with the new handsets, and there are some key upgrades to talk about. Here's everything you need to know about the ROG Phone 6 Series.
Asus ROG Phone 6 release date
Asus officially announced the ROG Phone 6 and 6 Pro at a dedicated event on 5 July. Here's how to watch the keynote back if you missed it.
Pre-orders in the UK, Europe and Taiwan are available now via the Asus ROG website, with devices expected to begin shipping in early September. We'll update this article once a specific release date is revealed.
However, you'll be waiting a while longer in the US. Asus has confirmed there'll be a separate ROG Phone 6 launch event there, but it's not clear when at this stage. But the ROG Phone 5S and 5S Pro took almost three months to arrive in the US and Europe, so it should be an improvement this time around.
Asus ROG Phone 6 pricing
So far, we only have confirmed pricing for the ROG Phone 6 and 6 Pro in the UK and Europe:
ROG Phone 6 (12GB RAM, 256GB storage) – £899/€999 (approx. $1,090)
ROG Phone 6 (16GB RAM, 512GB storage) – £999/€1,149 (approx. $1,090)
ROG Phone 6 Pro (18GB RAM, 512GB storage) – £1,099/€1,299 (approx. $1,090)
Direct conversions are highly unlikely in the US, so the converted figures above will vary slightly. For context, the regular ROG Phone 5S cost 999/$1,099 at launch, with the 5S Pro rising to £1,099/$1,299. The ROG Phone 5 series had a third model, the €1,299 5 Ultimate, but there's no sign of its successor.
Asus ROG Phone 6 specs and features
That pricing cements the ROG Phone 6 and 6 Pro in the premium price bracket, and they're the most expensive gaming phones you can buy. Asus attempts to justify this by equipping both phones with top-of-the-line specs.
For most people, the most exciting upgrade is a move to the brand-new Snapdragon 8+ Gen 1 chipset on both phones. These are only the second and third phones to use Qualcomm's new flagship processor, after the Xiaomi 12 Ultra. But the ROG Phone 5 Series used the Snapdragon 888+, so this is two generations newer. It's available with 12- or 16GB of RAM on the regular ROG Phone 6, but 18GB is your only option on the Pro. The phones support dual SIM but not expandable storage, so you'll have to be content with 256/512GB on the 6 or 512GB only on the 6 Pro.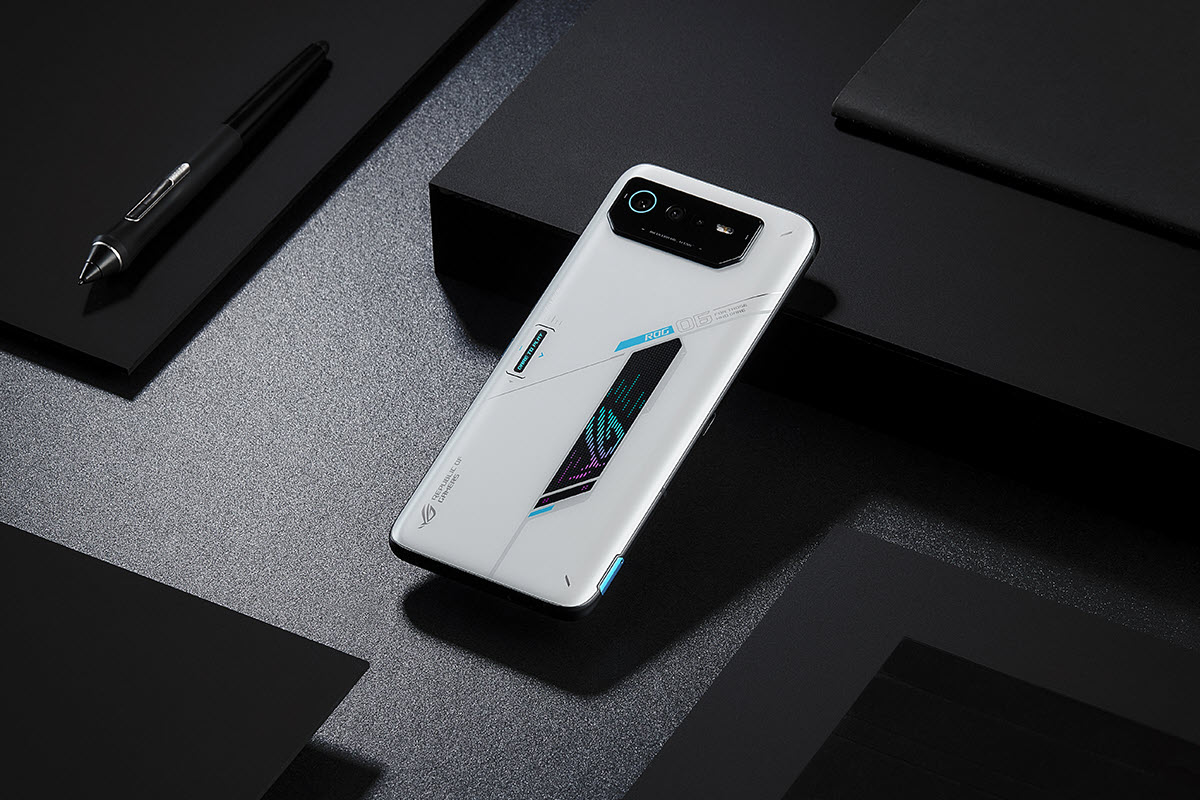 Asus
Both phones still have a 6.78in, FHD+ (2448×1080) AMOLED display, but the refresh rate is now 165Hz. That's up from 144Hz on the ROG Phone 5 Series, and joins the Red Magic 7 & 7 Pro as the highest refresh rate phones you can buy. However, it sticks with the same 360Hz touch sampling rate – that's much lower than you'll find on Nubia's phones.
Gaming on such a dynamic display inevitably affects battery life, but Asus has stuck with the same 6,000mAh cell as before. However, the jump from 144Hz to 165Hz is unlikely to affect the excellent battery life we saw in the ROG Phone 5s Pro. You also get a 65W charger included in the box.
The ROG Phone 6 and 6 Pro both have identical camera setups. That means a 50Mp main, 13Mp ultrawide and 5Mp macro lens on the back, plus a 12Mp front-facing camera. The latter can be used for face unlock, but you'll probably rely on the under-display fingerprint sensor instead.
Aside from more RAM, the only other difference on the Pro is the secondary 'ROG Vision' display on the back. It can be used to display the likes of battery percentage, incoming calls and info about any accessories you have connected. But unlike the Galaxy Z Flip 3's external screen, it can't show your notifications. On the regular phone, there's just a logo illuminated with RGB lighting.
The phones ship running Android 12, but Asus has introduced its usual range of gamer-specific software tweaks. It also only commits to two major Android updates, which suggests it'll get Android 13 and one more.
At 228g, the 6 and 6 Pro are among the heaviest handsets you can buy. This can be increased further by connecting a wide range of accessories, including the Kunai 3 gamepad and AeroActive Cooler 3. However, these are optional extras which need to be purchased separately.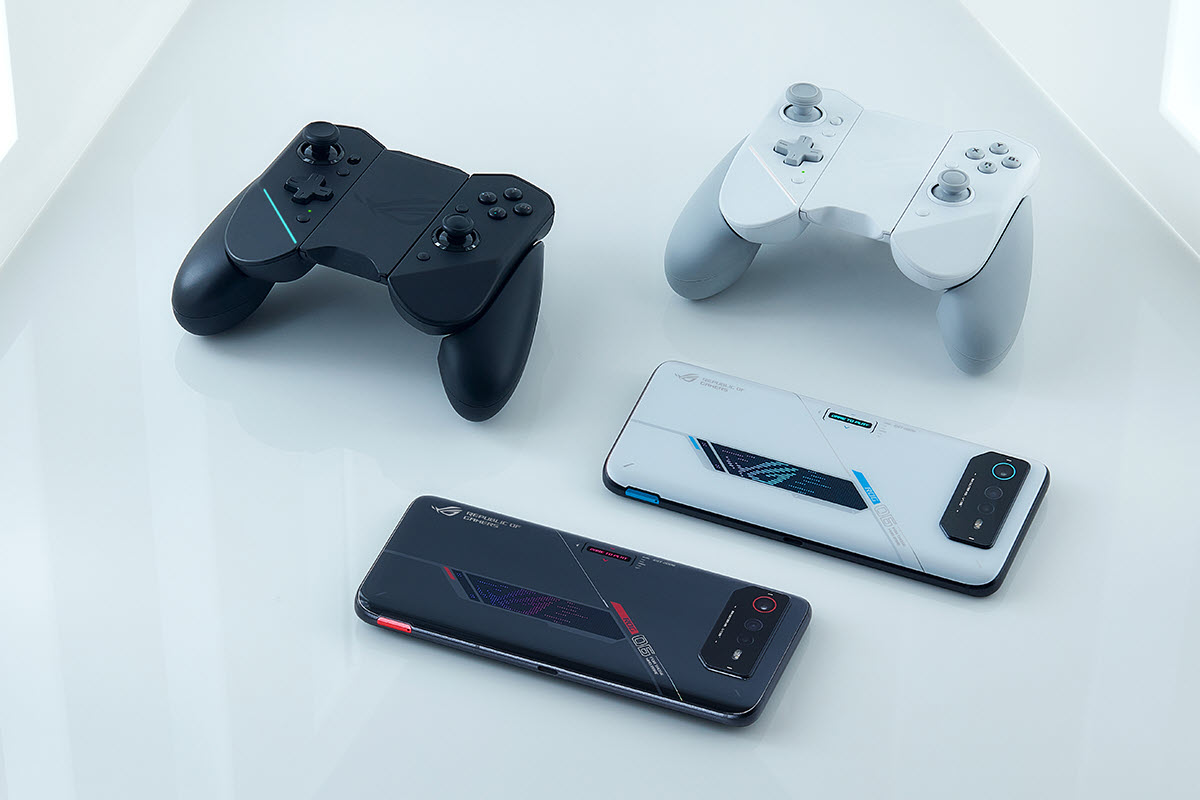 Asus
While we wait for the phones to be released, take a look at our guide to the best gaming phones to see what the ROG Phone 6 and 6 Pro will be up against.