Nvidia's GeForce RTX 40 Series is official after months of leaks and rumours. Sporting Nvidia's new 4nm Ada Lovelace architecture and Nvidia's seriously upgraded DLSS 3.0 technology, the new RTX 40 Series offers a solid 2-4x performance boost compared to top-end 30 series models including the RTX 3080 Ti and RTX 3090 Ti.
Here's everything you need to know about Nvidia's next-gen graphics card range, from release date and pricing to the latest details on the Ada Lovelace architecture and the new graphics cards themselves.
When was the Nvidia RTX 40 Series released?
Nvidia's top-end RTX 4090 and RTX 4080 are now available following release in late 2022, but the RTX 4070 Ti isn't available just yet – though it is scheduled for release on 5 January 2022 so you don't have long to wait either!
How much does the Nvidia RTX 40 Series cost?
Here's how much the Nvidia RTX 40 Series GPUs cost:
Nvidia RTX 4070 Ti – $799

Nvidia RTX 4080 – $1,199

Nvidia RTX 4090 – from $1,599
The RTX 4080 represents a massive $500 jump compared to the RTX 3080, while the RTX 4070 Ti is $200 more than its predecessor. The top-end RTX 4090 seems to have increased by $100.
All models will be available from GPU partners including Asus, Gigabyte, MSI, PNY and Zotac, and Nvidia also confirmed the range will be available in pre-built PCs from the likes of Acer, Alienware, Asus, Dell, HP, Lenovo and more – though whether the third-party manufacturers stick to the RRP is another story altogether.
The good news is that Nvidia has confirmed it'll be manufacturing limited-edition Founders Edition models for both the RTX 4090 and RTX 4080 (16GB), which should match the RRP even if third-party variants don't.
As a reminder, here's what the RTX 30 Series line-up looks like:
Nvidia Ada Lovelace architecture
The next-gen Nvidia RTX 40 Series is based on Nvidia's latest and greatest architecture, codename Ada Lovelace – considered by many to be the world's first computer programmer.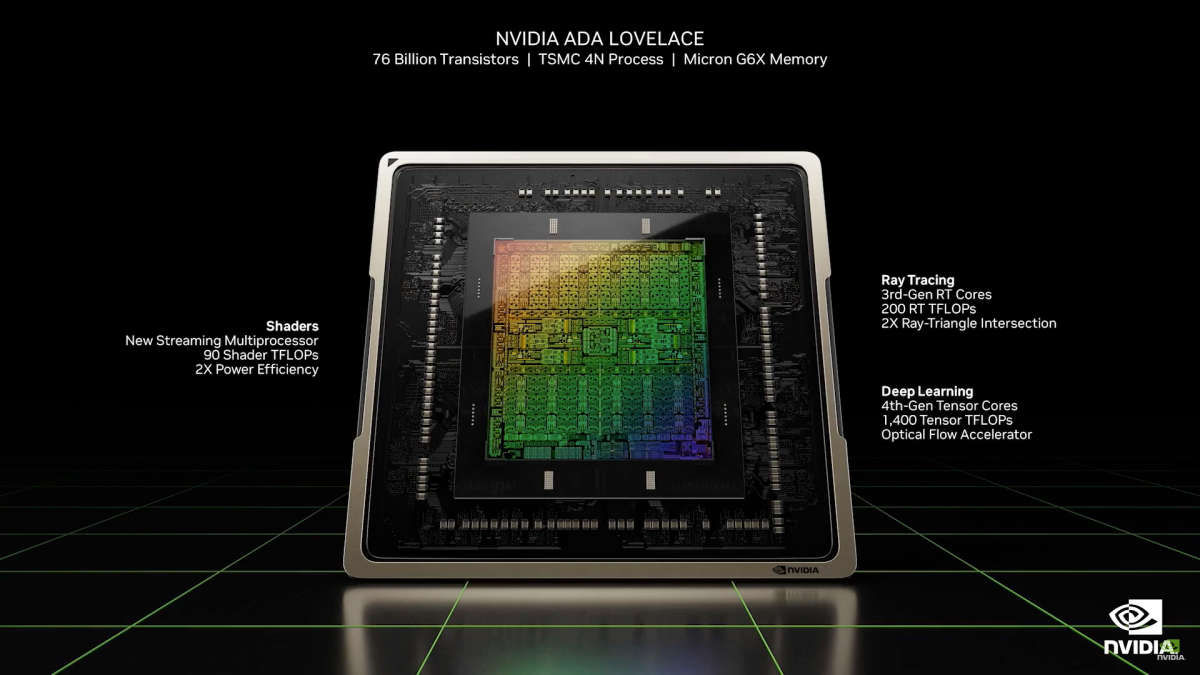 Nvidia
The company worked with TSMC to implement an impressive 4nm process on the new graphics card collection, down from the rumoured 5nm process rumoured prior to launch, and that delivers both improved performance and better power efficiency.
Headline features include 76 billion transistors, 90 Shader TLOPs via a new streaming multiprocessor, 200 RT TFLOPs with 2x ray-triangle intersection for better ray-tracing performance and 1,400 Tensor TFLOPs for improved deep learning capabilities. There's also new Shader Execution Reordering, which Nvidia claims is as big a deal as out-of-order execution tech for CPUs.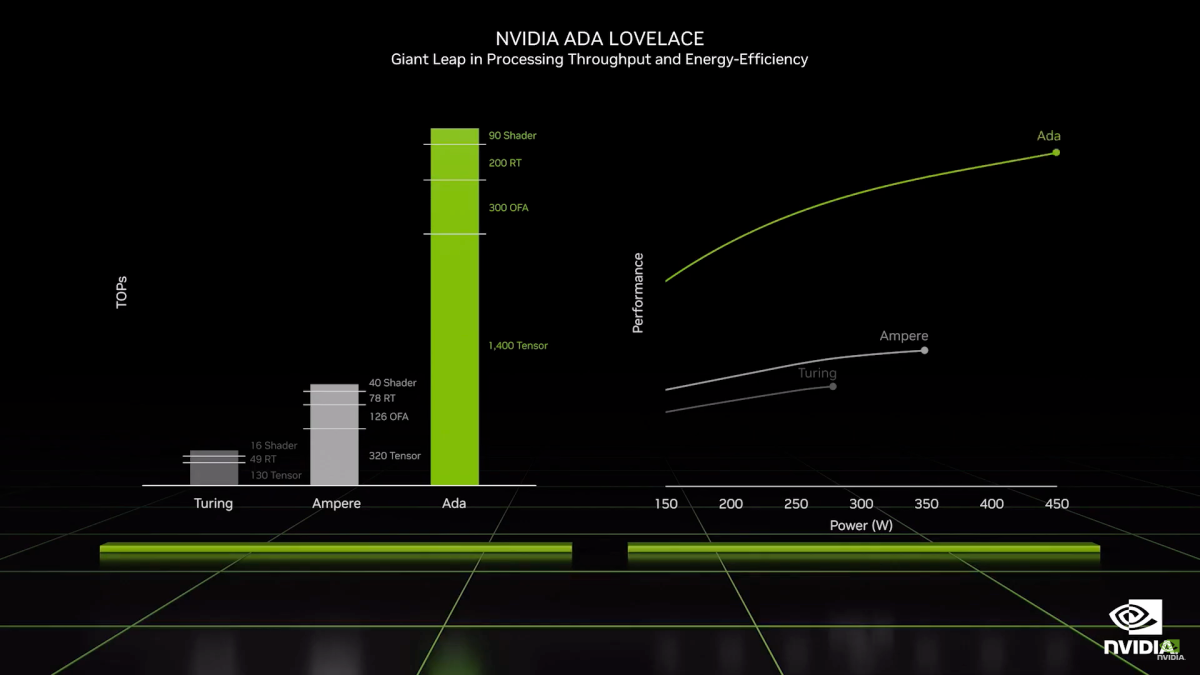 Nvidia
While that's a lot of numbers, what it means in real-world terms is a big improvement to ray-traced graphics performance, with a 2-3x improvement in 3D apps like Blender and a 25% boost to RTX gameplay.
That's coupled with DLSS 3.0, Nvidia's latest generation of deep learning super sampling tech that utilises the improved deep learning capabilities of Nvidia's latest graphics card collection. The highlight of the new tech is the ability to predict entire frames, rather than pixels as with DLSS 2.0. The tech processes the current and prior frame to get data including the direction and velocity of pixels and geometry of objects in the scene, feeds that into a neural network and generates intermediary frames.
That's complex, but what it means is a huge improvement to gameplay performance. Nvidia showcased a new RTX Max mode in Cyberpunk 2077 during the event, with an average of 100fps+ using DLSS 3.0 tech. It's also a big help to physics-driven games like Flight Simulator that have traditionally been bottlenecked by the CPU.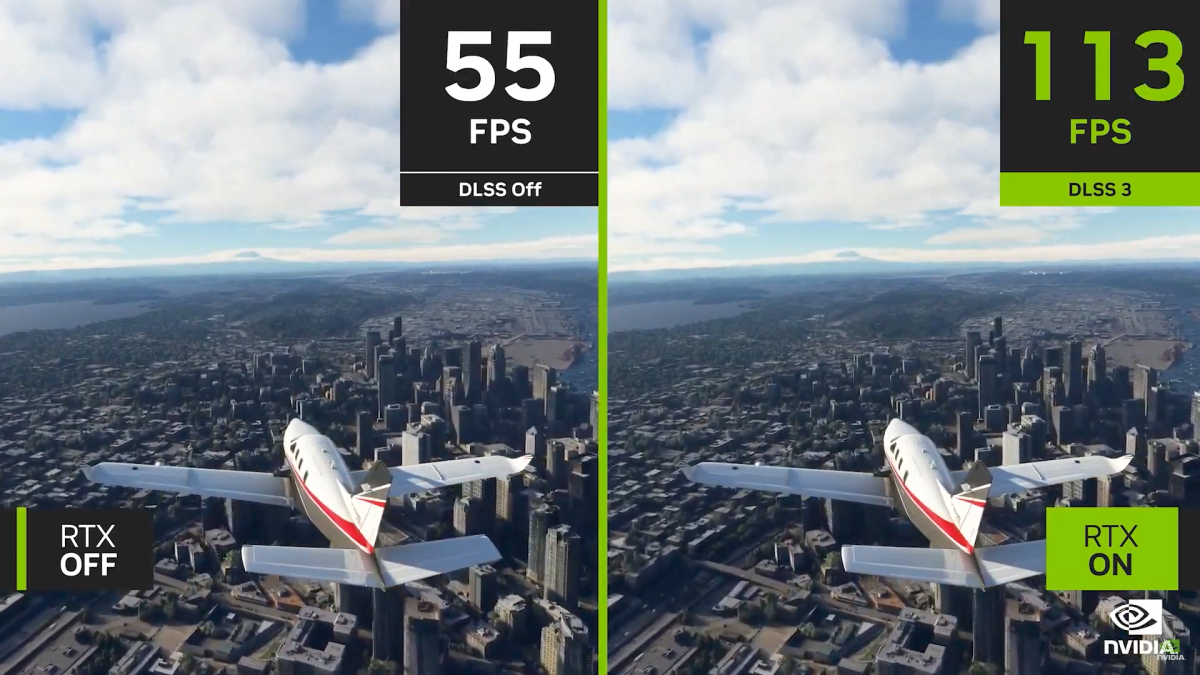 Nvidia
In fact, Nvidia claims that gamers will see a 2x jump in frame rate in rasterised games and an impressive 4x performance jumps in titles that utilise ray-tracing technology.
Nvidia 40 Series graphics card collection
Nvidia also revealed three new graphics cards at GTC 2022; the RTX 4080 (12GB), RTX 4080 (16GB) and RTX 4090, though as we now know, the 12GB 4080 was later rebranded and re-released as the RTX 4070 Ti in January 2023.
RTX 4070 Ti
While Nvidia initially announced two variants of the RTX 4080 – one with 12GB of GDDR6X VRAM and another with 16GB – the 12GB model was met with plenty of backlash from the gaming community.
The problem is that, given the branding, you'd assume the only difference between the models was the amount of VRAM on offer – but you'd be wrong. The 12GB model also had fewer CUDA cores, Tensor-TFLOPs, RT-TFLOPs and Shader TFLOPs than the 16GB model. The difference was so dramatic that many online gamers suggested it wasn't deserving of the 4080 branding – and it seems Nvidia agreed.
Following the backlash, Nvidia confirmed in October 2022 that it'd be "unlaunching" the 12GB model. "The RTX 4080 12GB is a fantastic graphics card, but it's not named right. Having two GPUs with the 4080 designation is confusing," it said in a post on its site.
We saw the RTX 4080 (12GB) again in January 2023 at Nvidia's CES announcement, this time in the form of the RTX 4070 Ti, complete with a more palatable price tag of $799.
Nvidia RTX 4080
While Nvidia was admittedly light on details at the announcement, the company revealed that the RTX 4080 offers an impressive 2-4x jump in performance compared to the last-gen RTX 3080 Ti, a graphics card with already-impressive graphical capabilities.
Nvidia
Rumours prior to launch suggested the 16GB model clocks in at 23Gbps, with a boost clock of 2505MHz. It's said to have a 340W TGP, but that this could be modified up to 516W for added performance.
Nvidia RTX 4090
The RTX 4090 is a serious graphics card for dedicated gamers and 3D artists.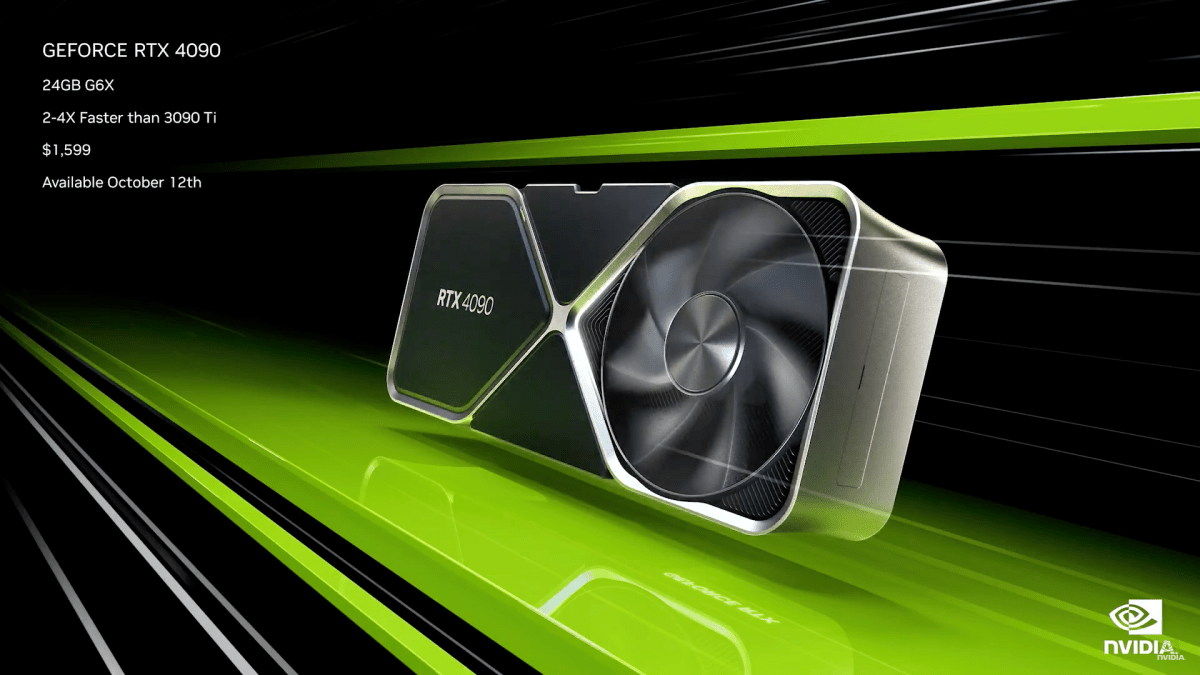 Nvidia
The top-end graphics card boasts an impressive 24GB of GDDR6X memory, with Nvidia claiming it's between 2 and 4x faster than the incredible RTX 3090 Ti, with 4x more processing throughput.
As with the RTX 4080, Nvidia was light on details on the RTX 4090 at its announcement, but leakers give us a good idea at what to expect. Current whispers suggest RTX 4090 will feature 126 Streaming Multiprocessors, providing a total of 16,128 CUDA cores, and that its 24GB of GDDR6X memory clocks in at 21 Gbps. That suggests a 384-bit memory bus and upwards of 1TB/s bandwidth.
However, despite the top-end spec, it'll feature the same 450W TDP as its predecessor.
Nvidia 40 Series confirmed spec
| | | | |
| --- | --- | --- | --- |
| | Nvidia GeForce RTX 4070 Ti | Nvidia GeForce RTX 4080 | Nvidia GeForce RTX 4090 |
| GPU | AD104-400 | AD103-300 | AD102-300 |
| Streaming Multiprocessors | 60 | 76 | 128 |
| CUDA Cores | 7,680 | 9,728 | 16,384 |
| Memory | 12GB GDDR6X | 16GB GDDR6X | 24GB GDDR6X |
| Memory Speed | 21Gbps | 22.4Gbps | 21Gbps |
| TDP | 285W | 320W | 450W |
| Boost Clock | 2.6GHz | 2.5GHz | 2.5GHz |
Related content