After months of leaks and official teasers from AMD, the next-gen Radeon RX 7000 Series is official. The updated range makes use of AMD's new RDNA 3 game architecture to deliver some serious gains in performance and, unlike Nvidia, AMD has not only kept prices the same but actually passed on savings to consumers. Who said all tech in 2023 is more expensive?
We outline all there is to know about the AMD Radeon RX 7000 Series right here, including the reveal of the RX 7000 Series for laptops at CES 2023.
When was the AMD Radeon RX 7000 Series released?
The Radeon RX 7900 XT and top-end RX 7900 XTX both launched on 13 December 2022, just under a month after the competing Nvidia RTX 4080 went on sale. RX 7000 Series-equipped laptops, on the other hand, are expected to begin to appear on the market in the first few months of 2023.
How much does the AMD Radeon RX 7000 Series cost?
Despite prevalent rumours that AMD's next-gen graphics card collection could indicate a sharp rise in price, especially with Nvidia's much more expensive 40 Series, the company has not only managed to keep prices in line with its 2020 collection of GPUs but make them a little cheaper.
The last-gen RX 6950 XT had an RRP of $999 in the US, whereas the comparable RX 7900 XT comes in at a tempting $899, especially when you consider that the RTX 4080 costs at least $1,199.
Even the top-end Radeon RX 7900 XTX and its 24GB of VRAM is cheaper than the flagship RTX 4080, coming in at just $999.
Of course, third-party manufacturers put their own spin on the GPUs and with that no doubt come price rises, but seeing such affordable MSRPs is a welcome sight at a time when everything seems to be getting more expensive.
AMD Radeon RX 7000 Series for desktop
Rather than revealing the whole family of GPUs, AMD decided to focus on two top-end models at its initial announcement, much in the same vein as Nvidia. That said, the company announced the Radeon RX 7900 and RX 7900 XTX, both making use of AMD's next-gen RDNS 3 graphical architecture to bring significant gains.
Radeon RX 7900 XTX
AMD
The RX 7900 XTX is a new GPU in this year's collection, though the XTX branding has been used on AMD products in the past. It's the top-end graphics card in the collection at the moment, and the specs are impressive. We won't delve too deep into the numbers, but it'll sport 24GB of GDDR6 VRAM, a board power of 350W, 96 unified RDNA 3 computing units, and a 2.3GHz game clock.
While we're yet to test the GPU, AMD claims that it's up to 1.7x faster than the RX 6950 XT when gaming at 4K.
Other interesting features include support for the updated DisplayPort 2.1, a particularly important bit of kit that supports higher refresh rates in 4K and 8K resolutions, ideal for the graphical power on offer. It's also something not employed by Nvidia's RTX 40 Series, making it a win for AMD.
It also opted to use two 8-pin connectors instead of the 12VHPWR power connector found in the RTX 4090 GPU that has been reported to be burnt or outright melted after a period of use.
Radeon RX 7900 XT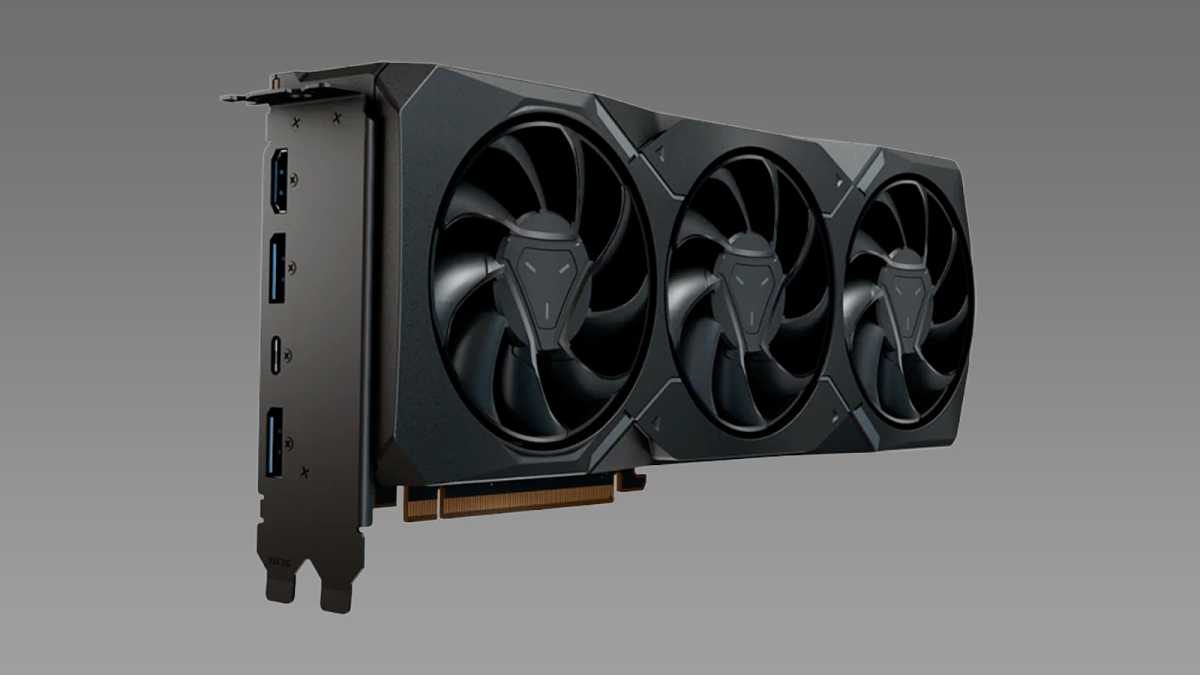 AMD
Coming in just behind the 7900 XTX is the standard 7900 XT. It's not quite as powerful as the XTX model, but with 20GB of GDDR6 memory, 84 unified RDNA 3 computing units and a 2GHz game clock, it's not that far behind either.
Like with the XTX model, the 7900 XT boasts support for the updated DisplayPort 2.1 for higher frame rates at higher resolutions, and it'll also make use of two 8-pin connectors instead of the flawed 12-pin connector of the RTX 4090.
It's expected to provide a comfortable 4K gaming experience with ray-tracing enabled, and given improvements in AMD's FSR tech, gamers should be able to reach fairly impressive frame rates too.
Radeon RX 7000 Series for laptops
Keen not to neglect the growing gaming laptop segment, AMD revealed mobile variants of the Radeon RX 7000 Series for laptops at CES 2022 – and there are more available than the desktop cards!
There's the Radeon RX 7600M XT and 7600M, both targeted at high-fps 1080p gameplay, while the RX 7700S and RX 7600S are designed for thin and light notebooks. The company also took the opportunity to reveal a few more mobile GPUs using the last-gen RDNA 2 tech that'll likely end up in budget-friendly laptops in the near future.
AMD's RX 7600M XT is the company's top laptop gaming GPU, featuring 32 compute units and 8GB of GDDR6 memory. It has the capability to use up to 120 watts of power and, according to AMD, outperforms the desktop RTX 3060 GPU in some games. The 7600M XT can reach a frame rate of up to 184 fps in Hitman 3 with maxed-out graphics settings, while the RTX 3060 achieves a frame rate of 160 fps.
However, the 7600M XT falls behind the 3060 in other games, such as PlayerUnknown's Battlegrounds, where it only reaches a frame rate of 145 fps compared to the 3060's 154 fps.
The RX 7700S and 7600S, with the same number of compute units and RAM as the 7600M XT but a lower power limit of 100 watts, aren't to be sniffed at either. AMD claims that the 7700S can reach frame rates of up to 87 fps in Cyberpunk 2077 and 147 fps in Death Stranding with maxed-out 1080p graphics.
It'll certainly be interesting to see how RX 7000 Series-equipped laptops perform as they begin to appear in the coming months.
Related content