Xiaomi has globally launched the Xiaomi 12 series, its latest set of flagship phones, and it's just expanded the line with a whole new set of 12S devices.
Note that it's the Xiaomi 12, not the Mi 12 – we'll explain why – but this is still the successor to last year's Mi 11. These are some of 2022's best phones though, and that's before we even get to the updated 12S line, which we're covering in more detail in our dedicated guide to the Xiaomi 12S series.
Here's all we know about the Xiaomi 12 phones, including rumours on future phones to come – or you can go straight to reading our Xiaomi 12X review, Xiaomi 12 review, Xiaomi 12 Pro review, or Xiaomi 12 Lite review to find out what we think of the phones.
When is the global release date for the Xiaomi 12 and 12S?
Xiaomi unveiled the 12 series in China on 28 December, and the phones went on sale on 31 December.
There was a longer wait for the rest of the world, but a global launch eventually came on 15 March. The phones are now on sale in most markets, including the UK and Europe.
In India, Xiaomi launched the 12 Pro on 27 April, but there's no official word yet on either the 12 or 12X.
The 12 Lite was also officially revealed in July, and is on sale across Europe now.
Finally, Xiaomi has also unveiled a Dimensity Edition of the 12 Pro, which is China-exclusive. That was revealed alongside the 12S series in China, which includes the long rumoured 12S Ultra, but we've also heard separate rumours about a 12 Mini, which may yet be on the way.
Remember that, for the moment, Xiaomi doesn't officially launch its phones in the US, so this launch does not include North America.
How much do the Xiaomi 12 and 12S cost?
Even though the Xiaomi 12 series hasn't launched in the US, the company has announced pricing in USD, which is a useful guide for how much the phone will cost worldwide – we've also include the phones' prices in GBP, Euros, and Rupees (for the Pro) below:
Xiaomi 12 – From £749/$749/€849
Xiaomi 12 Pro – From £1,049/$999/€1,049/₹62,999
Xiaomi 12X – From $649/€699 (around £500)
Xiaomi 12 Lite – From $399 (around £330/€395)
Xiaomi 12 Pro Dimensity Edition – From ¥3,999 (around $600/£490/€570)
We're keeping an eye on the best Xiaomi 12 deals, so check that page out for the latest deals and offers on the phone.
Why isn't it called the Mi 12?
While 2021's flagship Xiaomi phone was the Mi 11, its follow-up is not called the Mi 12.
Xiaomi has retired the Mi branding – itself only used outside of China – to simplify its brand. As a result, the new flagship is simply the Xiaomi 12.
"Starting in 2021 Q3, Xiaomi's product series 'Mi' will be renamed to 'Xiaomi'," the company said in a statement. "This change will unify our global brand presence and close the perception gap between the brand and its products. This change may take some time to take effect in all regions."
What are the Xiaomi 12 specs?
Now that Xiaomi has announced a few of the phones in the series we have concrete specs for them – plus some leaks and rumours that point to a 12 Mini too. Remember to check out our separate guide to the 12S series if you want to know about those phones.
Xiaomi 12
The most notable thing about the Xiaomi 12 is that it's smaller than any flagship in the series before, thanks to a move to a relatively petite 6.28in display, though the Pro is larger, if you prefer that sort of thing.
Thanks to the small size it weighs just 180g, and you can get it in black, blue, or pink – plus an extra green vegan leather option that's exclusive to China.
The compact screen is still an AMOLED panel, with 120Hz refresh rate and support for an in-display fingerprint scanner, plus Gorilla Glass Victus on top to ward off scratches.
As expected, inside the phone you'll find the brand-new Qualcomm Snapdragon 8 Gen 1 chipset, paired in China with either 8 or 12GB of RAM, and 128 or 256GB storage. In the UK, both storage SKUs are only available with 8GB RAM.
The battery is 4500mAh despite the compact size of the phone, and it supports 67W wired fast charging, 50W wireless charging, and 10W reverse wireless.
Finally, the all-important camera. The main lens is a 50Mp Sony IMX766 – a 1/1.56in sensor with 2.0μm large pixels and OIS – lower resolution than last year's main camera, though it may yet be capable of superior results. Alongside it, you'll find a 13Mp ultrawide and a 50mm-equivalent 5Mp telemacro camera – both pretty similar to what we saw on the Mi 11.
As with all phones in the series, the Xiaomi 12 launches with Android 12 and MIUI 13 installed.
Here are the full Xiaomi 12 specs:
6.28in, 120Hz, FHD+ AMOLED display
Qualcomm Snapdragon 8 Gen 1
8/12GB RAM
128/256GB storage
50Mp, f/1.9 main camera
13Mp, f/2.4 ultrawide camera
5Mp telemacro camera
32Mp selfie camera
4500mAh battery
67W wired charging
50W wireless charging
Gorilla Glass Victus
152.7 x 69.9 x 8.2 mm
180g
Xiaomi 12 Pro
In previous years the Pro version of Xiaomi's flagships hasn't differed too much from the regular model, but this year that's changed.
The big difference of course is the size. The 12 Pro uses a 6.73in display – much larger than the regular 12 – which also runs at a higher resolution and uses LTPO tech to provide a more dynamic refresh rate.
The design is fundamentally the same other than the size disparity, and the core specs are similar too.
There's a slightly bigger battery (4600mAh) but charging is improved more, with 120W wired speeds. The wireless tech is the same though.
Other than the display, the biggest changes are in the camera. While the main camera is also 50Mp, it uses the larger and more advanced Sony IMX707 sensor, so should get better results. The other two lenses are even more improved: there's an ultrawide and a 2x zoom telephoto, both of which also use 50Mp sensors.
Here are the full specs:
6.73in, 120Hz LTPO, QHD+ AMOLED display
Qualcomm Snapdragon 8 Gen 1
8/12GB RAM
256GB storage
50Mp, f/1.9 main camera
50Mp, f/2.2 ultrawide camera
50Mp, f/1.9 2x zoom camera
32Mp selfie camera
4600mAh battery
120W wired charging
50W wireless charging
Gorilla Glass Victus
163.6 x 74.6 x 8.2 mm
205g
Xiaomi 12 Pro Dimensity Edition
Xiaomi has since revealed a tweaked version of the Xiaomi 12 Pro featuring an upgrade to the MediaTek Dimensity 9000+ instead of the Snapdragon chip, though this in turn has a knock-on effect elsewhere – the phone jumps to a much larger 5160mAh battery, while dropping to slower 67W charging speeds.
The camera setup has also been tweaked – the main and selfie cameras are the same, but it drops to a 13Mp ultrawide and 5Mp telephoto, which is a fairly serious downgrade.
It's also cheaper, but only available in limited quantities.
Xiaomi 12X
The 12X is a new model in terms of name, though it's mostly a replacement for the usual 'Lite' model. It's the same size as the regular 12, and is very close in specs.
The main difference is that it drops the 8 Gen 1 for the less powerful Snapdragon 870 – which is essentially a two-year-old chip. It also lacks wireless charging.
Curiously, leaker Chun has also claimed Xiaomi is working on a 12X Pro, to be powered by the Snapdragon 8 Gen 1, but we know nothing else about this model yet.
Here are the full specs:
6.28in, 120Hz, FHD+ AMOLED display
Qualcomm Snapdragon 870
8/12GB RAM
128/256GB storage
50Mp, f/1.9 main camera
13Mp, f/2.4 ultrawide camera
5Mp telemacro camera
32Mp selfie camera
4500mAh battery
67W wired charging
152.7 x 69.9 x 8.2 mm
176g
Xiaomi 12 Lite
The 12 Lite is the fourth official variant in the series, launched long after the others.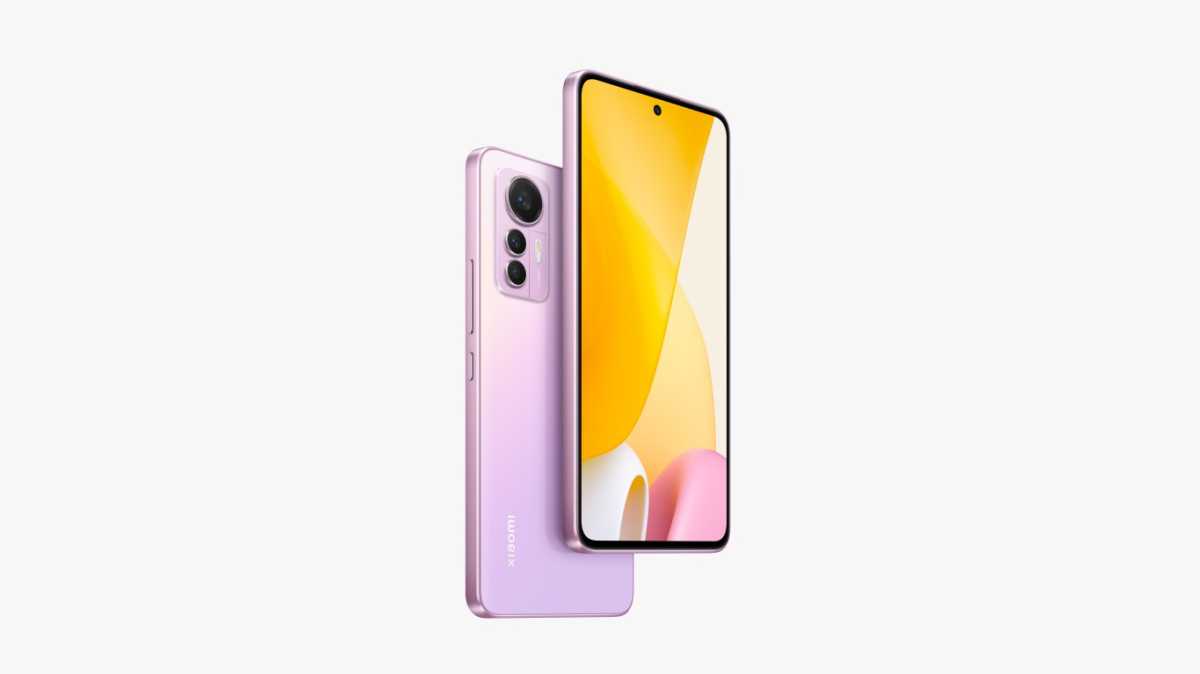 Xiaomi
This is a more affordable phone, powered by the Snapdragon 778G chip with 8GB of RAM and 128GB storage. There's also a smaller 4300mAh battery and 67W fast charging.
It's a relatively slim and light phone – just 7.29mm thick and 173g – but it's actually bigger than the 12 and 12 Pro with a 6.55in display. That's a FHD+ AMOLED with a 120Hz refresh rate, by the way.
As for cameras, the main rear shooter is 108Mp, backed up by an 8Mp ultrawide, 2Mp macro, and 32Mp selfie shooter.
6.55in, 120Hz, FHD+ AMOLED display
Qualcomm Snapdragon 778G
6/8GB RAM
128/256GB storage
108Mp, f/1.9 main camera
8Mp, f/2.2 ultrawide camera
2Mp, f/2.4 macro camera
32Mp, f/2.5 selfie camera
4300mAh battery
67W wired charging
159 x 74 x 7.3mm
173g
Xiaomi 12 Mini
Ahead of the announcement of the Xiaomi 12X, it had been tipped to be smaller than the regular 12, and serve as a mini model.
Curiously, in the wake of the announcement those rumours have continued, with speculation that there will be an actual Xiaomi 12 Mini some time soon. We even have a render of a possible design, shared on Twitter by Shadow_Leak:
On the other hand, the same leaker has previously shared a different design for the same alleged phone:
Spec rumours are thin, but point to a sub-6in AMOLED display and the same Snapdragon 870 chipset used in the 12X.
Given the two conflicting designs (neither of which are a close match to the rest of the 12 series) and the fact that there have been few concrete spec leaks, we'd take all this with a pinch of salt for now.
Check back regularly as we'll be updating this feature when more details become available. In the meantime, try reading our guide to the best Xiaomi phones and best new phones coming soon to see what else could be tugging at your credit card.