You use your garden most during the summer, but a few investments and additions mean that you can use the space to cook, eat, relax and entertain in all year round.
Garden lights and heaters make your garden welcoming at night; add a hot tub and a Bluetooth speaker and you've got a spot to relax; buy a pizza oven or barbecue and you can take a break from the kitchen and cook dinner outside.
Smart garden lights
Philips Hue Outdoor range
LIFX
Innr
There's an abundance of smart outdoor lighting, but be warned: the good-quality stuff costs a lot.
Depending upon whether your home has existing outdoor sockets or external wall lights that are controlled via a switch inside your home, there are various options for smart versions.
For those with conveniently placed outdoor sockets, you could install one of the many Philips Hue Outdoor kits.
For example, the Lily Spotlight kit ($339.99 / £274.99) includes three colour & white spotlights and run from the included power supply. You can add more spotlights if you need them.
As with all Hue lights, the Lily requires a Hue bridge to be within around 10-20m depending on obstacles. You can then control the lights from the Hue app or using Alexa or Google Assistant.
Another option is the Amarant, which is designed for 'washing' large expanses of walls, fences or hedges with white or colours. The Amarant's colours are noticeably dimmer than the various shades of white it can produce, but you can join multiple Amarants together if 1400 lumens isn't enough. Just bear in mind they don't come with a LowVolt power supply, and opt for the 100W model rather than 40W if you plan to expand the system with more lights later.
Philips
If money is no object, you could buy several Calla bollards ($129.99) for low-level path lighting. In the UK, there's the Lucca pedestal, a similar sort of thing, but those are supplied with a white E27 Hue bulb; there's no colour option.
If the prices for Hue lights are sending you into a tailspin, take a look at Innr's Outdoor Spot Light kit. It's less than half the price of the Lily ($169.99 / £129.99) but is very similar overall, with three colour and white spotlights, and ground spikes for easy placement. The main drawback is that all three lights have to be the same colour: you can't change them individually as with the Lily kit.
Like Hue lights, they use Zigbee to communicate, so you still need a Hue Bridge (or another Zigbee hub such as Innr's own, or an Amazon Echo Show that has a smart hub built in) in order to control Innr's spotlights.
If the Hue lights are too expensive, a cheaper option is the Innr Outdoor Spot Light kit. It's less than half the price but is very similar overall, with three LED colour and white lights, and ground spikes for easy placement.
All wiring is waterproof and you just need a Hue Bridge (or another Zigbee hub such as Innr's own, or an Amazon Echo Show that has a smart hub built in) in order to control the lights.
Here, the Spot Light kit has been installed next to a pond.
If you don't have any outdoor sockets, but do have outdoor mains-powered lights, you could look at replacing the bulbs with smart lights. Again, you could go for Zigbee-based bulbs from Philips or Innr, but if you'd rather stick with Wi-Fi – and therefore need no additional Zigbee bridge – then the options are almost endless.
Our preferred option here is LIFX's bulbs. They're the highest quality, brightest Wi-Fi bulbs out there. They come in bayonet and screw versions to suit US and UK light fittings and there's a whole range to choose between.
These start from the LIFX white (around $10 / £10) and LIFX Colour ($34.99 / £35) which should fit most luminaires. There's also the Nightvision which has built-in infrared LEDs which are used at night when the main light is off and provide floodlighting for any exterior security cameras you have.
2 Packs are available for some models which makes them better value, too.
The latest addition to the range is the BR30, a larger bulb which produces 1100 lumens and, because it's IP65 rated, doesn't need to be protected inside a luminaire. However, you will need a water-resistant fitting to power it, of course.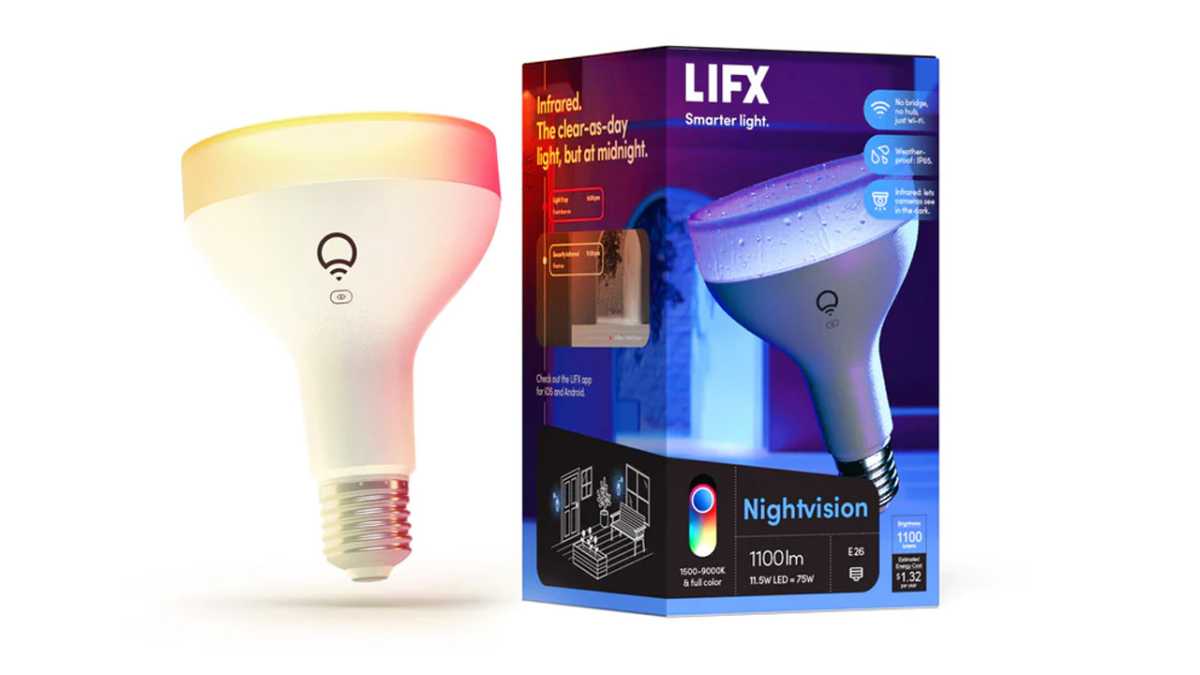 LIFX
In the LIFX app (just as with the Philips Hue app) you can choose what shade of colour or white you want and even get your lights to turn on and off at certain times (such as dusk).
Philips Hue indoor bulbs can be used outdoors in a weather-proof luminaire, but the Hue range includes lots of luminaires as well.
The Turaco and Lucca, for example, are warm white, but if you prefer to also have the option of choosing any colour, there's the Resonate and Impress.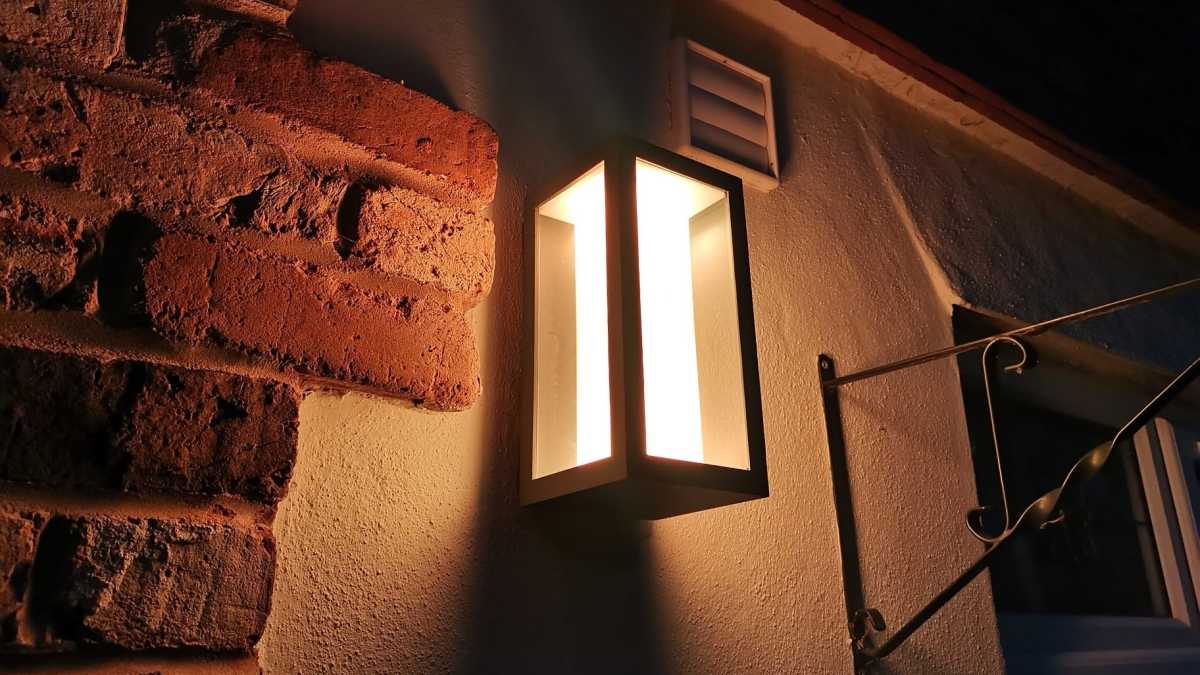 Jim Martin / Foundry
The Impress (above) is likely to have bigger appeal, and will add a thoroughly modern look to your home with its translucent central column and boxy exterior with glass on three sides to let that light shine. There are actually two versions: a narrower one that's £119, and a wider version for £20 more.
For those in the US, there's a slightly different range of lights. The Impress is $159.99 but is part of the LowVolt system so doesn't require existing mains wiring, or an electrician to install some.
Finally, don't forget that you can combine outdoor lighting with security. It's relatively simple to replace any outdoor mains-powered light with a security camera that also has floodlights. Those we recommend are the Ring Floodlight Cam ($199 / £199) and the Netatmo Outdoor Camera ($319 / £289) which is now available in white as well as black. The beauty of the Netatmo is that no subscription is required, so while it's more expensive to buy, you'll save in the long run.
Patio heaters
To spend time in your garden in the cooler months, or to keep the party going after dark, patio heaters are a good investment. If you buy now, it'll be cheaper than in summer, when the prices will jump.
You can either buy electric or propane-fuelled outdoor heaters. The advantage of propane is that you don't need to run a cord outside and you can stand your heater wherever you like. But remember to budget for gas canisters.
A 13kg gas cylinder costs about £50 and will last you for 10 hours.
The mushroom-style Glow Warm 13kw gas patio heater is currently available from Amazon for £159.99.
It's 224cm high and is a really powerful heater. It also has wheels, so you can easily move it around. It doesn't come with a cover, however, so you'll probably need a spot in the garage to store it during the worst of the winter weather.
Bear in mind that when it arrives, you'll need to assemble it yourself. It's straightforward to do but can take an hour to put together, so prepare to build it in advance of your guests arriving. And if you buy this model, you'll also need a set of AA batteries for the ignition.
Electric heaters require less organisation in advance. You just plug them in and you're ready to go. But bear in mind that where you can place them depends on where your sockets are and that an extension lead can be a trip hazard.
If you're going to go with an electric heater, we'd suggest you invest in a weatherproof extension lead (15m, £25) at the same time.
The ElectriQ mushroom-style infrared patio heater (£89.97, Appliances Direct) stands 205cm tall and has three settings: 900W, 1200W and 2100W. It will heat up a radius of 15sqm, so it can keep a whole group warm.
Fire pits
Steel fire pit – from £29.99 (from Wayfair)
Hoole cast iron fire pit bowl – from £69.99 (from Gardenesque)
A fire pit might be pushing the definition of tech, as it was cutting edge about 2 million years ago – but if you'd like to enjoy the garden on a chillier night, it makes a huge difference, as well as an excellent focal point for an outdoor gathering. Even better, you don't have to invest a lot of cash to get one.
Wayfair is selling a simple steel fire pit for only £29.99. It measures 37cm x 54cm x 51cm but if you'd like something a little larger, you can get the same design but scaled up a bit for £34.99 (42cm x 64cm x 56cm).
If you have a little more to spend, the Hoole cast iron fire pit bowl comes in three sizes: 55cm (£69.99), 75cm (£139.99) and 100cm (£224.99).
Outdoor cooking
Masterbuilt Gravity Series 560 $499 / £549 (from Masterbuilt)
Weber SmokeFire EX4 – $1099 / £1599 (from Weber)
Ooni Fyra wood pellet pizza oven – $349 / £249 (from Ooni)
The humble BBQ hasn't escaped the relentless march of technology. That's a good thing, though, as having built-in Wi-Fi means you'll know when it's up to temperature, as well as when your food is properly cooked with alerts on your phone.
Lewis Painter / Foundry
One great option is the Masterbuilt 560 which uses a gravity-fed hopper and will take traditional charcoal as well as wood pellets. You can read more about it in our in-depth review.
When money is no object, there's Weber's SmokeFire EX4. It offers a huge amount of cooking space (despite being the baby brother of the EX6) and exclusively uses wood pellets for a fantastic smoky taste. It will hold temperatures from 200F (95C) for hours-long smoking of meat such as ribs through to 600F (315C) for searing steaks.
Image: Jim Martin / Foundry
A pizza oven is a great outdoor cooking alternative to a barbecue and you're more likely to use it year-round. Buying one may be more affordable than you think.
Ooni is one of the most trusted names in the business and its 12 inch wood pellet pizza oven is available to buy for £249. It's portable, although at 22lbs, you won't be sticking it in your bag. It's quick to cook on: it can reach a temperature of 500°C in 15 minutes, and, after that, it can cook a pizza in about one minute. We tested it out and loved it.
Wood pellets cost £18.99 for a 10kg bag and are widely available. But if you want something a bit more versatile, the Ooni Karu 12 inch multi-fuel pizza oven (£299) can be used with wood or charcoal. And, if you buy the compatible gas burner (£79.99), you can convert it to gas.
Waterproof Bluetooth speakers
EarFun Uboom L Bluetooth speaker – $79.99 / £69.99 (from Amazon)
Creative Muvo Play – $39.99 / £34.99 (from Creative)
It's not a party without music, and your best option for spending time in the garden is a portable Bluetooth speaker. You can place it wherever you need to, and you'll have the option of letting your guest play music from their phones.
If you plan to use it outside (especially if you're near a hot tub), something rugged and splash-proof is the best option. Our pick would be the EarFun Uboom L ($79.99 / £69.99, Amazon). It's compact, delivered great-quality sound and has good battery life. And if you buy a pair, you can get stereo sound.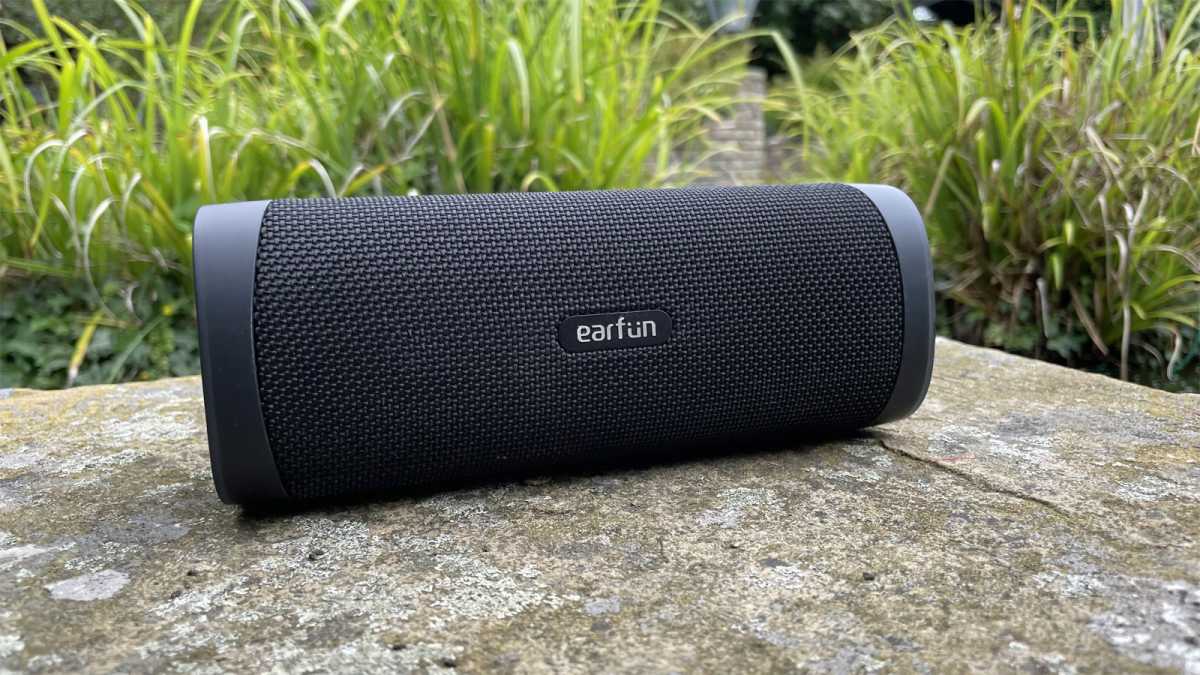 Jim Martin / Foundry
If you want something even less expensive in case it gets soaked or damaged, we'd suggest going for the Creative Muvo Play, which you can pick up for around half that price. It's not as powerful or bassy as other options, but it is great value for its price point. You can find out what it's like to use in our review.
You can see all of our top picks for cheap Bluetooth speakers in our round-up of the best we've tested.
Projectors
Optoma UHD300X – $1349 / £969 (from Amazon)
Want to have people over for a movie night? It's more fun under the stars. Buy a projector and you can screen films and watch sporting events in your garden.
You can buy a screen to project your film on for as little as $15 / £15 but you can also make do by hanging up a white sheet between trees or using the side of a building.
Mini LED projectors are convenient and relatively affordable. Avoid the really cheap ones which have ridiculously low resolutions (but claim to be Full HD or even 4K). Instead, go for something like the Wimius K7 or, if you're in the UK, the S26. These are both native 1080p and are reasonably bright – enough to use at night, at least.
If you want to invest in a high-quality projector, we'd recommend the Optoma UHD300X. It's a 4K projector with great colours and sharp detail. You can find out more about it in our review.
Inflatable pools and hot tubs
Many people are getting more use out of their gardens in the winter by investing in a hot tub. Grab a Bluetooth speaker and head out into the garden for some spa relaxation after work.
If you opt for a Lay-Z spa, you can control your hot tub remotely via the phone app. You can turn your spa on and off, set a schedule, adjust the water temperature, activate the filter and the AirJet massage system.
Lay-Z spas are designed for year-round use with high-quality insulation to minimise heat loss and technology to prevent water in the spa from freezing up.
The Lay-Z Spa St Lucia (£360, B&Q) can fit three adults comfortably. It has rapid heating, a timer and an air jet massage system. It even has cup holders. It comes with an insulating lid.
Okay, so you won't be using it until the height of summer, but buy an inflatable pool now and you'll be paying around a third less than if you wait until it gets hot.
Inflatable pools are now quite affordable but tearing and puncturing is a problem, especially with thinner, cheaper products. It's better to spend a bit more at the start and have something that'll last. The Duerer inflatable pool is still reasonably priced (£52.99) but is twice as thick as most on the market and comes with a repair patch. It's 300 x 182 x 56cm. Come summer and you'll be paying over £80 for the same product.
Still, we'd advise that before you set it up, check the ground underneath and remove anything the liner might catch on, like sharp stones and twigs. You'll also want to invest in an electric pump to inflate it, but these can be bought for around £15.
Need to get your garden ready for an event? If you're tired of mowing the lawn yourself, check out our review of the Sømløs G1 robot lawnmower, which is optimised for mowing big gardens.