Amazon Prime Day 2022 arrives on 12-13 July. It will be a return to the traditional time of Amazon's marquee sales event. In 2020 it was postponed to October and in 2021, it took place in June.
Prime Day offers thousands of exclusive discounts site-wide for up to two days to Prime members. The service costs £7.99/US$14.99 per month (or £79/$139 for the year).
Over the years, Prime Day has made a reputation for itself for offering the best discounts on a wide variety of products, including all the tech we love such as smartphones, laptops, smartwatches, audio, gaming consoles, and more. But is it truly worth the hype?
We're answering your top questions ahead of Prime Day 2022, plus pointing out a few things to keep in mind if you're wondering whether Prime Day is worth it.
Will Prime Day 2022 be worth it? Will you actually save money?
Prime Day offers discounts on hundreds of thousands of products. Will all of them appeal to you? Definitely not. And sometimes Amazon's Prime Day discounts may only be marginally deeper than the prices before the sale, but there are a couple of reasons why Prime Day 2022 might be better than past events.
Since 2021, Amazon has had 200 million paid members, globally, which means this year Amazon has more customers than ever to impress.
The spike in membership sign-ups isn't entirely surprising, given the sudden worldwide reliance on online shopping and next-day delivery through the height of the pandemic. But now the pressure for Amazon to keep customers interested will only mount.
Is Prime Day the best place for discounts?
Amazon may once have been the go-to destination for the lowest price – the company was famously unprofitable for decades by choice, by focusing on long-term growth over short-term profit. The strategy helped the brand cement itself in the public consciousness as the obvious place for the lowest price. But that may no longer be the case.
While we expect all sorts of discounts on Prime Day, other retailers will also be competing for customer attention: the battle is on.
In the past couple of years, Currys has price-matched Amazon on more occasions than we can count. Currys often does promotions with free next-day delivery (usually with code FREENEXTDAYDELIVERY), which effectively gets you Amazon Prime's main benefit, but without the additional cost of a membership.
A Prime membership gets you lots of other benefits year-round of course such as Prime Video, Prime Music, Prime Reading – but if free delivery is your main deciding factor for shopping from Amazon, be sure to consult other options as well.
While Amazon offers competitive pricing all year round, especially on Fibit, we've seen other retailers outdo Amazon of late. AO and KRCS have both outdone Amazon on iPad deals in the past.
How to know if Prime Day has the best price
Tracking, tracking, and tracking.
Amazon is notorious for shifting prices around. This is no different on Prime Day, when stocks can run out or change frequently. A price you see on a popular device in the morning might be entirely different in the afternoon. You might also see a price go up immediately before Prime Day only to see it drop back to the usual price during the sale, to make the discount appear more dramatic than it is. And as we mentioned before, you might see a price drop but only by a few pounds compared to the usual or average discounts.
So while you can expect a great breadth of deals on Prime Day, to truly know whether you're getting the best price will require a bit of leg work.
Thankfully, there are tools to help. CamelCamelCamel, for example, lets you look up pricing history on any Amazon product simply by plugging in the URL. The site shows you the current, highest, and lowest price on a vast database of products. Make a note of these so you know which price to beat when Prime Day begins.
Looking at the Galaxy S22 5G for example, CamelCamelCamel reveals the lowest price on the 128GB configuration was £730.45 in early May 2022. Will Prime Day prices outdo this lower limit?
CamelCamelCamel
The Keepa browser plugin is another useful tool that lets you see price history directly on the product page on Amazon. You can see it in action in the image below for pricing history on the Oral-B iO9 electric toothbrush. You can also use it to sign up for alerts when a product drops below a certain price.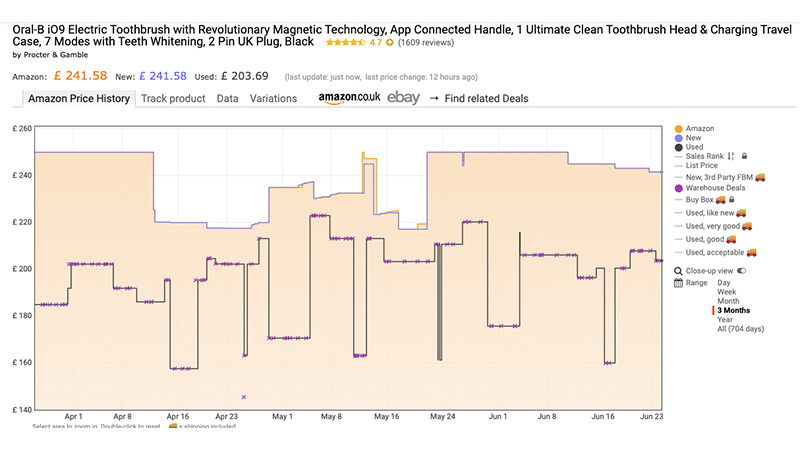 Keepa
Don't forget: we will be doing this groundwork for you to track the best Prime Day deals around when the time comes. We're constantly tracking the best prices and offers in our year-round deals coverage. You can also see the best deals of the month in our dedicated deals round-ups, all of which will focus on Prime Day offers when it rolls around:
Related articles for further reading