Dyson's latest cordless vacuum is now available to buy in the UK.
We've been anticipating the launch of the V12 Detect Slim since it was launched in China on 25 March last year. A little over over two months later, it was released in Australia, alongside the V15 Detect and the Omni-glide.
What does the Dyson V12 Detect Slim cost and where can you buy it?
In the UK, you can buy the V12 Detect Slim Absolute direct from Dyson, for £529.99.
In Australia, the Dyson V12 Detect Slim Total Clean is priced at AUD1,299 and the Dyson V12 Detect Slim Absolute Extra at AUD1,349. The latter is in a gold colourway that's exclusive to the Australian market.
It's also available in the US, where you can buy it from Dyson for $649.99.
What are the Dyson V12 Detect Slim's features?
As the name suggests, the V12 Detect Slim is slimmer and lighter than the V15 Detect but has similar features.
The V12 Detect Slim has the same green diode laser and acoustic piezo sensor that features on the Dyson V15 Detect. The main cleaning head uses a laser to illuminate dust that would otherwise be invisible.
The piezo sensor then converts the vibrations produced by the dust into electrical signals, so that the vacuum cleaner's LCD display can show the user the type and quantity of particles picked up.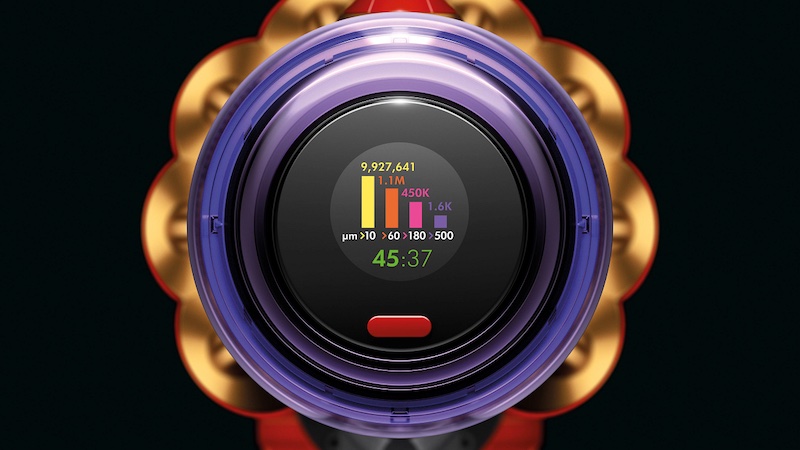 Dyson
The V12 Detect Slim measures 123.4 x 25 x 25.2cm and weighs a very light 2.4kg. It has 11 cyclones and charges in 4 hours. It has a 0.35 litre dustbin. It'll give up to 60 minutes of vacuuming time (although this will be on the lowest setting). Its maximum suction power is 150AW.
Will there be other V12 models released?
It's possible that Dyson will release other V12 models in the future.
Which accessories does the Dyson V12 Detect Slim come with?
This will depend on the editions available in each territory, as different editions, such as the Animal and the Absolute, come with different attachments. Typically, you'll get the greatest number of cleaning accessories with an Absolute Extra edition.
At the moment in the UK, the model on offer is the Absolute. It comes with the illuminated cleaner head, a reach under tool, the hair screw tool (a conical head designed to combat hair tangled up in the vacuum cleaner by spiralling it off into the dustbin), a combination tool, a crevice tool, the Motorbar cleaner head, a wall dock and charger.
We'll be reviewing it soon. In the meantime, you can see what we thought of other recent Dyson launches by checking out our reviews of the Dyson V15 Detect and the Omni-glide.
If you'd like to see other options, check out our round-up of the best vacuum cleaners we've tested or find out which Dyson cordless vacuum is right for you.