AMD is on a roll. The US chip manufacturer has emerged as Intel's main rival in the CPU market, following a string of high-profile releases.
The latest of these is the Ryzen 7000 Series, which uses the new Zen 4 architecture. We've only seen a few desktop processors so far, but plenty more (including laptop chips) are expected over the next few months.
But AMD isn't shy when it comes to revealing long-term plans. Not only do we know that Zen 5 is on the way, some key details have already been revealed. Here's everything you need to know at this early stage.
AMD Zen 5 release date
At the Ryzen 7000 Series event in August 2022, AMD confirmed that Zen 5 was "on track" for a 2024 release. A more specific date wasn't revealed, but that's more than you'd typically expect two years ahead of launch.
Previous release dates often provide some clues, but it doesn't look like AMD has a fixed schedule for its Zen architecture:
Zen – March 2017
Zen 2 – August 2019
Zen 3 – November 2020
Zen 4 – September 2022
This makes it difficult to predict exactly when Zen 5 will arrive. A launch in the second half of 2024 seems likely, but it's guesswork beyond that.
AMD Zen 5 spec rumours
It might not be expected for another two years, but we already have a fairly good idea what Zen 5 will bring to the table.
Some of the information comes from AMD itself. In August 2022, company CTO Mark Papermaster said Zen 5 will feature a "new grounds-up core". He went on to say that the architecture "will bring a combination of performance gains as well as further optimisations for the growing AI workloads". It's difficult to decipher what this will actually mean for the end user, but it looks set to be another ambitious release for AMD.
Like Zen 4, it looks like there will be three different versions of the Zen 5 architecture. That's what the official roadmap below suggests, with the initial 4nm CPUs making way for 3nm eventually: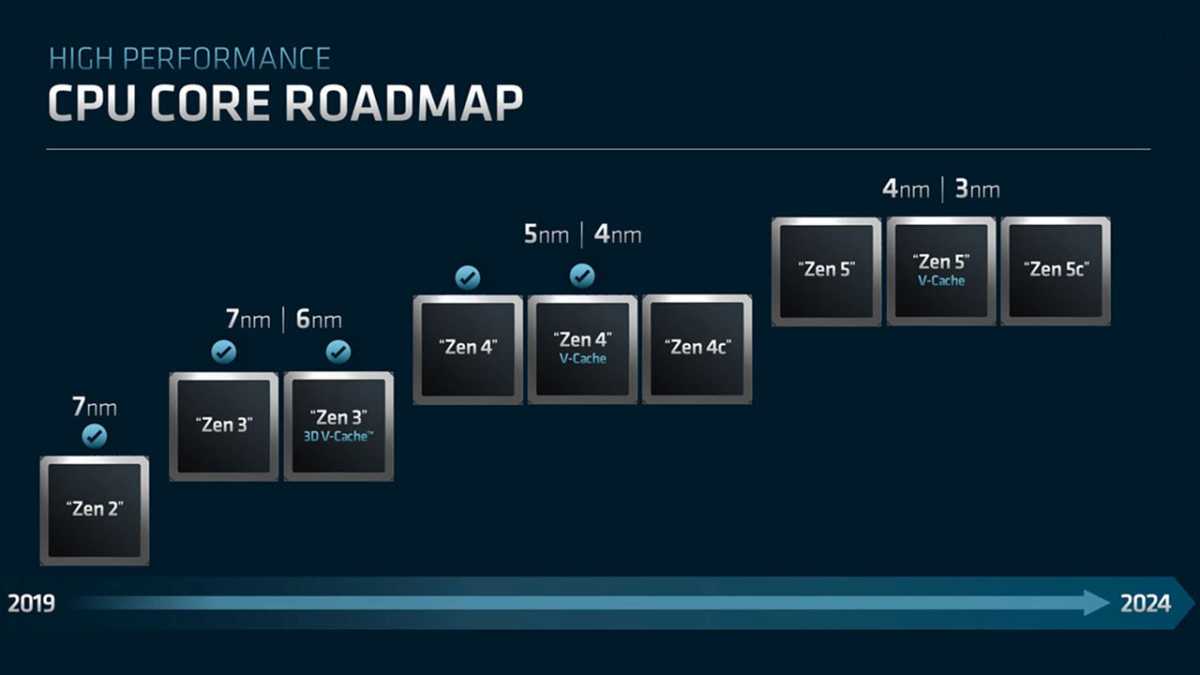 AMD
Previously, AMD has said that Zen 5 will focus on both performance and power efficiency. Back in April 2021, MoePC suggested it would use the hybrid 'big.LITTLE' design, which we've seen on the likes of Intel's Alder Lake. This consists of both performance and efficiency cores, with the latter helping to benefit battery life on mobile devices.
It described Zen 5 as the "next huge microarchitecture revamp for AMD", suggesting the company uses odd numbers for more significant releases.
That hybrid architecture is also referenced in a RedGamingTech video on YouTube, which also says the IPC jump from Zen 4 to Zen 5 will be bigger than Zen 3 to Zen 4 – around 30% for single-threaded workloads. It also suggests Zen 5 will debut on the Ryzen 8000 Series, although that may now be the Ryzen 9000 Series unless AMD skips a year.
Other rumours mentioned in the same video include big improvements to L1 and L2 cache, plus a new L3 cache design that will reduce the die size and improve latency. However, it remains to be seen whether that'll still be the case when the Zen 5 is actually released.
As you can see, concrete details remain thin on the ground at this early stage. We'll update the article once more is known about Zen 5 architecture and the AMD CPUs that will use it.