Two years after Apple revealed its first ever budget-focused smartwatch, the company back with a second generation. The new Apple Watch SE is undoubtedly an iterative update over 2020's original, but it upgrades the experience in a few key ways.
Alongside some subtle design changes, look out for some big performance gains and new software features, especially as it runs watchOS 9 out of the box. Impressively, both GPS-only and cellular models have also dropped in price in the US – though the range is more expensive in the UK.
With the Watch SE 2 available to buy now, here's everything you need to know.
When was the new Apple Watch SE 2 (2022) released?
Apple officially announced the second-gen Watch SE at its 'Far Out' event on 7 September, alongside the Watch Series 8 and brand new Watch Ultra. If you missed it, here's how to watch the Apple Event back.
Both the GPS-only and cellular models are available to buy now following release on 16 September.
How much does the new Apple Watch SE 2 (2022) cost?
Pricing for the new Apple Watch SE is roughly in line with the original. Here's how much you can expect to pay:
Apple Watch SE 2 (40mm, GPS) – from $249/£259
Apple Watch SE 2 (40mm, GPS + Cellular) – from $299/£319
Apple Watch SE 2 (44mm, GPS) – from $299/£319
Apple Watch SE 2 (44mm, GPS + Cellular) – from $329/£349
For context, those starting prices $30 cheaper than the original in the US, but £10/£20 more expensive in the UK.
Here's how much the original Apple Watch SE would set you back, for reference:
Apple Watch SE (40mm, GPS) – from $279/£249
Apple Watch SE (40mm, GPS + Cellular) – from $329/£299
However, you can spend significantly more on both versions if you're looking for a more premium design or different straps.
Learn more in our separate article on where to buy the Apple Watch SE 2.
Apple Watch SE 2 (2022) design & features
Despite it being two years since the original Apple Watch SE, the second generation was always likely to be an iterative update. That's proven to be the case, although there are still some key upgrades worth talking about. The screenshot below shows some of them, but many are features which were already available on the original.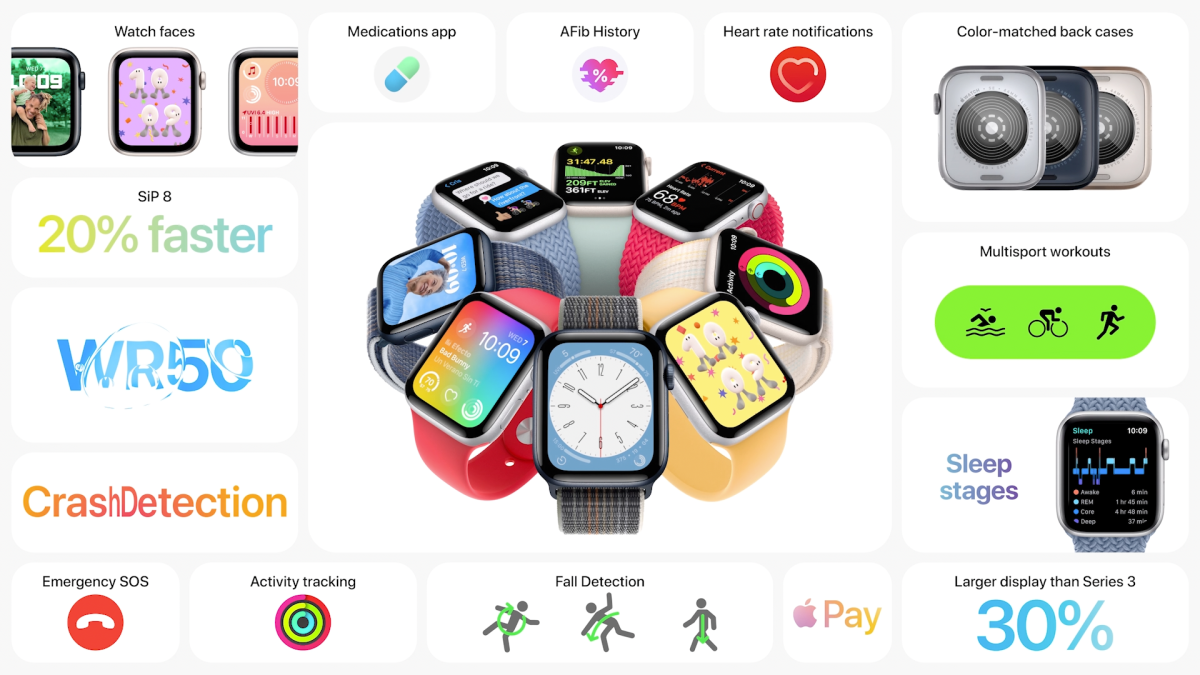 Apple
Let's explore some of the key changes in more detail.
New S8 chipset
The Apple Watch experience has improved significantly over the years, and that's particularly true in the processing department. While early iterations of Apple Watch were plagued with long app load times, the flagship Apple Watch Series 7 delivered excellent all-round performance.
That looks set to be improved further on the Watch Series 8, given its shift to Apple's latest S8 chipset. And the good news is that the same processor will also power the Watch SE 2 – no sacrifices here. Apple says this will yield a performance improvement of up to 20% compared to the original, but it remains to be seen if that'll be noticeable in real-world usage.
Crash detection
Another Watch Series 8 feature that's also coming to the Watch SE is crash detection.
Apple has added two new accelerometers to the watch, allowing it to detect when a car rolls over or is hit from any side. Once this happens, the Watch SE can notify emergency services and contacts that you've been involved in an accident.
Colour-matched back cases
This is a very small change, but it will give the second-gen Watch SE a slightly more consistent colour scheme. Whether you choose the silver, midnight or starlight finish, the back case (which is usually placed on your wrist), will retain the same colour.
Apple
watchOS 9
This is by no means exclusive to the new Watch SE, but it's worth highlighting that the device will ship running watchOS 9. The latest version of Apple's software adds several key features that are worth being aware of, even if it is a relatively minor update.
Among them are more detailed workout features, in-depth sleep data for the first time and medication tracking. You'll also get the option for banner-style notifications (rather than ones that take up the whole screen), new Family Setup features and the customary new watch faces.
At the same 7 September event, Apple also announced that a new low-power mode will be available within watchOS 9. It'll allow you to significantly boost battery life, perfect if you're planning on wearing the Watch SE while sleeping.
Much of the rest of the device remains unchanged, meaning it retains an OLED display (within either 40mm or 44mm sizes), water resistance, fall detection, emergency SOS and an optical heart rate sensor. But you still don't get the Apple Watch Series 8's always-on display and temperature sensor.
Watches were far from the only thing that Apple announced at its 7 September event. The iPhone 14, 14 Plus and 14 Pro and 14 Pro Max will take the headlines, but we shouldn't forget about AirPods Pro 2.
Related articles for further reading