It's hard to believe that AMD released its very first Ryzen CPUs as recently as 2017. They were based on a new Zen architecture, built from the ground up in the five years prior to release. Looking back, this was a defining moment for AMD, and the future of laptop and desktop chips more widely.
Since then, we've seen five more generations of Ryzen chips and four subsequent Zen architectures. The latest of these is Zen 4, which AMD officially debuted recently on the Ryzen 7000 Series. Here's everything you need to know.
AMD Zen 4 release date
At the Zen 3 reveal back October 2020, AMD Chief Technology Officer Mark Papermaster confirmed that Zen 4 was "on track, in design". Our next official update came in July 2021, when AMD CEO Lisa Su confirmed that Zen 4 was on track to launch the following year. At CES in January 2022, the company was a little more specific – the second half of 2022 was the target.
Eventually, Zen 4 was announced alongside the Ryzen 7000 Series it'll debut on at an AMD event on 29 August. Only four desktop processors have been revealed so far, all of which are available now, having gone on sale from 27 September.
AMD did launch new Ryzen 7020 Series CPUs for everyday laptops on 20 September, but these are based on an enhanced version of the Zen 2 architecture instead.
With that in mind, no more Zen 4 CPUs are expected until 2023, with Ryzen 7000 mobile CPUs likely to be revealed at CES in January. We may see more desktop processors using the architecture at the same event, which would align with roadmap AMD previously shared:
AMD Zen 4 devices
Once the first Zen 4 CPUs become available on 27 September, many people will upgrade their machines to the Ryzen 7000 Series. Of course, you'll need a compatible motherboard – AMD has revealed four new AM5 ones, but the chips will still be compatible with the older AM4 platform. AMD says it expects them to "coexist for quite some time".
Here's a summary of the first four Zen 4 CPUs that AMD has announced:
Ryzen 9 7950X – 16 cores, 32 threads, 5.7GHz max clock speed, 80Mb cache, 170W TDP
Ryzen 9 7900X – 12 cores, 24 threads, 5.6GHz max clock speed, 76Mb cache, 170W TDP
Ryzen 7 7700X – 8 cores, 16 threads, 5.4GHz max clock speed, 40Mb cache, 105W TDP
Ryzen 5 7600X – 6 cores, 12 threads, 5.3GHz max clock speed, 38Mb cache, 105W TDP
Zen 4 will almost certainly make its way to laptop chips at some point, but they're designed to be integrated into devices and not available as standalone components. Which devices use them will be down to individual laptop manufacturers to decide.
AMD Zen 4 spec news
Zen 4 was always likely to be a big step for AMD, and it doesn't look like the company has disappointed. The new architecture shifts to a 5nm process, while adding support for premium features such as DDR5 memory and PCIe Gen 5. It allows for up to 16 cores and 32 threads, something which has already been utilised on the new Ryzen 9 7950X.
But AMD is specifically advertising the performance gains on the Zen 4-based Ryzen 7000 Series, specifically highlighting gaming and content creation as scenarios which will benefit the most. While testing from the company suggests up to a 47% improvement compared to Intel Alder Lake, even the most affordable Ryzen 5 7600X can supposedly deliver better gaming performance than the top-spec Core i9-12900K. However, the upcoming 13th-gen Intel CPUs look set to deliver big improvements.
According to AMD, you can expect some big gains on CPUs that use Zen 4 architecture: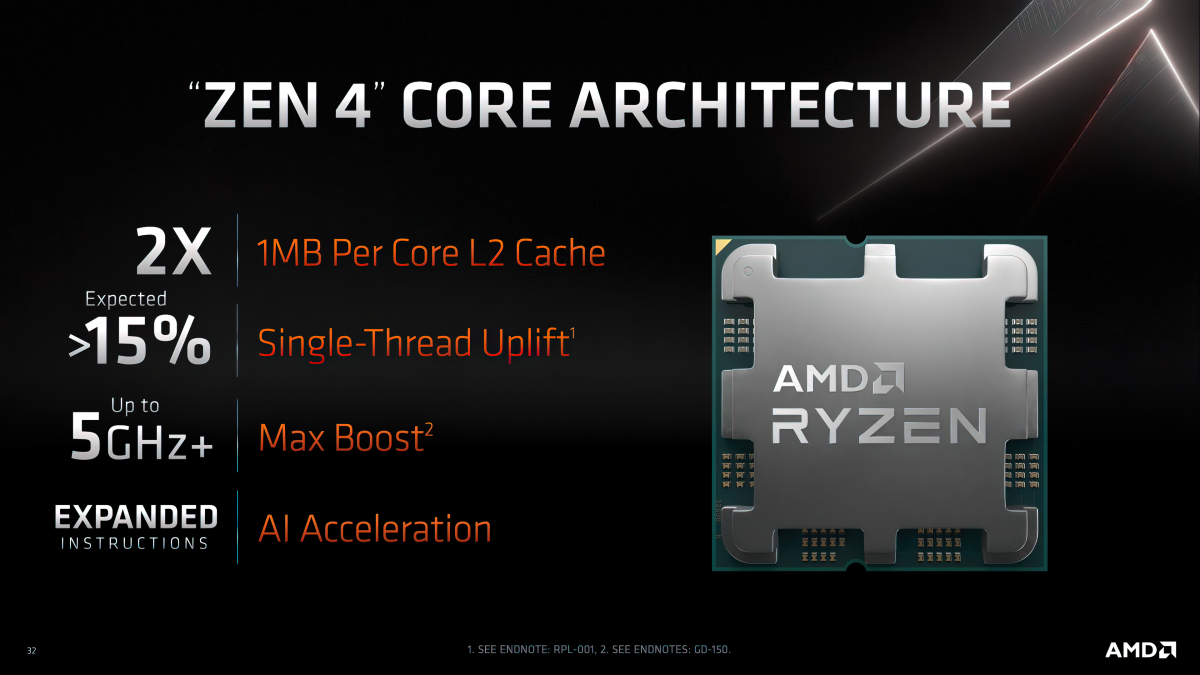 AMD
AMD is now even more confident in the IPC gains you can expect from Zen 4, suggesting it's 13% higher than Zen 3. That's up from the 8-10% improvement it said back at Computex in May 2022.
Despite not following Intel's lead in introducing a hybrid architecture, AMD claims Zen 4 CPUs deliver significant gains in power efficiency. Not only should this ensure fewer problems with performance throttling and overheating, it'll also benefit battery life on any portable devices. This will be more relevant once laptop-focused mobile CPUs are added to the Ryzen 7000 Series.
Zen 4 might be limited to 24 cores for now, but that might not always be the case. According to a leaked roadmap discovered by Videocardz highlights 'Genoa 7004 CPUs' with 32 cores and 64 threads.
That was expected to be the top-spec Zen 4 chip you could ever buy, but a subsequent rumour suggests it will be able to support many more than that. Prolific CPU leaker @Broly_X1 (whose account has since been deleted) appeared to confirm a 128-core CPU in June 2021, saying: "Wow, ZEN4 is really more than 96 cores. I was skeptical when I first saw this news in Chiphell. Now I can also confirm that ZEN4 is up to 128 cores".
Our Ryzen 7000 Series article runs through everything you need to know about the new CPUs. There's already news on its successor, too – check out our guide to the Zen 5 architecture.