Foldable devices started to hit their stride in the last year or two, and the competition is fiercer than ever with updated foldable hardware worldwide from Samsung and Motorola, and even more in China from the likes of Xiaomi, Oppo, and Vivo.
Google could be preparing its own entry into this emerging market however, with the Google Pixel Fold tipped to arrive this year, defying reports that it had been cancelled.
We round up all the news and speculation about Google's first foldable.
When will the Google Pixel Fold be released?
There's no solid information about any release date as yet, as Google hasn't even confirmed that a foldable device will be launched.
In 2020 9to5Google reported that it had seen leaked internal documents from Google that suggested a foldable device would appear in the fourth quarter of 2021. That obviously didn't happen though, and the phone also didn't appear any time in 2022.
That means 2023 is now the target, and the good news is that signs so far point to a launch some time in spring 2023, as reported so far by display expert Ross Young along with Korean site The Elec and leaker Jon Prosser. That means it could appear at 2023's I/O conference, perhaps alongside the Pixel 7a – which is exactly what's laid out in a Pixel product roadmap obtained by Android Authority.
Of course, we don't yet know exactly when I/O will take place. Young has predicted a launch in March, with panel production apparently set to start in January, though Prosser's Front Page Tech more pessimistically points to May.
There's an even more pessimistic prediction though: The Elec published a new report in January 2023 claiming that mass production for the phone has been delayed again and won't take place until Q3 this year – i.e. July to September. That doesn't rule out a reveal for the phone at I/O, but does mean that any such reveal would be well ahead of the phone actually going on sale, and gives some reason to think that the Fold might instead arrive alongside the Pixel 8 in October.
Is the Pixel Fold cancelled?
There was some speculation that the Pixel foldable had been cancelled.
Ross Young reported in 2021 that "Google has decided not to bring the Pixel Fold to market," citing sources in the display supply chain that say Google has cancelled its parts orders for the foldable.
Young suggested that Google was concerned that "the product wouldn't be as competitive as it needed to be," as they'd be primarily up against Samsung "in a small niche market facing higher costs than their primary competitor."
This looks unlikely though. Young himself has since reported that the Pixel Fold is back on track, and it looks like while the company did cancel parts orders, Young may have been a little rash in jumping to report that the phone as a whole had been scrapped.
What will the Pixel foldable be called?
To be blunt, we have no idea – though most people online have started calling it the Pixel Fold.
9to5Google reported in 2022 that it will be called the Pixel Notepad, though has since changed its tune and predicted that Fold is the likelier name.
The only thing we know from Google is the phone's codenames: Passport, Pipit, and Felix, believed to refer to different internal versions of the product.
'Passport' was been spotted in various bits of Android code, including the first public beta of Android 12, as spotted by 9to5Google. It appeared along with a model number – GPQ72 – believed to be tied to the phone's Japanese variant.
More recently, 'Pipit' has appeared in Camera app code, a Geekbench listing, and parts of the Android 12L beta, and 9to5Google believes that this is a new codename for a foldable Pixel phone, while Android 13 code brought with it the third codename, 'Felix', which has since appeared on Geekbench too, and appears to represent the phone's final version.
How much will the Google Pixel Foldable cost?
This is another area where we don't know too much. There's no past record to go on and pricing is still somewhat nebulous for this class of device. One thing that's pretty certain though is that it won't be cheap.
9to5Google's reporting unearthed a price along with the rumoured name and release strategy, and the site says that Google has a "target price" of $1,400 for the Pixel foldable in the US.
That would be impressive if true, as it would undercut the phone's chief rival – the Galaxy Z Fold 4 – by $400. That would certainly be enough to give Samsung pause for thought, and could force the Korean tech giant to in turn drop prices for this year's Z Fold 5.
We've heard a higher price elsewhere though, with Front Page Tech predicting that the phone will cost a whopping $1,799 when it arrives on US shores, which could make it much less competitive.
In any case, any foldable device Google launches in 2023 is likely to start at over a grand, so you might want to start making use of that old piggy bank in preparation.
What are the Google Pixel Foldable specs?
Displays and design
Obviously, the main addition to the Pixel feature set will be a folding screen of some kind. This looks likely to be the book-style approach adopted by the Samsung Galaxy Z Fold 4 and Huawei Mate X2, rather than the vertical clamshell orientation used by the Samsung Galaxy Z Flip 4 and Motorola Razr.
Getting the display right will be crucial, as we've already seen how hard it is to avoid creasing in the display where it folds or the panels just outright failing as with the original Samsung Galaxy Z Fold.
The most tantalising renders to date are below and come from Front Page Tech, supposedly based on images of the phone seen by the site. They show a foldable with a similar design to the Pixel 7 Pro, with triple rear cameras and a tall front display. The site adds that it will be available in 'Chalk' and 'Obsidian' – a.k.a. white and black – and adds that its source claims the phone is "really f**king heavy," which has since been echoed by a 9to5Google report that the phone will be "heavier than the 263g Z Fold 4," though no specific weight is given.
If you're not convinced, it's probably telling that rival leaker OnLeaks has produced remarkably similar renders in partnership with the site HowtoiSolve. Both depict similar proportions, with a fairly wide design, and almost identical visions of the updated camera bar.
OnLeaks adds that the cover display will be 5.8in, with the inner screen larger at 7.7in, and that when open the phone will measure 158.7 x 139.7 x 5.7mm.
For a better look at the phone's size and shape, YouTube Dave2D got his hands on a plastic dummy unit of the phone, supposedly with totally accurate physical dimensions. He notes how thin the phone is – each side is just 5.7mm thick, match OnLeaks' specs – and that the phone seems to close fully flat, suggesting it's using a waterdrop hinge much like recent Oppo and Xiaomi foldables, and unlike Samsung's latest.
Interestingly, he also spots that on his dummy unit there's a camera cut-out inside the thick bezel of the internal screen, suggesting that this camera will sit inside the bezel, rather than using a punch-hole (though there'll be a punch-hole on the front, seemingly).
As for more specific screen specs, The Elec has repeatedly reported that Google is purchasing the phone's displays from Samsung. The latest reports suggest a 7.57in folding display and 5.78in outer screen – roughly in line with the numbers used for the above renders, though both OnLeaks and the Dave2D dummy suggest a slightly larger 7.67in internal display.
Interestingly, The Elec has reported that while the phone will use the same ultra-thin glass (UTG) coating as Samsung's foldables, it won't include the stylus support of the Z Fold 4, and will in fact use an older, thicker version of Samsung's display tech – the type it used before the Z Fold 3. That might make it trickier for Google's phone to compete, unless it undercuts the Galaxy on price.
Leaker and developer Kuba Wojciechowski has added weight to those predictions in a report for 91mobiles. He also says the Pixel Fold will use a Samsung-made display, with a resolution of 1840×2208 and dimensions of 123mm x 148mm – which works out pretty much at the same 7.6in diagonal reported above. Wojciechowski adds that the display will support 1200 nits of brightness, and may support a 120Hz refresh rate, though he doesn't go so far as confirming that final spec.
As for the outer display, the 5.8in size that's been reported is smaller than the 6.2in screen on the Z Fold 4. That will include a wider aspect ratio, suggesting that the cover display will be a bit shorter and squatter than the Fold 4's narrow panel, as we can see in the renders above.
For another hint at the design, the Android 12L beta 2 included animations that seem to reveal the rough shape Google is using.
Spotted by 9to5Google, the two animations show how a SIM card could be inserted into the device (the second shows the phone in its closed form). We can see that it's a wide book-style foldable, but interestingly the aspect ratio looks to be closer to the square-ish form of the Oppo Find N2 than to any of Samsung's Z Fold designs, which could help the Google foldable stand out in western markets when it launches.
Core specs
When it comes to core specs, it seems almost certain that the Fold will use the in-house Tensor G2 chipset that Google developed for its Pixel 7 phones.
Earlier in development we thought the Fold would use the first-gen Tensor, thanks to a Geekbench 4 listing for a phone named 'Google Pipit' – remember that Pipit is one of the Fold's expected codenames. The listing doesn't specify the Tensor chip by name, but lists an octa-core ARM chip with a base speed of 1.8GHz and peak speed of 2.8GHz – an exact match. It's seen here along with 12GB of RAM, and running Android 12 as you'd expect.
Now it's obviously far more likely that the second Tensor will appear, and in turn we've now seen that on Geekbench too, this time under the 'Google Felix' – another known codename for the Fold. We see the second Tensor's peak speed of 2.85GHz and performance cores at 2.35GHz, and once again the phone seems to have 12GB of RAM, though of course this time it's running the latest Android 13.
Of course, if the Fold is delayed further, then there's a chance it ultimately ships with the Tensor G3 we're expecting to see used in the Pixel 8.
Cameras
We think we know a little about the phone's camera specs, but there are two key variants seen. The first comes from the 9to5Google report that unearthed the Pipit codename mentioned above. The site found code that reveals the four camera sensors believed to be used in the foldable: a 12.2Mp IMX363, a 12Mp IMX386, and two 8Mp IMX335 sensors. The latter two are tagged with 'inner' and 'outer', suggesting they're for a pair of selfie shooters.
For context, this essentially looks like a return to the sort of camera specs used before the recent Pixel 6 upgrade. The IMX363 is the same sensor used for the main camera in the Pixel 3, 4, and 5, while the IMX335 is also the same sensor used for the selfie cameras in Pixels up to the 6 – though not the 6 Pro. The IMX386 is also found in the Pixel 6, where it's used to power the ultrawide.
A separate code dive by developer Kuba Wojciechowski reveals the same set of camera sensors, but also a Samsung GN1 – the current main sensor in the Pixel 6 and 7 phones.
Wojciechowski has also found a separate camera setup tied to the Felix codename however, and believes this is more likely to be what's seen in the final foldable. Here we see a triple rear camera with the 64Mp Sony IMX787 primary sensor, a 10.8Mp Samsung S5K3J1 telephoto, and a 12Mp Sony IMX386 ultrawide. The inner selfie camera appears to be an 8Mp Sony IMX355, while on the front there's another Samsung S5K3J1 (though presumably not used with a telephoto lens here).
While some had hoped that Google might be trying out an under-display camera on the Fold, renders and leaks so far predict something rather different: a regular punch-hole selfie camera on the outer screen, and a camera built into the bezel on the inside. That would allow an uninterrupted main screen without the compromises in quality forced by cameras under the screen, though any camera small enough to fit into the internal frame might be pretty limited anyway.
We even have an idea of how that might look thanks to a patent discovered by 91mobiles, apparently filed in June 2021.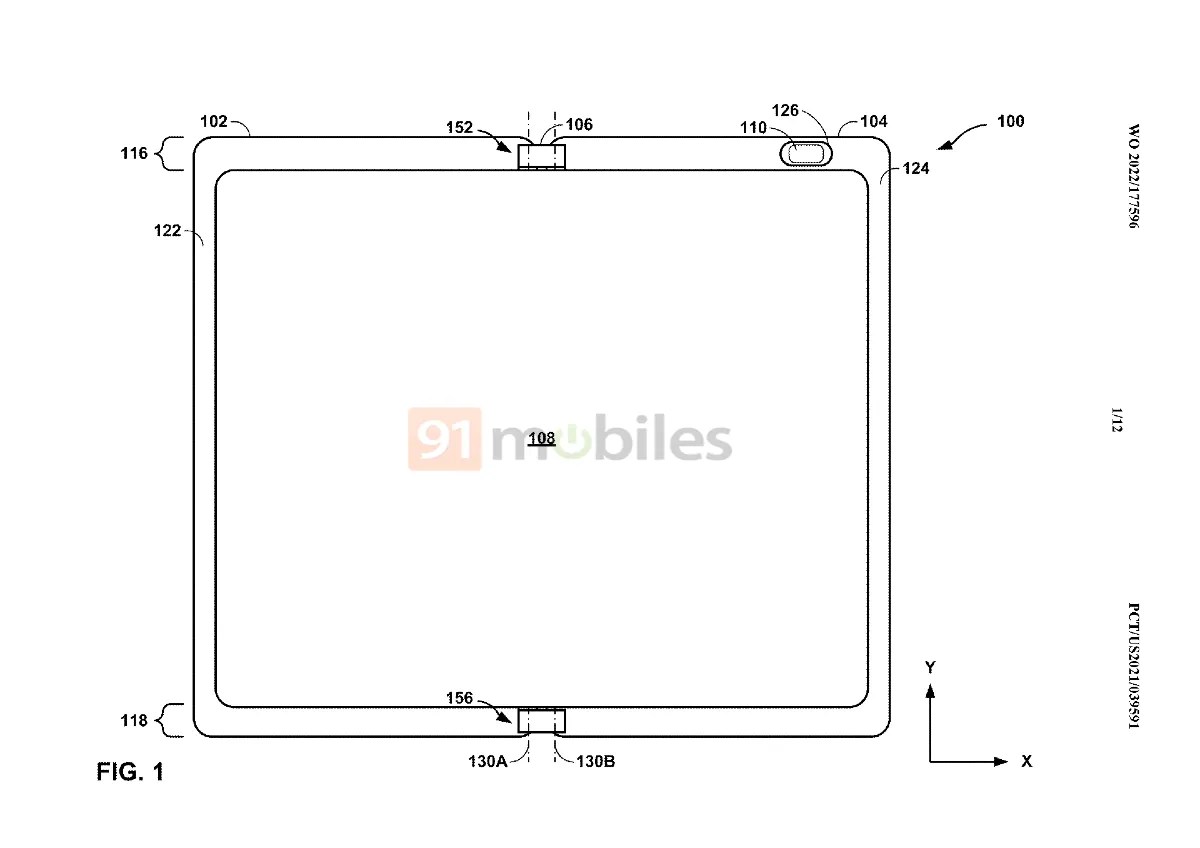 91mobiles
Battery and charging
We don't know a lot about the Pixel Fold's likely charging capabilities, but do have one hint. The same 9to5Google report indicating the phone would be heavier than rivals also explains why: it will have a bigger battery.
No specifics are given, except that it will be larger than the 4400mAh cell in the Z Fold 4 or the 4520mAh cell in the Oppo Find N2, but that it will still be "well below" 5000mAh. So big for a foldable, but not as big as some slab phone flagships.
The phone will also benefit from software improvements, including features from Android 12L, an Android version that improves support for large screen devices like tablets – and foldables. It includes enhanced split-screen support for all Android apps, two-column notification shade and control centre layouts, and a desktop-style taskbar – all of which we can expect to see on the big screen of the Pixel Fold.
If you can't wait to get the latest smartphone technology in your hands, check out our guide to the best phones coming in 2023.