The EFL Cup, or Carabao Cup as it's currently known, has reached the semi-final stage. It means just four clubs remain in the competition, including two who've never won the competition before – Newcastle and Southampton.
They face off in the semi-finals, while five-time winners Manchester United face Nottingham Forest, who have won it four times.
With its final taking place in February, the Carabao Cup represents the first opportunity for English clubs to secure a major trophy in the 2022-23 season. With all four semi final matches being broadcast in the US and UK, here's how to watch live.
Which Carabao Cup semi-finals are on TV?
There are some great games to look forward to in the Carabao Cup semi-finals. Here are the upcoming ties:
Tue 24 Jan
Southampton vs Newcastle – KO 12pm PT/3pm ET/8pm GMT – ESPN+/Sky Sports
Wed 25 Jan
Nottingham Forest vs Man Utd – KO 12pm PT/3pm ET/8pm GMT – ESPN+/Sky Sports
Tue 31 Jan
Newcastle vs Southampton – KO 12pm PT/3pm ET/8pm GMT – ESPN+/Sky Sports
Wed 1 Feb
Man Utd vs Nottingham Forest – KO 12pm PT/3pm ET/8pm GMT – ESPN+/Sky Sports
The winners of each tie will face off in the final at Wembley Stadium on 26 February 2023.
How to watch the Carabao Cup in the US
In the US, the FA Cup is exclusive to ESPN. That means you'll have to pay for full access, although some matches are also broadcast on the free-to-air ESPN channel.
But unlike the UK, a subscription means you can watch every single match live. It costs $9.99 per month or $99.99 per year, but lots of other live sport is included in the price. ESPN+ is also the place to watch many American football, hockey, golf and basketball matches, plus many top European football leagues.
You can sign up now via the ESPN website.
How to watch the Carabao Cup in the UK
Sky Sports has exclusive rights to the Carabao Cup in the UK, so you'll need to pay a fee in order to watch the match. Sky Sports show two live matches from the first round to the quarter-final stage, but both semi-finals and the final are being broadcast.
Existing Sky Q customers with a Sky Sports package can also tune into games on TV or online via Sky Go.
If you already subscribe to Sky TV, the cheapest plan currently costs £18 extra month, or you can get all the Sky Sports channels at £24 extra per month. However, you'll need to pay at least £44 per month for 18 months if you're a new customer. See the full range of subscriptions on the Sky website.
But if you don't want to commit to a Sky Sports subscription, the Sky-owned Now (previously Now TV) streaming service is a great alternative. It's available on a wide range of devices, including phones, tablets, laptops and games consoles.
A day pass offers 24 hours access for £11.98, but the £33.99pm monthly plan is the best option for most people. That includes a free seven-day trial of Now Boost, which adds 1080p Full HD quality, removes ads and lets you stream on 3 devices at once (rather than the usual one). After that, it's an extra £5 per month.
You can sign up via the Now website.
How to watch the Carabao Cup outside the US or UK
If you're not based in the US or UK, it's worth checking which broadcaster is showing the FA Cup in your country. Signing up there will be the easiest way to watch live.
But if you're just on holiday or a trip abroad, a VPN is your best option. This allows you to connect to encrypted servers and appear in another country, complete with a new IP address that can't be traced back to you. That makes it a good option to protect your privacy, too.
We're using NordVPN for the purposes of this tutorial. It tops our best VPN round-up, but there are plenty of great alternatives. Just make sure the one you choose can unblock Sky Sports, Now, BT Sport or Amazon Prime Video.
To get started, just open the NordVPN app and connect to any server in the UK. You can do this by selecting it on a map, or just clicking the UK flag below the 'Quick Connect' button. Once connected, just start watching like you normally would.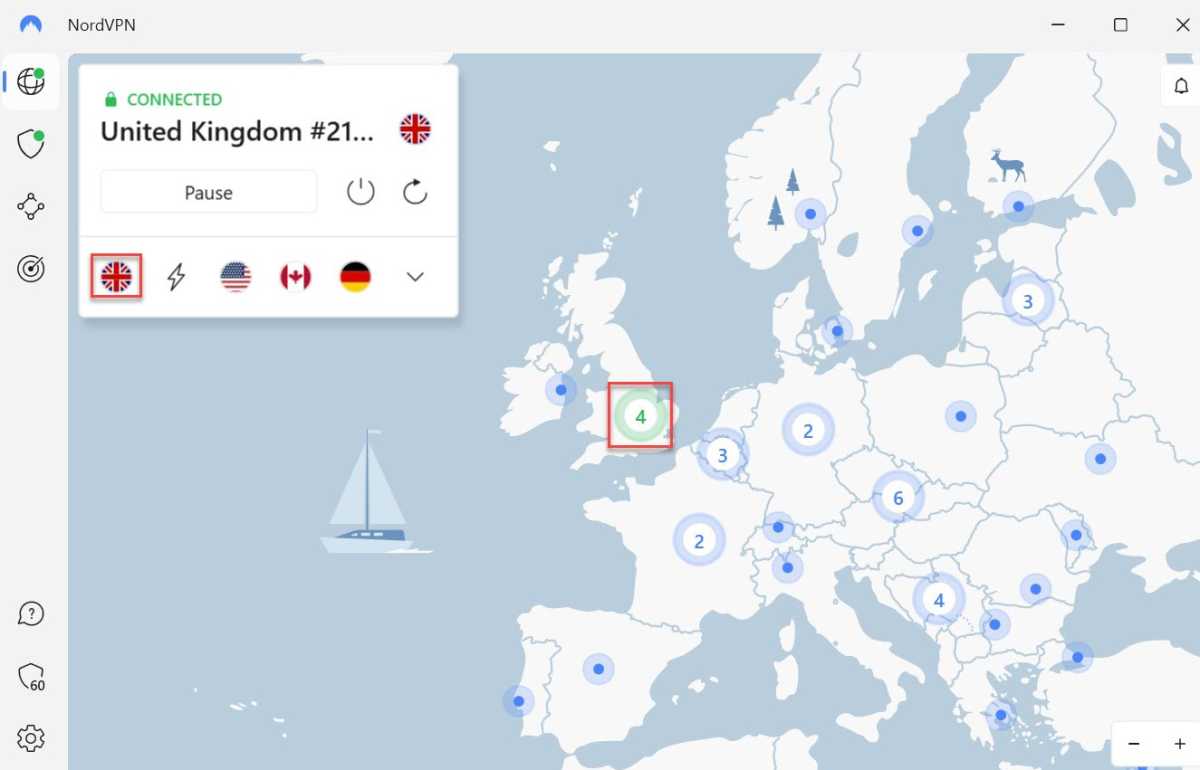 Anyron Copeman / Foundry
Want more football? Here's how to watch the Premier League, Champions League and Europa League live.