The Surface Duo was Microsoft's first foray into smartphones since the ill-fated Windows Phone era, and it's generally been a success so far.
That wasn't necessarily apparent from the underwhelming original, but 2021's second generation was a big step forward. Upgrades included a move to the flagship Snapdragon 888 chip, 5G connectivity, more RAM, bigger displays and a triple rear cameras. However, it's retained that unique dual-screen design.
More than a year after it was first launched, this is still the latest Surface Duo that Microsoft has released. Here's everything you need to know.
When

was the Surface Duo 2 released?
Announced on 22 September 2021
On sale from 21 October 2021
The Surface Duo 2 has been on sale for a year, following its release on 21 October 2021. That was less than a month after it was announced, a big improvement on the lengthy delays with the original.
Microsoft decided against releasing a Duo 3 at its October 2022 event, with the Surface Pro 9, Laptop 5 and Studio 2+ all launching instead.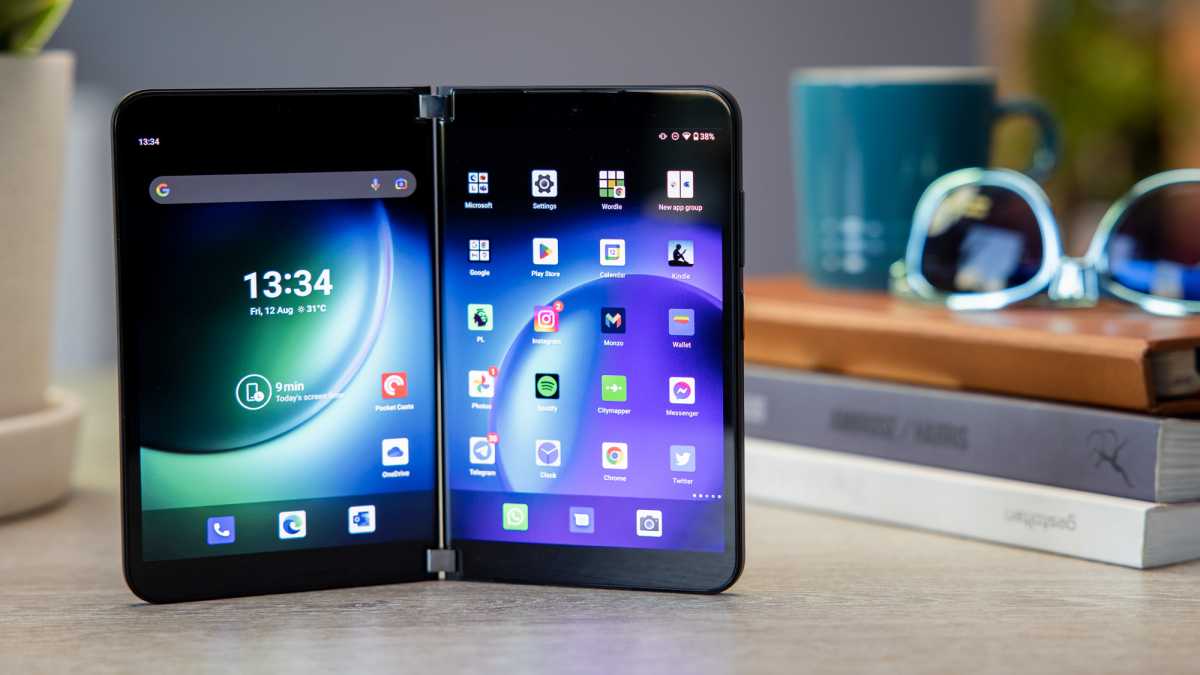 Dominik Tomaszewski / Foundry
How much does the Surface Duo 2 cost?
The handset is available in Glacier (white) and a new Obsidian (black), with a new 512GB storage option too.
At launch, the Duo 2 started at as the same price as it's predecessor in the UK, but $100 more in the US. Here are all three configurations:
128GB storage – £1,349/$1,499
256GB storage – £1,429/$1,599.99
512GB storage – £1,589/$1,799.99 (in black only)
However, the device has seen some steep discounts in the UK and US just a few months after being released. We'd be surprised to see the Duo 2 return to its RRP from these prices anytime soon:
128GB storage – £860/$999.99
256GB storage – £940/$1,099.99
512GB storage – £1,034/$1,299.99 (in black only)
We're separately tracking the best Surface Duo 2 deals in the US and UK (both on contract and SIM-free).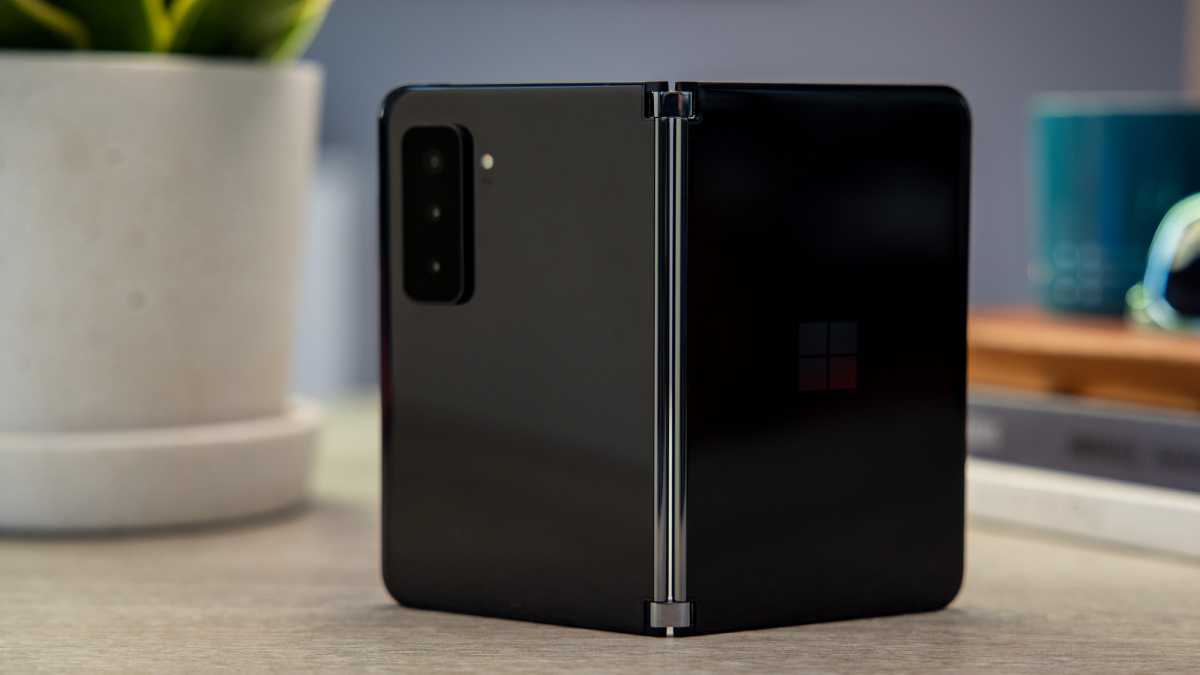 Dominik Tomaszewski / Foundry
Surface Duo 2 design & features
There Duo 2 improves on the original Duo in a few significant ways. Here's what you can expect…
Snapdragon 888 5G
The biggest jump is under the hood for the Duo 2, which moves up from the Snapdragon 855 to the new Snapdragon 888 with 5G, which means you can expect significantly faster core performance and graphics speeds along with greater battery efficiency.
There's also the welcome boost to 8GB RAM (from the original Duo's 6GB), making the handset all the performance-driven whether that with gaming or multitasking across demanding apps.
The step up in performance specs isn't a surprise given how much Microsoft touts the Duo 2's productivity benefits. With two displays, Microsoft promises the Duo will allow running two apps simultaneously, dragging and dropping between screens (in supported apps), creating App Groups for the apps you use most often, note taking and sketching and optmized display experiences with recreational apps such as TikTok, Kindle and Spotify.
Of course, mobile productivity gets a boost with 5G – whether that's for calls or collaborating on Microsoft 365 or accessing Xbox Game Pass Ultimate and using the Duo as an on-screen controller.
Bigger display
The Duo 2 preserves the AMOLED display quality of the original Duo, but the panels are larger. The single panel spans 5.8in (1344×1892) and reaches 8.3in (2688×1892) when fully open, adds a fifth of an inch more to the original size.
Refresh rates get a boost too – while nowhere near the Galaxy Z Fold 3's 120Hz, the Duo 2 moves up from 60Hz to an adaptive 90Hz.
A "glance bar" along the spine of the phone also shows you all the essential notifications and details, including battery life.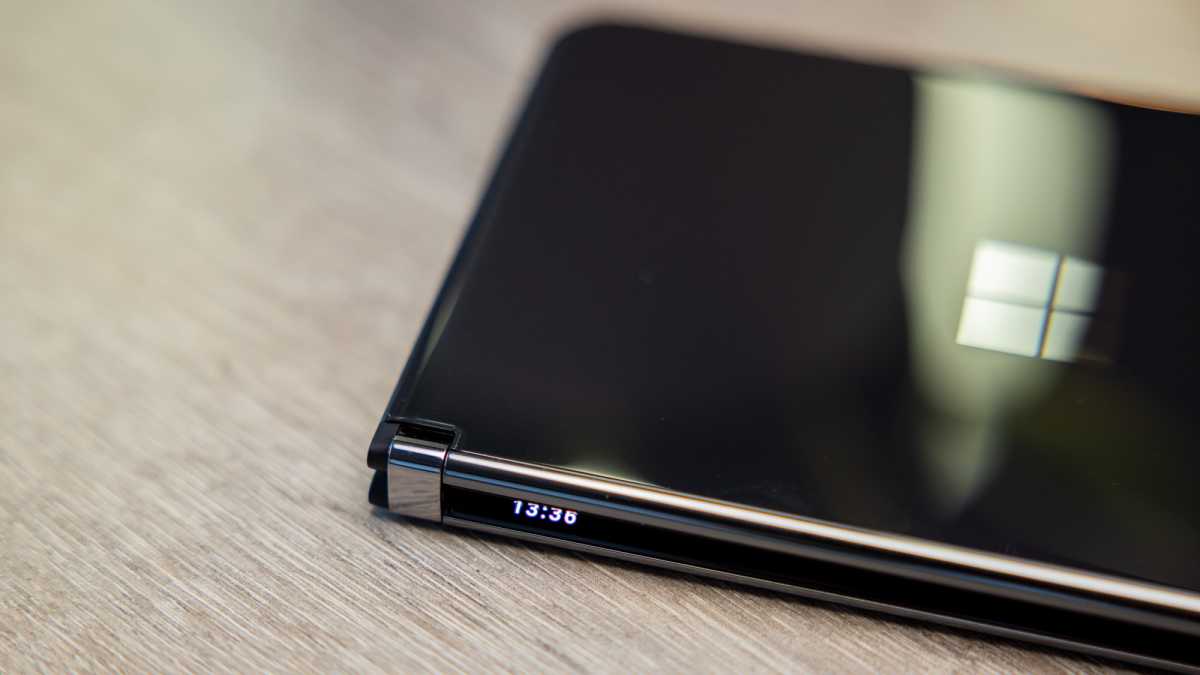 Dominik Tomaszewski / Foundry
This was significantly improved in a June 2022 update, with the likes of WhatsApp and Telegram also now supported. As Windows Central reported, it also brings improvements to how the Slim Pen 2 stylus works and makes the camera experience better.
Bigger battery
The original Duo had a 3,577mAh battery, which it said could get you up to 15.5 hours of local video playback, 27 hours of talk and up to 10 days of battery life on standby. The Duo 2 gains a 4,449mAh battery, with All-Day Battery Life, according to Microsoft. The upper limits of video playback remains at 15.5 hours but talk time gets a minor bump up to 28 hours, maximum.
Microsoft is also introducing 23W Fast Charging (to be sold separately), up from the original Duo's 18W.
Triple Camera
One of the biggest upgrades in the Duo 2 is the triple camera set up with a 16Mp ultra-wide (f/2.2 aperture, 110-degrees), 12Mp telephoto (f/2.4 aperture with 2x optical zoom and OIS), and 12Mp wide lens (f/1.7 aperture with OIS). The front-facing camera offers a 12Mp sensor (f/2.0 aperture).
It's a significant jump up from the original Duo's 11Mp camera which served both as the front and rear camera.
Video recording features include HDR video in 4K (at 30fps and 60fps).
Software
At launch, the Surface Duo 2 ran Microsoft's custom launcher over Android 11, although this has since been updated to Android 12. It means you get the full range of Google apps (Assistant, Calendar, Maps, Photos etc.), plus core Microsoft software such as Edge, OneDrive and Teams.
Alongside several software updates, the Duo 2 is a far better device now than at launch, as our August 2022 re-review shows.
It looks set to get even better in a few weeks time, with Windows Central reporting that Android 12L for the Surface Duo is on its way soon. The Android 12 spin-off is specifically designed for larger devices and foldables, with redesigns to the notification shade, Settings app and activity feed all expected.
Author Zac Bowden said it should arrive "in the next handful of weeks" – that should mean by the end of 2022 at least. But there's no news on when Android 13 might arrive.
Microsoft highlights some of the Surface Duo 2's key features in a recent video on its 'Microsoft Mechanics' YouTube channel:
The five-minute clip covers design, software, multitasking and more, making it worth watching if you're a current or prospective Duo 2 owner. You'll also hear some justification for the dual-screen form factor, with Microsoft findings suggesting using two screens side-by-side reduces the mental workload compared to single-screen devices or foldables.
Surface Duo 2 full specs
Snapdragon 888 5G
Dual PixelSense Fusion Displays

open: 8.3in AMOLED (2688×1892)

Single PixelSense Screen:
HDR, 100% SRGB, DCIP3
Dual displays with 90Hz adaptive refresh rate
800 nits max brightness
Cameras:

Rear: 12Mp wide f/1.7, 12Mp telephoto f/2.4, 16Mp ultra-wide f/2.2
Front: 12Mp f/2.0

Android 11
Wi-Fi-6 802.11ax (2.4/5GHz)
Bluetooth 5.1
NFC
Corning Gorilla Glass Victus
Stereo speakers
4449mAh (typical) dual battery
23W USB-C Fast Charge
The Surface Duo 2 also ships with the following Microsoft applications:
Intune Company Portal
LinkedIn
Microsoft Authenticator
Microsoft Bing Search
Microsoft Edge
Microsoft Lens – PDF
Scanner
Microsoft Office: Word,Excel, PowerPoint & More
Microsoft OneDrive
Microsoft OneNote
Microsoft Outlook
Microsoft Start
Microsoft Teams
Microsoft To Do
Surface
Tips
Xbox Game Pass
On 6 December 2021, the Surface Duo 2 received its biggest update so far. As Microsoft's support page explains, it fixes the following issues:
Addresses scenarios outlined in the December 2021 Android Security Bulletin
Improves system reliability and stability
Improves app navigations with added support animations
Improves camera usability
Improves touch responsiveness
Improves support for LDAC enabled Bluetooth devices
Improves reliability in the Android Auto experience
Another
Ability to open OneNote by clicking top button of Surface Slim Pen 2 (once paired with Duo 2)
Ability to choose which of the two displays acts as the default when folded
Ability to customise how the Duo 2 behaves when answering phone calls
Want more Surface Duo 2 goodness? It featured as the lead talking point in episode 84 of our weekly podcast Fast Charge, where we also discussed the affordable new 5G-capable Nokia G50 and our impressions on the first public release of iOS 15.
Here's everything you need to know about the original Surface Duo.
Related stories for further reading