Adobe apps remain the gold standard when it comes to creator software, but they don't come cheap. If you're looking for just one of Photoshop, InDesign, Illustrator and Premiere Pro, a monthly subscription is your only option these days.
With tuition fees, textbooks and the rising cost of living to contend with, Creative Cloud at full price is something few students can afford. However, there are some great offers available if you can validate your status in full-time education.
Here's how you can get Adobe's student discount, along with answers to other questions you might have on pricing, eligibility and what's included in Creative Cloud.
Is Adobe Creative Cloud free for students?
While Adobe CC isn't free for students, there are some sizeable discounts compared to the regular price.
In the US, you can save 60% on the All Apps plan, which gets you access to more than 20 apps and 100GB of cloud storage. This applies if you're paying monthly or annually, with a 7-day free trial also available. After the first year, this becomes 45% for the duration of your time as a student.
You can also try it for a week in the UK, after which there's a 65% discount on monthly and annual All Apps plans. However, the saving drops to 52% after the first 12 months.
In both the US and UK, Adobe also offers a full refund on most plans if you decide to cancel within 14 days of purchase. Just make sure it applies to the subscription you go for.
How much is Adobe Creative Cloud for students?
Adobe Creative Cloud costs $19.99/$16.24 per month for students. After a year, that increases to $29.99/£24.96 per month.
You can opt to pay for a year of service in a lump sum too – it currently costs $239.88/£163.20 per year. Again, this rises to $359.88/£196.30 thereafter, but it's still significantly cheaper than full price.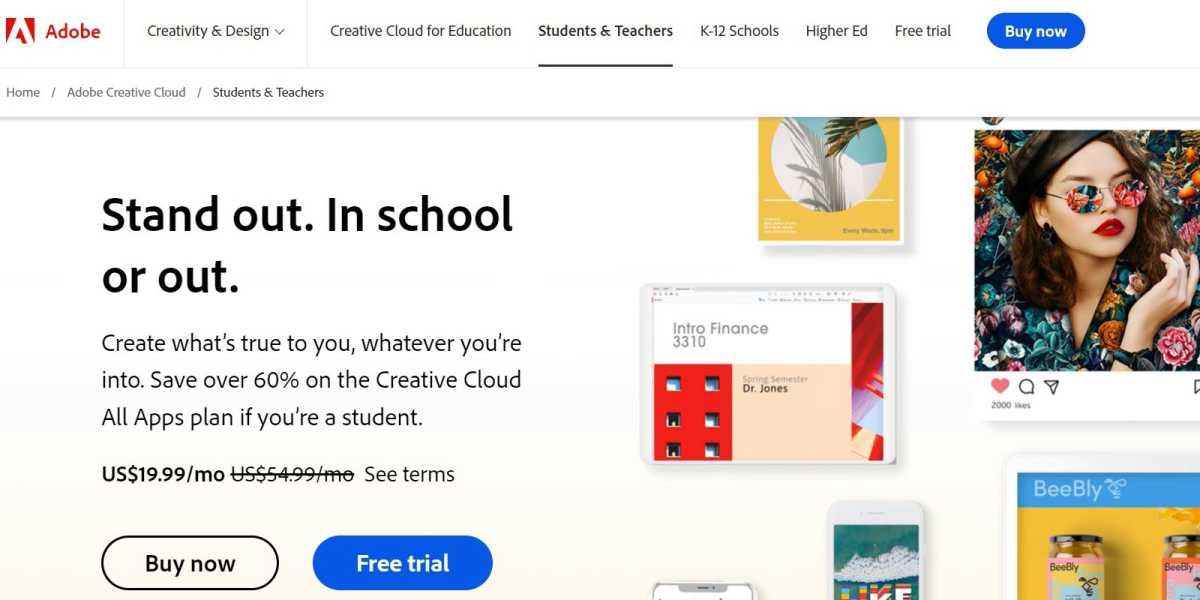 Adobe
How to get the Adobe CC student discount from Adobe
The easiest way to get Adobe's student pricing is to go to Adobe's Student Pricing page and make the purchase with your student email address. Adobe states on its terms and conditions: "If you provide a school-issued email address during purchase you are instantly verified".
To qualify for Adobe's student pricing though, you must be at least 13 years old and enrolled in:
University or college
Primary or secondary school
Home-school
The institution you're enrolled in must be an accredited public or private university or college. This includes community, junior, or vocational colleges that offer a degree with the completion of at least two years of full-time study.
Many institutions will also offer Adobe's discount directly at its school shop site or in-store.
How to get the Adobe CC student discount – from Amazon
You can also find the 12-month Student and Teacher plan on Amazon where it's slightly below full price at £190.55. Amazon is currently the only place in the US to get an annual subscription – it's $239. Both will auto-renew by default, but you can cancel at any time.
How long does the Adobe CC student discount last?
Adobe's promotional student pricing of $19.99/£16.24 is for the first year only, but the good news is the price is still cheap after the first year.
After 12-month promo period, Adobe CC's rate increases to $29.99/£24.96 per month or $359.88/£196.30 for a year. This is still a big saving compared to full price.
How Adobe checks your student status
The main way Adobe checks your student status is through your student email address. You'll need one if you want to get Adobe CC with student pricing.
Educational email addresses often end with ac.uk in the UK. In the US it may end with .edu or .k12. As long as it's an official institutional address, you should qualify for the discount.
If you don't have a student email address, Adobe might ask you for further proof in the form of a document issued by the institution you're studying in. The document must include:
Your name
Your institution's name
Current date
Adobe notes that documents dated within the last six months are considered as current. Examples include:
School ID card
Report Card
Transcript
Tuition bill or statement
Home-schooled students can provide:
A dated copy of a letter of intent to home-school
A current membership ID to a home-school association
A dated proof of purchase of curriculum for the current academic school year
What's included in Adobe Creative Cloud?
Adobe CC offers 100GB storage, continuous free updates, and access to all the creative programs you need including: Photoshop, Lightroom, Illustrator, InDesign, XD, Acrobat Pro DC, After Effects, Audition, Animate, Dreamweaver, Fresco, Premiere Pro, Premiere Rush, Character Animator, Bridge, Dimension, Prelude, InCopy, Media Encoder, Spark, Substance and Fuse (Beta).
See the full range over at Adobe. To know everything there is to know about Adobe CC, see our ultimate guide.
We're also looking at how to get InDesign and how to get Photoshop for free.