Will Apple make a foldable iPhone? In a word, yes.
Foldables simply look to be the future of smartphones. Manufacturers including Motorola, Samsung, and Huawei have all brought smartphones with foldable displays to market, and more are on the way every year.
It's easy to see the appeal in the concept – you could use a standard iPhone display when out and about, and when you want to play a game or read an article, simply 'unfold' the iPhone and increase the screen size to that of an iPad Mini – a similar concept to the Samsung Galaxy Z Fold 4.
Alternatively, Apple could go down the same route as the Motorola Razr and Samsung Galaxy Z Flip 4, halving the size of the smartphone display when not in use. Or they could go in the other direction and make it even larger, with a full-size iPad display that folds down to be a smaller tablet – which is what many reports now predict will be the company's first foldable.
There have been many rumours over the years, some stretching as far back as 2016, suggesting Apple was actively looking for a flexible OLED manufacturer to produce panels for a foldable iPhone, and a report from 2019 suggested Apple had moved on to the testing stage.
There have also been multiple patents filed over the years and hit-and-miss leaker Jon Prosser has even shared a few details on what to expect from the foldable iPhone, suggesting that something is in the works at Apple – more on that later.
Rumours aside, there are a few issues surrounding foldable smartphones in general right now, namely price, durability and quality. Apple is likely working on these issues behind closed doors and it's safe to assume that Apple won't utter a whisper about the foldable iPhone until it's near-perfect.
That might mean the device in question is still a few years away but let's be honest, it'll be worth the wait, won't it? And by then, the idea of a folding iPhone might not seem so sci-fi…
When will Apple release a foldable iPhone?
The first rumblings of a foldable iPhone came way back in 2018, with Bank of America analyst Merrill Lynch claiming that Apple was preparing to release a foldable phone in 2020, but of course, that never happened. So, when could we see the release of a foldable iPhone?
A September 2020 Weibo leak claimed Apple had placed an order of foldable display prototypes from Samsung, although newer rumours suggest Apple has since parted ways with Samsung, now instead working with LG on the prototype display.
When it comes to specific dates, leaker Jon Prosser's inside source claims that Apple won't launch the foldable iPhone until 2023 at the earliest, but since then insiders have generally agreed that Apple's foldable hardware won't launch until 2024 at the earliest.
Analyst Ming-Chi Kuo had previously tipped the device to arrive in 2023, but revised his predictions in a September 2021 note, now suggesting that the foldable iPhone isn't due until the second half of 2024. He repeated that 2024 prediction as recently as January 2023, so still seems confident in it.
Bloomberg's Mark Gurman suggested in 2021 that the foldable iPhone might not be released for another 2-3 years, which aligns with Kuo's prediction.
Display analyst Ross Young, who at the time of writing has an impeccable record when it comes to display-related leaks, has also thrown his hat in the ring. The analyst also originally suggested the foldable wasn't expected until 2023 "at the earliest", with a more likely release coming sometime in 2024, but in a late-February 2022 report, Young suggests that Apple's foldable plans have been pushed back even further, this time to 2025.
If you can't wait that long, take a look at what we consider to be the best iPhone right now.
Could Apple's first foldable actually be an iPad?
While most rumours initially focussed on a foldable iPhone, reports have begun to turn towards Apple dipping its toe into the foldable market in the form of a foldable iPad some time in 2024.
The rumour first came from CSS Insight's annual predictions report, penned by the company's chief of research Ben Wood. In the report, it's said that Apple would be keen to avoid any issues with a folding phone and would instead prefer to experiment with a folding iPad first, though he didn't provide any insight into what this folding iPad could look like.
Wood goes on to explain that a foldable iPhone could risk cannibalizing sales of the conventional iPhone, and that Apple would need to price the foldable iPhone at a minimum of $2,500 so that it clearly surpasses the top-end iPhone Pro Max model.
In January 2023 Ming-Chi Kuo backed up that prediction, reporting on Twitter that there will be an "all-new design foldable iPad" launching in 2024. The only detail he shared is that Anjie Technology will manufacture a carbon fibre kickstand for the tablet, which is intended to be lighter and more durable than current options.
How much will the Apple foldable cost?
That's a difficult question to answer, not only due to the fact we don't really know much about what the foldable iPhone will offer right now, or whether it will actually be an iPad, but also because we don't know when the foldable iPhone will be released.
Right now, foldable smartphones come at a hefty premium with the likes of the Galaxy Z Fold 4 coming in at £1,599/$1,799 and Huawei's Mate X2 coming in at around £1,985/$2,785, but as with all tech, the price will go down eventually.
We're also in the dark as to what Apple could be planning. There are plenty of patents suggesting a number of prototypes are in the works, and the design and features on offer will largely reflect the price tag. It could be one of the 'cheaper' foldables, like the £949/$999 Galaxy Z Flip 4, or it could be one of the larger foldables with a larger price tag.
It's impossible to say at this point, but it'll likely be a premium product with a premium price tag to match.
What will the foldable iPhone or iPad look like?
While many assume that Apple would go down the same route as the Samsung Galaxy Z Fold and Huawei Mate series, producing a foldable iPhone that folds down the middle like a book, current rumours detail several different possibilities.
With prevalent issues around durability, the noticeable crease in foldable displays, and the overall quality of the finish, one of Apple's prototypes might actually make more sense.
In a series of June 2020 tweets, Jon Prosser revealed that the foldable iPhone may not be comprised of a single flexible display. Instead, the leaker claims that one 'foldable' iPhone prototype is comprised of two separate displays, connected by a central hinge – presumably a little like the Microsoft Surface Duo 2.
With all the issues surrounding durability and cost of flexible display tech, that could be a smart alternative.
However, a Bloomberg report from early 2021 suggests Apple has developed a prototype foldable display that, like the foldables from Samsung and co., has an invisible hinge, a step away from the two-display design detailed by Prosser in 2020.
This was reiterated in a February 2021 report from Prosser, who seemingly no longer thinks that Apple is going down the dual-display route, now suggesting that Apple is keen to develop something akin to Samsung's Galaxy Z Flip clamshell form factor.
The leaker didn't go into much more detail other than suggesting that the company is considering "fun colours" for the foldable iPhone, possibly along the lines of the colourful iPhone 12 range, but it's likely way too early on for Apple to make final decisions on colour schemes.
A prediction from EqualOcean, a Canada-based investment research firm, also suggests that Apple is working on a single-display foldable, but rather one that could resemble the iPad mini when unfolded. The firm predicts that Apple will launch a foldable iPhone with a screen size of between 7.3 and 7.6in when unfolded, and that it'd be compatible with the Apple Pencil too – much like the latest Galaxy Z Fold phones support Samsung's S Pen.
Competing analyst Ming-Chi Kuo details a possibly slightly larger 8in unfolded display in his May 2021 prediction. In fact, Kuo goes a step further than simply mentioning size, suggesting it'll have an 8in QHD+ flexible OLED display, and claims that it'll feature TPK's silver nanowire touch solution used in the HomePod Mini "because of its several advantages over SDC's Y-Octa technology".
Kuo believes that the latter could create a "long term competitive advantage" for Apple in the foldable market, as it's the "superior" option for future devices that feature multiple folds, rollable form factors, and more.
Whatever the final form factor, industry sources suggest that LG is working with Apple on a prototype display for the foldable, although it's currently unclear whether it'll be manufactured by LG or in-house by Apple once the time comes.
Interestingly, in a May 2022 tweet, Kuo suggests that Apple is testing supplier E Ink's Electronic Paper Display, otherwise known as EDP, for a "future foldable device's cover screen & tablet-like applications".
Kuo suggests that the colour EPD produced by E Ink "has the potential to become a mainstream solution for foldavble devices" and the cover/second screen in particular, thanks to its power-saving prowess.
Patents
Jon Prosser's outlandish claims of a dual-screen iPhone were backed up less than a day later by an Apple patent discovered by Patently Apple. The patent describes a device consisting of two separate panels, connected together by a fabric hinge system.
It's not the first patent to describe a foldable iPhone though. A separate patent for a "flexible display device" was filed back in 2018, and was a continuation of patents filed in 2016, 2014 and 2011. There's also a separate 2016 patent that describes "an electronic device, comprising: a housing that bends about a bend axis; and a display in the housing that bends about the bend axis".
There's also an interesting patent, filed in 2018, that outlines a tri-folding foldable smartphone that folds in different directions, unlike current foldables. Per the patent filing, the double folding screen can be bent backwards or folded inward from either end, giving the user the freedom to use the foldable any way they like.
It could also allow Apple to produce a smartphone-sized foldable that folds out to something the size of an iPad, and it sounds a lot like the futuristic tablets used in Westworld too. An interesting concept, then.
Oh, and let's not forget about the patent Apple filed outlining a method to avoid damaging displays when they're bent. The patent for "Electronic Devices With Flexible Displays" suggests that damage is likely in cold conditions, and offers this viable solution – "the portion of the display that overlaps the bend axis may be self-heated by illuminating pixels".
Another Patently Apple discovery showcases a novel concept where the crease doesn't run down the centre of the display but leaves a portion exposed when the device is folded, which is thought to serve as a secondary display or sorts for notifications and the like, similarly to the Galaxy Z Flip's external screen.
Apple has also filed patents detailing ways to get around the issue of creasing foldable displays. One such patent describes a system that allows the display to bow instead of fold to reduce the amount of stress on the panel itself, and it's not dissimilar to the system found in the Galaxy Z Flip and Motorola Razr.
A July 2021 patent, titled "Electronic devices with adjustable display windows" details an expandable display that has the ability to cover the camera unit (and likely other Face ID components) when not in use. While it's not specifically for a foldable iPhone, the concept of an expandable display isn't far from what Android rivals are using to combat the crease present on most current foldables.
Another recent patent gives us yet more details on what to expect from the foldable. The patent, entitled "Electonic devices with fiber composite friction hinges" gives us a look at a hinge that's slim but doesn't compromise on strength.
While the tech could arguably be used on a laptop, the patent specifically mentions foldable displays. The patent description notes that "the electronic device may have a flexible layer such as a flexible display that overlaps the hinge structure".
One of the most curious patents concerns Apple's attempts to create a phone with no buttons at all. That's already been rumoured for the iPhone 15 Pro, but the patent includes an illustration of how it could also be achieved with a foldable device, referring to how what it calls 'sidewalls' can be made from glass or other transparent materials but include touch and pressure-sensitive components under display elements.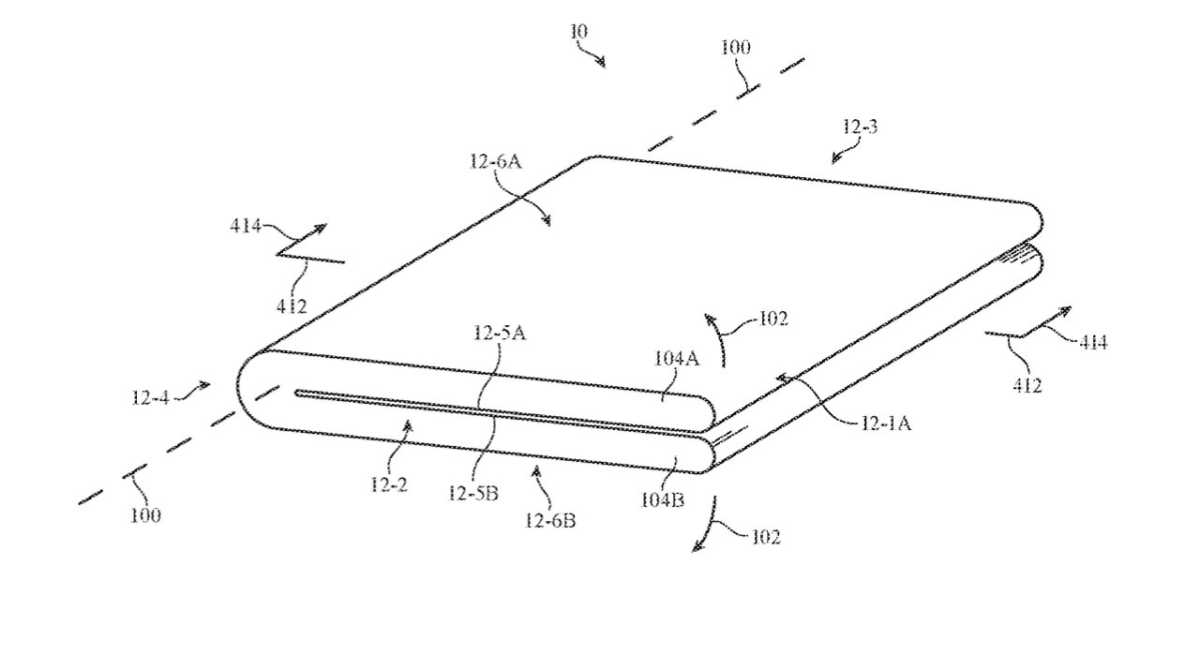 United States Patent and Trademark Office
Of course, it's worth saying that Apple, like most tech companies, files patents all the time, and this isn't necessarily indicative of what we'll see on an upcoming iPhone or iPad, but it gives us a good idea of the avenues that Apple is considering.
Renders and concepts
Of course, it wouldn't be a futuristic product without an equally outlandish concept or two to hype things up. Here's a pick of our favourites found online:
This render, courtesy of LetsGoDigital, showcases a design similar to that of the Samsung Galaxy Z Flip.
And this one, from Roy Gilsing on behalf of Foldable Phone News, showcases something akin to the Samsung Galaxy Z Fold.