If you use the same email address and password for every online account, you're asking for trouble. If just one of those accounts gets hacked, all your accounts are compromised.
For the best security you should use a different, long password for each account. Of course, no-one can remember hundreds of different password and email combinations but that's where a password manager comes in.
It's an app or web browser extension which safely stores all your passwords and enters them for you when you need to log in to a website. On your phone, a good password manager should also be able to enter logins for apps which require them such as Facebook, Netflix and Amazon.
Better still, it will work across all your devices and all you have to remember is one password to access all your logins. You should use a really strong password for that, but on most phones and some laptops you can use your fingerprint or a passcode to log in to the manager after entering that password for the first time. Never forget it (and write it down somewhere), but you won't have to remember or enter it regularly.
Although iPhones and iPads will save website logins, they don't do the same for apps and you can't use Keychain on any of your non-Apple devices, which is another reason to use a password manager instead.
We're using Bitwarden as an example, but you can find alternatives in our roundup of the best password managers.
In general, password managers all work in the same way. Once you've signed up for an account, you can use the email address and password you signed up with to log into the app on your phone, or the extension in a web browser such as Chrome.
1.
Create an account
Jim Martin / Foundry
The first thing to do is create an account with your chosen password manager. As we're using Bitwarden, head to its website. click the Get Started Today button and enter your details. Be sure to use a unique master password you haven't used before. The form will tell you whether the password is weak, good or strong. As it's protecting all your passwords, we'd advise making it a strong one.
2.
Install app and browser extension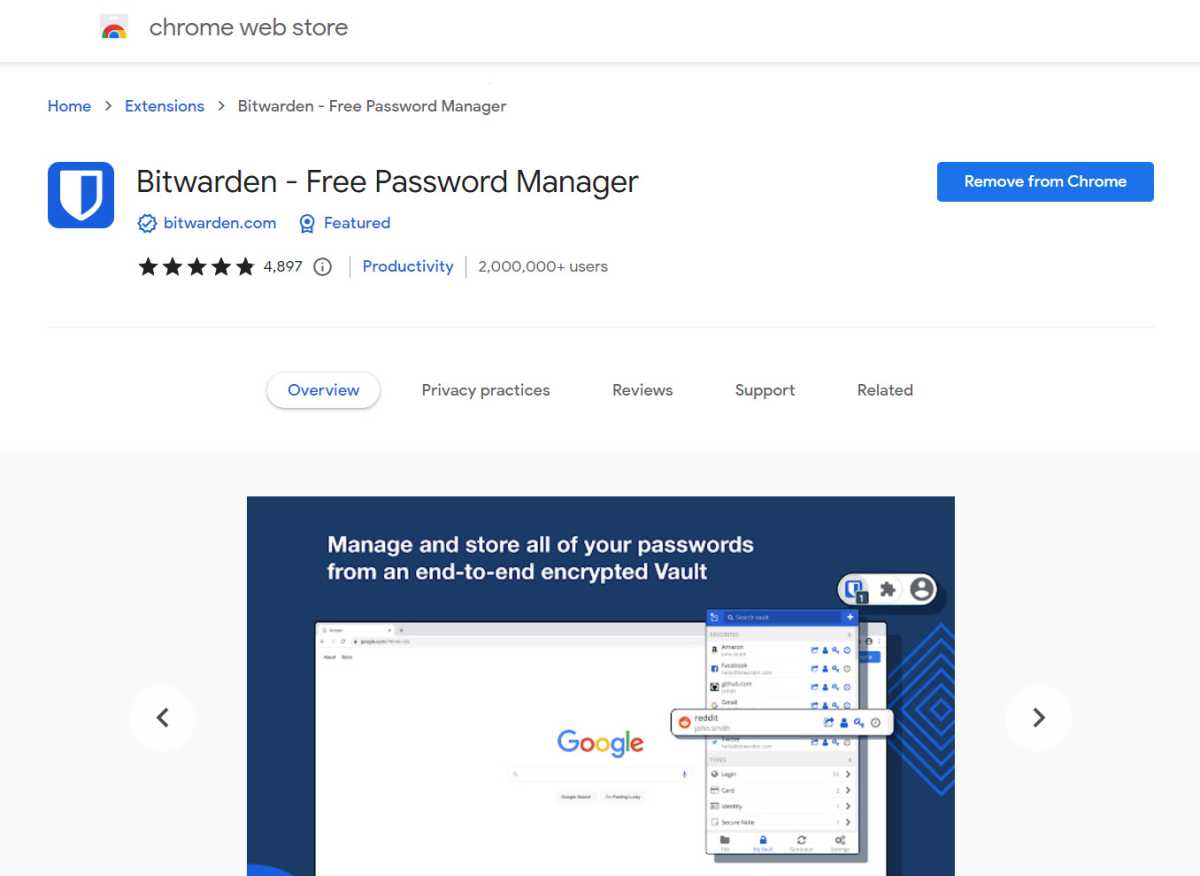 Jim Martin / Foundry
Once you have an account, it's time to install the apps and web browser extension so you can start adding logins, and so the password manager can enter those login details for you. On a desktop computer, you'll want to install the 'extension' for whichever web browsers you use. That's likely to be Chrome, and you can find the extension here. Simply click the Add to Chrome button.
To get the app for your phone, head to the App Store (iPhone) or Google Play (Android) and search for Bitwarden.
3.
Export existing passwords – from Chrome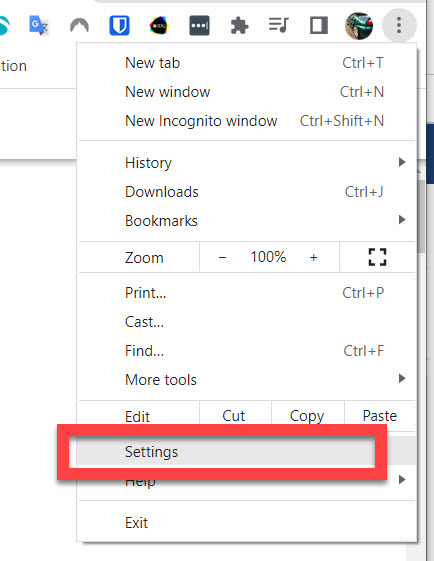 Jim Martin / Foundry
If you've been using a web browser – perhaps Chrome – to save passwords, you should be able to export them in a format your new password manager can understand. This is usually a 'CSV' file, which puts your logins into a plain text file.
To export Chrome passwords, click the three vertical dots at the top-right corner of Chrome and click on Settings.
4.
Go to password manager
Jim Martin / Foundry
Using the search bar at the top of the page, enter password, then click on Password Manager in the Auto-fill section
5.
Export Chrome logins
Jim Martin / Foundry
Click on the three vertical dots to the right of Saved Passwords, then click on Export passwords. You'll see a warning that anyone with the resulting file will be able to read all your passwords. Click Export passwords (again) and enter your Windows password or PIN. A file explorer window should open and allow you to choose which folder the file is saved to.
Tip: Go to the the downloaded file and double click on it. If you have Excel it should open up in a nice, easy-to-read format where you can look over the logins, delete any that you no longer use and correct any information that's wrong. Some may have blank passwords, which means Chrome hasn't saved a password for that site. Once tidied up, go to the next step.
6.
Import logins to Bitwarden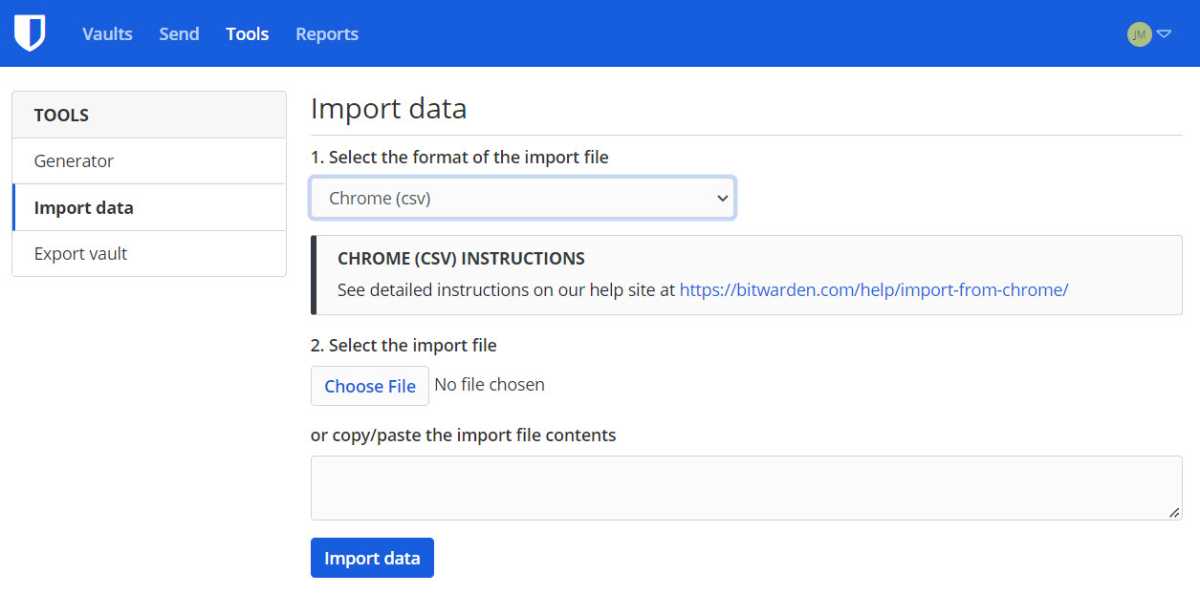 Jim Martin / Foundry
Now can import them all into Bitwarden (and other password managers). Go to your vault on Bitwarden's website and enter the email address and master password you created in step 1.
Once logged in, click Tools in the menu at the top, then click Import data in the left-hand menu. Use the dropdown menu to select Chrome (csv) and then click the Choose File button and select the file you just downloaded in the previous step. Click Import data.
7.
Check your vault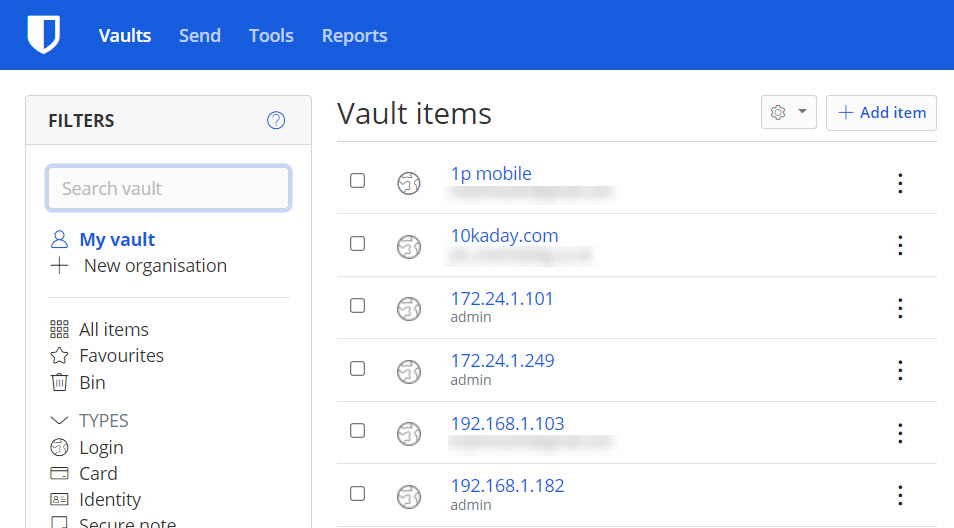 Jim Martin / Foundry
If you now click on Vaults from the top menu, you should see a list of the logins that have been imported.
8.
Launch the web browser extension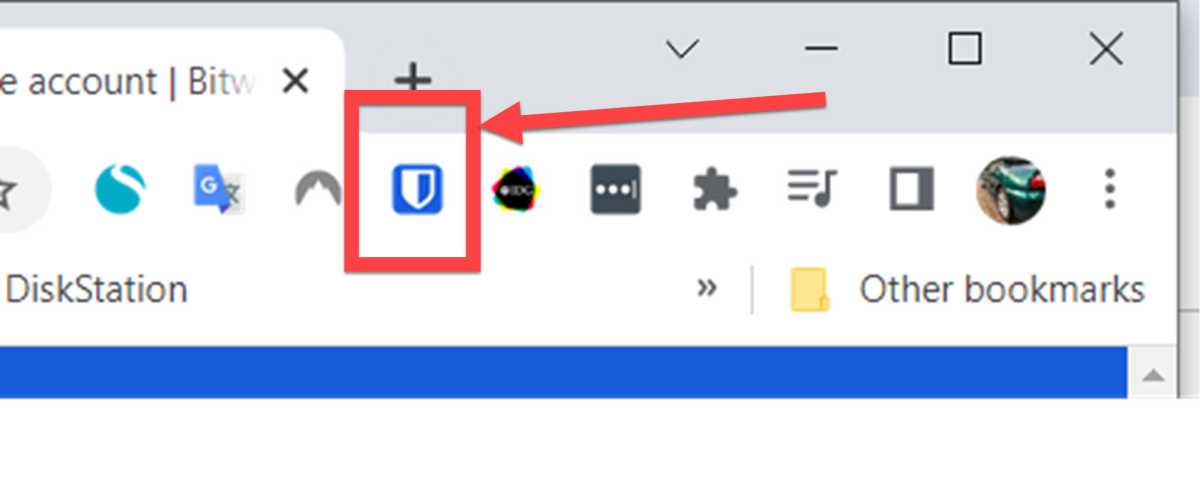 Jim Martin / Foundry
Click the Bitwarden icon in Chrome as shown. If it isn't there, click on the jigsaw piece icon and click the pin icon next to Bitwarden in the list that appears. The extension will ask you to log in with your email address and master password.
9.
Enable auto-fill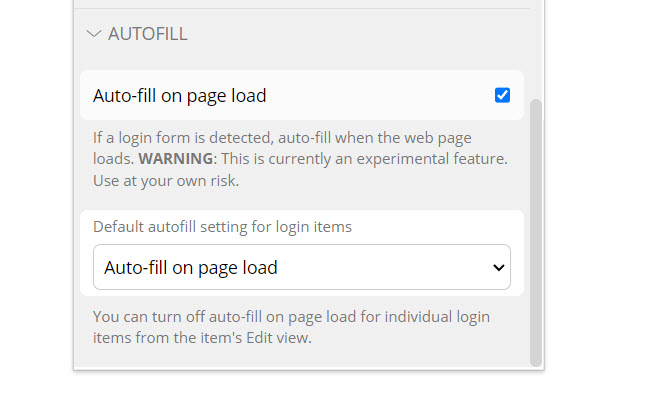 Jim Martin / Foundry
Click on Settings at the bottom-right of the Bitwarden extension window, then click on Options.
Scroll down and tick Auto-fill on page load. This will auto-fill the login details – if available – for any website you visit. Alternatively, if you prefer, you can click on the Bitwarden icon when you need to log into a website and click the matching login from the list.
Tip: You can use a keyboard shortcut to enter the last-used login for a particular website. The default is Ctrl + Shift + L but you can change this by going to chrome://extensions/shortcuts. Repeatedly using the shortcut will cycle through stored logins for that website.
10.
Visit a website and use Bitwarden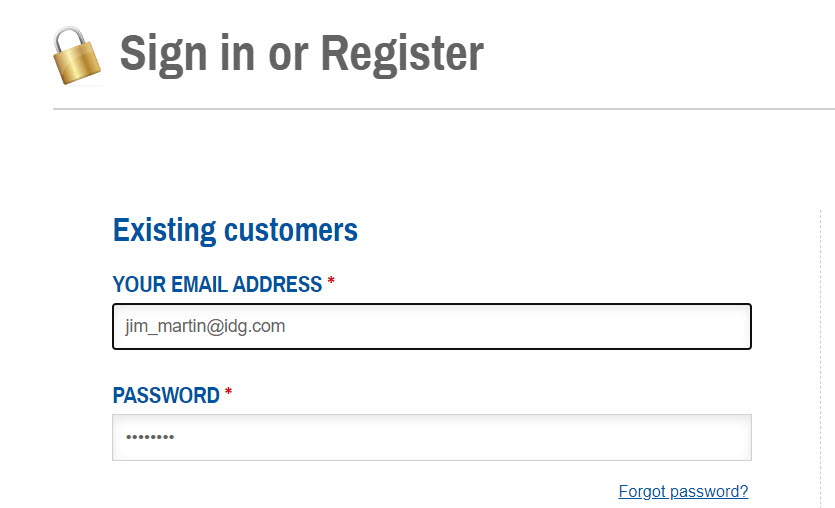 Jim Martin / Foundry
Go to a website's sign-in page for which you have a saved (or imported) login. The email address / username and password should be entered automatically. You can simply click the Sign In or Login button.
Tip: If your login details aren't entered automatically, look at the Bitwarden icon at the top-right of your browser window. It may or may not show a number. If it does, there's at least one matching login. If there's none, the website address might not exactly match what Bitwarden has stored, so click on the Bitwarden icon use the search bar to search for that site. You should find a match, which you can just click on to auto-fill the login details. If not, go to the next step.
11.
Add a new login
Jim Martin / Foundry
If you log into a website for which Bitwarden doesn't already have a saved login, you should see a pop-up message at the top of your web browser asking if you want Bitwarden to save those details. The same will happen if you enter a different password from one already saved for that site, and you'll see the option to update the details.
But you can add a new login manually by clicking on the Bitwarden icon in your browser, then clicking the + symbol to the right of the search bar.
Fill in the details: Name (such as YouTube – the default is to copy the website's URL), Username (which might be an email address) and Password. You can also scroll down and add any notes for that site, such as extra login info you might otherwise forget.
When using a password manager on your phone, you need to grant your password manager permission to display over other apps and websites which means enabling the accessibility service. This should only ever be done for trustworthy apps such as Bitwarden.
Your passwords should sync across all your devices, so when you do install and sign into Bitwarden on your phone, you'll find all the logins you've imported or added are there.
Most password managers store your logins securely (using encryption) in the cloud.
For each device or web browser, all you have to do it install the app or browser extension, sign in with that master email address and password and you have access to all your saved logins.
Most password managers, including Bitwarden, can also store other sensitive data such as your credit and debit card details, and then enter these into the correct fields when you're paying for things on websites.
Once you've added all your apps and websites, you'll be able to log into them safely and swiftly without having to remember any of them, and without compromising their security.
Related articles for further reading