The ecosystem is often quoted as one of the main reasons people buy Apple products. The iPhone, iPad, Mac and many other devices can all seamlessly share information.
But on the Windows/Android side, things are much more complicated. With so many laptop and phone makers running the software, it's difficult to optimise for all of them.
However, that hasn't stopped Microsoft trying. The company launched the 'Your Phone' companion app in 2018, before rebranding it as 'Phone Link' four years later.
These days, it's a powerful way to access key phone functions without ever leaving your Windows 10 or 11 desktop. Only Android phones were supported for a long time, but it now works with an iPhone too.
Here's everything you need to know about Phone Link.
What is Phone Link on Windows?
Available for Windows 11 and Windows 10, Phone Link is one of the apps that's pre-installed when you buy a new laptop or PC. As the name suggests, this offers an easy way to link your smartphone and Windows desktop.
The current iteration of Phone Link allows you to remotely access many of your phone's most popular functions. These include viewing and responding to notifications, making phone calls and sending texts. You can also control quick settings, manage photos and run Android apps, although the latter is now natively supported in Windows 11.
Using multiple Apple devices still feels more seamless, but this level of functionality is still very impressive.
Does Phone Link work with iPhone?
Yes. For a long time, Phone Link was only available with Android phones.
But in May 2023, Microsoft added compatibility with iOS devices to the app. The iPhone is fully compatible with all the core features, meaning it's finally possible to use Apple's handset with a Windows desktop.
How to use Phone Link with an Android phone
Setting up Phone Link is relatively straightforward. Remember, the app is pre-installed on some devices, making this process quicker. But here's the full method for any Android phone with access to the Google Play Store:
On your computer, search for 'Phone Link' and click the relevant option
From the introductory screen, click 'Android'
Anyron Copeman / Foundry
On your Android phone, paste aka.ms/yourpc into your browser and follow the instructions. You should be redirected to the Google Play Store

Download the Link to Windows app if it hasn't been already. Once complete, tap 'Open' and then 'Link your phone and PC'
You should see a message saying 'Is the QR code on your PC ready?'. Tap continue
Accept any required permissions, then hold your phone up to the QR code on your computer to scan it. If that doesn't work, you may need to enter a PIN instead

Tap continue on your phone, then Continue on your desktop
That's it! Most functions are now available, although you'll need to pair via Bluetooth and give further permissions for call access.
How to use Phone Link with an iPhone
The steps with an iPhone are a bit different:
On your computer, search for 'Phone Link' and click the relevant option
From the introductory screen, click 'iPhone'
Anyron Copeman / Foundry
If prompted, turn on Bluetooth
Anyron Copeman / Foundry
On your iPhone, open the camera app and hover it over the QR code on the Windows device to scan it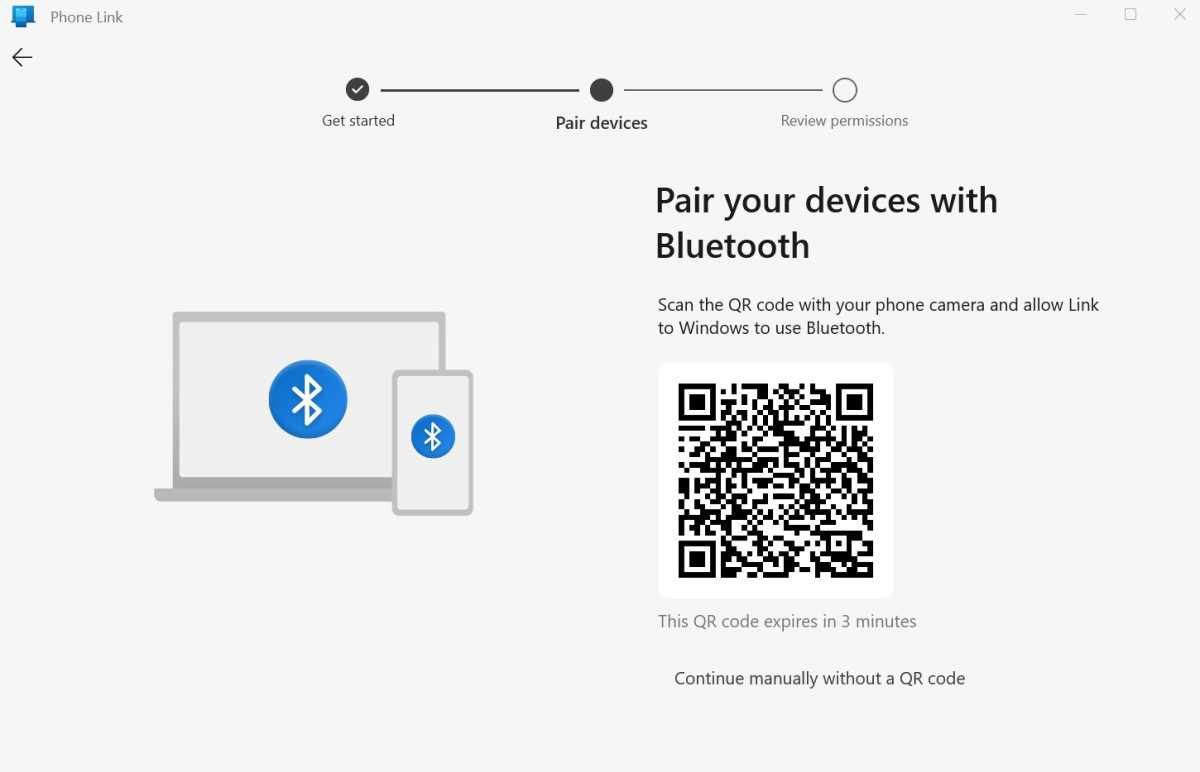 Anyron Copeman / Foundry
Open the link when prompted, then click 'Continue'. Turn on Bluetooth if prompted and tap 'Pair'
If the number you're seeing on your iPhone is the same as on Windows, tap 'Pair' on the latter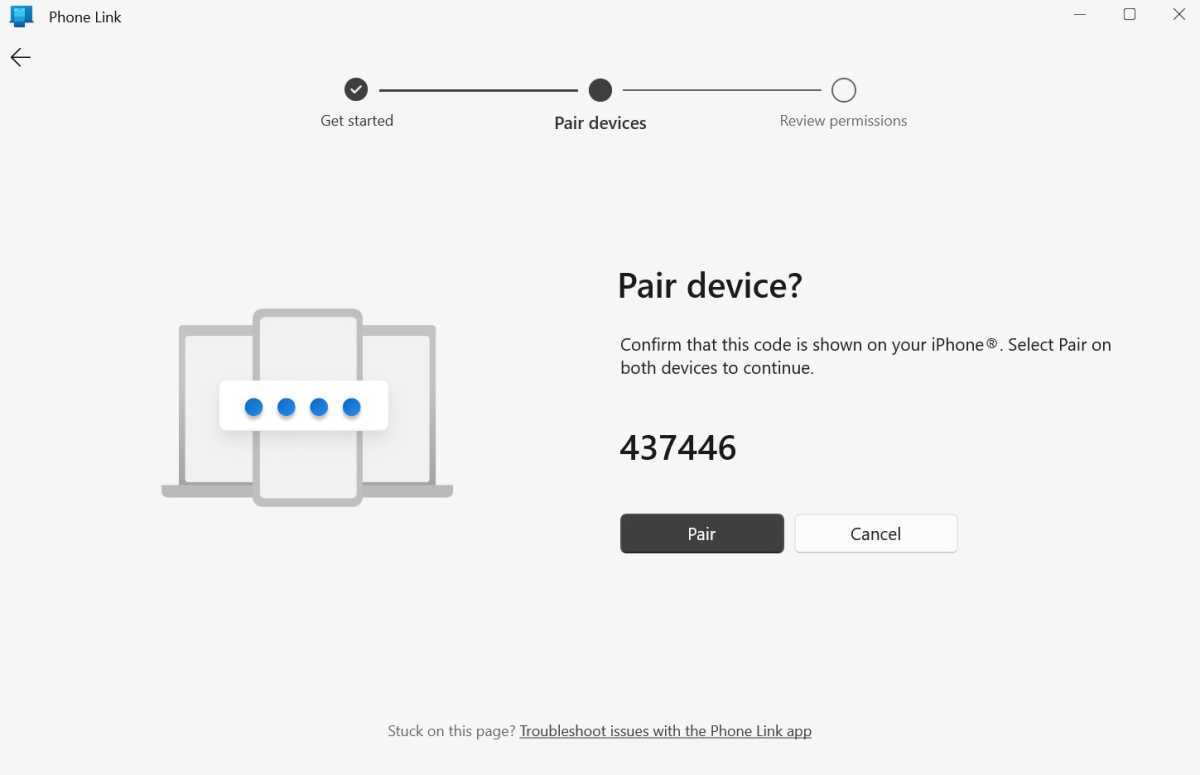 Anyron Copeman / Foundry
From the next screen on your Windows device, accept the permissions
That's it! You should now see a screen which looks something like the below.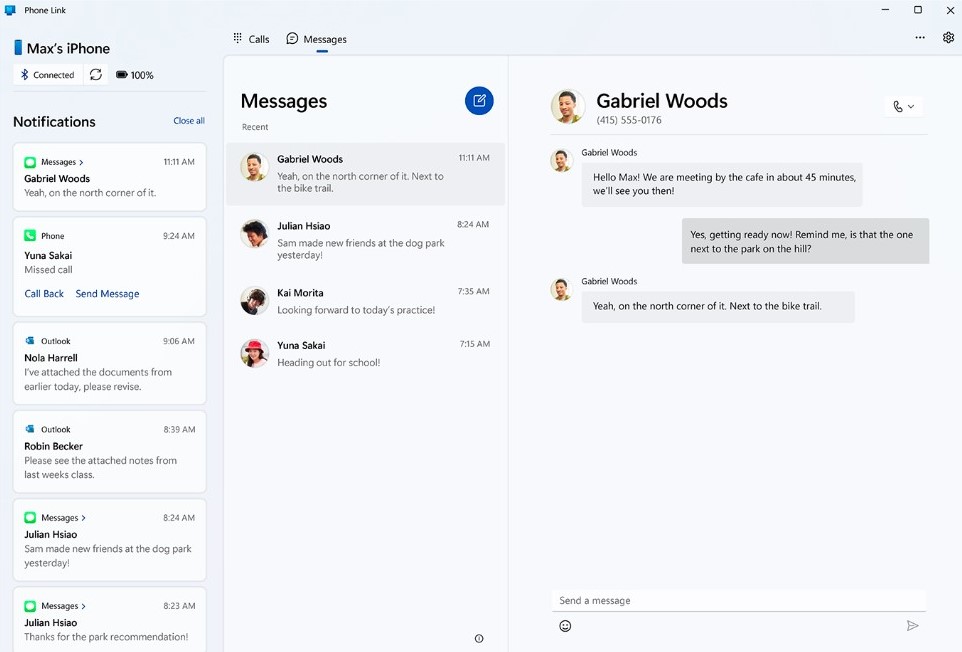 Microsoft
Related articles