There are lots of mobile phone operators in the UK, but many of them 'piggyback' off the networks provided by the big four – EE, O2, Three and Vodafone. So, who uses which network and what advantages are there of using a piggyback service?
What is a piggyback phone network?
Setting up a mobile phone network is no small feat. You need transmitters and other expensive infrastructure that cost huge amounts of money, so it isn't possible for lots of companies to create them. As a way to offset some of these costs, the network owners allow others to pay to use them. That's why these are called piggyback services. Officially they are known as MVNOs, which stands for Mobile Virtual Network Operator.
What are the main networks?
There are four networks in the UK:
Recently Three and Vodafone announced that they would merge, so soon there will be only three major providers in the UK. Fortunately, because of MVNOs, there's a much broader choice of where to get a a SIM, and often for a much lower cost than using one of the main four.
Here's a breakdown of the main MVNOs in the UK, and which of the 'real' networks they use. That's important because coverage does vary between them, and if you want 5G, it's wise to check if that's available where you live, work and go regularly.
Which MVNOs use the EE network?
Which MVNOs use the O2 network?
Which MVNOs use the Three network?
Which MVNOs use the Vodafone network?
What are the advantages of using a piggyback mobile operator?
While it might seem that obvious thing to do is to get a SIM card directly from EE, O2, Three or Vodafone – the people who actually own the networks – there are reasons to pick a piggyback operator. As these MVNOs don't have the additional cost of maintaining and improving the networks, it allows them to offer some serious advantages for their customers.
1. Cheaper plans
One of the hallmarks of piggyback providers is that you can usually get cheaper plans by signing up with them. This is particularly true if you keep your existing phone and opt for a SIM-only deal.
As an example, at the time of writing O2 was offering a SIM-only deal that included unlimited calls, unlimited texts and 10GB of data for £15 per month, and that's a two-year contract. Alternatively, Giffgaff (which uses the O2 network) offers the same deal but with 35GB of data instead, for £15 per month but you can cancel at any time. Clearly much better value.
Foundry
2. More flexible plans
As the tariffs mentioned above show, MVNOs are free to offer more flexibility in their plans, which in turn makes it more likely that you'll be able to find one that suits your needs. One of the biggest advantages is that many offer rolling monthly plans where you can stop paying at any time and move to a different provider if you spot a better deal. You might still want to sign up for a contract, but at the other end of the scale, there are pay-as-you-go plans that mean you only pay for the data, calls and texts you make. This is the sort of freedom you won't generally get with one of the four major networks.
If you're travelling or want to try out another network then the monthly rolling options are low-risk as you won't be tied into a long contract. This could be particularly helpful if you've just moved to a new location and find that your existing network coverage isn't very strong there.
What are the downsides to using an MVNO instead of a major network?
One thing you don't get are the bonus features that are often used by major networks as incentives to pick them instead. These might include free subscriptions to streaming services, discounts at shops or other entertainment. For example, the Three+ incentive scheme includes deals at Cineworld, Caffe Nero, Nando's, Uber Eats and more, plus access to presale tickets to concerts and festivals. O2 Priority is very similar.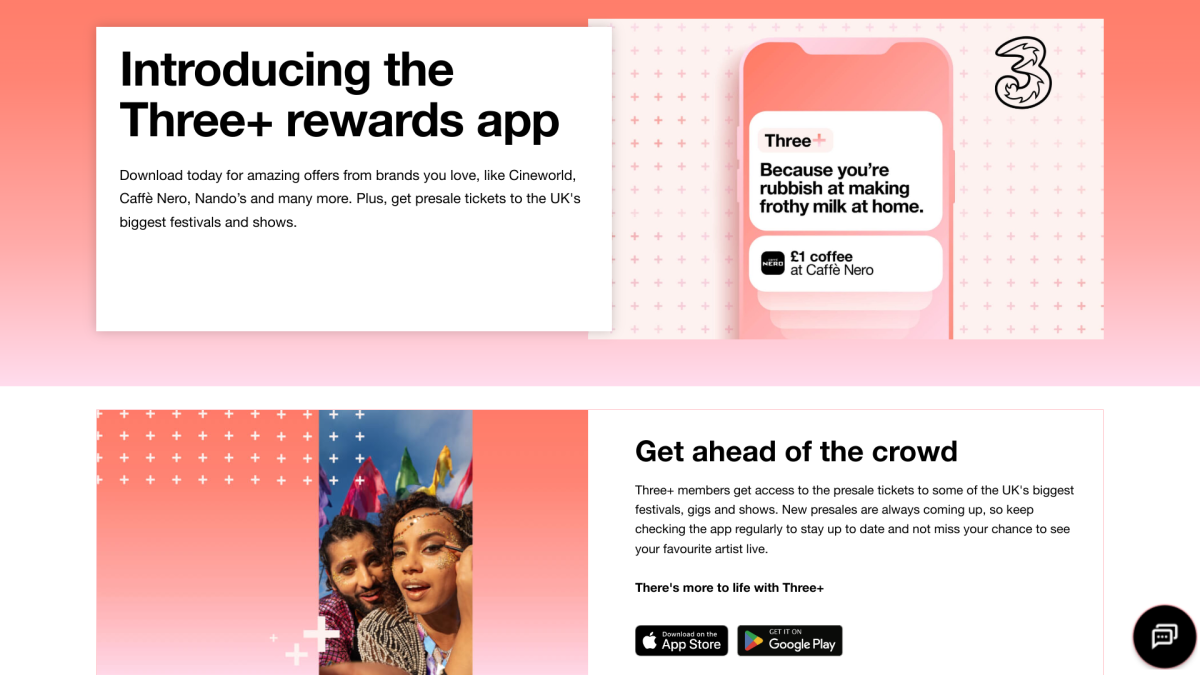 Foundry
You may also find that the range of phones available on the plans from major networks is better than on MVNOs. So, if you do think you want to buy a new phones on your plan then it would be worth checking a few different networks before you sign up.
Support is also worth bearing in mind. To offer a cheaper service, you may find that a piggyback operator doesn't have telephone support. If you need help, you might have to fill out an online form. Giffgaff relies heavily on support from its own community, for example.
There are two different services which are MVNOs but also sub-brands of the larger networks. These are Smarty, which is part of Three, and Voxi, which is part of Vodafone. Both have some great deals, so you can get the best of both worlds if you want to use Three or Vodafone.
Should I use an MVNO instead of a major network provider?
For most people, getting a SIM from Lebara, Tesco or one of the other piggyback providers will save you a lot of money and give you more freedom to switch whenever you want.
Yes, you'll miss out on the various incentives offered by major networks, but the money you save is almost certainly worth more.
You'll get the same coverage and speeds (many MVNOs offer 5G as standard now) and roaming options, too.
As with any phone plan, you should check the latest deals from both the network operators, and those that piggyback off them. And as you might expect, we've rounded up the best SIM-only deals to save you time.
For more details, take a look at our roundup of the best phone network in the UK and best Pay As You Go network.