Antivirus software is an unfortunate necessity, especially if you have Windows and Android devices. That's not to say it's pointless on other devices: these days antivirus software protects you from a lot more than just viruses.
And if you go for a security suite, which is what we always recommend, you should expect all-round protection that keeps your data safe no matter which device, app or web browser you're using.
From ransomware and phishing scams to ID theft, a top-notch security package can help to prevent them all wreaking havoc. Many also come with a built-in VPN service, password manager, parental controls and optimisation tools to speed up your device and free up storage.
Even if you don't want or need those, antivirus software isn't optional. The risk of your computer becoming infected with something nasty – and stealing your data or holding it to ransom – is simply too great not to use it.
So if any of your devices aren't protected by up-to-date antivirus software, now's the time to sort that out. And hopefully that's why you're here, looking for the best deals available this month.
Of course, the best deal for you will depend upon how many devices you need to protect as subscriptions cover a certain number of them: you can't just install the app on as many as you want.
Some providers offer different discounts for different numbers of devices and, in some cases, you can even sign up for two years to get a bigger discount.
It's not simply about getting the lowest price, though. Features do vary across packages, as does the level of protection, so it's worth reading our antivirus reviews to find out more about how well they defend your devices – and you – from the latest threats.
Remember that these are subscriptions: you can cancel them after the deal period ends, but they will renew (often at higher prices) if you forget to cancel.
Note: Authorities such as the FCC and BSI currently discourage the use of Kaspersky products, and Tech Advisor owner Foundry has also suspended its business partnerships with Russian companies. Although we haven´t removed the content about Kaspersky from our websites, you won´t find any purchase links for these products.
PROMOTION
Simple, secure, private and FREE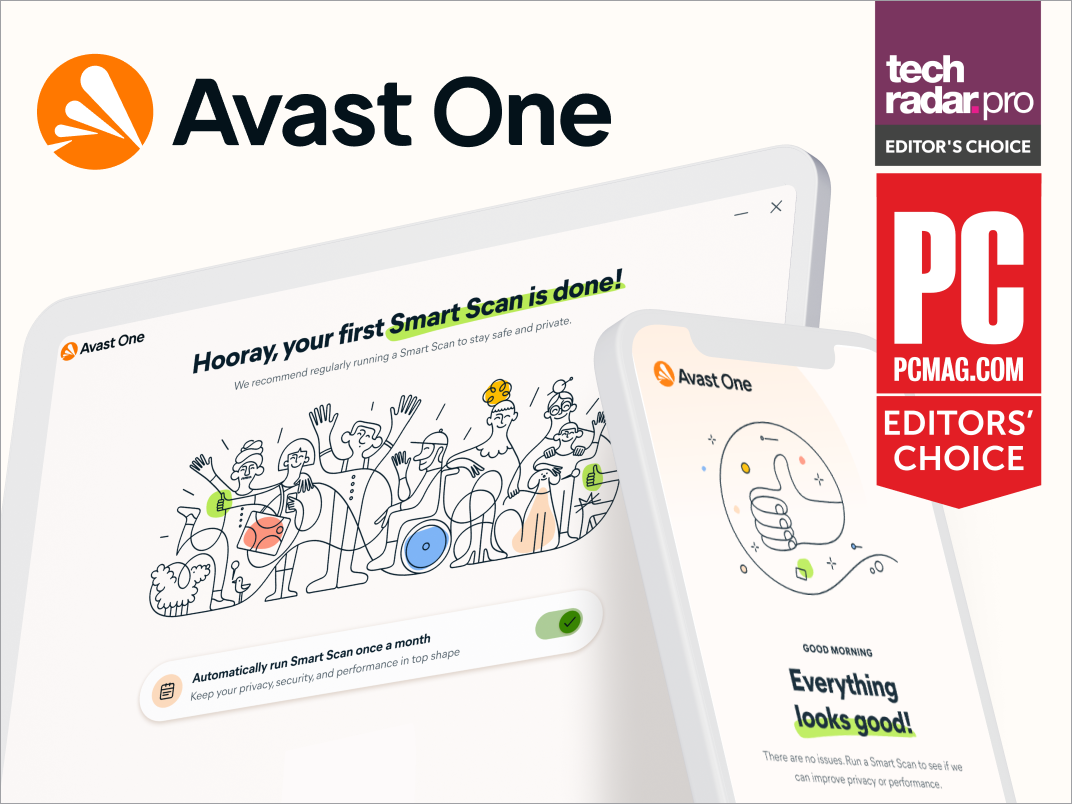 Avast helps over 400 million users stay safe and private online. Our Award-winning Avast One app contains antivirus, VPN, privacy tools and more – for free. Reset your relationship with the internet with Avast One, the choice of experts.
Top 10 Antivirus Deals
Antivirus deals: What to look for
Antivirus software detects, and then prevents, disarms or removes malicious programs and malware, often referred to as 'viruses'. But as we've said, security software is no longer just about countering viruses. It's also about the security of personal data and protection from ransomware.
Check that the antivirus software you're buying has ransomware protection built-in, and it's also worth looking out for the ability to detect malware is so new that it hasn't yet been analysed by security companies. This may be bolstered by a cloud element or artificial intelligence, which can really help to ensure that even the most sophisticated attacks get nowhere near your devices.
Discounts on security software is typically just for the first year of the subscription, so it is worth hunting around for a new deal when those 12 months are up rather than paying full price for the second year. It's a bit like switching energy providers, although the protection and feature do differ between packages so price isn't the only consideration.
Also bear in mind that going direct to the antivirus providers isn't the only way to get their software. You might also find good deals from the likes of Amazon, Argos and Currys and remember that you can pay less to protect fewer devices: there's no point in paying for a 10-device package if you only have one laptop.
Antivirus student deals
If you're a student, be sure to check out Tech Advisor's Student Beans page. There, you can benefit from massive discounts from some of our favourite antivirus brands for school, college or university.
Related articles for further reading
When you purchase through links in our articles, we may earn a small commission. This doesn't affect our editorial independence.