The NFL season is in full swing, and UK fans arguably have it better than Americans when it comes to watching the sport on TV and online.
While US viewers have to jump around a number of different broadcast providers and services to watch all the games, UK spectators have a reasonably straightforward selection of ways to watch the sport.
After the LA Rams won the Super Bowl last season during Matt Stafford's first season with the team, and an exciting off-season which somehow saw Jimmy Garopollo stay with the San Francisco 49ers as a backup QB (and now the starter again), 2022 is looking like it could be a very hotly fought year. Here's everything you need to know about watching NFL in the UK.
When does the NFL 2022 season finish?
The 2022/23 season began on 8 September and will take place across 18 game weeks, ending on 8 January 2023. That's followed by the playoffs, before we get the 2023 Super Bowl on 12 February. There are 17 regular season games for each team, as they get one bye (a week off).
Where to watch NFL in the US without cable
This guide is mostly UK-focused but if you are in the land of the free, then watching NFL can be a bit of a pain because it's shown across lots of channels including Fox Sports, NBC, CBS, ESPN, ABC, NFL Network and, more recently, streaming on Amazon Prime Video.
Having all of those to catch every game might be too difficult and costly but you do have a couple of neater options.
NFL+ is the official streaming service (called Game Pass in the UK) and provides live local and primetime games (regular, postseason and Super Bowl) on your phone or tablet. Replays are available if you get the NFL+ Premium subscription.
The service costs from $4.99 per month and you can take advantage of a 7-day free trial.
Another option you have without the need for cable, which many people don't realise, is NFL RedZone which provides round-the-league highlights as they happen on Sundays.
This is separate from NFL+ and is part of the main NFL app on iPhone or Android. There are TV options including SlingTV and YouTube, but if watching on your phone is enough, then it costs just $34.99 for the whole season. Find out more in our full guide over on TechHive.
Alternatively, the simplest and cheapest way to get NFL games on any TV is with a digital antenna. If you're near a metropolitan area, CBS, Fox, NBC, and CBS show games every Sunday, and you can watch them for free but without any of the modern goodies like recording or pausing, of course.
Which NFL games are on UK TV?
We'll explain how to watch the NFL in the UK via various providers below. But first, let's take a look at which games will be shown on UK TV, between Sky and Channel 5.
We'll update this each week so you know what's being shown live.
Note that because some games happen around 1am in the UK, it means the date is technically the following day in Blighty. So, for example, American Thursday night games are actually in the early hours of Friday, which is how we list them below:
Divisional Round
Sat 21 Jan
Jacksonville Jaguars @ Kansas City Chiefs – 9.30pm – Sky Sports Main Event/NFL
Sun 22 Jan
New York Giants @ Philadelphia Eagles – 1:15am – Sky Sports Main Event/NFL
Cincinnati Bengals @ Buffalo Bills – 8pm – Sky Sports Main Event/NFL
Dallas Cowboys @ San Francisco 49ers – 11:30pm – Sky Sports Main Event/NFL
Watch NFL on Sky Sports
As you might have guessed already, Sky is the main place to watch NFL in the UK once again this season. These days, the broadcaster even has a dedicated Sky Sports NFL channel (Sky 407 / Virgin Media 507).
Along with plenty of general coverage for the sport, the channel will show a minimum of five live games each week consisting of the following and additional coverage:
At least five live games a week for 18 weeks
Monday and Thursday Night Football
Selected Sunday night games
Live NFL RedZone
Fantasy Live
Good Morning Football
Total Access
Hard Knocks (Detroit Lions)
Sky Sports
So if you're a Sky customer with Sky Sports, simply tune into the NFL channel when games are on to watch them live (see the schedule above to see which games are on). You can also watch via Sky Go.
However, Sky has other ways of watching if you don't want to be a full-on satellite customer. You can watch on a wide range of devices including smartphones and consoles via Now (previously named Now TV) with a Now Sports membership (previously called a Sky Sports Pass).
These start at £11.98 for a Sports Day (24 hours) and includes 8-months of Sports Mobile access which you'll get within 10 days of signing up. You might be better off getting the Month Pass if you plan to watch lots of games. It's £33.99 per month and includes a 7-day free trial of Now Boost
Note that you'll need Now Boost (normally £5 per month) to watch in Full HD quality along with Dolby 5.1 surround sound. It also takes the number of devices you can stream on simultaneously to three (normally two).
View all the Now TV passes here.
Live stream on NFL Game Pass
The NFL Game Pass is the sport's official online streaming service in the UK – a bit like Netflix just for American football. It allows you to watch games live or on-demand throughout the season and is available on the web or via various devices with the app.
Sadly the free plan is gone, but you can try a 7-day free trial of the Pro plan. This is the one hardcore fans will want to get and costs £150.99 for the entire season which can be paid in four installments. Alternatively, there's a weekly option for £14.99.
This includes everything you could want including over 270 games live as well as full game replays (minus adverts) on-demand. There's also the Super Bowl, Coaches Film and loads more. Just note that live games are blacked out (unavailable) on Game Pass if they are being shown on Sky Sports.
Alternatively, the Essential plan is £42.99 for the season and includes things like NFL RedZone, game highlights condensed to 40 minutes and NFL Original shows.
View all the plans on the NFL Game Pass website.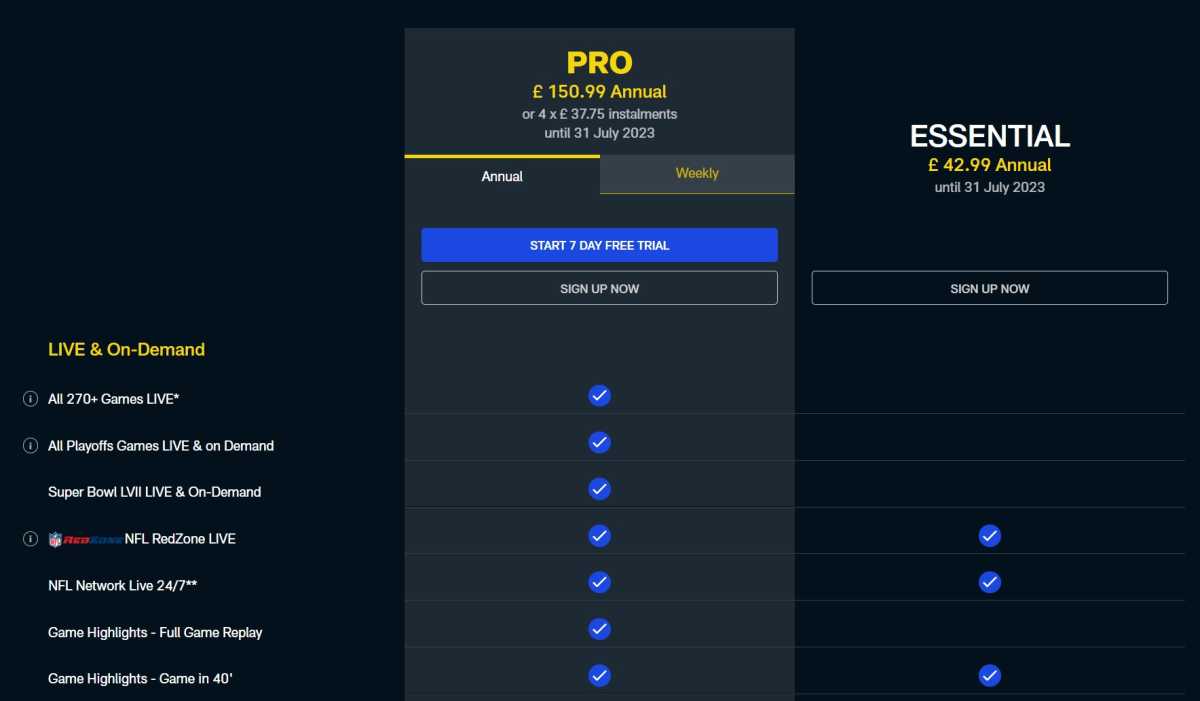 NFL Game Pass
Watch NFL on Channel 5
Anyone who's been following NFL from the UK for a long time will remember watching games on Channel 5.
After a hiatus since 2009, the channel returned to the action for the 2020/21 season and is once again showing live American football for 2022/23. You will have to get the coffee ready though – it will only be Monday night games, with coverage starting at 1am Tuesday morning UK time.
Still, you can put it on record if you don't fancy splashing out on Sky, since Channel 5 is a free-to-air channel.
At a more sociable hour is a show called NFL End Zone. This airs on Sunday mornings at 10.30am presented by American actress and singer Cori Yarckin and team.
Watch NFL on ITV
After seven years with the BBC, NFL coverage has moved to ITV.
There's not much to speak of though as the channel only broadcasts The NFL Show on Fridays at 11:30pm. Essentially porting the programme from the BBC, regulars Jason Bell and Osi Umenyiora will bring you "the latest stories and news from around the league" each week, only with a new host in the form of Laura Woods.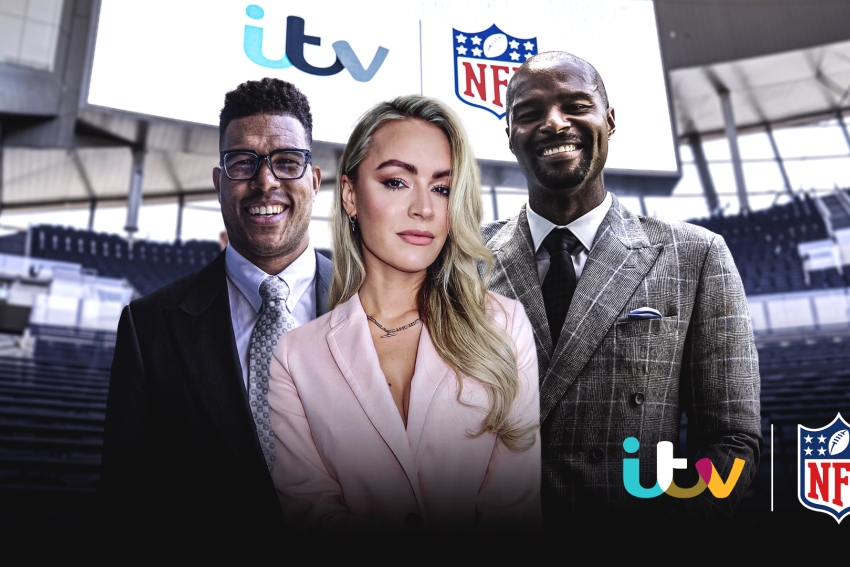 ITV
ITV will also be broadcasting the Super Bowl on 12 February, and did broadcast two of the London NFL games this season: the Giants vs Packers and Jaguars vs Broncos.
Watch NFL in the UK with a VPN
Services like Sky Go and BBC iPlayer are geo-restricted outside the UK, but that doesn't mean you can't watch the NFL when you're overseas.
All you need do is download and use VPN service such as NordVPN that will mask your IP address and make it appear to the app that you are in fact in the UK. You can then browse Sky's services in your web browser and watch whatever you like.
Of course, you can also use the same trick to appear to browse from the US and access US services – but as we said above, you may find it easier and cheaper to watch the sport from the UK anyway.
Read our guide to what a VPN is and what the best VPNs are.