The Champions League continues this week, although the winter World Cup means we're still at the last 16 stage.
Four English teams made it to the knockout stages, but one has already been eliminated – Tottenham, at the hands of AC Milan. Chelsea overcame a first leg deficit to beat Borussia Dortmund, but it'd be a huge surprise to see Liverpool come back from a 5-2 home defeat to holders Real Madrid.
Man City's 1-1 draw away against RB Leipzig makes them favourites to progress, but there are no guarantees at this stage.
Here's how to watch all four of the remaining last 16 matches this week, plus all the other Champions League games this season – whether you're based in the UK or elsewhere.
Champions League fixtures
The final four second leg matches in the last 16 are taking place this week. Kick-off times below are in GMT, with every game live on BT Sport in the UK as usual.
Tue 14 Mar
Man City vs RB Leipzig (agg. 1-1) – KO 8pm – BT Sport 1/Ultimate
Porto vs Inter Milan (agg. 0-1) – KO 8pm – BT Sport 2
Wed 15 Mar
Real Madrid vs Liverpool (agg. 5-2) – KO 8pm – BT Sport 1/Ultimate
Napoli vs Eintracht Frankfurt (agg. 2-0) – KO 8pm – BT Sport 2
Chelsea, Bayern Munich, AC Milan and Benfica have already made it to the quarter-finals, with the draw taking place on Friday 17 March.
You can see a full list of all fixtures and results on the UEFA website.
How to watch the Champions League in the UK
BT Sport has exclusive rights to the Champions League in the UK, so you'll need an active subscription in order to start watching live. If you don't want to pay, your only option is to wait for highlights to become available on the BT Sport YouTube channel. However, you will be able to watch the final free of charge.
There are a few options when it comes to signing up to BT Sport, firstly by combining it with BT Broadband. Put your postcode into the website to see what deals are available.
On the TV side, prices start at £10 per month for the duration of a 24-month contract. In exchange, you'll get all the BT Sport channels, plus Eurosport, Discovery+, AMC and a recordable TV box with 300 hours of storage space.
You can also combine broadband with just the BT Sport app (from £43.99pm) – it works on mobile, tablet, smart TV and console – or buy the Monthly Pass for £25pm. If your device supports it, you'll still be able to watch in up to 4K HDR quality.
Sky customers can get BT Sport added to their existing contract from £29.99 with £20 upfront. BT's combined package with Sky Sports via Now costs £42 per month. , but it's now only available in Ireland.
How to watch the Champions League outside the UK
BT Sport is geo-restricted, meaning you can only officially watch its coverage if you're based in the UK.
A workaround is available if you're outside this region, but we'd encourage you to find the the local broadcaster first – especially if you're based there permanently. That's CBS Sports (via Paramount+) in the US, Stan Sport in Australia or Sony Pictures Networks in the Indian subcontinent.
However, if you already have an active UK subscription, we'd recommend accessing the BT Sport stream using a VPN. This will allow you to still appear as if you're in the UK and retain access to channels, and it's completely legal.
NordVPN is one of our top recommendations, but you can check out our best VPN chart, which shows you some of the best services for accessing UK content from abroad.
On Nord, simply open the app on the device you want to use and connect to any server in the UK. Then, just use the BT Sport website or app like you normally would.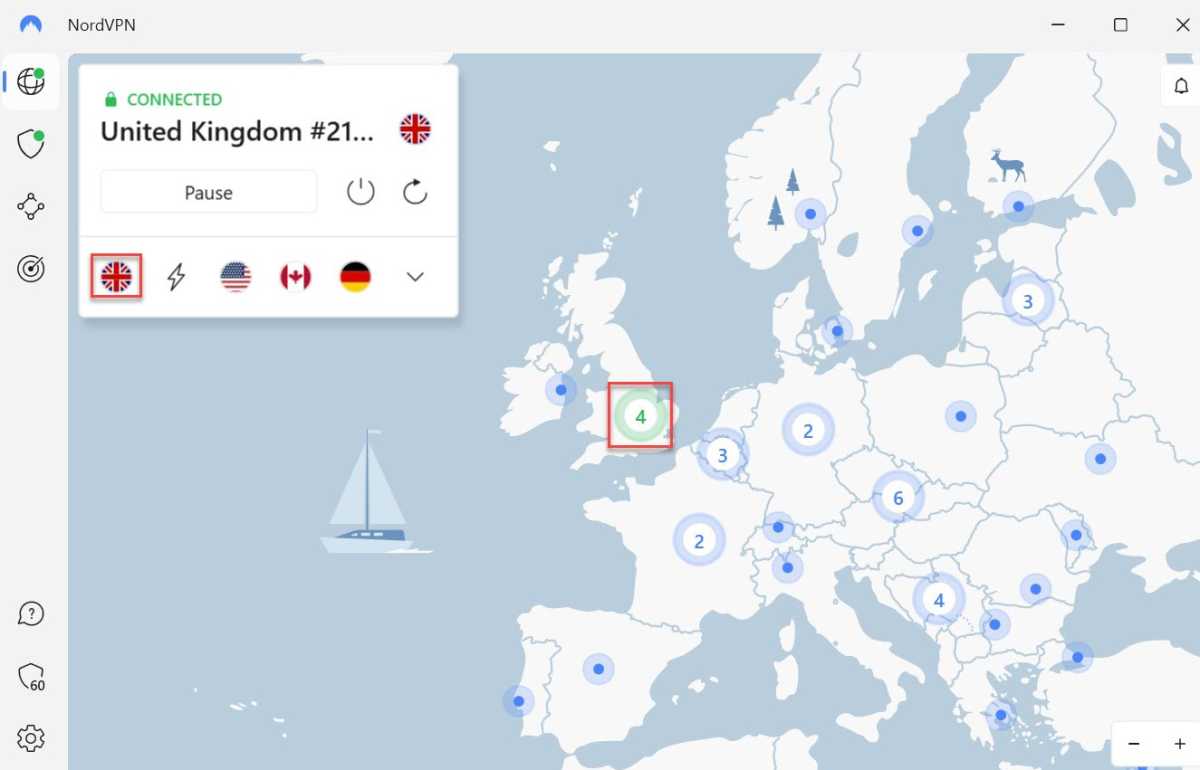 Anyron Copeman / Foundry
Anyron Copeman / Foundry
If you're only planning on using the VPN for the football, you might also want to consider a free VPN. Nearly all will have a UK server, but there may be strict data limits.
Want more football? Here's how to watch the Premier League, Europa League, FA Cup and Carabao Cup.