When Google launched Street View back in 2007, few could have predicted the impact it would have. Vast swathes of the world have since been photographed, with Google returning to the most popular spots every few years.
Many people are familiar with the classic Google Street View car, complete with a large 360° camera. But Street View isn't limited to roads – images have been captured using a tricycle, camel, boat, snowmobile, underwater equipment and, of course, on foot. For areas that aren't so extensively covered, Google invites users to upload their own photos or panoramas.
Street View is very useful for navigation or reference purposes, but it can also be a source of entertainment. Over the years, it's inadvertently captured moments that are bizarre, hilarious or just plain confusing.
Sadly, Google has blurred out some of the old, classic Google Street View hoaxes and staged photos, but we've captured some of the classics. Without further ado, here are 25 of the funniest things found when roaming the streets.
1. Speed demon
Most people don't record their own traffic infractions, but this is no ordinary vehicle. The Street Car's speed is captured while driving into what looks suspiciously like a 30mph zone.
2. Japes and ladders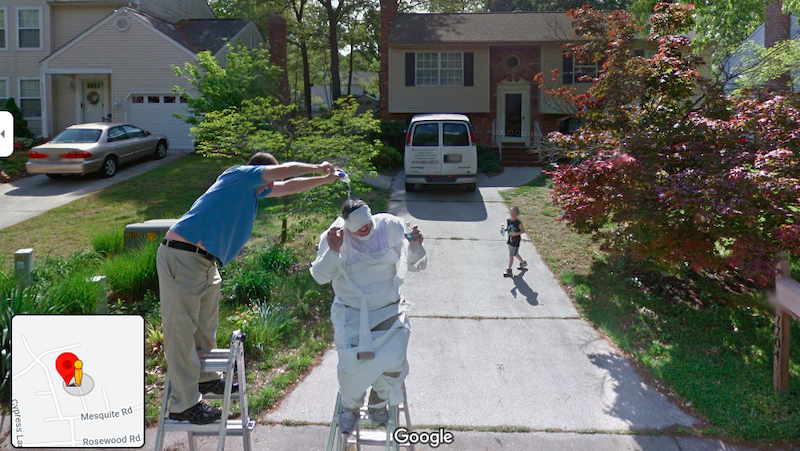 Google Maps
The family that stands on ladders and pours water over each other's heads – stays together forever, captured by the Street Car.
3. Life imitates art
While the artist is capturing the scene before him, the Street Car's camera captures him at work. Meanwhile, some passers-by are spotted getting legless in the park.
4. Fairy tale in Uxbridge
In what looks like a scene straight from Disney, a carriage ride is adding a bit of magic to the day – except for those stuck behind in traffic, that is. You can see the street below, but the carriage has vanished, presumably by the wave of a wand.
5. Sky's the limit
A full rainbow was captured on Google Street View near Dartmoor National Park here in the UK, as was the shadow of the Street View Camera.
6. Coastal split
We may never know if this lady managed to do the splits but her attempt was captured for posterity on Google Street View.
7. Highland flung
If you think it looks like it'll be tricky to get this car out from this ditch in Scotland, you're right. It's still there, or at least it is, as far as Street View is concerned.
8. Penguin and penny farthing
Among our favourites and definitely one of the strangest Google Street Views we've seen is this Penguin riding on the back of a Penny Farthing bike.
9. Scarecrow field
It's not a zombie horde, it's just a field filled with scarecrows. Much less creepy then.
10. Squid game
Nothing to see here: just a couple of Squid Game players having a relaxing round of golf.
11. The Tardis
Take a look inside Dr Who's Tardis by visiting the famous police box near Earls Court in London on Google Street View.
12. Bird's eye view
These pigeons will give you a fright as you virtually stroll along the streets in Japan. Wander past them and turn around… they're still looking. So creepy.
13. Stockholm syndrome
These Swedes are throwing shade at the Google Street View camera car.
14. Al fresco lunch
It can get a bit chilly in Iceland, so if you're going to have a spot of tea and cake then you'd best dress up warm.
15. Incoming!
The Galapagos Islands are known for their wildlife, but this huge bird is getting a little too close for comfort.
16. Skiing on grass
This skier is near the snow-capped peaks of Mont Blanc, but appears to be using this grassy verge as a practice slope. Probably not the smoothest descent!
17. Dentistry on the move
If you dread going to the dentist, how about a check-up while you're on the move? This dentist chair is being transported through the streets by bike in Dhaka.
18. Humans out of water
Despite being kitted out for underwater exploration, these two snorkelers are navigating the streets instead. Bet those flippers are hard to walk in!
19. Bow and arrow
You've probably seen this trick on a talent show before, but it usually comes with a 'don't try this at home' warning! Hopefully the man with the apple on his head came out of it unscathed.
20. Six times a man
This man in India clearly knew what he was doing. Pan around the scene to see him no less than six times!
21. Norwegian reindeer
On this picturesque coastal road in Norway, a wild reindeer has appeared. Is it one of Santa's? We're not far from Lapland, after all!
22. Horse eating a banana
People wearing a horse's head pop up all the time, but this outing is one of the more civilised. Why not eat a banana while sitting by the side of the road?
23. The Stig
Top Gear's iconic test driver was spotted by the side of the A82 in Scotland back in 2009. Was this for an episode of the BBC show? All we know is, he's called The Stig.
24. Sea creature
A ghillie suit won't help you blend in on the beachfront. Was this person in San Diego trying some seaside camouflage? If so, they're not doing a great job!
25. Privacy-conscious cow
We love cows, and we respect their, erm, bovine rights. But we'd be pretty surprised if they had beef about being caught on Google's Street View camera. Google clearly thinks differently, blurring this animal's face so it couldn't be recognised.
For more like this, artist Jon Rafman has a fun selection of Street View images on his website 9-eyes.com. If you like exploring the world in this way, you may also be interested in playing GeoGuessr.