Nanoleaf is one of the biggest names in the world of decorative smart lights. Nanoleaf sets are modular, colour-changing light kits that you can arrange in a variety of shapes.
You kick things off with a starter kit, which comes with a controller and a given number of panels. You'll be able to add to these with expansion packs.
Nanoleaf sets will be receiving a software update in 2023 that will make them Matter-compatible and allow them to act as Thread border routers, meaning you can start creating a Matter-friendly smart lights set-up, using your existing Nanoleaf products. Want to know more about Matter? Read our explainer.
Nanoleaf is also releasing a range of smart bulbs, a lightstrip and other lighting products in 2023. These will all be Matter-certified and will work with your existing Nanoleaf sets to allow you to create scenes, set up schedules and more – across all lights in a room.
Nanoleaf has four main types of decorative sets available: Lines (the newest addition), Elements, Shapes and Canvas. The original Light Panels have now been discontinued but Nanoleaf will continue to support them indefinitely, and you may still be able to buy them from other retailers.
There are also some newer releases, which are a twist on the main sets: Lines Squared, which join together at 90°, rather than 60° angles; and Ultra Black Triangles, which have a darker frame than the original Shapes.
Depending on which type you choose, Nanoleaf lights have a number of smart features. Some have touch control, to allow you to play touch games and change their colours at a tap.
You can also get music visualising panels, which will react and respond to music you play. Others have TV mirroring and will change colour to complement the action on your TV or monitor.
Layout Detect is another feature. It'll enable intelligent animation, depending on the shape of your panel layout.
But not all features are available with all styles. To find out which set is right for you, have a look at our round-up below, and for a more detailed look at each set, read the associated reviews.
Nanoleaf Lines – New light bar style
Pros
Screen Mirror
Wide smart platform support
Cons
Complex software in places
In-line power connector
Price When Reviewed:
From $199.99
Nanoleaf Lines is the newest kit available and it offers something a little different from other Nanoleaf sets, which are all tiles of one sort or another. Lines are light strips that connect together in a range of shapes.
There's a really wide range of platform support, meaning you can probably do as much with this smart light set as any other. However, although it's physically easy to set up and, in the app, get to grips with the basics of controlling the lights, there's a steep learning curve to explore more advanced features.
The Screen Mirror feature will ensure your lights complement your monitor's display but you won't be able to use them with your TV unless you have a PC or laptop plugged in.
You can customise your set with Lines Skins in matt black or matt pink for £14.99/US$19.99. Lines are rated for a total of 25,000 hours of use and come with a two-year warranty. That's five hours per day for around 14 years.
Read our full
Nanoleaf Lines review
Nanoleaf Shapes Starter Kit – Sonic Limited Edition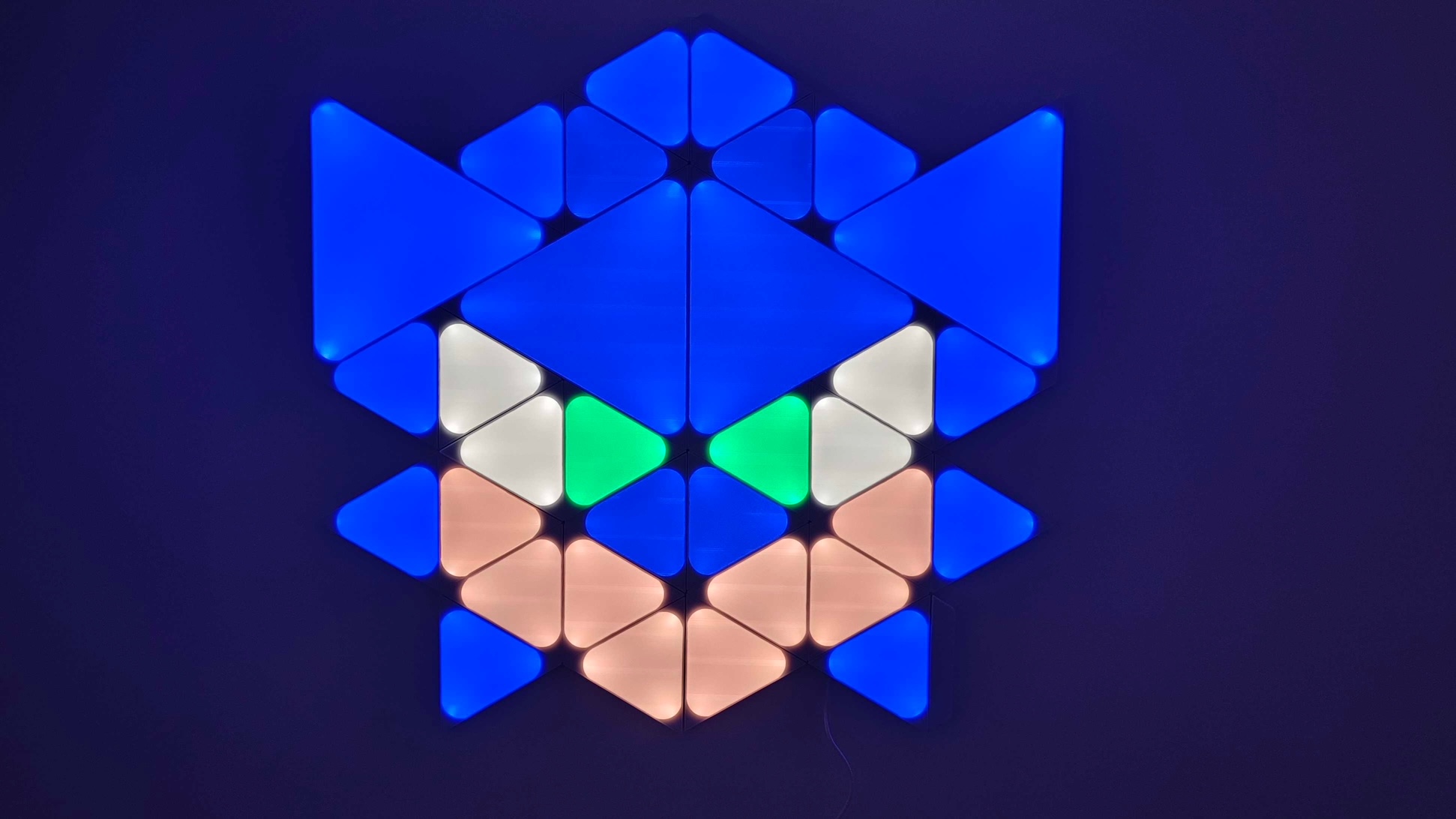 Pros
Large set
Responds to audio
Price When Reviewed:
Unavailable in US
If you are a gamer/streamer and are trying to decide on which Nanoleaf product is the best, then the Shapes Sonic Limited Edition Starter Kit could be the aesthetic you're looking for.
Nanoleaf partnered with Sonic the Hedgehog 2 to create these limited-edition smart lights, which come with four large triangular panels and 28 small ones – making it one of the company's largest sets. It will set you back a pretty penny, though.
This set has several unique pre-programmed colour patterns, so you can position the panels (using Nanoleaf's guide – which, strangely, is not included in the box) to the shape of either Sonic, Tails or Knuckles. It takes some manual painting to get the pattens right. However, once you have it saved, the app will remember your preferences.
You can create other custom pattens and choose from various pre-programmed colours or flows and set the lights to respond to audio – the rhythms are largely responsive and accurate, unlike other models in the list. There is a screen mirroring feature to display colours shown on a TV/monitor, and the panels also boast touch controls.
The panels are easy to connect and fit on the wall using the include adhesive strips that should cause no wall damage should you remove it as instructed. I did, however, have a few delays connecting, especially after just turning the lights on at the wall.
Nanoleaf Elements – Stylish, Scandi effect
Pros
Stylish wood effect
Easy to use
Light reaches to edge of panels
Cons
Expensive
Limited to white light
Fewer features
Price When Reviewed:
$249.99 (starter kit)
With the Elements set, Nanoleaf has created a set of lights that looks good both on and off – important really, in decorative lights.
The panels have a textured, wood-effect finish that adds a touch of Scandi aesthetic to your wall. In our opinion, they're one of the best looking Nanoleaf sets. The lighting also reaches to the edge of the panels, which is an improvement on earlier sets.
However, all this comes at a price. Not only are they expensive but their features are limited. Instead of supporting colours, they only display a range of white light. This means they won't respond to your TV and don't have gaming gear integration.
The music integration is also a bit patchy but there are other good features in the app, such as scheduling and gesture control.
Bear in mind that if you're not confident in setting them up, the included manual isn't a huge help and you might have to watch a YouTube video or two.
Read our full
Nanoleaf Elements review
Nanoleaf Shapes – Choose from hexagons or triangles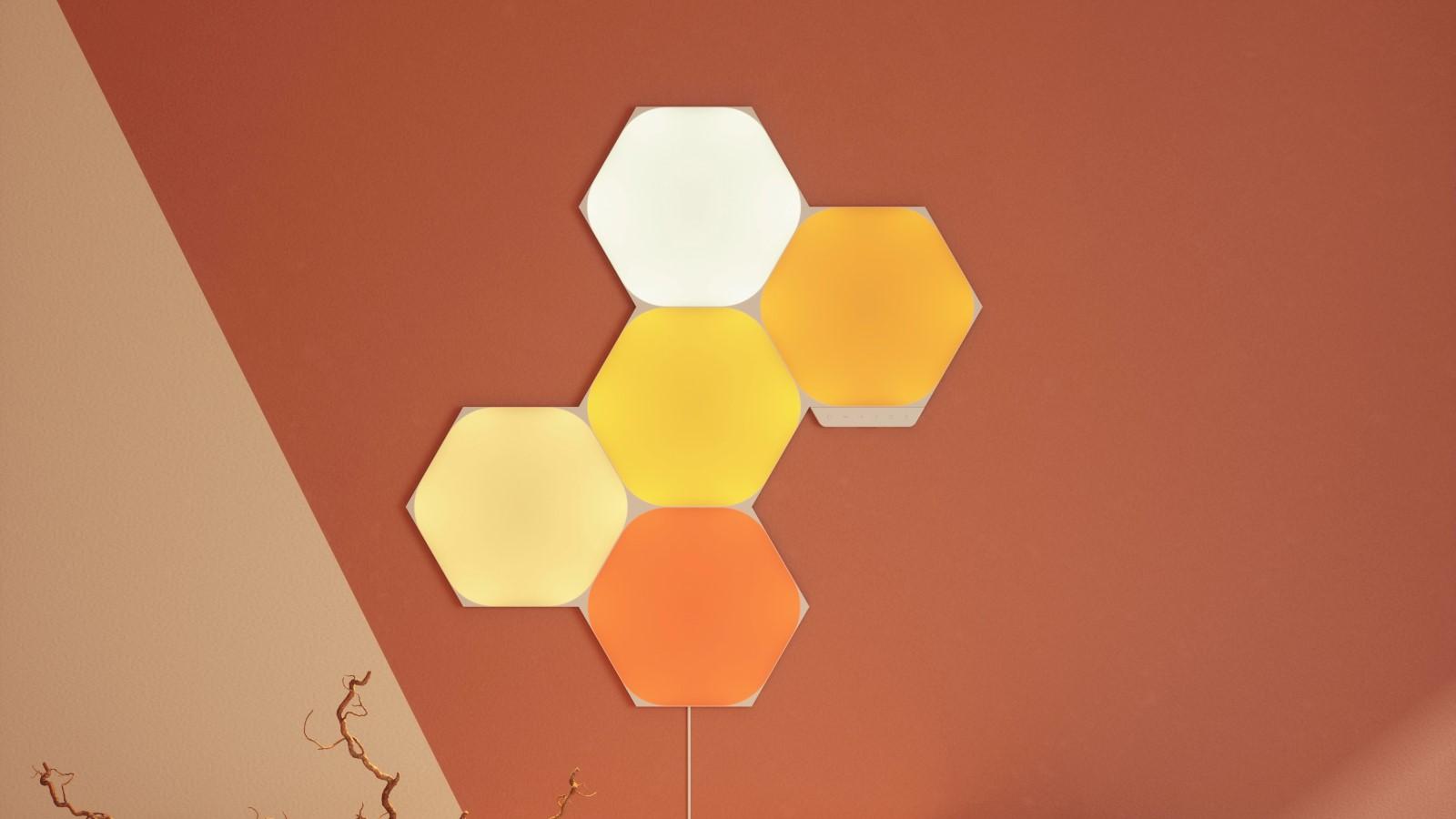 Pros
Touch sensors
Screen Mirror
Smart home integration
Cons
Light doesn't reach to the edge of the panels
App unhelpful in explaining features
Price When Reviewed:
$199.99
Nanoleaf Shapes are far from cheap but they're a dynamic way to combine smart lighting with wall art. You can combine panels of different shapes (there are two sizes of triangles, plus the hexagonal panels we reviewed, all of which can be used together) to create your own interlocking designs.
They're easy to set up and use, although the app is not very helpful at explaining all of the features.
Shapes can be set up to complement your TV or monitor and have touch sensors so that they can be used for games. You can adjust their brightness and they should last for 25,000 hours (34 years for two hours per day).
They can be controlled via their control panel or the app, although for some features, you'll have to use the desktop app, rather than the mobile version. And they're compatible with Apple HomeKit, Amazon Alexa, Google Assistant and more.
They come with a 2.5m power cable, which will give you a bit of leeway in positioning your design.
Read our full
Nanoleaf Shapes Hexagons review
Nanoleaf Canvas – Square Nanoleaf Set
Pros
Touch sensitive
Music responsive
Smart home compatibility
Cons
Needs to be close to a speaker for music response
Uneven lighting within panels
Price When Reviewed:
$249.99
Nanoleaf Canvas is a follow-up to the original set, but it's not as advanced as Nanoleaf Shapes. It consists of nine square LED panels that you can arrange as you like and mount on your walls in just about any configuration.
Connecting and mounting the LED tiles is quick and easy, the Wi-Fi signal is solid, and the app and smart assistant support are easy to integrate, so you can quickly control the lights from your phone or with voice controls.
There's an optional mode to have the tiles change colour in response to music, but the rhythm support is flawed, although fun. It's also very dependent on how close to your speakers you can get the panels. The system is expensive, especially if you have ambitions to build a sprawling design with tens of panels.
Finally, the 'cross' effect produced by the LEDs in the centre of the panels is a bit jarring, and detracts slightly from the overall visual.
Still, it's great fun playing around with designs for different occasions or moods, and once you've set it up, it's a brilliant piece of interactive wall art that doubles as mood lighting.
Read our full
Nanoleaf Canvas review
Nanoleaf Light Panels – Triangular Nanoleaf Set
Pros
You may be able to buy them at a discounted rate
Cons
They've been discontinued in some regions
The Nanoleaf Light Panels have now been discontinued but the brand has promised to continue supporting existing products indefinitely. And they're still available from some retailers in some regions.
The accompanying app allows you to set the colour of each of the panels independently (available in starter sets of four, nine, or 15), or set all the panels to cycle through a colour palette, using one of a few different flow patterns. You can vary brightness and speed – right up to an epilepsy-threatening max.
Creative types can program their own palettes and effects to save to the system, while the less inspired can use the pre-installed selection, or download a few more within Nanoleaf's app. There's also IFTTT and Alexa support so you can use voice control, use it as a light alarm or set it to respond to various triggers.
Assembling the panels is astonishingly easy – they just click together, and you can expand the starter kits with expansion packs. They attach to the wall with the included double-sided tape, so they feel sturdy but are removable.
In our test, we found that the networking side of things could be unreliable. Our panels dropped from our Wi-Fi network a few times, and occasionally refused to re-connect.