Selling a property can be one of the most stressful things you ever do. It's usually combined with buying a new one, and the whole process of moving home is one you won't be keen to repeat too often.
Traditionally, in order to sell your home, you'd ask a few local estate agents to come and value it and then pick one to sell it for you. In return for their services they typically charge a small percentage of the sale value. But even 1.5% of £300,000 is £4,500, which is a lot, and a figure that may be better spent on your new home.
The good news is that the internet can make your life a lot easier as well as saving you some serious money.
When you begin your search for your dream home, chances are you'll use Rightmove, Zoopla and other apps and websites to see what's for sale. And because other buyers are doing the same thing, it makes sense to get your property listed on these portals and in front of potential buyers.
But unlike selling a car on ebay, you can't actually list your own home for sale on Rightmove or Zoopla: you still need an estate agent.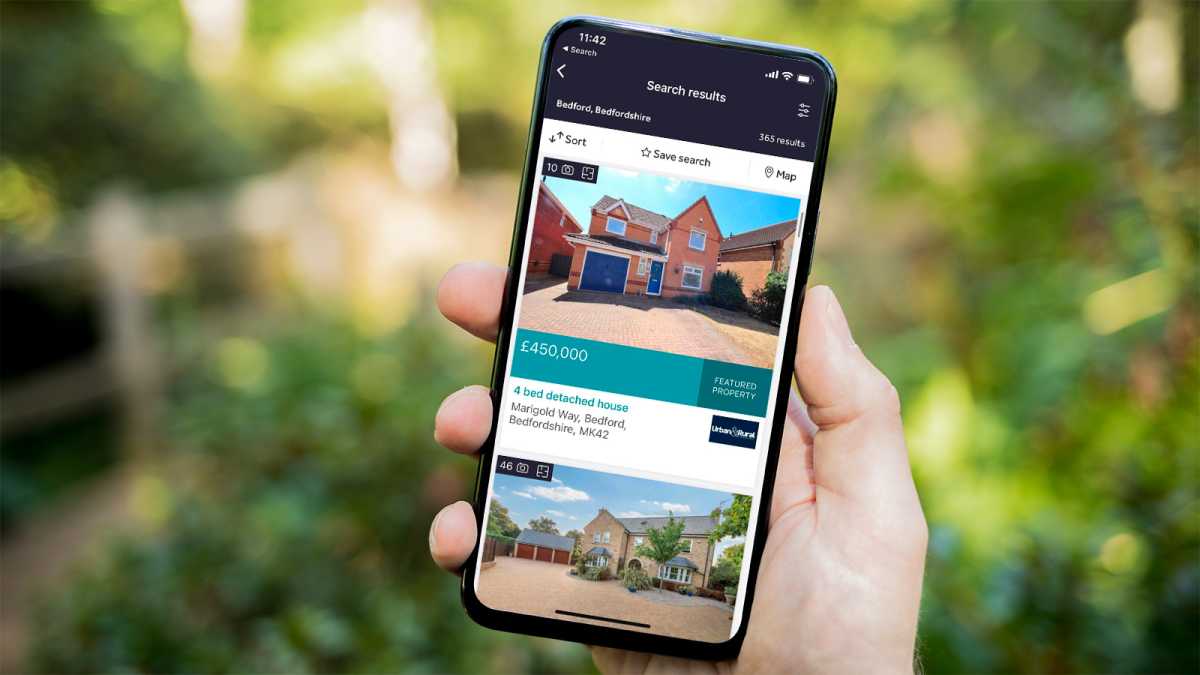 Dominik Tomaszewski / Foundry
While High Street estate agents will post your home on these portals, you can opt for an online estate agent instead.
Prices do vary, but the cheapest – which start from completely free – effectively make you become your own estate agent, conducting viewings and negotiating offers directly with buyers. If that sounds too stressful, there are more expensive fixed-fee packages where the estate agent handles those things. But even then, you can still avoid that huge cut that a traditional estate agent takes.
But what are the other pros and cons of using an online estate agent?
Online vs high street estate agents
Under normal circumstances, the main advantage of a local high street estate agent is that they'll show prospective buyers around your home for you, have good local knowledge of schools, transport links and other amenities. Remember, too, that if you use a local agent, you're likely to have just one or two people to deal with, who will get to know you personally.
They usually have contact books brimming with buyers' details and know exactly what they're after, and will vet potential buyers and may even require that they already have an offer on the property they're selling before they'll allow them to view your property. The last thing you want is 'window shoppers' wasting your time: you'll want to tidy up as few times as possible ahead of viewings.
Online agents, on the other hand, don't know your local area and may use algorithms and simply look at other similar homes for sale to come up valuations and other information. They also rely on Rightmove, Zoopla and other sites to attract buyers.
You'll be expected to do a lot of the legwork yourself. This can include conducting viewings with potential buyers, putting up your own 'For Sale' sign, and even writing your own advert and taking your own photos for Rightmove and Zoopla. Most online agents offer these services, but often at an additional cost.
They may have not have enough staff to assign a dedicated agent to manage your sale and may taking a long time to respond to emails.
The biggest difference, though, is cost.
Online agents usually charge a set fee, a totally different approach to the commission model that high street agents favour. For example, a typical commission is 1-3%. If your house is worth £500,000 and the commission is 1.25% + VAT, you'll pay them a total of £7,500.
By contrast, online estate agents can sell your home for £75 or even completely free. How? Well, they are effectively offering you a way to list on Rightmove and Zoopla yourself, something that's impossible without an agent.
This fee is usually paid up front and there may be a limit of 12-16 weeks when your property to be advertised on all the major online portals. If you don't sell within that time, you may have to pay again.
Many also levy a surcharge for properties sold in London and surrounding areas, and you should check whether an EPC (Energy Performance Certificate) is included in the fee. If not, you'll have to arrange one and pay for it yourself. They start from around £55.
Also consider all the work that needs to happen once a sale is agreed. High Street agents will work to progress your sale, dealing with the buyer and conveyancers. If you're effectively becoming the agent by using a faceless online service, you'll be doing all that yourself, which can add a lot of stress to an already stressful process.
Some online agents adopt what's known as a 'hybrid' model, which combines a face-to-face service with online elements, so this could be a good compromise if you want the reassurance of that local knowledge, someone to handle viewings and generally manage the sale.
Should you decide to give online agents a go, here's how six of the top services compare.
1. Purplebricks
Pros
Dedicated app
Well established
Cons
Relatively expensive
Extra charge for in-person estate agent viewings
Purplebricks is one of the biggest online estate agents in the UK and operates as a hybrid service. The company has local property experts that know their areas very well and can provide you with a free valuation for your home.
Prices have gone up this year and Purplebricks now charges £1,199 (or a whopping £1,999 in and around London) either at the beginning of the engagement or deferred for ten months without incurring any additional cost. Included in this fee is the local expert, photography of your property that can be used in listings, support from a UK-based team, and your house or flat being listed on Rightmove, Zoopla, and other popular sites.
You'll need to conduct viewings yourself, although Purplebricks provides the online portal where potential buyers can book them. If this isn't to your liking, you can pay £300 (£399 in London) for Purplebricks to send one of their agents to handle the viewing instead.
A dedicated Purplebricks app allows you to receive feedback from viewings and even accept offers on your property, making it easy to manage the sale wherever you may be. There's also conveyancing support that makes the last few parts of the process less complicated.
At the time of writing Purplebricks had a 4.3-star 'Excellent' rating on Trustpilot, with over 87,000 reviews.
2. Strike
Pros
Can be used completely free of charge
Only pay if your property sells
Can you really sell your house for free? That's what's Strike is advertising. Known as Housesimple from its inception in 2007 until its 2020 rebranding, it offers almost all the services you'll need without paying a penny.
Strike provides expert valuation, a floorplan, a For Sale board, professional offer negotiation and listings on Rightmove and Zoopla. The company also says it will provide 'dedicated support until completion'.
How is it able to offer all this for free? Well, there are two premium services you can pay for. A hosted viewings service (£699 and £899 for some London postcodes) means you won't have to conduct them yourself, while the Performance Package adds professional photos, a video trailer and a premium listing on Rightmove, for £599 (£799 for some homes in London).
Strike also has partnerships that offer mortgage advice and removal services, so get paid if you choose to use these services. Nonetheless, the core service is offered completely free of charge.
We can't vouch for how good this current iteration is, although one of the Tech Advisor team used the service when it was known as Housesimple. They found the experience seamless, despite being part of a long and complicated chain.
The pro photographer they sent was fantastic, the process of uploading details was simple and straightforward, and arranging viewings or accepting and declining offers was painless.
A rating of 4.5 'Excellent' from almost 20,000 reviews on Trustpilot suggests it's a similar story following the rebranding.
3. Yopa
Pros
Local agents
Pay up front, or later
Cons
More expensive some rivals
It might sound like a brand of drinkable yoghurt, but Yopa is a well-respected and established hybrid estate agent. Unlike some of its competitors, the company offers a local agent that can manage your sale, no matter which tier you choose.
There are three packages on offer, with two of them not requiring any payment until after the completion of the sale. For £999 (£1499 in some London locations) the Core service includes a valuation, pro photographs and floorplans of your property, a full listing on Zoopla, Rightmove, PrimeLocation and others, plus all negotiations with buyers handled by Yopa.
There are a few additional services you can purchase, which include unlimited accompanied viewings, premium listings on the top property sites, and conveyancing (quotes on application), and everything can be paid in instalments across six months.
It's the same for the Premium bundle, with the only difference being the price – £1,999 or £2,999 in some London locations – and the fact that it is paid once the sale of your home has gone through. You'll also get unlimited viewings and premium listings on Zoopla and Rightmove.
Yopa has received a string of awards in recent years, and currently has a 4.7-star 'Excellent' rating on Trustpilot from over 17,000 reviews.
4. Doorsteps
Pros
4 packages to choose between
Cons
Photography and floorplan not included in base package
£99 tier no longer available
Doorsteps has been around since 2016. It has quickly grown into an impressive online estate agency, garnering a few industry awards along the way.
One of the reasons for its historical popularity was its affordable £99 standard package. Unfortunately, that's gone and has been replaced by a DIY Deal which is essentially the same thing but now costs £499.
You get a 'free' valuation included in that, listings on Rightmove and Zoopla the same day you book, a For Sale board, plus full negotiations and sales progression support. But you'll be taking your own photos, sorting your own floorplan, writing your own description and showing people round yourself. Other online agents charge less for this sort of service.
The £199 package is no more, either. The next step up is now the £799 'Quick Sell Deal' which adds professional photography and the top spot on Rightmove for your postcode.
Finally, there's a £799 option, which means Doorsteps will host the viewings on your behalf. In all other tiers you'll have to conduct them yourself, but this is actually cheaper than before: it used to cost £999.
Despite being a relatively young company, Doorsteps nonetheless has a 4.7 star 'Excellent' rating on Trustpilot from 6,000 customers at the time of writing.
5. SellMyHome
Pros
Excellent Trustpilot ratings
Cons
Entry-level package relatively expensive
SellMyHome is another online estate agent which offers a variety of packages and payment options.
Like Doorsteps, it has changed its offering so you can no longer get the basic package which used to cost £150 per month (with an additional £250 setup fee). Instead, the Essential tier costs £800 (exc VAT) or there's an £1800 (exc VAT) No sale, no fee option.
The Essential plan buys you an online valuation, professional photos, a virtual walkthrough and short videos, and a floorplan to accompany your listing on Rightmove, Zoopla, PrimeLocation, and a number of other popular sites. Other perks include buyer and viewing management tools, a dedicated account manager, monthly performance reports and a memorandum of sale (if the property sells, that is).
SellMyHome will also create the copy for the listing, after asking you questions about your home.
The Traditional package is what it sounds like, with a fee of 0.75% of the final sale price, and a minimum of £1,899 (or £1,999 in London). It also includes accompanied viewings (normally a £500 extra) and a physical (in-person) valuation, .
It may be a bit more expensive than some rivals, but all SellMyHome's packages still undercut high-street agents by quite a margin. And though it has just 500 reviews on Trustpilot, the 4.8 average rating – and the comments themselves – show that those who've used it are very happy indeed with the service they received.
6. Property Solvers
Pros
Cash sale option
24/7 live chat
Cons
No fixed fee payment options
As a hybrid estate agent, Property Solvers offers a choice of ways to sell your house. However, unlike others here, it's aimed at people who need to sell their property fast.
In fact, Property Solvers will buy your house itself if you opt for the 'Quick Cash Sale' service. This gets you up to 75% of market value and urgent sales can be turned around in as little as seven days if you are in a really tight spot.
For those who aren't in quite so much of a hurry and want to get what their property is worth, the Express Sale Service means you get the market value but still a good deal faster than normal. One of the benefits of the hybrid service is that a sales manager will visit your property, talk you through the sale process and value it.
Everything is arranged for you: floorplans, high-quality photos, and listings on the major (as well as smaller) online marketing portals. There's a choice of three packages, all of which have no tie-ins so you can leave at any time, and not pay a penny until your house is sold. Fees start at 1.5% for the All-in-One Online Package and rise to 1.95% for the Premium Package that comes with extras such as a virtual reality tour of your property, featured listings on Zoopla, Rightmove and more.
These fees are comparable with high street estate agents, but if you're keen to sell quickly, and you want 24/7 live chat access to a sales manager then Property Solvers can be a good option.