In the past couple of years, millions of people around the world have swapped a desktop setup in the office for something more makeshift at home. What's more, remote or hybrid working looks set to be a permanent change for many of us.
Companies have embraced the benefits of working from home, while many employees now report a better work-life balance. But without an effective home office environment, productivity and health will inevitably take a hit.
You probably already have a capable laptop, but adding a mouse, keyboard, monitor and webcam is crucial for most people. The next stage may be an office chair and desk, but this can be expensive and you might not have space for more furniture.
That's where a laptop stand comes in. For relatively little money, you can help raise your device up off the desk to a height that's more ergonomic for long-term usage. Keeping the top of the display roughly in line with your eyes encourages better posture, avoiding a stiff neck or more serious problems such as spinal stenosis.
Laptop stands have the added benefits of boosting airflow around your device, as well as offering a convenient space to store accessories out of the way. People on video calls may appreciate the more natural angle if you're using the built-in webcam, too.
Vertical stands are also worth considering, although they're designed to be connected to an external display and so keep your laptop closed. This is great if you're looking to minimise distractions while working on the larger screen.
We've included both main types in this round-up, all of which are compatible with most laptops. Where applicable, we've indicated the specific screen sizes they're compatible with.
Here are our favourite laptop stands you can buy right now.
Best laptop stands 2022
Satechi Aluminium – Most portable laptop stand
There's no denying that Satechi's aluminium stand has been designed with the MacBook in mind. The simple, minimalist design is very reminiscent of Apple's laptops, and it even matches them with the five colour options.
Having said that, it still makes a great option for any laptop owner, especially considering it weighs less than half a kilogram and easily folds away when not in use. There are also rubberised grips to protect the laptop while it's secured in place.
Satechi says the stand fits most devices between 12 and 17 inches, while there's a 30-day returns policy if it doesn't work with your device.
Twelve South Curve – Best open design laptop stand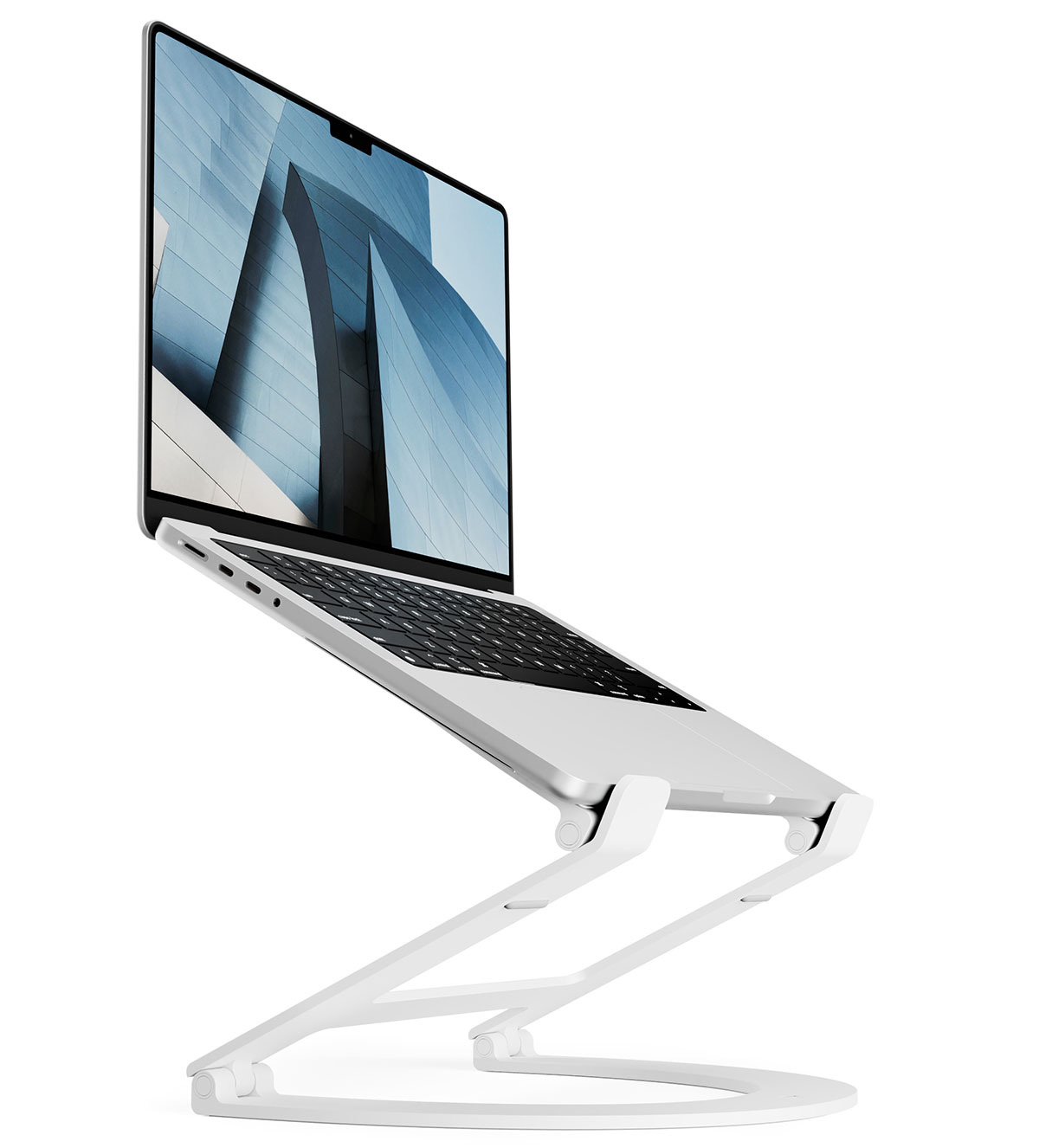 Twelve South's Curve Flex is the finest example of an open stand that we've found, raising your laptop up to 22 inches (56cm) off the desk. It can also be angled up to 45 degrees for optimum keyboard ergonomics.
It's still a very secure fit, though, with anti-slip silicone pads and raised edges to help keep your device in place.
As well as its flexibility, the Curve Flex is also quite portable. It folds shut, weighs 28oz or 785g, and comes with its own travel sleeve.
In addition to the cool white model pictured, it's also available in black if you'd prefer. Both are made from aluminum, with the minimalist aesthetic helping them to blend in with your existing setup.
Despite being marketed for MacBooks, Twelve South says the stand is compatible with all laptops between 11 and 17 inches.
There's also a more rigid Curve stand if you can live without the flexibility.
Nexstand K2 – Most versatile laptop stand
Laptop stands tilt your device to a more natural angle, but there are usually only a couple of fixed positions available. That's not the case with the Nexstand K2, which can easily move between a total of eight different heights.
This makes it an excellent option if you regularly move between different laptops, supporting all devices between 10 and 17 inches. For ultra-thin devices, just connect the two optional spacers included in the box.
Once locked in position, just secure via the arc grips and you're ready to go. It's also arguably the best laptop stand for travelling, weighing just 234g and folding down to something smaller than an umbrella.
The only real catch here is that it's made of plastic (nylon, to be specific) and not a more premium material. That makes it feel a bit cheap and flimsy, but there's no need to worry about it not supporting the weight of your laptop – it's fine up to 9kg.
All this is before you even get on to the benefits of cooling—the Nexstand K2 ticks all the boxes for lots of people.
Urmust – Best laptop stand for small desks
Unless you have a separate room, a home office usually involves getting as much value from as small a space as possible, and Urmust's stand helps you do just that.
At just 28.5cm long, it's one of the most compact stands you can buy. It can also be adjusted anywhere from 0 to 90 degrees to suit your workflow. Despite the slim aluminium design, it can support up to 4kg of weight, with sturdy rubber helping keep your device in place.
It's also been designed with airflow in mind, reducing the likelihood that any laptop will overheat. The stand supports all devices from 10-15.6 inches, including from the likes of Apple, Asus, Dell and Lenovo.
Trust GXT 1125 Quno – Best for laptop stand cooling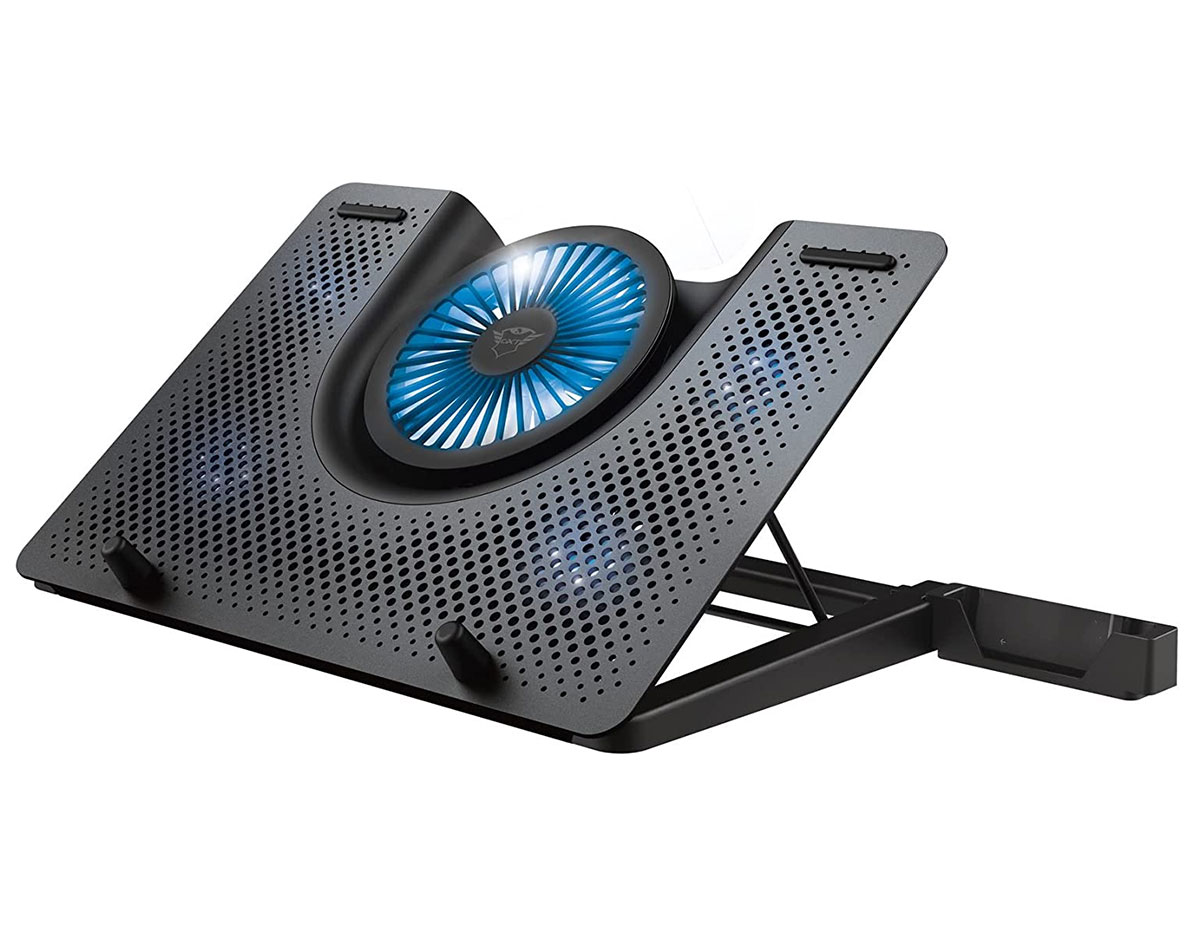 Aside from encouraging unhealthy postures, one of the big problems with using a laptop directly on a desk is the lack of airflow it can result in. If you're planning on carrying out demanding tasks—especially in high-performance gaming—this can cause overheating problems.
A stand is your best option for avoiding this issue, with Trust's offering one of the best we've seen.
The Quno laptop cooling stand has an aluminum mesh top plate that fits any laptop up to 17.3 inches. It helps to create a better viewing height and angle that can be adjusted in five steps up to 7.5 inches (190mm) high.
It also features a detachable phone stand.
Most importantly, the Quno cooling stand has five blue illuminated fans (one 130mm and four 50mm) that keep equipment cool —even during a long, heated gaming session.
It weighs 37oz (1.05kg).
Omoton – Affordable and easy to use
For something a little more affordable, Omoton's offering can be just as effective. It's also made from aluminium, albeit in a lighter silver finish, allowing you to save space when you don't need access to the screen.
There's also a silicon mat in the groove where your laptop sits, keeping it secure without causing any physical damage to the device.
The slot can also be adjusted anywhere from 0.55in to 2.71in, providing a snug fit for any laptop. It's designed for the edges of the device to be exposed, boosting airflow while also ensuring it's compatible with almost every laptop on the market.
Lention – Best adjustable vertical laptop stand
The adjustment process is a little bit easier on Lention's vertical stand, which can freely move between 0.36in and 1.2in without the need for additional tools.
Like many options in this list, the groove where your laptop sits is covered in a soft, grippy material to protect the device. It's rubber in this case, while the triangular aluminium design also helps keep your laptop secure.
The product listing indicates it's been designed with the MacBook in mind, but all laptops from 11-17 inches are also compatible.
UGreen X-Kit – Best smart stand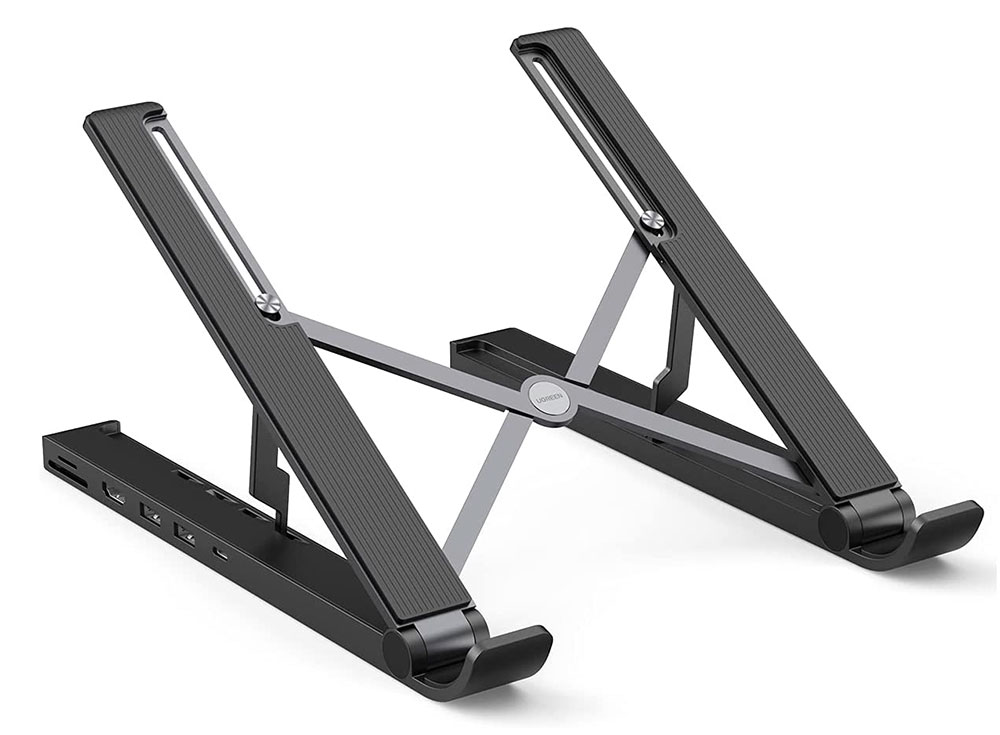 All the other stands in this round-up add extra flexibility to your desk, but the UGreen USB-C Laptop Docking Stand can be considered one of the first truly smart laptop stands.
That's because it has a USB-C hub built into its design—adding two USB-A ports, one full-size HDMI and SD and TF slots for external storage. Considering the relative lack of ports on many modern laptops, this is especially useful.
The X-shaped folding design also means it can be used in four distinct positions according to your workflow. At 1.36lbs or 617g, it's also portable.
There's no doubting that this stand has been designed with the MacBook in mind, but UGreen says it's compatible with all devices between 11-17 inches.
FAQ
---
1.
Should I choose a regular or vertical laptop stand?
This is the easiest way to narrow down your options. A regular laptop stand will help prop your device up at a height and angle that's more comfortable for use over long periods of time. It usually consists of an open design where your laptop can sit, offering easy access to the keyboard and trackpad. Raising it off the ground also boosts airflow, while offering space for other accessories on a desk.
A vertical stand is altogether different. This is designed to securely hold the laptop in place when the screen is not in use. Unlike the regular version, you have no access to the keyboard or trackpad when it's in the vertical stand. This makes it great for connecting to an external display, or just store it out of the way more effectively.
2.
Which materials should a laptop stand be made from?
The most popular material used for laptop stands is aluminium. Premium options typically go for a pure metal design, while more affordable alternatives use an aluminium alloy. That makes the typical silver finish common, although black or white versions are sometimes available too.
However, if you're looking for something more simple, a wooden stand can also work well. They typically lack the modern features of the aluminium options but can be effective if you're just looking to use your laptop from a height.
3.
How adjustable does a laptop stand need to be?
One thing you're unlikely to get from a wooden laptop stand is adjustability. They're typically made from a single piece of bamboo or oak, although there's plenty of variation when it comes to metal stands.
Almost all options offer the ability to adjust the height of the stand, although it's worth checking if you'd like control over the angle it tilts at too. The latter can be effective if you'd like the stand to fit around your existing setup instead of vice versa.
4.
How important is secure fit in a laptop stand?
Unless you're buying a stand that just props your device up in one position, you'll need to make sure it's a secure fit. This is especially important for vertical stands, which need to clamp the device in place without damaging it.
Many stands use silicon or rubber lining to prevent the laptop from moving around too much, which is especially important if it supports a range of different sizes.
Looking for something to prop up the other tech you own? Check out our guides to the best phone stands, best tablet stands and best monitor stands.