A phone is no longer just a phone. It's so much more: camera, video caller, computer, social messenger, TV, music library, map, newsreader and games console all rolled into one tiny package. But we still keep it in our pocket and use it like a mobile phone, which is not always ideal for comfort and ruin to our neck and shoulder muscles.
We use our phones in such different ways that we should focus on how we hold or position it far more than we do.
Holding it in your hand is rarely the best position. Balancing it on a knee or leaning it up against a book are not proper solutions to reducing neck, shoulder, back and wrist strain.
You can't hold your phone all the way through a 40-minute Zoom call, or watch a movie with it lying flat on your sofa or table.
A phone stand is an answer to many of these situations.
Fortunately, there are many different types and models of phone stand, and most are affordable. Your wrist and posture will thank you for this minor investment.
We've tested the best phone stands we can find—simple, smart, bendy, and wireless-charging stands—and there should be one reviewed here to make your life easier and more comfortable.
Lamicall Phone Stand – Best simple phone stand
Pros
Affordable
Stable tilt
Color range
Price When Reviewed:
$13.99
The aluminum-alloy Lamicall Phone Stand is simple in a quality minimalist way, stable and well made.
It holds your phone in either portrait (vertical) or landscape (horizontal) modes, and angles nicely so you can adjust its position against glare or get the best camera angle for video calls.
With a low centre of gravity, it's stable enough to allow touchscreen control, and is also great for more passive viewing usage, such as watching videos or engaging in video calls.
Rubber pads prevent sliding, and also reduces scratches to your phone. There's a hole at the back so you can discreetly attach your charging cable.
Compatible with 4- to 8-inch phones, it's available in a wide range of colors: Black, Red, Gold, Green, Rose Gold, and Silver.
Lamicall Foldable Phone Stand – Best foldable phone stand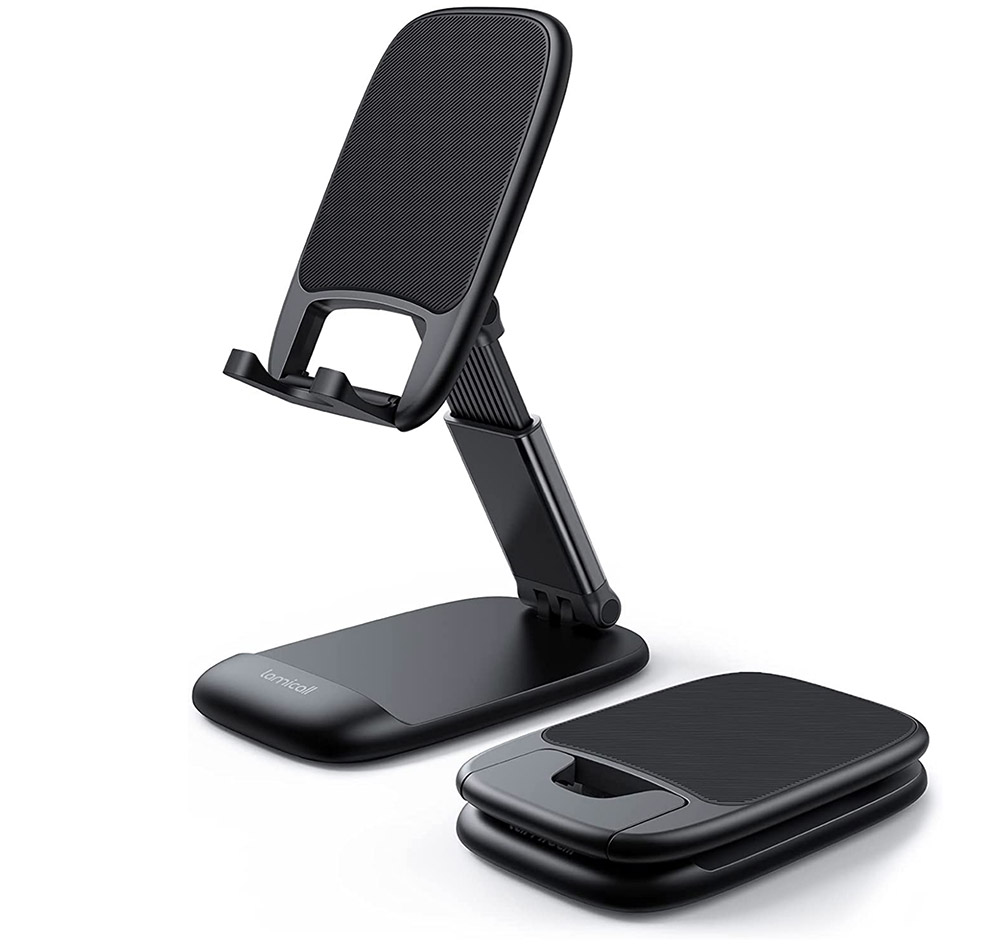 Pros
Foldable, portable
Height adjustable
Color range
Price When Reviewed:
$13.99
Available in a wide range of colors, Lamicall's foldable phone stand is highly portable and is even height adjustable—rare for a portable phone stand.
It tilts, too, and raises the phone to a more ergonomic viewing height than Lamicall's more static Phone Stand.
Like that model, this one also comes in a wide range oof colours, from the expected black and white, to pink, green and gold, although strangely not red.
UGreen Mobile Phone Stand – Foldable phone stand
Price When Reviewed:
$12.99
The Ugreen Mobile Phone Stand is basic but well made, and stable.
What makes it special is its foldable form, which means you can pop it in a bag or a deep pocket and take it with you to the coffee shop or just to another room in your home or office.
It weighs 207g, which is a little more than an average phone, so you won't notice its weight when carrying it around.
It is adjustable to a wide range of angles, so you can get the right screen for viewing or camera angle for video calls.
It's made from aluminum, but is heavy enough for stability and touchscreen use. Rubber pads on the bottom of the stand further improve stability. to help prevent slipping.
Phones can be set in landscape or portrait mode.
Compatible with 4- to 8-inch phones, it lacks color options but looks smart all the same in its neutral gunmetal grey.
UGreen Phone Desk Stand – Most simple phone stand
Price When Reviewed:
$7.99
This phone stand from UGreen is super simple and foldable.
It's adjustable but adds no height, and if you want to charge at the same time, the cable will stick out one side as there is no hole at the back to tidy most of it from sight.
It's basic but well made and portable. And, well, we like the white color option.
Compatible with 4- to 7.9-inch phones, and available in both Black and White.
Twelve South HiRise Wireless – Best wireless-charging phone stand
Pros
Wireless charger
Pops out to make charging pad
Cons
Not height or angle adjustable
Expensive
Price When Reviewed:
$66.40
Twelve South's 10W HiRise Wireless is a high-quality phone stand and a wireless charger that can also morph into a wireless charging pad.
Being able to pop out the pedestal's charger into a pad, mean you can also charge an earbud charging case or another device that supports Qi.
The 75-degree angle is not adjustable, and might be a little steep for close video calls.
It comes with a 1.5m USB-A-to-USB-C cable, but you need to add your own wall-charging plug.
Compatible with 4- to 7-inch phones.
Anker 313 Wireless Charging Stand – Affordable wireless charging phone stand
Pros
Wireless charger
Affordable
Cons
Not height or angle adjustable
5W charging for iPhones
MicroUSB cable
Price When Reviewed:
$19.99
This phone stand is low-cost but a reliable wireless charger for Qi-supporting phones from one of our favorite accessory makers.
There's no way to adjust the 60-degree angle or height, but it's a simple and effective stand for passive viewing purposes.
It's a little slow at charging an iPhone as it maxes out at 5W unless you have a Samsung phone that charges at a more impressive 10W.
You need to add your own wall-charging plug, and possibly a USB-C to MicroUSB cable as this ships with a USB-A-to-MicroUSB cable. Aim for at least a 10W charger for the fastest results.
Moshi Lounge Q – Stylish wireless charging stand
Price When Reviewed:
$69.95
While it's possible to neatly attach a charging cable to most phone stands, a much smarter solution is a phone stand that is also a wireless charger.
Our favourite for looks and (minimal) height adjustability is the stylish Moshi Lounge Q, in cool Nordic-gray cloth "inspired by Danish furniture design".
The ability to adjust the charging pad's height means there should be less manoeuvring of the phone to pick the correct spot for charging and screen angles. It charges in both vertical and horizontal modes.
Qi-compatible, it can fast-charge any device up to an impressive 15W. It supports both Apple (7.5W) and Samsung (9W) fast-charging.
The Lounge Q features a 1.2m (4ft) USB-C cable, so you will need a USB-C charger to connect this to.
Compatible with 4- to 7-inch phones.
Joby GorillaPod 1K GripTight Mount PRO Kit – Best Octopus smartphone stand and mount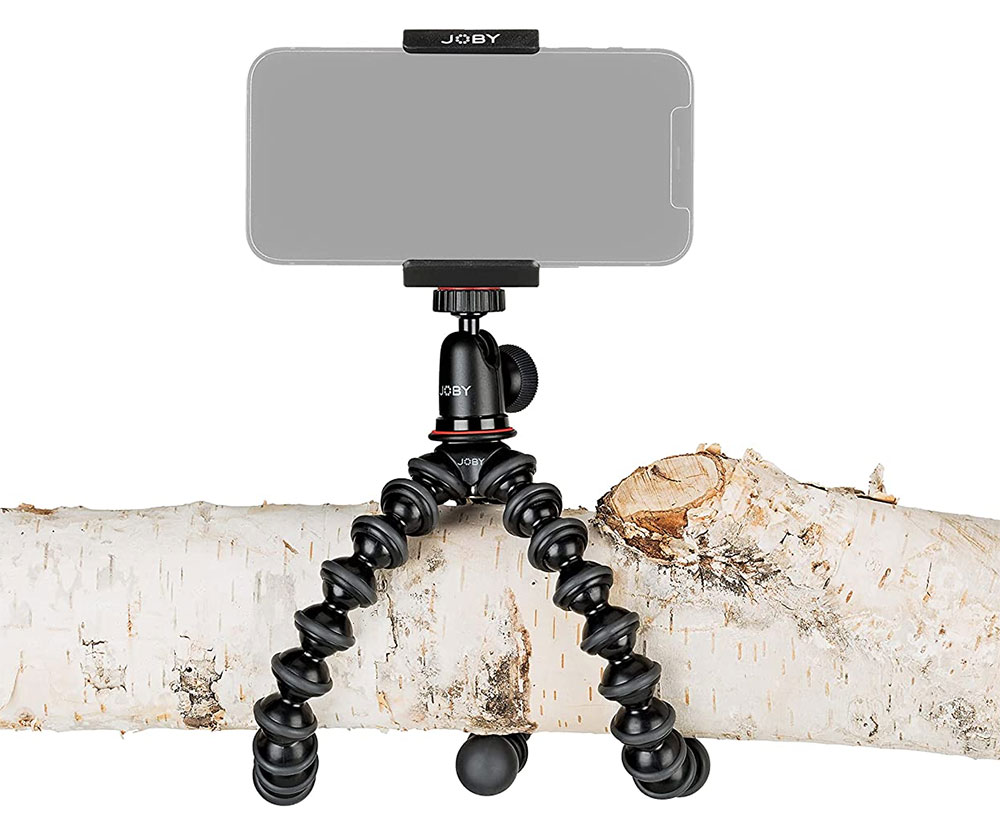 Pros
Twisty and flexible
Secure grip
This type of phone tripod is known as an Octopus—although it doesn't have eight legs (it's a tripod, after all), and anyway, octopi don't have legs.
Joby has a wide range of Octopus grips, but this is our favorite because of its secure grip and robust build. Note that you'll find the grip much cheaper but the cost of the smartphone mount makes this more of a premium-priced product.
It's very flexible, and it can even be used as a phone bike-mount, or you can wrap it around a slim tree branch, railing or scaffold pole if you wish.
It holds your phone vertically or horizontally.
Compatible with 4- to 8-inch phones.
Muyos Phone Tripod
Pros
Twisty and flexible
Bluetooth control
Cons
Not super stable for touchscreen use
The Muyos mini Octopus tripod stand is lighweight metal with a rubber coating. You can twist and bend it so that it's stable where you place it, and its legs allow you to raise or lower its height until it's just right for you.
You can hold it like a selfie-stick, and it comes with a Bluetooth remote control that allows you to take photos or video from a distance of up to 30 feet.
Compatible with 4- to 8-inch phones.
Tyrone Gooseneck Phone & Tablet Stand
Cons
Not super stable for touchscreen use
Price When Reviewed:
$28.99
A gooseneck stand gives you ultimate flexibility in positioning your phone. You can bend the metal alloy neck into just about any angle, and it is stiff enough for stability.
It's strong enough to hold a phone or a tablet, and is secured to your desk or table by its firm grip, and will fit on a surface up to 3in thick.
The phone fits into the top grip, and feels secure, although the device will wobble if you are using a firm finger on the screen to control it.
As such, we recommend it for passive watching videos or engaging with Zoom video calls.
Compatible with 4- to 8-inch phones.
UBeesize Selfie Ring Light Tripod Phone Stand – Best phone stand with a light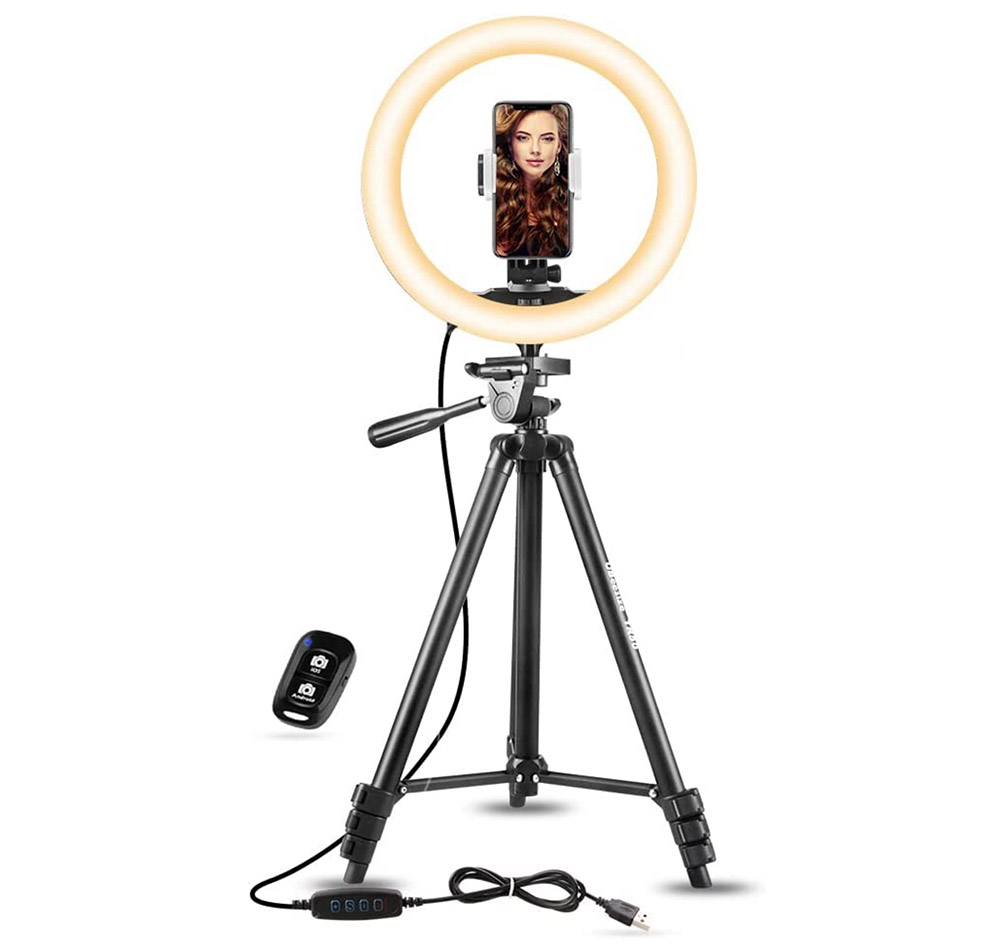 Pros
Ring light
Tripod
Remote control
Cons
Tripod legs can get stuck
Price When Reviewed:
$35.99
This looks like a must for influencers—a lightweight, portable tripod phone stand / selfie-stick with a flattering 10-inch ring light to give you the best shots.
You don't have to be a YouTuber. For those working from home or in dark offices, the rechargeable LED light is great for ensuring you are not in silhouette or complete darkness on Zoom and other video calls. It has three filters (warm white, cool white, and daylight) and ten brightness levels controlled by a touch panel.
The sturdy tripod features a phone clip that extends up to 4.5 inches, and a remote to take well-lit photos and videos up to 30 feet away.
It can also be used for photos or just as a lamp for applying your makeup.
It can extend from 16 to 50 inches, and folds up for easy travel.
Compatible with 4- to 6.5-inch phones.
Omoton Phone Stand – Best phone stand for adding a little height
Price When Reviewed:
$11.99
Height adjustable, the Omoton Phone Stand is acceptable for passive viewing and video calls but less so if you need to use your fingers on the touchscreen as it will wobble.
That said, it's metal base does give it weight stability compared to some pole-based stands that are all plastic.
You can adjust the height by up to 5cm—not a lot, but more stable than placing a static stand on a pile of books.
Compatible with 3.5- to 7-inch phones.
Lisen Tablet & Phone Stand – Raise the height of your phone
Pros
Height adjustable
Plasticky
Price When Reviewed:
$16.99
To add a little height to your phone, the Lisen Tablet & Phone Stand features an adjustable pole (some assembly required).
It's best suited for passive viewing or video calls that don't require you to frequently use the phone's touchscreen, as it is wobbly when touched and could fall over.
It's not the best-looking stand and is a little plasticky, but it does offer that small height adjustment (10-15cm) if you need it.
Compatible with 4- to 12-inch phones.
The wireless charging phone stands reviewed here come with cables but require a USB wall charger.
Check out our best phones feature for our recommended devices to place in your favoured phone stand.
If you're looking at other form factors, check out our best tablet stands and best laptop stands round-ups.